update 2017|04|24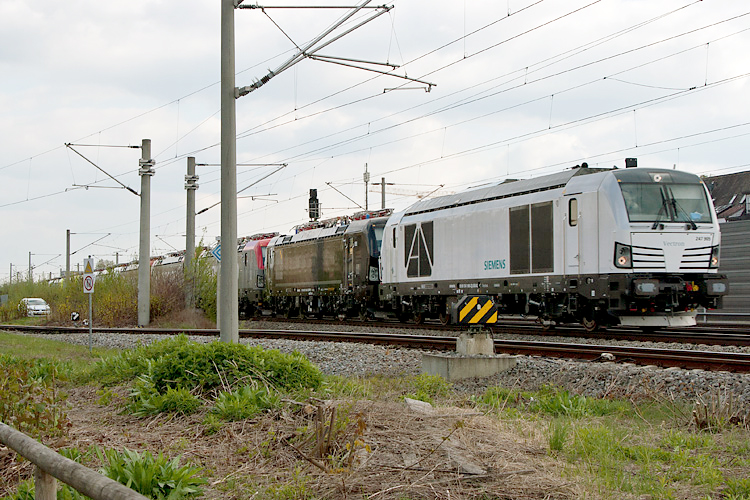 A 'Lastprobefahrt' last week with Siemens 247 905 gave us the opportunity to have a little peak into the future of the Siemens Vectron production. Siemens decided to use a batch of new Vectron electric units to serve as 'ballast weight' during the test runs. All machines are new and did not yet leave the factory gates.
We spotted:
- three new 'stock' locomotives with works number 22163, 22215 and 22251
- new MRCE multisystem locos no. 193 655 and 193 656, so the production of the two batches of these locomotives is well on its way (the designated 193 640-650 and 651-660).
- Alpha Trains 193 556 and 557 are finished. This means that the optional locomotives have been built right away after the first order was completed. First batch is Alpha Trains 193 550-555, four more will come.
- The three Vectron for Polish PKP Cargo that were still missing are ready-to-go too. Unlike the twelve first machines, now in service, the designated 193 513 / 514 / 515 (
or 5370 025-027
) are additionally equipped for the Netherlands.
Photos: Frank Weimer and Michael Raucheisen
[NL] An accident this morning in Deurne, the Netherlands. Railpool > Captrin 186 295 crashed into an excavator on a level crossing.
First images here
.
DB 245 026-0 outside Bombardier's Kassel plant on 10 February 2017. Picture by Christian Klotz.
Between September 2015 and June 2016, Bombardier delivered seven Class 245 TRAXX Multi Engine locomotives to DB Fernverkehr for use on its Sylt Shuttle services to and from Westerland (Sylt). All seven locos were equipped with a standard 2,720 liter fuel tank, similar to other locos of the class as delivered to DB Regio. Meanwhile, it has been decided to upgrade the seven locos with larger tanks, increasing the fuel capacity to 4,230 liter. One by one, the locos are being modified by Bombardier in Kassel.
update 2017|04|23
Today a silver TRAXX DC locomotive entered Germany on RailAdventure's Loco Buggies. The image and video show Akiem 5170 061 (a.k.a 483 222) with Pol-Miedź-Trans logos, most likely on its way to Kassel (?) where Bombardier will repair the damaged locomotive. The 061/222 was involved in an accident with freight cars in Lubin in December 2016.
In Poland, diesel locomotive SM42-2058 pulled the train. In Germany RailAdventure's 103 222 took over. Images / info: Adam Nowaczyk / Nicolas Biały / Norman Gottberg
update 2017|04|22
They have arrived in Finland, the all-new VR 3306, 3307 and 3308. The image above shows the brand new Vectrons for Finnish State Railways (VR) at the Ilmala main depot in Helsinki. The locos were pulled from Hanko harbour to Helsinki by Sr3 3302, that is in test service. Photo/info: Tuukka Varjoranta
The new Railpool 186 298 DE/AT/BE/NL at Kassel on 20.04.2017. Photo: Christian Klotz
update 2017|04|21
Small changes have been made to the stickers on MRCE > RTB Cargo ES64F4-209. Its 'European Gateway' stickers now features the new RTB Cargo logos. The old orange ECT logos have been replaced by 'Hutchison Ports ECT Rotterdam', in line with the renaming of the mother company of ECT. Photo: Wilco Trumpie
Bombardier is currently building a new batch of Multi Engine diesel locomotives for Deutsche Bahn. On 30.03.2017 the designated 245 035 made a first test run, on 20.04.2017 the 245 036 had its turn. Both locomotives will be dispatched to Ulm, as they carry the allocation markings "DB ZugBus Regionalverkehr Alb-Bodensee GmbH (RAB) Werk Ulm". We expect Ulm will get three new machines.
Currently, Deutsche Bahn has nine TRAXX DE ME locomotives on order, which will raise the fleet to 36:
- 3x for DB Regio to expand the fleet in South Germany
- 5x for DB Fernverkehr as ICE rescue locomotives
- 1x for DB Fernverkehr for the IC service Erfurt - Gera
update 2017|04|20
Seen today during test runs in Hungary, the newest MMV locomotive: no. 610 103. The Softronic Trans Montana locomotive was outshopped earlier this year with temporary designation 480 026. Photo: Csaba Stahl
update 2017|04|18
Impression: RegioJet - Edited by Railcolor Design (other color, applied logos again)
Open access passenger operator RegioJet has announced the acquisition of eight TRAXX multi-system locomotives. The contract includes an option for twenty more machines.
Five will be delivered this year, the remaining three will arrive in 2018. Their top speed will be 160 km/h. For the rest, not much is known yet. The machines will of course be equipped for services in the Czech Republic and Slovakia, but the remaining countries in the package are not mentioned. RegioJet plans to deploy new TRAXX locomotives on the routes Prague - Ostrava and to Kosice, plus Prague - Brno and to Breclav, and than further into Slovakia.
At the same time, RegioJet announced the acquisition of sixteen new coaches to be produced by Astra Vagone in Romania.
Source: ekonomika.idnes.cz
update 2017|04|17
On 12.04.2017, Siemens delivered the next three Vectron locomotives to Alpha Trains and TX Logistik. One of them is 193 553 with -Responsibility Driven- stickers. Photos: Marc Anders
New: A nice image of 193 554, that has the same livery, by Sebastian Winter.
Now that is an impessive transport: 3x Vectron for Finland, three pair of Loco Buggies. Seen on 14.04.2017 in Wintershausen, the new 3306, 3307 and 3308 on their way from the factory in Munich to Finland. Photos: Martin Voigt
Update: images of the transport in Kassel by Christian Klotz:
Subscribe to our mailing list:




latest graphics