update 2017|02|16
Tobias Unsin was able to catch the recently delivered X4E-640. The image shows the colorful locomotive on 15.02.2017 pulling the DGS 43155 Köln Eifeltor - Verona (with ES64F4-030) in Vogl (DE).
Note that the livery of the 640 changed a little. The slogan 'Connected by rail' was removed from both fronts. The MRCE logo (left) and the painted number (right) got a new place.
Seen today by Oliver Scholz in Munich: MRCE X4E-861, with boxXpress stickers. The locomotive was under repair during the last months, after its derailment in Beimerstetten [DE]. The locomotive ran over a scotch block and ended up in the railway ballast almost tipping over.
On 16.02.2017 the news was published that SNCF Logistics, responsible for logistics and freight transport within the SNCF Group, as been selected by BLS Cargo as its new partner. SNCF Logistics will acquire 45% of the shares in BLS Cargo, if the deal is approved by the competition authorities. BLS remains the majority shareholder with a 52% share. The remaining 3% is property of the Ambrogio Group (IMT).
update 2017|02|14
X4E-640 during trails in December 2016. Today the locomotive was handed over to MRCE and TX Logistik. Photo: Peider Trippi
Good news for Siemens, and its customers. The Italian railway authorities have granted approval for the multisystem version of the Vectron platform built for MRCE. This lease company has 21 Vectron MS locomotives on order, equipped for services in Germany, Austria and Italy (DE/AT/IT). The first batch of eleven, the designated X4E 640-650, is nearing completion.
Freight operator TX Logistik took delivery of the first MRCE Vectron MS today in Munich. It is the X4E-640 in its colorful 'Connecting Europe' livery. You may have seen this machine at InnoTrans 2016.
The approval of the Vectron multisystem locomotive for Italy is an important milestone. Next to MRCE, Lokomotion, Alpha Trains, ELL, BLS Cargo, Reichmut/SBB Cargo International and the Austrian Railways have machines (on order) that are to be operated in Italy. The DC version (3 kV DC voltage system only) of the Vectron is already authorized for Italy since july 2015.
Sources: MRCE / TX Logistik
update 2017|02|13
After its career at B Logistics, a new employer has been found for Alpha Trains 186 346: Railtraxx from Belgium. Torsten Giesen was able to picture the locomotive and its freight train on 11.02.2017 at Aachen-Steppenberg on its way to the "Gemmenicher Tunnel" on the Montzen-route.
New logos for Railpool > RTB Cargo 185 672: the elephant stickers are gone. Instead the machine now sports the logos of its operator and Mosolf, a company specialized in car logistics. Photo: Michael Goll
update 2017|02|10
Seen in Götzenhof yesterday: Siemens 247 902 and 903, together on their way to Leipzig. Soon they will join 247 904 and 906 and start pulling various freight trains for DB Cargo. The quartet is now complete. Photos: Martin Voigt
Today, Railpool 187 400 and 187 401 (both REV 10.02.2017) were released from the Bombardier Kassel factory and taken to Rostock harbor, behind the also new 186 297. From there, both 187s will make a boat trip to Sweden. During the next months, Bombardier will outshop three more Railpool TRAXX AC3 locomotives with Last Mile module for services in Scandinavia: 187 402, 403 and 404. Photo: Christian Klotz
update 2017|02|09
Not 1, not 2, but 3 images today of MRCE > LTE ES 64 F4 - 200 and its new side stickers. The vinyls are put on to promote the railfreight connection between Rotterdam and China; Chengdu - Tilburg - Rotterdam. Photos: Sven Jonas / Arjen Verlaan / Maik Broicher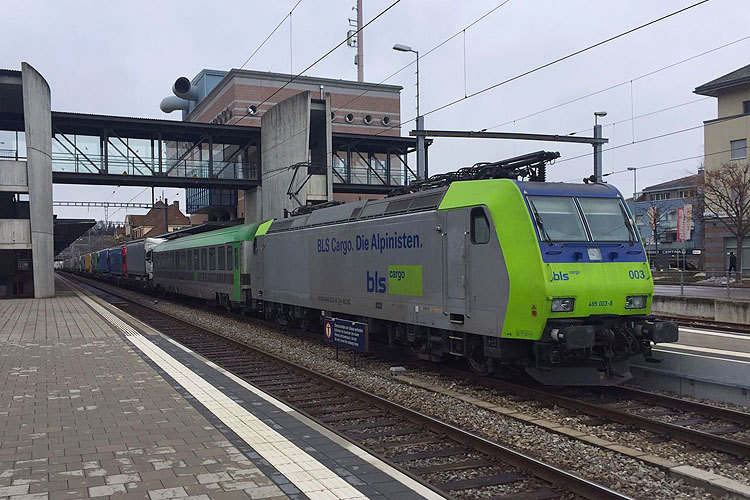 BLS Cargo has removed the 'Alpinist' portrait from locomotive 485 003. The picture above was taken on 05.02.2017 in Spiez (CH). It was the only locomotive from the series that had these stickers, similar to those applied on the BLS 486.5 series. The 485 003 has this different livery since 2008.
update 2017|02|08
Giorgio D'Alessandro was able to portray the brand new 483 059 and 060 for GTS Rail today. They made their maiden run together. And yes, of course they have names, let us welcome Apulia and Leonida.
Today, Metrans locomotive-to-be no. 386 030 showed itself briefly outside the Bombardier factory perimiters in Kassel, together with NS E 186 002, which is being used by Bombardier for tests and validation. The large Metrans logos on the 030 are still missing. We missed it, but Metrans 386 029 completed its maiden run on 03.02.2017. Photo: Christian Klotz
update 2017|02|07
REV 06.02.2017, hvle's electric locomotive 185 640 is fit for another period of service. Bombardier just completed the R1 revision on this locomotive. Photos: Christian Klotz
Subscribe to our mailing list:




latest graphics