update 2017|01|15
The moment is there, DB Regio has started to use its newest locomotive series in revenue service. Last week, the first 147s were seen with passenger trains in the Stuttgart region, being used for pulling/pushing 'N-Wagen' rakes, always with a 111 series locomotive as a back-up. Marco Eberbach was able to portrait such a train on the first day of service in Ludwigsburg. DB Regio 147 013 and 111 025 pushing train RB 39915 from Heilbronn to Stuttgart.
The lines mentioned where the 147s can be introduced (source DSO):
RE Stuttgart - Würzburg
IRE Stuttgart - Karlsruhe
RE Stuttgart - Heidelberg
RE Stuttgart - Singen
Update: Tobias Brüggemann took an image on 13.01.2017 in Nellmersbach.
Update 2: The 147s start to pull double deck trains too, as seen on 13.01.2017. 147 013 again pushing a RE Stuttgart-Heidelberg in Bruchsal. Photo: Jan Bläsi.
update 2017|01|13
DB Cargo 187 109 with freight train near Porz-Wahn, 12.01.2017. Photo: Sven Jonas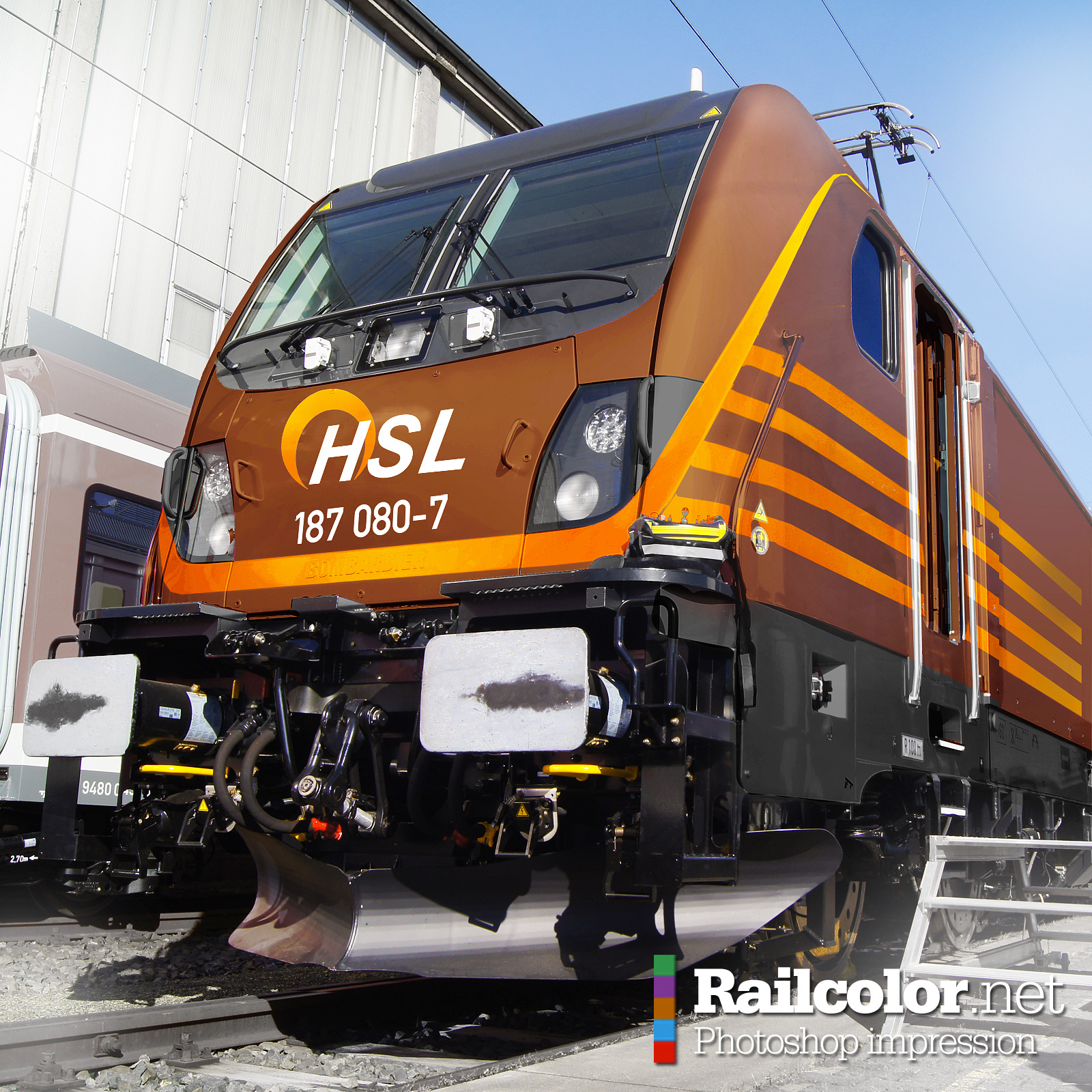 Photoshop impression by Railcolor - no official image
We created our own artist impression, to illustrate the latest TRAXX-order for Bombardier. German freight operator HSL Logistik will receive four TRAXX AC3 locomotives in 2017-2018.  These will be homologated for Germany.
At this moment, HSL Logistik is already operating two TRAXX AC3 locomotives, with Last Mile shunting module, both on hire from Railpool, being the designated 187 307 and brand new 187 313.
Source: Rail Business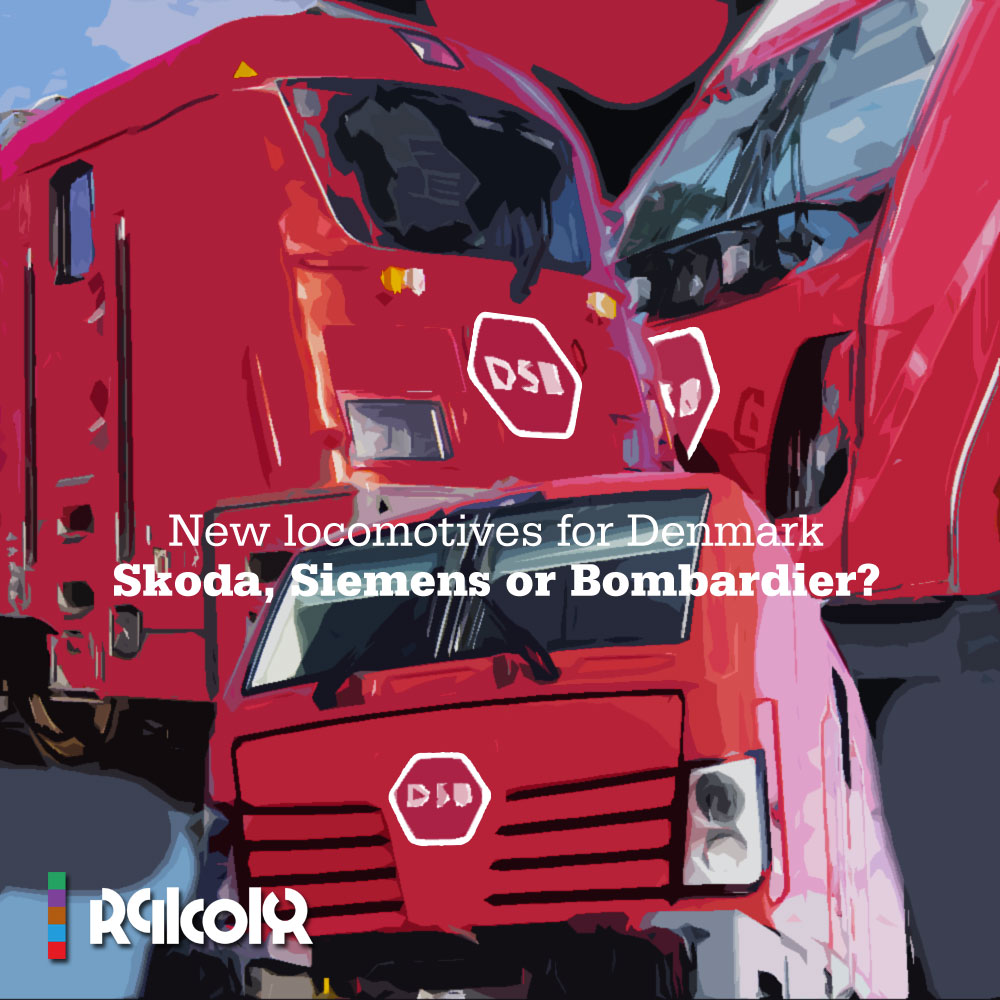 The Danish railways (DSB) have pre-selected three manufacturers in the ongoing tender for 26+18 new electric locomotives. Siemens, Bombardier and Skoda are still in the running. They now have until 06.02.2017 to reach in their preliminary bids. Final bids are expected for the end of the year. - Rail Business
Update: The 26 locomotives of the base order (DK) are for push/pull traffic with DSBs Bombardier Dosto2003 coaches (DSB has 25 cab cars). One option is for 6 additional DK-only locos, similar to the 26 above. However, interesting is the second option for twelve locos for potential international traffic to Germany (DE+DK).
The contract will include maintenance for 10 years (+option of 1 or 5 years). This will be performed by DSB at the DSB workshop in Copenhagen, under guidance and responsibility of the supplier. 6-7 locos must be in service in December 2019.
Inforail.pl reports about the final outcome of the Polish Innotabor innovation program, set-up by the Polish National Centre for Research and Development. Thirteen projects will receive funding, two of them are about locomotive development:
Newag receives 12,5 million złoty (appr. 2,9 million euro) for the development of a 4-axle multi-system electric with additional diesel engine.
Pesa is working on a dual-mode locomotive, an AC/DC electric + diesel. For this project, 21,8 million złoty (appr. 5 milion euro) will be available.
update 2017|01|12
This is mgw's newest locomotive, Vectron no.193 846 (or should we say Akiem 193 846 now?). On 10.01.2016 the machine was parked in Krefeld, offering Wolfgang Scheer a good look on its details. We see an UIC grid that still has many countries crossed out. Of the seven countries for which this multi-system machine is equipped, the locomotive is currently only welcome in Germany and Austria.
This is Railpool 186 102, looking fresh and clean, the blue striping is gone. Lokomotion, that has the locomotive in its fleet since 2009, has returned the locomotive to Railpool recently. Reportedly, the 186 102 is now hired to LTE. - RH
update 2017|01|11
Press statement Akiem:
Akiem, the European leader in locomotive leasing, has acquired German company mgw Service, a major independent player in electric and diesel locomotive maintenance in Europe. The transaction covers the entire share capital of mgw Service and was signed at the end of 2016 by Antje Wallraff and Klaus Weiss, the founding partners and heads of mgw Service, and Fabien Rochefort, Chief Executive Officer of Akiem.
mgw Service provides preventive and corrective maintenance for locomotives on behalf of rail freight and passenger operators. The headquarters of the 70-strong company is based in Kassel (Hesse State). It operates mainly in Germany from its own workshop in Krefeld (North Rhine-Westphalia State) and in Sweden (Hallsberg, Orebro County), but also in Switzerland, Italy and Poland. mgw Service possesses the skills, equipment and spare-part logistics required to cover an extensive range of electric and diesel locomotives. It generated estimated 2016 revenue of close to €20 million from a broad portfolio of private and incumbent operators.
This external growth transaction is part of Akiem's programme to accelerate its expansion in Europe and step up its investment in new locomotive fleets capable of serving from Germany to Central Europe, Sweden, the North Sea area, and Italy. This will enable Akiem to reinforce its leasing with maintenance offering. mgw Service's current managerial team will remain in place and the company will continue to operate under the name mgw Service. The complementary leasing and maintenance activities will enable Akiem and its subsidiary, mgw Service, to expand their networks and broaden the nature and level of performance of the services they provide to European operators.
"We are extremely satisfied with this transaction, which gives mgw Service the support of a European leader like Akiem. Our company's growth is now assured by once again expanding our European base so that we can serve all our customers with ever more dedication and commitment," said Klaus Weiß, CEO of mgw Service.
Fabien Rochefort, CEO of Akiem, said: "For Akiem, this acquisition is a significant step forward for our expansion in Europe. Akiem is determined to support and develop mgw Service and the synergies with our leasing business. The high professional standards and quality of service offered by both Akiem and mgw Service will enable us to offer our customers new services and provide better solutions for prospective customers in Europe."
Signed on 28 December 2016, the acquisition should come into force following the decision of the European competition authorities, which is expected for the end of the first quarter of 2017.
think-railways.com reports: Macedonian Railways signed a contract with CRRC Zhuzhou Electric Locomotive for the delivery of four electric locomotives. (..) The EUR 8 million investment is financed by the European Bank for Reconstruction and Development (EBRD), and is carried out as part of a project on the renewal of country's rolling stock fleet.
Only 2 days ago, CRRC Zhuzhou rolled out the first electric locomotive for Serbia.
From 02.01.2017 until 04.01.2017, Railcolor was transferred onto a new server. It was quite a job to do this without anyone noticing, and we almost did it. The migration is completed now, but we must tell you that around 30 images that were uploaded that day were lost. So if you think one of your images is missing, we kindly ask you to upload it again. Sorry for the inconvenience.
The Lokomotion picture book, now with 7 euro discount for German customers!
The new Lokomotion picture book has arrived in Berlin. This means that we can ship using German mail pricing. Good news for our German fans! Order you book now in our webshop and use voucher code 'LOMO'. The discount is valid when order is shipped to a postal address in Germany.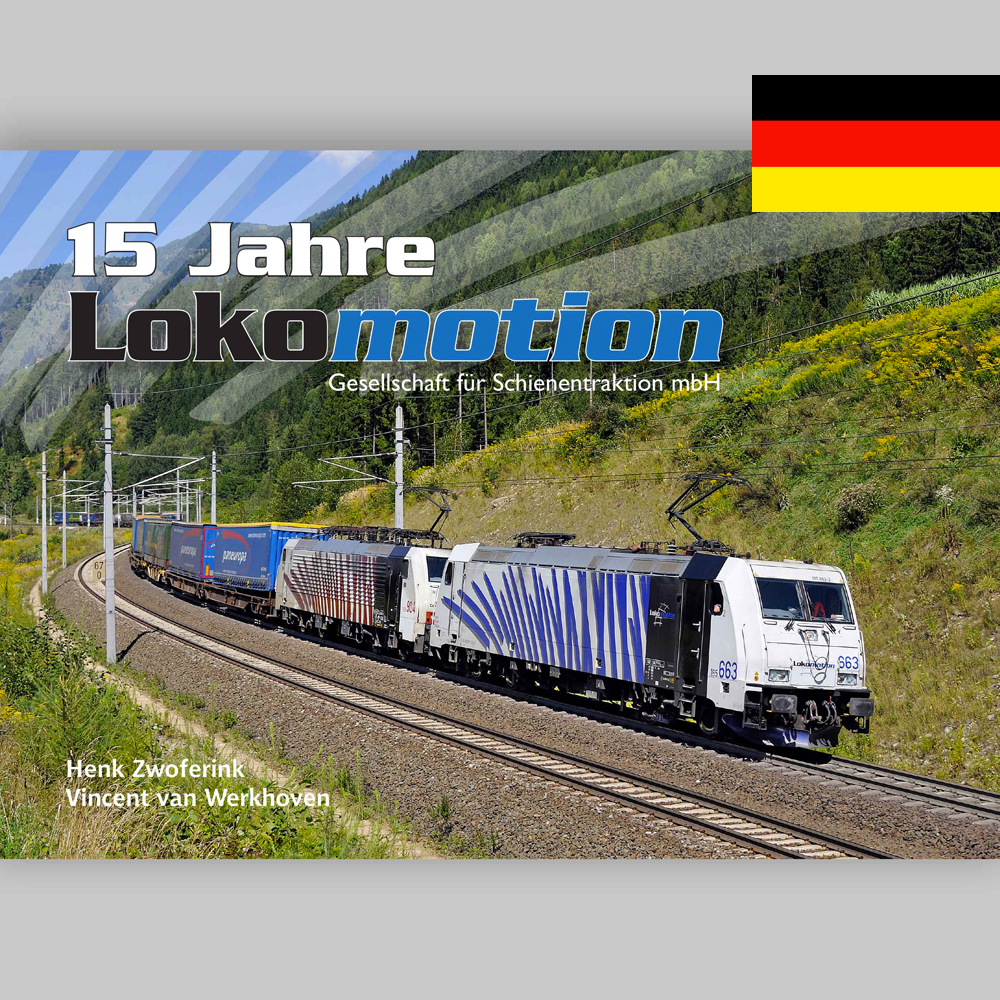 update 2017|01|10
In September 2016, ELL 193 271 was damaged as it derailed in Hungary. One month later it was sent to Munich for repair. Since 08.01.2017, the DE/AT/HU/CZ/SK/PL/RO/HR/SI (!) machine is back in service. The Salzburger Lokalbahn (SLB) is now operating the machine, as SLB's own 1216 940 / 91 was sent to Linz for maintenance and preparation for ETCS installation.
Today, Metrans' newest left Kassel. 386 027 with REV 06.01.2017. Photo: Christian Klotz
On maiden run today: Akiem 186 194 for Fret SNCF. Photo: Christian Klotz
Toshiba is trending. The German railways and the Japanese company are going to cooperate in two locomotive projects, and Toshiba is involved in the 200-locomotive deal between Railpool and DB Cargo. Read all about it on Railcolornews.com:
[DE] Toshiba + DB Cargo: a new hybrid shunter for the EU market
[DE] Railpool acquires 200 locomotives from DB Cargo
[DE] HELMS: Toshiba rebuilding two DB V90 locomotives
update 2017|01|08
Railjournal reports
: The Moldovan railways (CFM) has issued an international invitation to tender for a contract to supply 12-15 locomotives and rehabilitate maintenance facilities. The order is being co-financed by the European Bank for Reconstruction and Development (EBRD), the European Investment Bank (EIB) and the European Union's Neighbourhood Investment Facility (NIF).
update 2017|01|07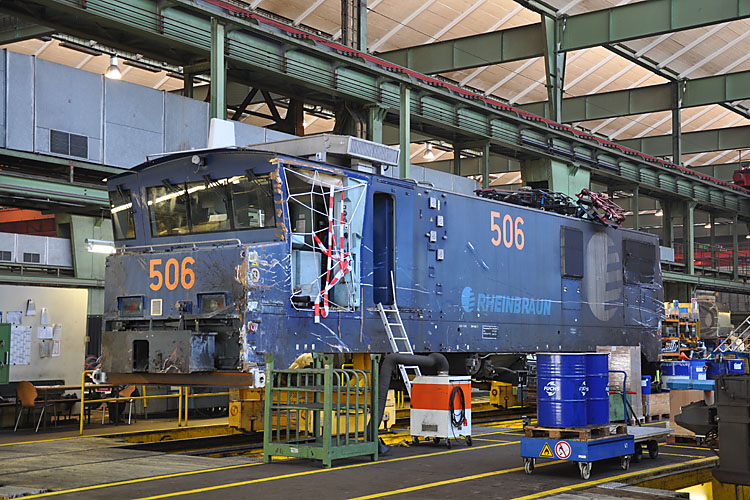 On 14.02.2015, RWE locomotive no. 506 crashed. After its complicated recovery, the machine was re-instated at RWE's depot in Frechen-Grefrath. With REV date 23.11.2016, the locomotive is now back in service, fully repainted in blue. Its logos and numbers are of a new design, large, bright and white. - Eisenbahn Revue International 1/2017
Update: An image of RWE 506 in its new livery. Photo: Martijn Schokker
(Although the letter E is now gone)
This is Felicia, a new TRAXX DC locomotive for GTS Rail. On 05.01.2016 the machine completed its maiden run Vado Ligure to Genova-Sestri Ponente. That same day the loco was sent to Piacenza and handed over to GTS Rail. Information and photo: Massimiliano Giovanetti.
Subscribe to our mailing list:




latest graphics