update 2016|10|24
The completion of the first batch of twenty 147 series locomotives for DB Regio is in full swing. Today 147 003 had a test run. Last week we documented the maiden run of DB Regio 147 011, 012 and 013. A detail image of 147 013's allocation markings shows its future depot: DB Regio, Baden-Württemberg, Stuttgart. - TZ/CK
No in service of RTB Cargo, the all new Railpool 186 292. Steven Oskam could track the machine down today at Zwijndrecht station.
Remarkable: Freight operator is now using a TRAXX locomotive that should belong to the fleet of Dutch state operator NS: Alpha Trains 186 122. Earlier the locomotive was hired to the Belgian railways for passenger trains Amsterdam - Brussels, but now it is pulling open access trains for real! Even weirder: someone decided to cover the NS logos on the 122, according to various by people, with black paint.
Both Jeroen de Vries and Steven Oskam portrayed the anonymized locomotive today, in Rotterdam and Zwijndrecht respectively.
update 2016|10|23
ELL 193 271 is on its way back to Munich. It arrived in Passau (DE) today. The machine was in Budapest where mud and stones had to be removed from under its frame. The machine was damaged when it derailed in Budapest-Soroksár on 17.09.2016. During the past week it was made 'ready to roll', so it could be transported back to the Siemens factory in Munich, where it will be repaired.
Christian Blumenstein made a picture of 193 271 today, behind ELL 193 270, in a LTE freight train (no 41156). Also 193 272 was taken along, resulting in an image with three ELL Vectrons leading this freight train.
update 2016|10|21
Siemens delivers CD Cargo's Vectron locomotives without stickers. This gave CD Cargo the opportunity to make something special of 383 004, the fifth and final machine under delivery. Its two-tone blue livery was enhanced by special stickers this week, commemorating the 10th anniversary of CD Cargo, and the 175th birthday of railway in the Czech Republic. First images have been published by CD Cargo.
Note: the five CD Cargo Vectron lococ left the factory in this order: 383 001, 003, 002, 005, 004
update 2016|10|20
The Railpool fleet is growing again. Earlier this week we showed you the new 186 292, today the title for newest Railpool locomotive in service goes to Vectron no. 193 826. Timo Albert was able to portray the machine in Würzburg on 19.10.2016. The machine is currently operated by TX Logistik.
As of the next time table change in December, all intercity trains on the relation Dresden – Leipzig – Magdeburg – Hannover – Bielefeld – Köln (IC 55) will be operated using IC2 rolling stock (TRAXX + Twindexx). Howeber this means Deutsch Bahn will withdraw all sets from IC56 services (Norddeich – Bremen – Hannover – Leipzig) as there are not enough sets available to serve both connections. (Rail Business)
As of late September, more TRAXX AC3s are being operated internationally. This means that 187s previously used in Austria or Switzerland only, now also come to Germany. An colorful example is LTE's new 187 930 running to Hamburg. Martin Voigt and Markus Alf both caught the locomotive on camera in Germany last week.
update 2016|10|19
Below you see a picture of the all new Railpool 186 292-9, the first locomotive of a new batch, during its maiden run. Its country specific package: DE/AT/BE/NL.
You see that Railpool starts to fill in the gaps in the current 186 number series, in stead of starting new ones. The fans of numbers and statistics say thank you ;)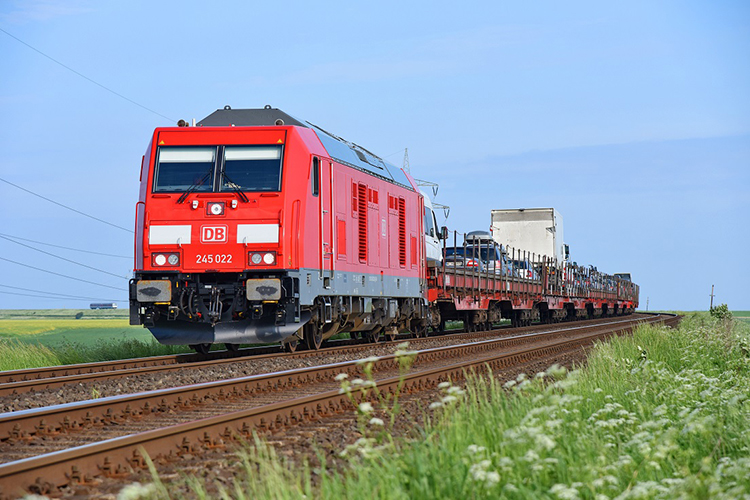 Railjournal reports: Deutsche Bahn confirms calling of eight more TRAXX DE Multi Engine diesel locomotives from its 200 locomotive frame contract with Bombardier. Five will be used by DB Fernverkehr as ICE rescue locomotives throughout Germany, replacing older Class 218 locomotives. The other three will be delivered to DB Regio to further expand its fleet in South Germany.
In 2011, DB placed a framework order for up to 200 TRAXX Multi Engine diesel locomotives. The first 20 locomotives ordered under this agreement entered service for DB Regio in South Germany (stationed at Bw Mühldorf and Bw Kempten) and in the Frankfurt am Main area. Another seven were ordered for use on DB Fernverkehr's Sylt Shuttle between Niebüll and Westerland (Sylt).
update 2016|10|17
MRCE ES 64 F4-009 just had its second main overhaul at Dessau: REV 06.10.2016. Remarkable is that this overhaul is done after only four years of services, as the previous main check-up was done in 2012.
This time, the loco has been repainted in black, it was still carrying its yellow-silver Siemens Dispolok livery from 2004. The sticker man however made a small mistake: up front the loco now sports the number 'ES 64 F4-909' which should be 'ES 64 F4-009'.
Softronic has sent Trans Montana 91 53 0480 019-5 to Bulgaria for homologation. Krassen Panev sent us this image taken on 17.10.2016 in Sofia (BG). It shows the 019 together with DB Schenker Bulgaria 86014, 86012 and 86020.
We are happy to announce that the Railcolor Books are conquering the German market. Publisher VGBahn now offers Railcolor book 2 in shop. Check it out here.
update 2016|10|15
From Kassel to Bad Bentheim today: NS E 186 041 and 042. Thank you Christian Klotz, Markus Tepper and Marcus Alf.
Strangely enough, the 042 has check digits (-5) on its fronts. The sticker guy made a mistake here?
Subscribe to our mailing list:




latest graphics