update 2017|03|28
The picture above shows ELL>Lokotrain 193 222 pulling IC 523 of the Slovakian railways (ZSSK). The state company is testing Vectron locomotives in its revenue earning intercity services. ZSSK issued a tender last year for new electric locomotives last year. We think the Vectron is sure one of the candidates for a possible order. Photo: Filip Chalupki
update 2017|03|27
This is ÖBB 1116 072, that got Gebrüder Weiss vinyls on its sides in May 2014. The orange/white/red stickers are gone. The 'Bodensee' markings however remained. Photo: Kurt Sattig
update 2017|03|24
Lokomotion just got new stickers: numbers all around and logos upfront. But what about that single blue stripe? Work in progress?
Italian railfreight operator Ferrotramviaria will soon get a 4th TRAXX DC locomotive. On 23.03.2017, the black and yellow 483 043 was seen around the Bombardier factory in Vado Ligure. Photos: Giorgio D'Alessandro / Giorgio Ianelli
Update: Bombardier released the 043 on 23.03.2017 from Vado Ligure, and the locomotive arrived at Bari-Lamasinata yard one day later.
Milestone: The first Bmbardier TRAXX locomotive, number 3001, for Israel Railways has been completed and is on its way for test runs at our Kassel site. Afterwards, it will undergo final dynamic trials in Velim, Czech Republic. Then a first locomotive makes the long journey to Israel to finalize the last stages of electrical testing.
Israel Railways ordered 62 TRAXX AC locomotives in 2015 and they will play a key role in Israel's program to switch from a diesel to electric rail network. Starting in 2018, they will power Israel's fleet of 369 Bombardier TWINDEXX Vario double-deck coaches.
update 2017|03|22
Lokomotion 186 443 has new stickers, as the company is looking for new employees. Seen on 22.03.2017 by Leroy Abauna.
Seen today in Munich, the first Skoda locomotive for DB Regio: the designated 102 001. Photo: David Bieler
update 2017|03|21
PKP IC 5370 007 in its newest T-Mobile livery. Photo: Thomas Wohlfarth
During the past months, we have registered four PKP IC 5370/EU44 series locomotives receiving a new promotional livery. Unit 001, 003, 004 and 007 got new, extra bright liveries about T-Mobile products and services. Our current overview:
5370 001: NEW white/magenta T-mobile > magenta T-Mobile SuperNet
5370 002: magenta T-mobile Huawei
5370 003: NEW standard PKP IC > magenta T-Mobile SuperNet
5370 004: NEW standard PKP IC > magenta T-Mobile SuperNet
5370 005: standard PKP IC
5370 006: magenta T-mobile Galaxy S7
5370 007: NEW white/magenta T-mobile > magenta T-Mobile ElectronicBeats
5370 008: standard PKP IC
5370 009: standard PKP IC
5370 010: magenta T-mobile Galaxy S7
Got additions/remarks? Let us know via hello@railcolornews.com
On 15.03.2017, 245 002 from DB Regio Kempten was on a test run pulling IC 2012 / 2013 from Immenstadt to Stuttgart. The video shows the 2013 service near Bad Grönenbach. Video: Mĺnuel Sĺttlerssřn
DB Regio currently has three new TRAXX DE Multi-Engine locomotives on order for operation in the south of Germany.
update 2017|03|20
Yes, some of you may have noticed there is still a gap in ELL's list of Vectron locomotives; There is no 193 261, 262 nor a 263. One of them now has made its first appearance in Hegyeshalom in Hungary. The pictures show ELL 193 262 with country specific package: DE/AT/HU/PL/CZ/SK/RO/NL. So, this is a multi-system locomotive with the Central European package we have seen before, but with one country added: the Netherlands. It is the first time we see a Vectron locomotive in this configuration. Photos: Miklós Berényi
update 2017|03|17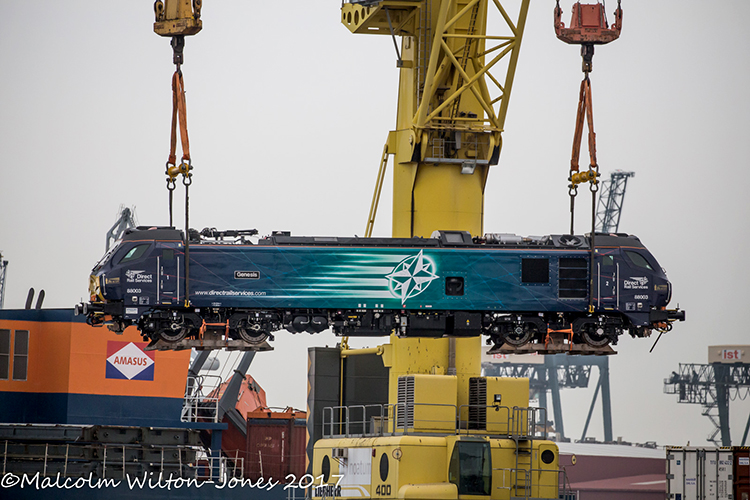 Approximately one month ago, on 23 February 2017, 88003 'Genesis' is lifted onto the Eemslift Nelli. Soon the six Class 88s already in the UK will be joined by the remaining four. Picture by Malcolm Wilton-Jones.
Some short news from Spain regarding the delivery of Class 68 and 88 locomotives to Beacon Rail and DRS. Locomotives 88006 'Juno', 88007 'Electra, 88009 'Diana' and 88010 'Aurora' have been transported to the Port of Sagunto, from where they will be shipped to the United Kingdom. When the locos arrive on British soil, all ten Class 88s will have been delivered to the UK. None have entered service yet, pending certification and dynamic testing.
Not only Class 88s have made it to Sagunto. Among the four bi-modes, there were also two Class 68 locomotives. One of the two is 68027, which is still in a basic blue livery.
Subscribe to our mailing list:




latest graphics