update 2015|02|26
The initial goal for 2015 is to raise 10.000 euro by fundraising via the website. Now raised:
1.135 / 10.000 euro
Updated 26.02.2015 7.15 pm CET / Thanks to you all!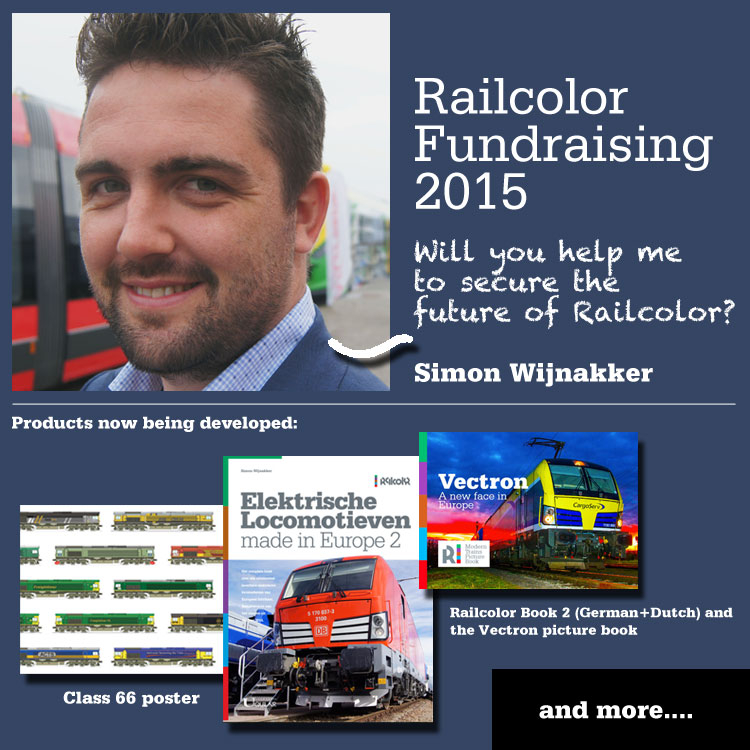 Click here to see how you can help
And now it is time for something serious guys, a personal note from your Railcolor webmaster: I have been working on Railcolor and its products for 15 year now. I put all my time and energy available in this, for you, for myself, to be complete, to bring something different to the railway world. But, as you can imagine, this costs time, a lot of time. Time that in the future will be needed for other projects and other things in life. I therefore need your help, to secure the future of the site, the books, the posters and what will be made more (I have plans!). Are you on my side? With a gift, big or small, you will help me, help Railcolor. I will be thankful, very thankful and you will get a gift in return. Click the link to read more about the Railcolor Fundraising 2015. Let's make the future railcolorful together!
Click here to see how you can help
Images from the past week, showing test runs with the two medium power Vectron locomotives 192 961 and 962. Later on, the Vectron DE joined in. - WH/CB
update 2015|02|24
A promotional livery for ÖBB 1116 170, a newbee in the -Werbelok- fleet. It now promotes the 2015 edition of the Eurovision Song Contest, to be held this year in Vienna. Its theme: Building Bridges. - KK
Few days later, 1116 180 got the exact same livery, so there are two different Eurovision locootives. - AK
This morning, the new ELL 193 216 was seen in Munich. It is a multisystem locomotive, to be leased to LTE. This operator already operates ELL 193 203, 207 and 215, of which the first two have the same LTE stickers as the new 216. - MR
Also interesting, the 216 is approved for service in DE, AT, HU, PL, CZ and SK.
It has the livery of DB Schenker Rail and has the new front design, with improved crashworthyness. - CTMV
update 2015|02|23
At the end of January, Siemens transported Vectron locomotive no. 193 970 to Wegberg-Wildenrath test center. It was its first appearance since this machine was presented at the InnoTrans fair in Berlin in September 2014. - WS
The main image shows the locomotive making its rounds at the T1 test ring of the Siemens test center in Wegberg. The 193 970 is a relatively new testbed locomotive from the Siemens fleet. At InnoTrans Siemens stated that the DE/AT/HU/RO locomotive was equipped with ETCS and additionally the ATC systems for Norway, Sweden and Denmark.
LokoTrain from the Czech Republic will soon start services with Vectron locomotives leased from ELL. Forst one should arrive in March. The company now released a drawing of how the LokoTrain logos will be applied:
For the first time we have received an image of a DB Regio 245 series locomotive sporting the -Südostbayernbahn- name on its side. Locomotives 245 008-015 run for the Südostbayernbahn, a subsidiary of DB Regio. They are allocated to Mühldorf depot. - DrGB
update 2015|02|22
From the DB Schenker Rail website: In 2010, DB Schenker Rail acquired a 49% of the shares of Nordcargo, and then in 2011 an additional 11% of the shares so passing to 60%. The remaining 40% is property of Ferrovie Nord Milano (FNM).
Several years ago, FNM bought eight Traxx DC locomotives for Nordcargo, delivered in a blue and grey livery. As of January 1, Nordcargo is officially rebranded as DB Schenker Rail Italia. The company announced that this will become visible. Fact is that locomotive E 483.102 now has appeared with DB logos. Most likely, the other seven machines will follow soon:
Our first image of the green Griffin for 2015. Reportedly, the locomotive is now being operated by Kolprem. - PF
update 2015|02|21
Today, a Vectron locomotive was hauling a freight train on the Slovak railway network for the very first time. Multi system ELL locomotve no. 193 215, in service of LTE, entered the country via Sturovo and Kuty. The picture show the locomotive with train 46888 / 44292 at Bratislava-Mlada Garda. - JS
update 2015|02|20
In 2013, Bombardier released the red 146 251 for DB Regio. In August 2014, no.2 of a final batch of 32 for this operator was outshopped. Until now, the 146 251 and 252 were used for tests and trials. Now we can say that more new machines have been completed. Meanwhile the new 146 253, 254 and 255 have been sighted.
The title image shows 146 252 behind 146 553 and 564 for DB Fernverkehr. The three locomotives returned to Bombardier in Kassel on 19.02.2015. - CK
On 19.02.2015, Bombardier and NAH.SH officially presented their first diesel locomotive for the Marschbahn. The images show the 245 201 during the handing over ceremony. - Bombardier
Meanwhile, Bombardier has started series production for this customer. 245 203 was seen in Kassel yesterday. In total, fifteen machines will be built. - CK
Subscribe to our newsletter:




latest graphics