update 2016|07|22
In October, mgw Service will get a second Vectron locomotive. On 17.06.2016, mgw and Siemens signed the contract. It is the fourth electric locomotive in the fleet of mgw Service, that currently operates 183 500, 185 642 and 193 845. (mgw/Siemens)
update 2016|07|21
Thanks to Sebastian Winter and Jens Mittwoch we could show you the first run after delivery of the new Captrain / ITL 193 894. The machine went to the ITL workshops in Pirna and got its Captrain design during the past week. As of 19.07.2016, the machine is used for revenue services. Thanks Patrick Holzbach and Mike Röntsch.
19.07.2016: Maiden run of NS E 186 028 (Marcus Alf). On 21.07.2016 NS E 186 029 had its turn (Christian Klotz).
In September it is InnoTrans time! But without 1:1 scale Bombardier trains. The company has decided to focus on virtual reality. Bombardier will show its trains in a new 'Virtual Reality Lab' at its inside booth. For us, a new challenge to report about what will be on show. (Rail Business / Der Eisenbahningenieur)
Some flash backs: locomotives that Bombardier showed during the past decade:
update 2016|07|20
After spending its first months of existence as a normal gauge locomotive in central Europe, VR's 3301 is now ready to go to its final destination, Finland. Now with 1524 mm bogies, in stead of 1435 mm ones, it is going northbound on loco buggies. Thanks Norman.
CD Cargo 383 001 is on tour. After being in Slovakia on the 18th, it was seen at Öttevény in Hungary, the next day. Both countries are part of the country specific package of the machine, and the four that are to be delivered. Thanks Ludwig GS and Norbert Tilai.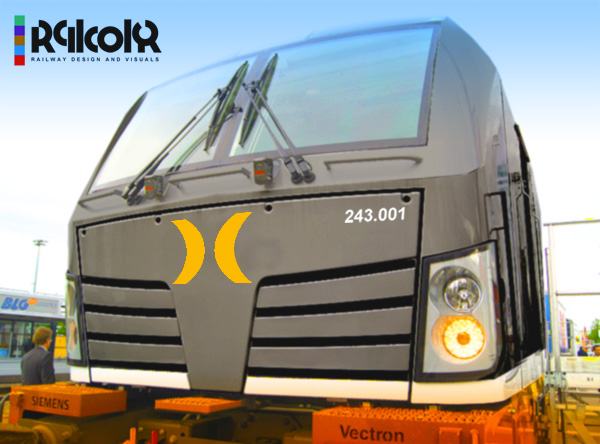 Hector Rail publishing: Hector Rail has signed an agreement with Siemens for the delivery of five new locomotives of the so-called Vectron type. The locomotives are electric, designed for the Scandinavian market and equipped with so-called "Extra mile" function. This means that the locos have a diesel engine installed and that they are equipped with radio control. This allows efficient shunting in and out of terminals possible without having access to a separate shunting loco. Under the agreement, there is an option to buy a further 15 locomotives until 2021.
The new locomotives are equipped with the new railway safety systems ETCS. Two locomotives are already built and will be delivered in 2016. These two locomotives are equipped with conventional safety systems and without extra mile functionality. The remaining locomotives will be delivered in 2017.
The agreement means the opportunity to develop the fleet up to 20 locomotives. It is also possible to order the locomotives in a more international version which means that they can operate in Sweden, Denmark and Germany.
Vectron locomotives re-generate electricity to the power grid when braking. They can also haul heavier trains than previous generations of locomotives. This means that more payload can be moved in a train. This means that Hector Rail will take an important step towards innovation, efficiency and environmental compatibility.
The locos have four axles, a weight of 90 tons, an installed power of 6400 kW and have a maximum speed of 200 km/h.
Railcolor: The first two locomotives to be delivered this year are 193 923 and 924 that were in service by CargoNet during the past years.
update 2016|07|19
Alstom reports it has set a high-speed record in Kazakhstan reaching 200 km/h while conducting tests on its KZ4AT passenger locomotive on the Moiynty-Kiik line South East of Astana. These dynamic tests are part of the validation process in order to allow the locomotives to run up to their maximum design speed during commercial operation.
"We are very pleased and proud that those tests were successful and that we reached 200 km/h for the first time in the railway history of Kazakhstan. This record opens new promising prospects for Kazakhstan as an important hub linking Europe, Middle East, Asia and Russia through new Silk Way", said Bernard Peille, Managing Director South CIS Alstom.
The production of locomotives is localised at the EKZ plant in Astana, jointly owned by Alstom (50%), KTZ (25%) and Transmashholding (25%).
With 14,000 km of track, the Kazakh railway network is the world's third biggest network using the 1,520 mm track gauge and represents a substantial market for signalling equipment as well as maintenance activities.
update 2016|07|18
The Blå Tåget and Gröna tåget trains services can continue, for now. Earlier, Transportstyrelsen decided to withdraw safety certificates A und B of passenger rail operator Skandinaviska Jernbanor (SkJb), due to severe shortcomings in its safety management.
On 15.07.2016, the administrative court of Falun decided that SkJb was allowed to continue. Indeed, the judge subscribed the problems with the qualification and training of the personnel, but concluded that this would not immediately result in big risks. Transportstyrelsen's next step is still unknown.
Manfred Knappe and Michael Raucheisen were able to shoot the brand new Railpool 193 824 during its one day duty to haul the Meridian replacement train in and around Munich. The locomotive was used as such on 15.07.2016.
We don't know more than this: Softronic's Trans Montana locomotive no.24 is blue. Very blue.
update 2016|07|17
Sven Hohlfeld sent us this image of Macquarie Rail 185 578, now also in Captrain design. Additionally it features a superhero, promoting Captrain's services to Hamburg. Jan Ehrhorn saw the machine pulling its freight train on 18.07.2016.
Subscribe to our mailing list:




latest graphics