News
Last week we got amazing images of the Flamsbana services in Norway, now being operated with El 18 electrics. Two powerful electrics, the typical green coaches and impressive landscapes. Enjoy! Thank you Peider Trippi and Theo Stolz.
Yesterday, Siemens released the new ELL locomotives 193 201 and 230. Both got a restyle before they were sent of to Linz (Austria) for final customer specific adjustments. 193 201 got its big white ELL surface removed and got SB Cargo International logos. 193 230 got the logos of RTB Cargo.
Also seen in Munich, Siemens 21975 - ELL 193 202, awaiting its maiden run. With this machine, the number series 193 201-230 is complete.
Of course you want this: a unique Vectron T-Shirt! Order now. This offer is available until 05.07.2015 23.59 CET.
Available in S, M, L, XL and XXL / Only in Europe / Shipping costs from Poland € 11.99
[Update] Above you see a picture of the locomotive in its new livery during its first commercial run. A train from Budapest to Vienna. Thanks to Ferenc Németh.
MAV 470 003 got a redesign. It now has stickers to celebrate 2015 as German-Hungarian friendship year. A first image by Gábor Horváth:
The new Bombardier 35183 / Railpool 186 430-5 is now working for Transchem from Poland. New software is being tested. According to its UIC raster, the machine is only approved for Germany and the Czech Republic for now. The machine has a temporary permit for Poland until 30.06.2015 though.
(Frank Gollhardt / Stefan Krahn)
On 23.05.2015, NS E 186 016 and 017 came back to the Netherlands after serving as tast bed locomotives at Zurich for Bombardier. On 24.06.2015, they left the country again, bound to Germany. Let's see where this transport is going. A first image of the transport here.
Building. Building. Building. New. Railcolor. Book! #railways #locomotives #europe
Yesterday, two new Vectron locomotives for ELL completed their maiden run. Both machines are Vectron AC machines with the DE/AT/HU package:
Siemens 21974 - ELL 193 201
Siemens 21965 - ELL 193 230
In the current issue of Eisenbahn Kurier, an article is published about the Vectron locomotive. It says that ELL has 34 locomotives on order, from a framework agreement of 50. 11 of them to be multi system machines, 23 are to be AC locomotives. Of we take a look at our ELL list we count 32 locomotives in the fleet of ELL (including 193 820). So the delivery of the fixed order is almost through:
- 20 new Vectron AC locomotives:
193 201, 203, 204, 208-213, 218, 219, 223-225, 228-230, 831 and 832
- 11 new Vectron MS locomotives:
193 205-207, 214-217, 220-222, 226-227

Curious: ELL acquired 193 820 from Siemens after testing period, but it is not clear if this machine is part of the framework agreement though. According to Siemens 183 821 is not sold to ELL. But it does have an ELL Übergabebuch.
Today, Siemens handed over the last of 35 Vectron AC locomotives to lease company MRCE: X4 E - 606. Delivery completed.
The title image shows brand new Railpool 186 431-3 pulling the 'Nievenheimer' freight train from Göttingen to Dormagen-Nievenheim. Behind the 431 is Railpool 185 697 with Novelis logos.
(Niklas Eimers / Achim Scheil)
The planned allocations of the new Traxx AC2 locomotives for DB Regio and DB Fernverkehr:
146 251-256 > Frankfurt (Main)-Griesheim
146 257-264 > Erfurt
146 265-282 > Dortmund
146 551-577 > Leipzig Hbf

The introduction of the DB Regio locomotives will result in various re-allocations of older DB Regio 146.0/1 series locomotives. 146 257-264 will replace the hired MRCE ES 64 U2 electrics on the RB20 (Eisenach - Halle) which will go back to the lease company. (Eisenbahn Kurier 7/2015)
Siemens has been performing trials with ELL 193 209 to Schwarzenburg [CH]. Particular about this route is the steep 35 °/oo gradient and small curves with only 250 meter radii. Siemens is evaluating the forces between wheels and tracks. Two Golden Pass coaches were taken along to have sufficient braking power, as the locomotive misses pneumatic brakes on two wheels, which are special 'Messradsätze'.
(Theo Stolz / Michael Krahenbuhl)
Bombardier Services in Kassel has completed the R1 overhaul (REV 18.06.15) on MRCE locomotive 484 103. The locomotive is a rare sight in Germany, of course, as it only homologated for Switzerland and Italy. The locomotive left Kassel on 19.06.2015 together with Macquarie Rail 186 907.
(Christian Klotz)
Today, the new Railpool 186 426 had its maiden run. (Christian Klotz)
On 15.06.2015, a Siemens Vectron locomotive (Railcolor: 193 822) arrived at the Rail Cargo Terminal / BILK in Budapest. The locomotive successfully completed a 650 km test run with a Rail Cargo Group (RCG) freight train, from Sežana (Slovenia) via Zagreb (Croatia) to Budapest. RCG wanted to evaluate the possibities of the Vectron locomotives and its interoperability. Interesting is that the machine also can be homologated for Italy, so it could be used to bring freight trains from Triest (Italy) to Budapest in one haul.
Arnulf Wolfram (Siemens AG Österreich) and Georg Kasperkovitz (Rail Cargo Group) met in Budapest, when the train arrived, as the picture shows.
(Siemens)
The first locomotives of DB Regio's newest locomotive batch (146 251-282) have arrived in Frankfurt. Delivery of the machines has begun. The pictures show 146 254 and 259 in Frankfurt (Main) Betriebsbahnhof. (Albert Hitfield)
As of this week, you can play around with the various locomotives of lease company Akiem. Railcolor's creative agency Crearail has completed a custom designed interactive locomotive portfolio of all the machines that Akiem has to offer: Traxx, Prima, Vossloh G1000, yes also the light Y8000 shunters for France. Click here to go to the tool.
Crearail is a railway centered design agency and consulting company. It combines extensive railway market expertise and industrial design engineering skills, including livery design, UI/UX design and publishing.
Now with an image of locomotive MRCE X4 E - 606. If we have counted right, this is locomotive no.35 for MRCE (X4E-600-606, 850-867, 870-879), which means all known orders (to us) are completed now.
(Michael Raucheisen)
Dutch state rail operator Nederlandse Spoorwegen (NS) has decided to order 18 extra Traxx MS for its future passenger services over the HSL (high speed line). Things brings the total of E 186 series locomotives in the fleet of NS to 37. Nineteen are already delivered (E 186 001-019). Start of the delivery of this second batch is envisaged for May 2016.
This second order comes from an option taken from the original contract NS closed with Bombardier in 2013. NS first wanted to explore the possibilities to use the new Traxx MS in combination with existing driving trailers (type ICRm BDs), but a pilot project (two coaches have been adjusted) has shown that rebuilding the coaches in order to make them communicate with the new locomotives is not feasible. So push-pull operation is a no-go.
This means that NS will use its Traxx MS locomotives in sandwich-operation (one locomotive on each side of the train), thus needing many more machines. Sandwich operation is planned for the Amsterdam - Rotterdam shuttles and for the new services between Eindhoven and The Hague over the HSL. The new machines will also be needed for InterCity services to Brussels.
(Nederlandse Spoorwegen)
Yes, trials with the Trans Montana locomotive from Softronic in Sweden have started. The image shows the 019 on a trial run from Ludvika to Borlänge with an empty Rush Rail timber train consist.
(Peider Trippi)
We are working on the second Railcolor Book. In the next months we will make several announcements about this new project. Keep an eye on this website, and we will keep you posted on the progress and details.
On 13.06.2015, Siemens 193 901 left Munich together with ELL 193 209. Together they ran to Basel, Switzerland. The 193 209, with SBB Cargo International logos, has measuring equipment on one of its axles, including a 'Messradsatz'.
Update: We have added an image of 193 209 in Basel.
(Michael Raucheisen / Tobias Schmidt)
On 15.06.2015, MRCE's X4E-605 has its maiden run (see image, check the nice rain shower produced by the pantograph!). On 16.06.2015 the X4E-606 was seen too, with REV date 03.06.2015.
(Michael Raucheisen)
Just an image by Janosch Richter. Update: Both 186 429 and 430 have been released from work and run in the Leipzig area for tests.
NS International, the division of the Dutch Railways about international train travel, is using Traxx MS locomotives now for the IC 146/147 services (Amsterdam - Berlin vv). Up til now these trains were pulled by 1700 series locomotives, but their availability is problematic. Two locomotives are available, Macquarie Rail 186 148 and 149, which were already used by NS International for CityNightLine services.
The Traxx locomotives pull the IC trains from Amsterdam to Bad Bentheim (DE) vv. It is not clear if the usage of the Traxx locomotives is a temporary solution or not.
On 13.06.2015, ELL Vectron locomotives 193 226, 227 and 229 left Munich. They ran to Linz in Austria. New is that 193 229 now sports the logos of RTB Cargo.
(Michael Raucheisen)
Today, RailAdventure 103 222 is taking two Vectron locomotives for Italy to Brenner station. The machines involved are the grey 191 011 and 191 012 for Italian railfreight operator CFI. Both machines were ordered in February 2014 and completed right away in the consecutive months. However, as Siemens is still awaiting the official approval of the Vectron for Italy, delivery was suspended until now.
Update: The machines have arrived at Brenner station this afternoon. Now their journey will continue to Bologna (IT).
FuoriMuro from Italy also awaits the delivery of two Vectron locomotives (191 002 and 003). These were ordered in March 2012. The two locomotives have been parked in Munich for quite some time now, they were already seen being completed early in 2014.
It was always planned like this. The very last Siemens ES64U4 type locomotive to be delivered, 183 717, was used as testbed locomotive by Siemens in the last couple of years. When its ETCS Trainguard test career was completed, it would be delivered to Austrian railfreight operator Steiermarkbahn. And so it happened. During the past month the white machine was retrofitted in Linz and got the Steiermarkbahn colour scheme. Now we receive the first images of the locomotive in its new look, and its first revenue trains.
(Herbert Pschill)
A new green and white locomotive. 183 717 has found its final destination: the Steiermarkbahn. Read more > http://www.railcolor.net/index.php?nav=1405330&id=7753&action=dview

Posted by Railcolor.net on Sunday, June 14, 2015
This week Amtrak 642 performed the usual road testing that is required before any unit enters revenue service. This involves a round trip from Philadelphia to Harrisburg "Keystone Corridor" and then a two-day round trip from Washington, D.C. to Boston, MA on the Northeast Corridor. The title image shows the 642 on 10.06.2015 traveling north to Boston with a 3-car test train. This unit is unique in that it wears a special paint scheme in honor of United States military veterans. The slogan on the side reads "America's Railroad Salutes our Veterans" and there a link to Amtrak's employment web site included near the cab doors.
(Rob Pisani)
Images from 11.06.2015, showing the future DB Fernverkehr 146 553 ad 570, sandwiching a double deck IC train.
(Oliver Wadewitz)
The transport of Trans Montana no.019 to Sweden progresses. On 09.06.2015, the machine was seen in Munich, today it passed
Seddin
on its way to the ferry that will take it to Sweden. We said earlier that tests were to start on 06.06.2015, this is of course delayed.
Various whereabouts. Bombardier 187 009 is back with Lokomotion. - Macquarie Rail > NS E 186 236 is in Antwerp and used for ETCS instruction - Brand new Railpool > RTB Cargo 186 422 derailed, quite some damage - CD 380 012 derailed - Bombardier's 187 103 is currently testing at the Schwarzwaldbahn with 146 551 and 566.
Next! Siemens has completed the maiden runs of another three ELL locomotives: 193 226, 227 (both multi system) and 229 (AC locomotive).
(Michael Raucheisen)
Today, the two Alpha Trains locomotives left the Dessau workshops, bound for the Netherlands, after the R1 revision (including repaint) on the locomotives has been completed.
ELL's newest locomotive that has been released by Siemens is 193 228. The Vectron AC locomotives sports the logos of Magyar Magánvasút (MMV), a freight operator from Hungary. You may know this company for its colorful orange Softronic machines.
[update] On 09.06.2015, ELL handed over the first of three Vectrons to be leased to MMV in Linz (AT). So after 228 two more will come. This leasing contract was signed during the Transport Logistic fair in Munich last May. MMV plans a international expansion of its activities on the short term. Part of this strategy is getting a operation certificate for Slovakia and Austria. For this latter country, the new Vectron locomotive can be used, as 228 is equipped for Germany, Austria and Hungary.
(Herbert Pschill / MMV Magyar Magánvasút Zrt)
First time we see X4 E - 863 with BoxXpress stickers.
(Marcus Schrödter)
Maiden run today for DB Regio 146 271. 11 more to go.
(Thomas Wohlfarth / Dieter Römhild)
This is ÖBB 1116 225 and its RailJet rake, now promoting the Austrian football association or Österreichischen Fussballbund (ÖFB). It was presented today at Vienna main station.
Gerade eben wurde am Wiener Hauptbahnhof der neue ÖFB railjet durch Christian Kern und Marcel Koller getauft. Schön ist er geworden finden wir. Und jetzt wünschen wir unseren Jungs Alles Gute für die WM-Qualifikation.

Posted by Österreichische Bundesbahnen (ÖBB) on Monday, June 8, 2015
The E 186 series of the Dutch railways (NS) is complete again. After the return of E 186 016 and 017 (that were used for tests by Bombardier in Zurich (CH)) now also E 186 018 is back in the Netherlands. Last night the machine came back from Wegberg-Wildenrath, towed by Locon 9904.
Sometimes a new locomotive comes out of nowhere. A big surprise to us is the delivery of a new Traxx locomotive to Ferrovia Adriatico Sangritana (FAS). The images show the new 483 032, the third of this kind for the operator, during its presentation in Lanciano.
Note that the machine sports TUA markings: Transporto Unico Abruzzo, the new authority for the whole public transport (including freight traffic operated by Sangritana) managed/funded by Region Abruzzo. The 032 also has green shields of the Region Abruzzo.
(
Fulvio Quattroccolo
)
Hello to all, time for a personal note. Because it is necessary:
You may remember, three months ago, I started a fundraising campaign on this website. This triggered many people to give, to react, to help. It was overwhelming. The results:
=> 3700 euro of direct funding, giving me time to spend on the Railcolor projects
=> Made people around the world (!) happy with free books, posters and even a painting
=> Many new contacts, and new friends backing me up
=> New business opportunities for me (more results soon!) to make railways more colorful
=> I promised many a Railcolor Support Card. I failed here. Did not make it until now, I will make it up to you, I promise.
However, the reactions all together also made me reconsider the action on Railcolor.net. Finally I decided to withdraw the fundraising from the website and give it another focus. Supporting me is still possible, but than only for the development of new products. Yes, the class66 poster, Railcolor Book 2 (DE+NL version) and the Vectron book will come!
But making them, takes a lot of time. I know many of you want to now when exactly I will make them available, but I can only say this: when time is there, it will be announced here. Don't worry, you will not miss out.
Now I have to get back to work, have some patience, time must be on our side. Thanks to you all,
Simon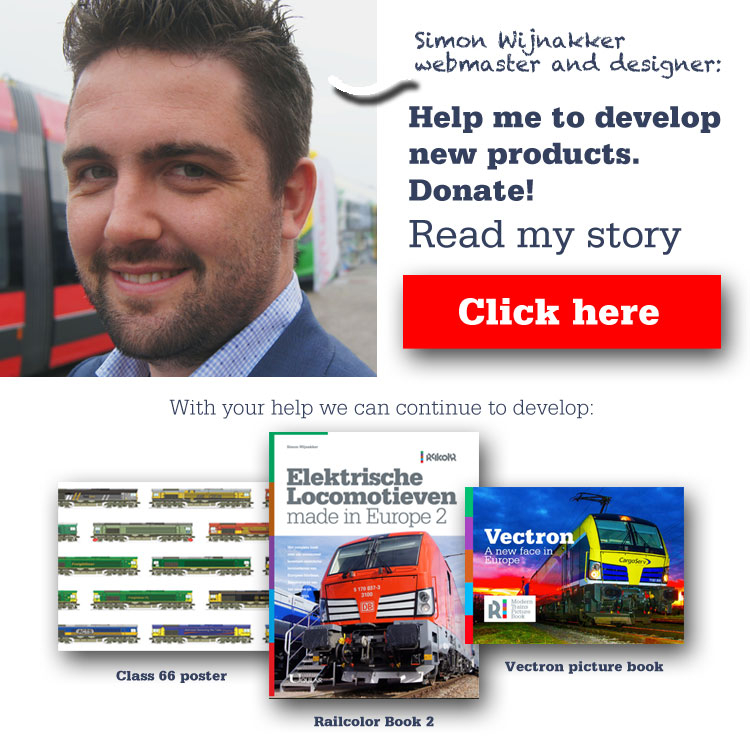 We already made notice of DB Schenker hiring several Vectron locomotives from MRCE (X4 E-865, 874, 879 and meanwhile also the new -602 and -866 are mentioned) for its freight services. Now also two MRCE ES 64 F4 machines are added to the DB Schenker fleet. Different sightings confirmed ES 64 F4-157 and -841 in action for the German freight operator.
True, DB Schenker used ES64F4s already in the past, especially for freight services in and to Poland, but they were all returned to MRCE as there are many retrofitted 189s available now, from DB Schenker's own fleet.
(Gerd Zerula / DSO)
[Updated] It is clearly written at the roof of this 'raw' body: Finland. What we see here is one of the first Vectron locomotives for the Finnish railways, being under construction in Munich. It is easy to identity, as all other Vectrons do not have a little side window in their cabin. Our visitors have seen that is body is marked Siemens 21967 / VR002. So it seems to be locomotive no.4. The picture shown here was made in April already (says EXIF data)
(VR Group / Siemens)
Well, one thing is missing, a proper freight train, but this is free shot on the new generation of AC freight locomotives for DB Schenker Rail Deutschland. At this moment, Bombardier has completed 187 101, 102 and 103 which are available for tests. The approval of this new type (top speed 140 kph, no Last Mile feature, approval for Germany) is pending. 110 pieces are on order for freight transport right now, most likely a number that will be raised on the future.
Meet Alessandro, Traxx DC locomotive no.7 for GTS Rail: 483 057. Today it completed its maiden run from the Bombardier factory in Vado Ligure to Genua-Sestri Ponente and back. (Enrico Bavestrello)
On 01.06.2015, Siemens 193 822 was seen in Câmpina, Romania. The test bed locomotive left Bulgaria after completing the homologation runs on 27.05.2015.
(Dimitar Mitkov / Antonio Istrate)
On 01.06.2015, DB Regio's 146 270 had its maiden run. Production of the final batch of Traxx Ac2's for DB Regio (146 251-282) is going fast. Many locomotives are meanwhile parked around the Bombardier factory in Kassel and at Kassel Rangierbahnhof.
(Christian Klotz)
As of 29.05.2015, Railpool 186 424-8 is available for revenue service. The brand new lease locomotive was handed over to freight operator RTB Cargo that day.
(Henk Zwoferink / Achim Scheil)
On 01.06.2014, Alpha Trains > NS E 186 117 and 122 were sent from Amsterdam (NL) to Bad Bentheim (DE). Locon pulled both locomotives to the German station, were RailAdventure took over with their 103 series locomotive. They will go to Dessau for their R1 overhaul (no.5 and 6 of the serie of 12)
Meanwhile, E 186 113 and 118 are still in Dessau, both now sporting the NS blue and yellow livery. They are expected back in the Netherlands soon. E 186 114 and 119 were the first two to get an overhaul.
(Henk Zwoferink)
This image shows MRCE X4 E-865 and -879 running together from Nürnberg to Maschen. First sources confirm that both machines are now hired to DB Schenker, together with X4 E-874. All three machines are needed for training personnel. Allocations mentioned are Nürnberg, Seelze (near Hannover) and Maschen (near Hamburg), but this may change.
RegioJet wants to grow. It wants it ridership increased by 30% during the next years. It will expand both domestic and international services and introduce new night trains (Prague - Ostrava - Košice, as well as Košice - Bratislava).
The locomotive fleet will be doubled. Next December two more Vectron locomotives will arrive. It is not clear yet if these machines are leased or purchased. They will be operated on CZ-SK cross border trains: Prague – Ostrava – Zilina and Prague – Vsetin – Zilina. RegioJet wants to take the lead in international traffic between the Czech Republic and Slovakia.
As of December 2016, RegioJet will have another eight Vectrons for service expansion the Czech Republic. Also the fleet of passenger coaches will increase soon to approximately 200. RegioJet has just signed a deal with which it acquired seventy second hand coaches from an undisclosed operator, to be completely overhauled.
Meanwhile, RegioJet is awaiting the formal approval of its new Astra Vagone coaches (10 units, designation: Bpmz 20-90). Nice detail is the touch screen multimedia system integrated into the back of the head rest of every seat. The official delivery is planned for July.
(RegioJet)
Softronic Trans Montana 480 019 was seen at Hungarian border station Hegyeshalom last week. There first test were done under 15kV AC voltage. We thought it would go to Austria, but the machine will go beyond the Alp country...
Softronic is sending the machine to Sweden. By rail and boat it will go to Scandinavia. First tests are scheduled for 06.06.2015. The total homologation trial period will take one month.
(Softronic / Herbert Pschill)
SBB Cargo's SBB Cargo 482 012-2 now has ChemOil logos, in stead of the welknown big SBB Cargo markings. Indeed, you may have seen such logos before, 482 028 has them too, albeit with additional 'Logistics AG' markings.
(Dirk Jensma)