News
The initial goal for 2015 is to raise 10.000 euro by fundraising via the website. Now raised:
1.135 / 10.000 euro
Updated 26.02.2015 7.15 pm CET / Thanks to you all!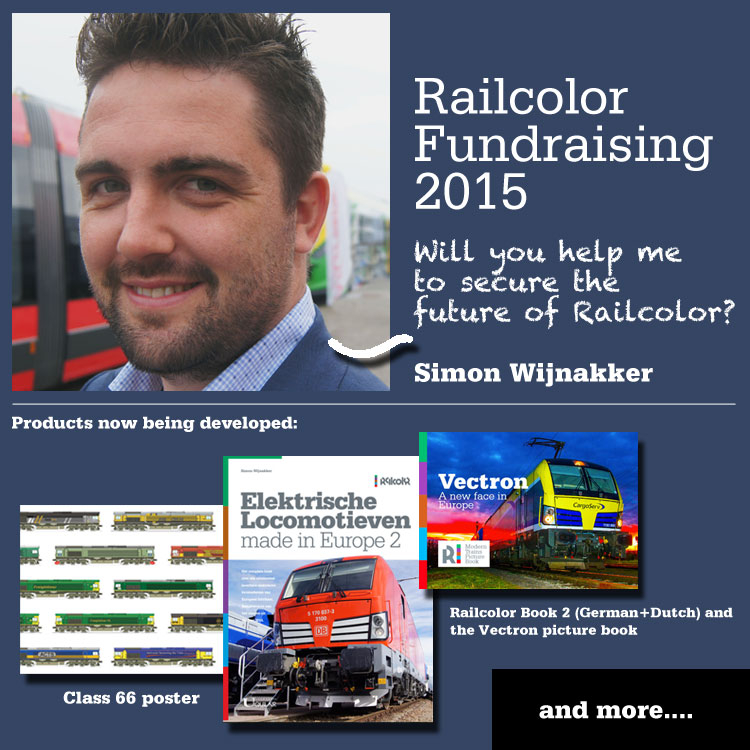 Click here to see how you can help
And now it is time for something serious guys, a personal note from your Railcolor webmaster: I have been working on Railcolor and its products for 15 year now. I put all my time and energy available in this, for you, for myself, to be complete, to bring something different to the railway world. But, as you can imagine, this costs time, a lot of time. Time that in the future will be needed for other projects and other things in life. I therefore need your help, to secure the future of the site, the books, the posters and what will be made more (I have plans!). Are you on my side? With a gift, big or small, you will help me, help Railcolor. I will be thankful, very thankful and you will get a gift in return. Click the link to read more about the Railcolor Fundraising 2015. Let's make the future railcolorful together!
Click here to see how you can help
Images from the past week, showing test runs with the two medium power Vectron locomotives 192 961 and 962. Later on, the Vectron DE joined in. - WH/CB
A promotional livery for ÖBB 1116 170, a newbee in the -Werbelok- fleet. It now promotes the 2015 edition of the Eurovision Song Contest, to be held this year in Vienna. Its theme: Building Bridges. - KK
Few days later, 1116 180 got the exact same livery, so there are two different Eurovision locootives. - AK
This morning, the new ELL 193 216 was seen in Munich. It is a multisystem locomotive, to be leased to LTE. This operator already operates ELL 193 203, 207 and 215, of which the first two have the same LTE stickers as the new 216. - MR
Also interesting, the 216 is approved for service in DE, AT, HU, PL, CZ and SK.
It has the livery of DB Schenker Rail and has the new front design, with improved crashworthyness. - CTMV
At the end of January, Siemens transported Vectron locomotive no. 193 970 to Wegberg-Wildenrath test center. It was its first appearance since this machine was presented at the InnoTrans fair in Berlin in September 2014. - WS
The main image shows the locomotive making its rounds at the T1 test ring of the Siemens test center in Wegberg. The 193 970 is a relatively new testbed locomotive from the Siemens fleet. At InnoTrans Siemens stated that the DE/AT/HU/RO locomotive was equipped with ETCS and additionally the ATC systems for Norway, Sweden and Denmark.
LokoTrain from the Czech Republic will soon start services with Vectron locomotives leased from ELL. Forst one should arrive in March. The company now released a drawing of how the LokoTrain logos will be applied:
For the first time we have received an image of a DB Regio 245 series locomotive sporting the -Südostbayernbahn- name on its side. Locomotives 245 008-015 run for the Südostbayernbahn, a subsidiary of DB Regio. They are allocated to Mühldorf depot. - DrGB
From the DB Schenker Rail website: In 2010, DB Schenker Rail acquired a 49% of the shares of Nordcargo, and then in 2011 an additional 11% of the shares so passing to 60%. The remaining 40% is property of Ferrovie Nord Milano (FNM).
Several years ago, FNM bought eight Traxx DC locomotives for Nordcargo, delivered in a blue and grey livery. As of January 1, Nordcargo is officially rebranded as DB Schenker Rail Italia. The company announced that this will become visible. Fact is that locomotive E 483.102 now has appeared with DB logos. Most likely, the other seven machines will follow soon:
Our first image of the green Griffin for 2015. Reportedly, the locomotive is now being operated by Kolprem. - PF
Today, a Vectron locomotive was hauling a freight train on the Slovak railway network for the very first time. Multi system ELL locomotve no. 193 215, in service of LTE, entered the country via Sturovo and Kuty. The picture show the locomotive with train 46888 / 44292 at Bratislava-Mlada Garda. - JS
In 2013, Bombardier released the red 146 251 for DB Regio. In August 2014, no.2 of a final batch of 32 for this operator was outshopped. Until now, the 146 251 and 252 were used for tests and trials. Now we can say that more new machines have been completed. Meanwhile the new 146 253, 254 and 255 have been sighted.
The title image shows 146 252 behind 146 553 and 564 for DB Fernverkehr. The three locomotives returned to Bombardier in Kassel on 19.02.2015. - CK
On 19.02.2015, Bombardier and NAH.SH officially presented their first diesel locomotive for the Marschbahn. The images show the 245 201 during the handing over ceremony. - Bombardier
Meanwhile, Bombardier has started series production for this customer. 245 203 was seen in Kassel yesterday. In total, fifteen machines will be built. - CK
First let us start with a newbee, already in service. As of 13.02.2015, Transpetrol is hiring the brand new MRCE X4 E - 877. The title image shows the black machine heading the -Nievenheimer- freight train in Meerbusch last Sunday. - WS
Next ones to leave the Siemens factory in Munich are MRCE X4 E - 864 and MRCE X4 E - 878. They had their maiden run yesterday, 17.02.2015. We noticed something peculiar about the 878 though. Its UIC raster has more country codes than expected, D, A, H, RO, but also CZ and SK. - MR
X4E - 864:
X4E - 878:
Today, the NS 1760, pulling the IC from Berlin to Amsterdam lost its heating power. A Traxx came to the rescue and took over from Deventer. A unscheduled first for the NS Traxx hauling this service.
On 14.02.2015,
two freight trains collided
near the Frimmersdorfer Power station.
Involved was a RWE train with a 500 series locomotives (no.503) and a DB Schenker train pulled by a 189.
Involved were two RWE trains, we see one 500 series locomotives (no.506). The two engine drivers were sent to the doctor for a check-up but were fine. The damage to rolling stock and infrastructure is considerable. - PB/TW
Thank you for the corrective messages all of you!
Sometimes it goes really fast. Last week, the first Traxx DE Multi Engine was delivered by Bombardier in Kassel to Nahverkehrsverbund Schleswig-Holstein (NAH.SH). Today it had its first day of revenue service. Main purpose of practice test runs is to measure the fuel consumption of this four-engine diesel locomotive under -real- conditions.
The images in this post show Paribus>NAH.SH locomotive 245 201-9 today, pulling married pair coaches, in service of the Nord-Ostsee-Bahn (NOB). This trains ran on the -Marschbahn- today, connecting Hamburg - Westerland (Sylt) vv.
Soon, fifteen such machines will be available for the operator that will take over the -Marschbahn- services as of December 2015. That may be the NOB again, or a different operator. NAH.SH still has to announce what company will be awarded with this contract.
The to-be-selected operator will take over the rakes of married-pair coaches as shown in the pictures. You see the 245 201 pulling the train, as push-pull operation is not possible yet. This requires re-wiring the coaches and adjusting their driver cabs. A first set is now under -construction- already, and until December all sets will be done. For now, to replace the set that is under construction, the NOB has taken a set of six older -flex-park- coaches back into service. - KAR/DSO/NJ/MP/TB
It has been a while, since we saw the two
medium power Vectron
test bed locomotives. Our last sightings date back to August 2014, when the machines were still in Wegberg-Wildenrath, at Siemens' test center. But now 19
2
961 and 962 have emerged together in Austria. - CB
Two images of DB Regio's new 245 017. Both nightly images show the locomotive in every day service, pulling a Regional Express to Frankfurt. One image was taken in Friedberg with the RE 15293 Nidda - Frankfurt. The second one in Glauburg-Stockheim with RE 15556 from Frankfurt (Main) Hbf. - AH/SC
Only four to go. Today Metrans 386 016 was delivered to Metrans. REV 10.02.2015. The image shows the silver machine just outside the factory. - CK
Good news, the Bergensbanen is open again. But it was hard work to get the derailed train back on its track.
Quite some snow to move
.
On 09.02.2015, Siemens>CargoNet 193 923 derailed in Gryta on the Bergensbanen, coming from Bergen, going to Oslo. An image is to be found here. The Bergensbanen are closed for now.
A crispy image of the recently delivered Akiem 186 266, with a freight train of CTL Logistics. The locomotive sports the globe icon of this Polish freight operator. - MK
This weekend, DBSRP handed over two of its red Vectron locomotives to PKP IC. Unit no. 5 170 049 and 052 were therefore transferred to Warsaw on 07.02.2015.
The long distance passenger operator is going to use the extra machines for TLK and EIC services from Warsaw to Krakow, Zakopane / Krynica, Poznan, Gorzow Wielkopolski and Szczecin. - GK/ED
rynek-kolejowy.pl reports
: The Lithuanian Railways (LG) are conducting a market analysis for new electric locomotives and are checking the offers done by various manufacturers. LG is preparing a new order. The electrification of its network is progressing and LG is looking for powerful, standardized electrics to save energy and operational costs.
Talks have taken place with Siemens and Skoda, more manufacturers will be consulted soon. Siemens has proposed to built a dedicated plant in Vilnius.
Making of: Press 145 023 'Rasender Roland'. A video of the complete stickering work in 4 minutes and 58 seconds:
Rheincargo now hires the four Alpha Trains locomotives that recently came back from Scandinavia: 119 004, 005, 007 and 008. They get Rheincargo logos. The picture shows unit no. 008 and 004 with their new stickers. - JK
Several locomotives, that are being used by the Captrain Deutschland group, recently got a make-over. During the past weeks, we saw three different locomotives having their ITL logos being replaced by the lime green Captrain livery:
Blue Tiger 250 007
,
Macquarie Rail 285 111
and now 185 562. - JFT/MG
Last week, Softronic's newest TransMontana locomotive had its acceptance runs in Hungary, near Komárom. The colorful locomotive for Hungarian operator CER Hungary was documented before and during its runs. - FN/GV
Four Traxx MS locomotives left the Bombardier factory in Kassel today. Akiem took delivery of its new
186 265-5 -Akiem-
and
186 266-3 -CTL Logistics-
. Both will go to Poland. The 265 already arrived at the German-Polish border on 17.01.2015 but was sent back to Kassel. The 266 had its stickers changed. The first time it appeared outside the factory the locomotive only sported -Logistics- instead of CTL Logistics-.
And then there were two new Traxx MS machine for Metrans: 386 014 and 015. Five more to go for this operator for the Czech Republic. BTW, interesting fact: In Germany the Metrans locomotive have a 186 series number, to be compatible with the LZB train system: 186 401-420.
Today, the Dutch railways officially took delivery of the 19th and last locomotive of its new E 186 series. Within nine months after the order was published, Bombardier was able to sent the first machine to the Netherlands. From August 2014 to January 2015, all 19 units arrived in NL and many of them already have been used for revenue service.
In the upcoming years, these new locomotives will be pulling the new domestic intercity services that will make use of the the high speed line infrastructure between Breda - Rotterdam and Rotterdam - Amsterdam. They will come to Eindhoven and The Hague. Most likely they will also serve as back-up for the Benelux services Amsterdam - Brussels. For this they still need to be granted approval for the Belgian rail network.
First regular workings are expected to start next April, as NS will introduce the Amsterdam - Rotterdam (AmRo) shuttle (1/hour). Combined with the Amsterdam - Breda shuttles NS will then be able to offer three hourly trains between those two cities. - HZ/NS
This is locomotive
245 201-9
for Nahverkehrsverbund Schleswig-Holstein GmbH (NAH.SH GmbH) via Paribus-DIF. It has a completely different livery than what was expected, than what was presented during the press release of the order last year.
No lime and green
, instead it is blue, dark blue, white and grey.
It doesn't comply to the current corporate identity of NAH.SH at all.
NAH.SH got a new name AND
new corporate identity last year
. The locomotive design therefore fully complies.
Bombardier will build fifteen units, all to be delivered this year. They will be operated by a passenger railway company still to be selected, on the route Hamburg - Westerland/Sylt.
A milestone for the Bombardier Traxx AC3 Last Mile locomotive: The electric locomotive has received official authorization for unrestricted commercial operation in Switzerland.
The authorization was granted after extensive testing of the eight locomotives ordered by Railpool, three of which were deployed in Switzerland by BLS. Four more will be delivered to Akiem, and an additional Traxx AC3 locomotive with the innovative Last Mile feature was handed over last week to the Swiss company Swiss Rail Traffic (SRT). The locomotive's Last Mile feature, a combination of auxiliary diesel engine and battery, will help SRT bridge a five-kilometre non-electrified line section.
The Last Mile feature enables the locomotive to cover the frequently non-electrified "last mile" in ports, container terminals, saw mills or railway stations under its own power, rendering shunting locomotives and other solutions obsolete. In fact, Last Mile-equipped locomotive are able to run on non-electrified line sections on their own power for up to eight hours – without reducing tractive effort as compared with running under catenary wire. Official Traxx locomotive approval is also expected in Austria and Germany in the immediate future. - Bombardier
Since yesterday, RailAdventure has a second locomotive in its fleet for testing and transport services:
103 222
. Last night it completed its first job after an
extensive overhaul
at the
DB Dessau workshops
: taking the new Siemens stock locomotive 193 930 from Munich to the Czech border. The white Vectron will continue its journey to VUZ Velim test centre in Cerhenice (CZ).
With PKP IC 5 370 010 in magenta Tmobile livery, there are now five locomotives in this livery. The other four: PKP IC 5 370 001, 002, 006 and 007. - PL/GK
It is a curious sight, yellow and blue, taht far from home. Two Traxx MS locomotives of the Dutch railways have arrived at the engineering site of their manufacturer, Bombardier, at the Brown-Boveri-Strasse in Zurich. - DW
At
jernbane.net
a test request is being published. Freight operator Cargolink AS will soon perform trials with a Traxx AC3 locomotive, to be more precise, with locomotive no.
187 005
. - MO
Today, the last new Traxx MS locomotive for Akiem had its maiden run: 186 267. - AL
Official press statement from Newag
about the new E6DCF-DP locomotives for Freightliner Poland:
Appro­xi­ma­tely PLN 75 mil­lion –this will be the cost of five elec­tric loco­mo­ti­ves orde­red by the dyna­mi­cally deve­lo­ping rail logi­stics com­pany to service its incre­asing fre­ight volu­mes.
"This trans­ac­tion pro­ves that Fre­igh­tli­ner Group sees a high growth poten­tial in the rail­way mar­ket in Poland. This is yet ano­ther multi-million inve­st­ment mat­ching our motto 'Relia­bi­lity as stan­dard' - which means sup­ply­ing our custo­mers with effec­tive logi­stic solu­tions while main­ta­ining the highest focus on quality and safety. We are fully convin­ced it is the right cho­ice to invest in the rol­ling stock manu­fac­tu­red by the Polish pro­du­cer with long tra­di­tions which is able to deli­ver world-class pro­ducts. We believe that the pro­cess of incre­asing moder­ni­sa­tion of the Polish rail­way network will be coupled with an incre­asing role of modern and inno­va­tive rol­ling stock," sta­ted Kon­stan­tin Sko­rik, Pre­si­dent of the Board of Fre­igh­tli­ner PL.
The Dra­gon loco­mo­ti­ves orde­red by Fre­igh­tli­ner PL are six-axle loco­mo­ti­ves of 5MW power, adap­ted to pul­ling heavy fre­ight tra­ins exce­eding 4 tho­usand ton­nes. They will be equ­ip­ped with the Dual Power module — an addi­tio­nal die­sel engine of 520kW in power ena­bling to service custo­mers also on non-electrified end lines, and at sidings without a need for shun­ting loco­mo­ti­ves (the so-called 'last mile').
"Dra­gons are power­ful, safe, attractively-priced loco­mo­ti­ves, eco­no­mi­cal in ope­ra­tion, gene­ro­usly equ­ip­ped and, most of all, highly relia­ble. The­re­fore, they will per­fec­tly com­ple­ment our exi­sting rol­ling stock," said Woj­ciech Jur­kie­wicz, Mana­ging Direc­tor of Fre­igh­tli­ner PL.
The rail fre­ight ope­ra­tor will rece­ive the first three loco­mo­ti­ves in May 2016 and the rema­ining two by the end of July 2016.
Bar­tosz Krze­miń­ski, Pre­si­dent of the Board of NEWAG Gli­wice S.A empha­si­sed that the signed con­tract con­sti­tu­ted ano­ther step in laun­ching NEWAG's loco­mo­ti­ves in Western mar­kets. "The fact that Fre­igh­tli­ner Group, a leading inde­pen­dent Euro­pean rail ope­ra­tor have come to rely on our pro­duct pro­ves that our deve­lop­ment stra­tegy has been right," he added.
The net con­tract value is EUR 17.5 mil­lion. The trans­ac­tion will be finan­ced by ING Lease (Poland).
Title images: the brand new ELL 193 215, now in service of LTE.
Earlier this week we had footage from Munich featuring the new ELL Vectron MS locomotives no. 193 216 and 193 824. Also Railtrains.sk (link is no longer available) gave us an inside view into the Munich plant of Siemens. Visible were the new ELL locos 193 216, 220, 221 and 222. Czech railway operator LokoTrain will get three ELL Vectrons, the item tells us, of which the first one will be handed over on 06.03.2015.
Railpool Vectron no.
193 803-4
, currently in service of e.g.o.o. (Eisenbahngesellschaft Ostfriesland-Oldenburg) got a make-over. It has re-appeared in green and silver, the corporate identity of Enercon, e.g.o.o.'s mother company.
e.g.o.o. recently announced the start of the Enercon -Ems-Isar-Express-, a daily service from Ostfriesland via Dörpen/Emsland to München (DE). For the first time, a train service of e.g.o.o. will be used to transport goods from, predominantly, external customers.
At this moment, diesel locomotives are being used for the -Ems-Isar-Express-. This month the Vectron will take over.
Newag Gliwice just announced a new order for electric locomotives. ING Lease Poland will finance five new Dragon locomotives, to be operated by Freightliner Poland (FPL). The deal has a value of 17,5 million euro. All machines should be available to FPL by 31.07.2016.
Update: Freightliner Poland has released an image of a scale model of their new machine. We see a Dragon locomotive in the yellow and green livery of FPL. Its power rating will be 5MW. Curious is the inclusion of the orange line around the roof of the locomotive. It is a visual reminder not to come too close to the overhead wiring and originates from UK (!) railway regulations.
Update 2: The Dragon locomotives will feature a additional 520 kW combustion engine. Designation for this Dragon locomotive version is E6DCF-DP. - biznes.pap.pl / 1435.pl / MG / rynek-kolejowy.pl
Update 3: Neag has publsihed information itself about the new order. The page includes a design study of the locomotive, which livery is different from the one applied to the scale model.
New stickers for DB 101 114 (and a second locomotive). On 29.01.2015, KölnTourismus and the Deutschen Bahn presented the 114 with a new slogan -D'r Zoch kütt- (und bringt Dich nach Köln), promoting train travelling to Cologne. The slogan is typically assocoated with this city and also refers to Karnaval, that will take place this month. - TF / koelntourismus.de
At 26.01.2015, the Siemens locomotives of the Belgian railways (no.1807 and 1862)
were transported to Forbach station by EuroRunner PCW7
.
As of 04.02.2015 these two locomotives will be used for the next chapter in the homologation process of these electrics in France. Test rides will be made at the Caen - Cherbourg route and continue until March. - Wallorail/ID/KAR
After a visit to the VUZ Velim test center in Cerhenice (CZ), DB Schenker's future 187 101 was brought back to Kassel by RailAdventure last week. - MS/CK
On 29.01.2015, RailAdventure took a new Traxx AC3 locomotive to Switzerland. It was the yellow and black
487 001
for Swiss Rail Traffic. These images show the locomotive, with Last Mile shunting module, after its arrival in Winterthur on 30.01.2015. - DW
Here you can see
the German TV show -Geld und Leben- as broadcasted yesterday evening. In between various reports the presentor interviews employees of Siemens in its locomotive factory in München-Allach. The video gives several peeks into the production process of Vectron locomotives. The video features to-be-delivered locomotives such as the MRCE X4 E-877, boxXpress 193 843, ELL 193 216 and 193 824. We also see a white Vectron locomotive with cooler openings, is it a second diesel Vectron? Nice are also the miniature trains.
On 29.01.2015, MRCE>hkx ES 64 U2-034 was seen in Berlin-Schönefeld, taking the 'new' hkx coaches from Delitzsch to Hamburg. Behind the locomotives one see two 3-car formations, built from coaches of former ÖBB 4010 train sets. - AW
From Munich to the German-Polish border. On 30.01.2015, Siemens delivered the next four Vectron locomotives for DB Schenker Rail Polska. no. 91 51 5170 054, 055, 056 and 057. With this delivery, the first order for 23 units is completed (no. 035-057). An image of the transport
here
and
here
.
This week, the first units of the new generation of rolling stock for the
German Westfalenbahn
have been seen on German tracks.
A 4-car FLIRT3
and a 6-car KISS from Stadler Rail in the colorful livery of this operator. Only the Westfalenbahn name and the horse symbols are still missing.
As of December 2015, 15 FLIRT3 sets will be used on the Münster–Rheine–Emden relation (RE 15). The thirteen KISS trainsets will replace the DB trains on the RE 60 Rheine – Osnabrück – Minden – Hannover – Braunschweig and the RE 70 Bielefeld – Herford – Minden – Hannover – Braunschweig routes. The trains will all be property of lease company Alpha Trains. All services are being operated on behalf of Landesnahverkehrsgesellschaft Niedersachsen (LNVG).
BTW. The Westfalenbahn already operates Stadler Rail trains since 2007. 19 FLIRT sets are in service at the Teutoburger Wald-Netzes.
The new Stadler Rail KISS for Westfalenbahn:
Not all locomotives that are being delivered to European Locomotive Leasing (ELL) are newly built. In December, ELL also took over Siemens stock locomotive
193 820
, being built in 2013. As of 23.12.2014, the locomotive is hired to ecco-rail from Austria. The locomotive is still white and kept its original designation for now. - KAR/YH
We don't know better, or MRCE
ES 64 U2-080
is in service by CargoServ from Austria. That is no surprise, it is like that since 2003 (!). Since December 2003 it had the yellow, grey and blue CargoServ livery. But, also no surprise it got a bit weary. Therefore it was decided to refresh the livery. The picture shows the machine last night with its fresh colors.
PS. Who knows if the 080 has new stickers, or was it repainted? - NT