News
A unique opportunity: Tonight at 18.00 CET, CD Cargo vectron no. 383 002 will leave Žilina with a Kia car train. Destination: Hamburg in Germany, where it should arrive on Wednesday 06.00 CET. The train will run via Magdeburg - Stendal - Lüneburg and has train no. 42376. (From hamburg the train will go to Cuxhaven with a diesel locomotive). Show us your best shot!
A fresh picture of Siemens' Medium power Vectron no. 192 961. The machine, with new NVR number and delivery date (02.09.2016) hauled a special train from Berlin to Munich on 24.09.2016. Thanks Michael Raucheisen.
Since 22.09.2016, images appear of the first BLS Cargo 475 series locomotives pulling revenue earning services. No. 401-404 are in Switzerland now. No. 405 is next and was portrayed by Tobias Schmidt on 24.09.2016 at Basel Badischer Bahnhof. No BLS Cargo logos and stickers yet.
On 24.09.2016, Railpool's future 187 316 was seen in Berlin-Schönefeld and photographed by Dr. Günther Barths. This locomotive belongs to batch 187 300-316, planned for services in Germany, Austria, Hungary and Romania.
Just arrived: NS E 186 038. This morning the yellow and blue machine entered the Netherlands. It the first of an 'extra order' for 8 such locomotives. Thanks to Niels Arnold for the picture.
Akiem 185 649 was recently overhauled in Kassel (REV 01.09.2016). Its red Veolia Cargo design with ITL stickers is gone, it now has the standard Captrain design.
We did not mention this one yet: SBB Cargo 482 015 now has ChemOil logos, like 482 011, 012 and 028. Vincent Torterotot made a picture in Müllheim (Baden) of the machine, that now also new LED headlights.
Today, Peter Frost and Krisztián Balla have sent in images of Siemens 193 970, the InnoTrans Vectron from 2014. It is on transport from Germany to Sweden and is equipped with a Danish ATC antenna.
Siemens has just won its 25th customer for the Vectron locomotive: The rail freight operator Railcare has ordered seven locomotives of this type from Siemens. The contract also includes service and maintenance of the locomotives over a period of eight years. The AC-powered Vectron locomotives will be used to haul freight in Germany, Austria and Switzerland. The 6.4-MW locomotive has a top speed of 160 kilometers an hour.
Railcare is a wholly owned subsidiary of Coop, the Swiss retailer and wholesaler, and transports freight for daily needs within Switzerland with its own trains and trucks. The new locomotives are to be used for distributing goods in unaccompanied combined transport (UCT).
All locomotives will be equipped with a diesel power module. With this option, the locomotive can operate for short stretches without overhead power lines, such as on sidings or while shunting in yards. By ordering the diesel power module, Railcare can do without operating supplementary shunting locomotives.
In addition to delivering the seven locomotives, Siemens signed its first full service contract in Switzerland, with Railcare. Over the coming eight years, all maintenance work on the Vectron locomotives will be carried out by Siemens.
This morning we had the honor to inspect the first TRAXX AC3 locomotive for services in Norway and Sweden. The pictures show Railpool no. 187 400 equipped for the two countries mentioned and having a complete Last Mile shunting module. (SW/HZ)
Five such machines were ordered by Railpool in November 2015.
Siemens will present the Vectron locomotive platform at this years InnoTrans using three locomotives: The new stock locomotive no. 193 844 (pulling the train in the picture), MRCE X4E-640 and a VR Vectron (the one on loco buggies in the back). Siemens
We post all we see on our InnoTrans Liveblog.
New images are coming in:
An (image) report of the accident can be found here.
Brand new ELL Vectron no. 193 271 has derailed in Budapest-Soroksár. According to the report the locomotive was in Ferencvaros and ran away unmanned. The braking systems could not stop the locomotive and prevent a derailment.
The test runs with ELL vectron 193 252 in Denmark have ended. Tomorrow the 252 will go back to Germany with a normal TX Logistik train. The upper image shows Hector Rail train HG 67262 pulled by 241 002 and the 252 in second position at Marslev. The image below shows that the 252 also was in Sweden for a moment, as it was taken in Malmö. (PF/SH)
Hamburg, 16.09.2016: the presentation of Metrans 386 020 -150 Jahre Hafenbahn-. Thanks to Torsten Bätge for the images of the presentation. Pavel Dvořák sent an image of the loco on its first trip in its livery into the Czech Republic.
Still something special, but standard in the future, a DB Cargo 187 series locomotive in the 'working field'. Ralf Lauer was able to catch the 187 114 on 15.09.2016 in Mainz-Bischofsheim.
Update: thank to Riccardo Mainoldi we can show a picture.
Seen on 14.09.2016: Vectron no. 191 013 and 191 014 at Brennero station. These are the first two of a batch of eight we see. In November 2015, DB Cargo announced the order for these Vectron DC locomotives, to be leased from UniCredit. (RM)
Let the show begin! This is the Railcolor InnoTrans 2016 liveblog. Here we will report about the biggest railway technology fair of the world, ofcourse in Railcolor style. Stay tuned and come back for updates.
Do you have a tip, a useful link, information or images? Contact us at hello@railcolornews.com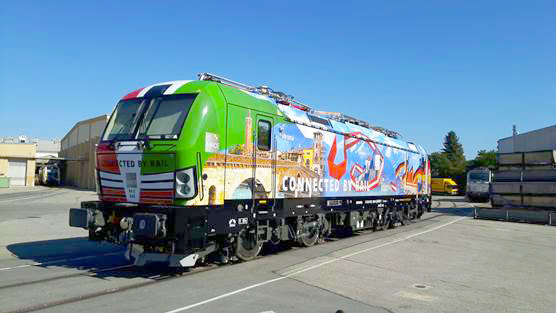 This week, train fans in Denmark can go watch a Vectron locomotive at work in their country. ELL 193 252 is used for Electromagnetic compatibility (EMC) trials between Tinglev and Vojens. Hector Rail 241 006 is support locomotive. (SH / Peter Frost)
Remember RailOne? This Italian freight operator was acquired by CFI in 2015. RailOne operated three 474 series locomotives, in a remarkable yellow and purple livery. These are now in the fleet of CFI, and the first one just got a make-over. The video shows some first footage of CFI 474 102 in the known grey and red CFI design with the logos in the Italian tricolore. (EB / LP)
ELL > SETG 193 218 has a remarkable new livery. Striking is the gold metallic foil. The theme of the livery is 'Europe' featuring Ludwig van Beethoven, who wrote the European hymne 'Ode an die Freude'. With this livery SETG also celebrates its 15th anniversary.
Meanwhile Italian railfreight operator ISC has at least re-colored three of its MRCE ES64F4 locomotives: the 016, 101 and 403 are all yellow now. Gianluca Detti sent these images of the 016 taken at Nola Interporto.
- MRCE > BTE ES64U2-036 lost its 'Independence Day' promo
- SBB Cargo 484 014 has been seen with Chemoil logos
- AWT 183 719 has additional sticker in yellow
- Macquarie > Railpool > RTB Cargo 185 638 got its Metrans logos removed
- DB Fernverkehr 101 122 lost its 'Werbung'
- MRCE ES64U2-095 has been repainted in black
A long tradition comes to an end. In 2018 Alstom will close its locomotive manufacturing facilities in Belfort. The newest products from Belfort are new power cars for TGV high speed trains (SNCF and ONCF) and the electric locomotives for Kazakhstan.
It is not a secret Alstom has not been able to develop a competing locomotive platform for the European market, a type that could compete with Siemens' Vectron and Bombardier's TRAXX. With the PrimaII it was not possible to attract European customer until now. The production of its predecessor (Prima) ended in 2010 (electrics) and 2012 (diesels).
Does this mean Alstom will not produce locomotives anymore? Of course not. Soon it will start production of the 4-axle H4 machines with center-cab design for the SBB. More orders for this type are being rumored. SNCF Infra and RATP could be interested in these hybrids. Also Alstom was able to fetch a large locomotive contract for the railways in India. The first units of this order will still come from Belfort, so was stated. And don't forget there is still Stendal in Germany, where small scale production takes place of the H3 shunter locomotives.
But after 2018, locomotive production in France will take place at Alstom's in Reichshoffen (FR). Alstom says it is a strategic decision as it is experiencing a considerable drop in sales, forcing the company to reduce its production capacity in France. Reichshoffen is reportedly already under-employed so so it could use extra work. As of 2018, Belfort will focus solely on locomotive maintenance and servicing, which means 400 of 480 jobs will be lost. However, all employees will offered a new job in one of Alstom's other production facilities.
It is currently red or yellow and blue, what is being delivered by the German locomotive industry ;). This morning NS E 186 037 had its maiden run. E 186 035 left the Kassel factory to start its journey to the Netherlands. Bombardier continues right away with delivering the eight units that have been ordered extra: Batch E 186 038-045. The first three of this batch are already awaiting their maiden run. (Christian Klotz and Marcus Alf)
On 05.09.2016, three red Vectron locomotive left the Siemens factory perimeters in Munich: 193 253, 254 and 255. All three are property of lease company ELL, but adjusted for services in Sweden and Norway, a country specific package that is new to ELL. They will be hired to Transdev Sverige AB for the use on its Snälltåget services.
The machines have a red livery with on one side 3x Loket (=locomotive) and 3x Snälltåget on the other. Before the three were sent of to Rostock harbor (northern Germany) for shipping, they first had to touch Austrian soil. So RailAdventure took them too Salzburg. A picture of this transport below:
Thanks Norman and Michael.
On 06.09.2016, DB Cargo 187 113 left Kassel. The machine ran under its own power to Gremberg, where it will be used for staff training. The machine has revision date 02.09.2016. There is no red 'flex panel' installed, like we saw before on 187 101, 102 and 108.
On 07.09.2016, DB Cargo 187 114 (rev 05.09.2016) was next. It will be sent of the Mainz-Bischofsheim.
At the same day, DB Cargo 187 115 had its maiden run.
The red locomotive parade of today continues: The future DB Cargo 187 115 had its maiden run today, as was documented by Christian Klotz:
The new CD Cargo 383 002 and 003 came to Hungary together. In Komárom they will absolve the obligatory tests to get homologated for this country. Thank you Norbert.
Passenger train operator Snälltåget from Sweden will soon receive three ELL locomotives: 193 253, 254 and 255. These machines are red and carry the text 'Loket Loket Loket' (Loket = locomotive). Snälltåget has ten new drivers and wants to start first services with the Vectrons in October. At this moment Hector Rail is providing Snälltåget with tractive power and loco drivers. Snälltåget is known for its (night) trains connecting Malmö with Stockholm and Berlin.
The first image shows RailAdventure on its way to bring NS E 186 033 and 036 to Bad Bentheim. On 05.09.2016 both engines arrived in the Netherlands and ran to Amsterdam. Of the second bacth of 18 locomotives ordered (E 186 020-037) two more have to come: no. 035 and 037. Thank you Markus Tepper / Rene Klink / Roel Hemkes.
When the delivery of batch two is completed, 8 more E 186s will come.
Our first image of CD Cargo 383 003, with stickers, in service. Picture by Steffen Kliemann made on 03.09.2016 in Decin.
We present our newest design project: HSL Logistik 185 602, design by Railcolor. If you want to learn more about how we can help you improve the visibility of your company, take a look at our design portfolio. You can contact us at hello@railcolordesign.com. Not only do we develop the design, we also promote it through our large network and deliver merchandise.
Today Wolfgang Scheer saved our day. These are the first images of the 185 602. We made this design during the past month and last week it was applied on the locomotive. We hope you like it. Nice images of the locomotive are very welcome in the upload or by mail: contact@railcolordesign.com. If you want to know more about the project take a look here.
The third locomotive in the yellow livery of ISC is MRCE ES64F4-403. The other two are ES64F4-016 and -110.
Italian railfreight operator CFI has two Vectron locomotives in its fleet (unit no. 191 011 and 012). Now it has decided to order two more, that will be delivered in 2017. All four machines can be equipped with diesel shunting modules if needed. - Siemens
Seen today at Leipzig: DB Fernverkehr 101 023 in the same livery as 101 004, a commercial livery for insurance company Bahn BKK. Thank you Oliver Wadewitz.
Lease company MRCE has 21 multi system Vectron locomotives on order. In October 2015, eleven such machines, equipped for services in Germany, Austria and Italy, were purchased. In June 2016 another ten units were acquired. The picture shows Siemens 22164 - MRCE X4 - 640 during its maiden run today, the first of the batch of 11.
The Vectron MS is not yet homologated for Italy, so it is interesting to see when this will happen. Now a first customer is awaiting the approval for this country the be able to offer the full potential of this configuration to its customers. We thank Michael Raucheisen for the picture.
On its way from Romania to Austria: CTV 189 701. One of the two exotic Siemens ES64F4 locomotives that are being used in Romania was seen today behind 185 613 during its transfer in Budapest. Thanks István Pusztai
This is TRAXX DC no.5 for Akiem and PMT. It will soon re-appear in Poland with a new number in the 5170 0xx series.
With thank to Christian Bauer, we can show you this portrait of the recently wrapped ES 64 F4-097. Eli Prantl made a impressive image in St.Jodok:
Seen today in Fulda, the fourth Vectron locomotive CD Cargo that left the Siemens factory in Munich. Most likely, the 383 005 is on its way to the VUZ Velim test center soon. Like 383 002 and 003, it is transferred without logos and texts. Thanks Martin. Update: picture added made in Eisenach.
Watch the extra large Vectron locomotive while pulling test trains, shunting and running in diesel mode (from 7:30).
On 27.08.2016, NS TRAXX E 186 034 arrived at Bad Bentheim. It is the next machine to be handed over to the Dutch railways. Akiem > HSL Logistik was awaiting its next freight train at Bad Bentheim, which resulted in this colorful meeting. The 034 is delivered before 186 033 that had its maiden run on 26.08.2016 (see picture below). Our thanks goes out to Christian Klotz and Henk Zwoferink.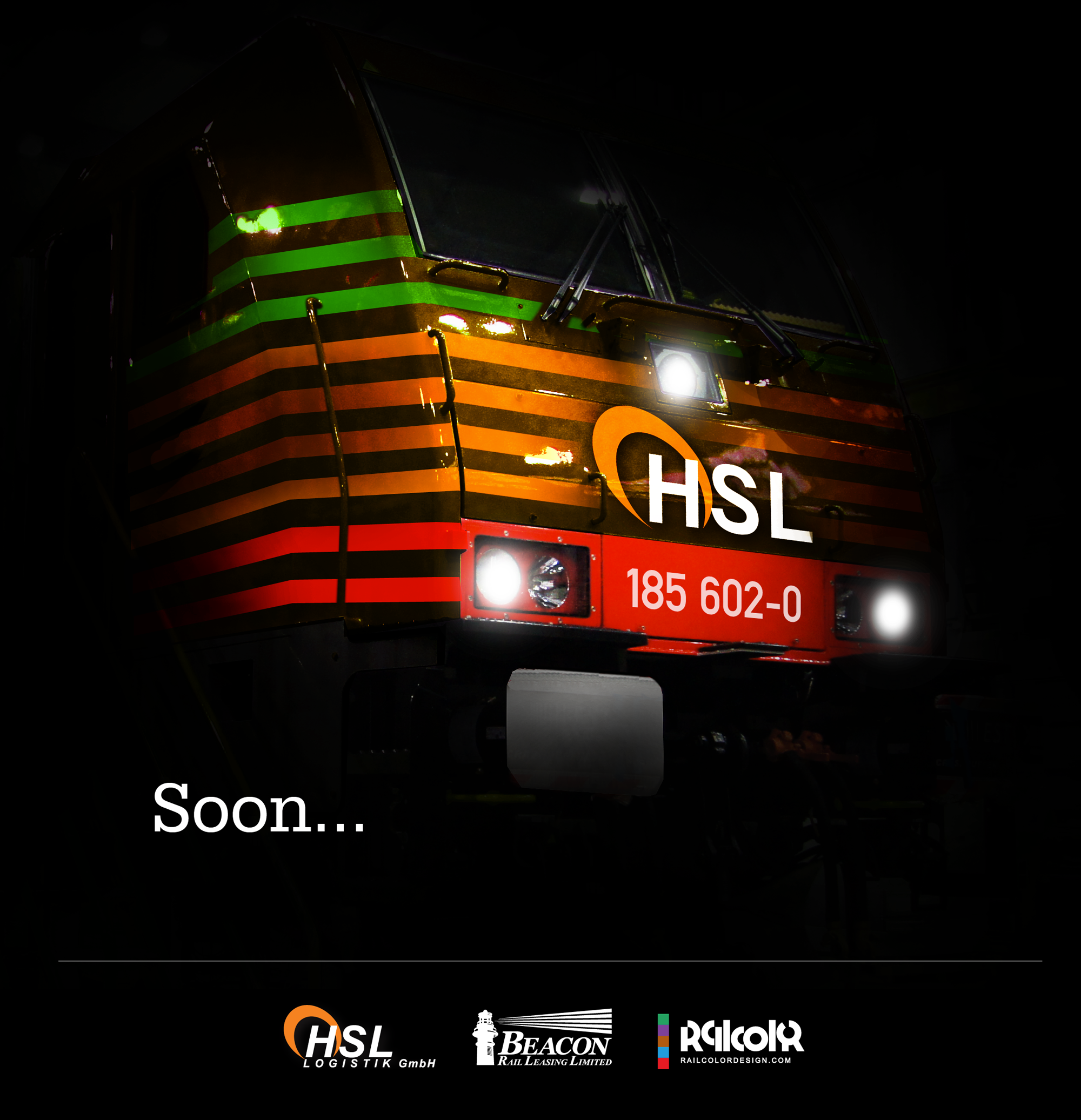 This week, we will reveal our new 'Railcolor Art Locomotive'. Beacon Rail > HSL Logistik 185 602 gets a new livery, designed by us! And we promise, it will be very colorful. Keep an eye on this website, we will bring you the latest news about the creation of the locomotive's new railcolors.