News
ELL Vectron no 193 213 is now in service for WLC. Since this weekend is has extra blue stickers. The image shows the machine today in St. Valentin, just before leaving with train no. 96216 to Vienna. - CB
The image shows Swiss locomotive
460 084
. Look once, look twice, do you see the changes? They are small , but they are there, a small SBB logo upfront. A service number without control digit. Fresh paint. This locomotive has served as prototype for the upcoming modernization project of the SBB Re 460 series locomotive fleet. All 119 units will get a complete make-over that should guarantees another twenty years of reliable services.
Since 18.12.2014, the 460 084 is back in normal service. Its modifications will be thoroughly tested during 2015. Next year, more locomotives will be taken in by the SBB works in Yverdon-les-Bains for retrofitting. Unlike the 084, they will get new IGBT convertors too. When this modification will be approved in 2016, the series overhaul will commence. - PB
The number of European railway operators, that intends to buy new locomotives, or has published a tender for this, is growing. GySEV and PKP Cargo, the railways of Slovakia and Serbia, the ÖBB. Recent items show also BLS Cargo is looking for replacement of its robust, but aging Re425 series electrics (yes the brown ones).
BLS Cargo has many different Traxx locomotives in its fleet (AC1, AC2, AC3, MS), so a lot of experience with Bombardier products. For comparison, the operator tested Siemens Vectron locomotives and the BB37000 of Alstom in the November. Time for evaluation and negotiation!
Spoorwegen 2015 is out
! This comprehensive Dutch
book
(704 pages!)
brings you an overview of all main developments in the European railways of 2014. News about operators, infrastructure, rolling stock, leasing companies and the industry, brought together in well-organized chapters, one for every European country.
Must-have for the railway expert.
On 19.12.2014, three new Vectron locomotives were transferred from Munich to Linz: WLC Vectron 1193 980 and the new ELL 193 218 and 219, both with additional logos of OHE Cargo. The first one you have already seen. But new is this portrait of the 218 and 219 in their new outfit. - TS
This Pressnitztalbahn locomotive no.
145 023-6
in its new livery. For the second time it has a complete promotional livery, now with the theme '120 Jahre Rasender Roland'. This livery commemorates the 120th anniversary of this special train service of the Rügensche Bäderbahn (RüBB). 'Rasender Roland' is the nickname for the steam-powered narrow gauge railway that runs from Putbus to Göhren on the island of Rügen off the Baltic Coast in Mecklenburg-Vorpommern, Germany. Now, 145 023 will promote the jubileum thoughout Germany for one year. The presentation of the locomotive was held yesterday in Bahnhof Bergen at Rügen. - GG/ES
On 19.12.2014, the second new Traxx MS locomotive for German operator Lokomotion had its maiden run. It was photographed in Oberhaun and Fulda. - DF/PS
The use of the new Metrans Traxx MS locomotives (386 series) for regular trains has started. They are used spot services to and in Germany and from Prague (CZ) to Salzburg (AT) vv. Locomotive 386 001 to 007 are now available for revenue services. An example is locomotive 386 006 that picked up train no. 43304 Rotterdam - Prague at Dessau and returning with train 43307 on Sunday 14.12.2014. Services to Salzburg started on 16.12.2014. These are not expected to be part of the final service plan for 386s. - PK
By the end of the year, it is expected that Bombardier has delivered to machines up til number 386 012 to Metrans
After its successful test ride from Hungary to Turkey and back, the Bombardier Traxx F140 AC3 Last Mile locomotive no. 187 009 passed the climate tests in the Vienna Climatic Wind Tunnel during the past weeks. The functioning of the machines in case of ice, snow and extreme heat was evaluated. Under these difficult conditions, the tests included for example starting up the locomotive, checking the unobstructed view through the front window and the functioning of the coupling.
On the one hand, the locomotive was tested at temperatures of up to -35°C – this showed that even at such low temperatures the control technology reacted very quickly and that the additional diesel engine was operative. On the other hand, the tests were about the locomotive's performance at up to 45°C and wind speeds of up to 200 km/h. These tests especially checked whether the air conditioning unit (the air conditioning system) and the Flex Panel were able to withstand the extreme conditions.
The bottom line after four weeks of tests: Once more, the Traxx F140 AC3 Last Mile locomotive has proven successfully its functionality under extreme conditions. - Bombardier
Next to WLC's new Vectron, also MRCE X4E-863 completed its maiden run yesterday. The little white leaflets behind the front window tell us this is Siemens' 104th Vectron locomotive being produced. - MR
Loosing overview over all the different machines? We have the list.
Alpha Trains 119.004, 005, 007 and 008 have arrived in Germany. These images show all four machines together in the harbor of Rostock. - KAR
Ready for its maiden run, the all new
Siemens 21934 - WLC 1193 980
. Ordered recently, now already finished, a big advantage of the production method of Siemens.
Like expected, the machine has the well-known ivory-blue livery of WLC. New are the logos. It is the first WLC electric locomotive with the new WLC logos. 1193 980 is the second Vectron locomotive with an Austrian NVR number. For now it is homologated for Germany and Austria. - MR
An image report about the first 'big' service with the new Lokomotion 186 440. On 14.12.2014 the machine was in Austria and Italy for the first time. Both images show the locomotive with train 43805. First in Kufstein (AT), then in Brennero rail yard in DC modus. - FM
CER Hungary Zrt, freight operator in the corresponding country, is part of L.A.C. Holding. During InnoTrans CER announced the procurement of a Trans Montana locomotive from Softronic. Now Softronic and L.A.C. Holding also signed a memorandum of understanding about the production of Softronic locomotives in Hungary. It is planned to start assembly by L.A.C. by the end of 2015.
Meanwhile, also more is known now about the CER Trans Montana locomotive. The construction of the machine is finished (it is the 20th Trans Montana locomotive) and the locomotive has the new front design, as first presented during InnoTrans 2014 with Trans Montana no.17. It's livery will be blue and orange, as shown in the title picture. - Softronic
A full image report on the new Thello daytime service from Marseille to Milan. This service was intorduced on 14.12.2014.
On 15.12.2014, Akiem BB 36012 hauled the inaugural train (EC 147) from Marseille to Milan, as far as Ventimiglia, the border station. The BB 36010 took the counter service (EC 160) Milan - Marseille from Ventimiglia. - RV
Thello, a product of joint venture Trenitalia Veolia Transdev, is therefore using BB 36000s again in Italy, but only to border station Ventimiglia. BB 36000s are capable of hauling the trains the whole route.....
Yesterday, the new Vectron locomotives for lease company ELL were seen in Munich, being readied for their maiden runs:
Siemens 21916 - ELL 193 217
Siemens 21917 - ELL 193 218
Siemens 21907 - ELL 193 219
All three have the ELL livery as shown in the title picture. It is not fully clear if these machines are Vectron AC or MS machines and for which countries they are / will be homologated. We'll ask and let you know. - MR
Nice image huh? This morning, NS E NS E 186 017 arrived at Amsterdam-Watergraafsmeer workshops. The locomoive is that last one of its series to be handed over to NS in 2014. After the holidays, the 018 and 019 will arrive, but then it is already 2015.
Footage of the diesel Gama prototype locomotive, testing with passanger trains. PKP IC will get ten such machines. - GK
Meanwhile, the proto loco is reportedly pulling freight trains too. But PKP Cargo strongly denies any interested in acquiring the Gama.
Today, DB Schenker 187 102 and DB Regio 147 001 arrived in Krefeld. This resulted in a nice line up with older Traxx types and the blue mgw Vectron. The title picture is also the first portrait of the 147 001, showing clearly its destination display. - WS
This images shows SNCB no. 2809 / E 186 201 waiting for its first duty as Benelux service from Amsterdam to Brussels. After a two year break, this 'classic' international trains is back on its original route. And now 16 times a day, instead of 12.
In the past years the service only connected Brussels with The Hague HS after. Originally it was cancelled completely in favour of the new high speed services with AnsaldoBreda's Fyra V250 trains, but after these trains were taken out of service, the Benelux trains were reinstated quickly. But as train paths to Amsterdam were then already taken by other trains, the Benelux had to be shortened.
As from today, it run on its original route again, so it is not using the high speed lines between Amsterdam, Rotterdam and Antwerp. These faster trains will be introduced in the next years.
For the current services, Dutch ICRm coaches are being used, like before. Many of these still wear the Fyra livery. These stickers will gradually disappear. In the past months, NS has been retrofitting more ICRm coaches, coming from domestic services, for the Benelux services. They are now forming fixed rakes of coaches in the normal NS blue and yellow livery. They got a different door closing system using spanjolets, a demand of the Belgian railways, that approved these additional coaches only last week. The newly formed rakes also have a driving trailer, but this is not used as such. This coach is taken along as it has features a toilet for people with physical disabilities and extra space for service personnel. Locomotives are always pulling the trains.
NMBS/SNCB, the Belgian railways currently have ten Traxx MS locomotives from its freight pool available for the Benelux services: 2802, 2803, 2806, 2809, 2812, 2813, 2815, 2821, 2832 and 2833. But more are needed (especially now the 2821 crashed onto a car last night).
The software of NS lease locomotive 186 142 has already been downgraded so it can assist on the Benelux service. The machine was already seen in Brussels yesterday. NS plans on having the newly delivered 186 001-019 being homologated for Belgium too as back-up.
Next week, the last E 186 locomotive for the Dutch railways (NS) will be delivered. E 186 017 is its number. This means the serie E 186 001-017 is complete, leaving only the final two machines of the batch in Kassel. It is expected that the E 186 018 and 019 will arrive in NL early 2015.
Meanwhile, Nedtrain, the company that currently adjusting two ICRm driving trailers for push pull operation with these yellow and blue Traxx MS locomotives, has released an image of the new interior of the driver cab. This is only a trial process. Push pull service of Traxx MS and ICRm is something that may become reality in the future when test are successful and costs are justifyable.
Last week we already reported on the Metrans new 386 series locomotives, being approved for Germany, Austria and the Czech Republic. Next step was actually using them for revenue services. Today, the first three machines are being transported from Prague to Hamburg. We expect the very first container train pulled by a 386 any time soon now. - DP
This morning the first PKP IC 'Pendolino' trains have started revenue services in Poland. The first train left Krakow this morning at 6.05 am, to arrive in Warsaw at 8.35. Alstom has released a promotional movie on behalf of this milestone in railways in Poland:
In Turkey, locomotive get a designation based on their engine power output. The 6.4MW Siemens Vectron MS in the country produces 8700 horsepower, so now it has the designation E87000. According to
railturkey.org
the Vectron is already officially homologated for Turkey since 07.11.2014.
It is done. These images show the very last Interconnex service in Berlin and Leipzig. Veolia has decided to stop with this trains as it can not compete with the rapidly growing competition from long haul bus services. The locomotive for sure will be used for other services within the Veolia group. The married pair Bombardier coaches are reported to go to Schlesweg-Holstein. - FS/SC
This is the first Traxx AC3 locomotive for DB Regio: 147 001. A first batch of twenty such locomotives have been ordered by the German railways (DB). Like the recently outshopped freight version of the AC3 for the DB, the 147 series has the 'ribbed' side walls.
The machine was photographed today in Kassel Rangierbahnhof together with DB Schenker 187 102. - CK
Yesterday, the first Lokomotion Traxx MS locomotive, no.
186 440
was delivered to the freight operator. That day it arrived in southern Germany. These images show the machine today with train 44893 to Munich East. - MR/HvL
Today, is the day the very first, brand new Traxx MS locomotive for Lokomotion has its maiden run. The locomotive has the welknown blue 'zebra' painting. Its designation:
186 440
. It has the DE/AT/IT country package and ETCS. A second locomotive is also available, so we expect more new zebra units soon. - CK
Time for an update, about the E 186 delivery for the Dutch railways:
E 186 001 and 002: These two machines are no longer available for the Amsterdam - Bred shuttle services. They got new software for testing sandwich traction.
E 186 015: Was expected to be delivered last weekend, but the 016 was sent to the Netherlands in stead. The 015 required some extra work to meet the delivery requirments. It arrived at Bad Bentheim last night and will enter the Netherlands today, if not already happened.
E 186 016: Arrived in Bad Bentheim on 06.12.2014 and arrived in the Netherlands two days later.
E 186 017: completed its maiden run on 08.12.2014
E 186 018: completed its maiden run today: - CK/TO
Per 08.12.2014, hvle
246 010-3
is hired to Metronom, again. Only a month ago it was returned to its owner, freight operator hvle. The images show the 010 together with 246 006 passing through in Hannover. - HI/KAR
On 08.12.2014, Metrans
386 009-5
arrived in the Czech Republic. So now the first nine of twenty units on order have been delivered to Metrans.
Meanwhile, the Metrans 386s are approved for services in Germany and Austria. For the Czech Republic the process is ongoing. At least 386 001-003 are appoved for this country too. This means the new machines will soon enter service. This already has consequences for the fleet of lease locomotives. Metrans returned 186 181 to Railpool. The machine is now hired to Rurtalbahn Cargo. - MG/PK/TO
On 08.12.2014, a family day was held at the Bombardier Vado Ligure works. This provided a quick peek into this factory in then north-western part of Italy. This year Vado Ligure focused on revamping passenger coaches for Trenitalia, combined with a lot of engineering work for the Zefiro-V300 Freccia Rossa high speed trains. However, in the past months the construction of new locomotive was set up again. Three orders will be processed in Vado Ligure. Two project have started.
GTS Rail: The Italian open access freight operator has two additional Traxx DC locomotives on order. E 483.056 is under construction now. E 483.057 will be next.
Trenitalia: This year, Italian state operator Trenitalia decided to expand its Traxx DCP fleet once more. Another 29 units are on order, the designated E 464.689 to E464.717. These machines get the new blue and silver 'regional' livery of Trenitalia.
Akiem: This French lease company has ten Traxx DC locomotives on order. There is an option for ten more. Their production still has to commence.
Ferrovie.it brings two initial images of the GTS Rail E 483.056 and Trenitalia E 464.689 in blue.
DSO brings the information
about a new service plan for the ÖBB 1116 series locomotives, that are hired to GySEV (units 1116 061-065). These machines are red, but have GySEV logos. Starting on 13.12.2014, they will be used for various passenger services connecting Budapest (HU), München (DE), Buchs SG (CH), Jesenice (SI).
Meanwhile, the four red Vectron locomotives (no. 5 170 050-053), recently delivered to DB Schenker Rail Polska have arrived in Żmigród, Poland. Soon they will continue to Sosnowiec Jęzor depot of DBSRP.
Polish passenger operator PKP IC is planning on hiring two red Vectron locomotives from DBSRP. Unit 5 170 048 and 049 are possible candidates to be used for intercity-trains.
A few years ago, Siemens replaced all cabin rooftops of its ES 64 U2 locomotives. They made new roofs, in red, in yellow, in whatever needed to fit the livery of the operator. But MRCE (Dispolok) changed color during the replacement period. So, several silver and grey painted locomotives ended up having black rooftops. But this was not an issue, as many were repainted in black very soon or got new stickers covering up colors underneath.
But, when you remove the all-over stickers, you get a colorful combination of liveries. Today we got this picture of ES 64 U2-064. Previously, this machine had the WLC livery. When you remove it, it is silver, yellow, ivory and black.
But not for long, the machine is on its way to Dessau, for a proper repaint.
Since 01.12.2014, Austrian company Steiermarkbahn is hiring ELL
193 212
. It got small logos up front. -
JK
/KAR
It is still a small serie, the final batch of Traxx AC2 locomotives for DB Regio. Only the first two of the planned 32 units have been produced until now (146 251 and 252). Today the 251 was seen in sunny Luckenwalde. - NG
On 05.12.2014, brand new multi system ELL Vectron locomotives 193 205 and 206 were seen in Horní Dvořiště in the Czech Republic. Most likely, both locomotives will get the yellow RegioJet livery, similar to 193 214. They will be operated on the Bratislava - Košice relation, in Slovakia, starting this month. - MG/SP
The title picture shows both locomotives, in ELL livery but without ELL logos, in Veseli nad Luznici on 06.12.2014. - DV
On facebook it is stated that
SŽ 541-104
will get a new promotional livery. It will loose its Mammut livery, which will be replaced by a yellow banana livery promoting a famous banana brand. We will wait and see.
Alstom signed today an agreement with the Kazakh national railway company (KTZ) to acquire an additional 25% of KTZ's stake, thereby bringing its total share to 50%, in the EKZ joint venture (JV).
This JV has been awarded a €1.3 billion contract for the maintenance of freight (KZ8A) and passenger (KZ4AT) electric locomotives during 25 years. These agreements were signed by Askar Mamin, KTZ President and Henri Poupart-Lafarge, Alstom Transport President, during the official visit of the French President François Hollande.
After approval by the relevant authorities, Alstom will become the main shareholder in EKZ, KTZ and TMH both holding 25% of the joint venture based in Astana. With Alstom as major shareholder, EKZ scope will be extended to maintenance activities with the creation of a service centre.
"The agreement and the contract signed today show the sustainability of Alstom's global strategy. By increasing Alstom's share in EKZ, we show our confidence in the attractiveness of Kazakhstan investment environment and we contribute to the development of new expertise and skills locally to address not only Kazakhstan's needs but also regional ones. This major maintenance contract confirms Alstom's commitment to the modernisation of the rail industry and to the dynamism of Kazakhstan and central Asia with its rolling stock expertise and maintenance activities" said Martin Vaujour, Managing Director, Alstom Transport Central Asia.
Kazakhstan is an important hub linking Europe, Middle East, Asia and Russia through the new Silk Way. With almost 20,000 km of tracks, the Kazakh railway network is the world's third biggest using the 1,520 mm track gauge. Besides wide and winterized rolling stock able to run in temperatures reaching -50°C, this market is characterised by very specific technical standards which require adapted engineering solutions. Alstom entered the Kazakhstan's railway market in June 2010 together with its Russian partner Transmashholding, by laying the first stone of the EKZ facility.
The plant is working on supplying the electric locomotives ordered by KTZ by 2020[2]. Today, 24 KZ8A locomotives are already in operation on Kazakhstan's rail lines, and the KZ4AT has passed its first dynamic tests at the speed of 200 km/h. Earlier this year, Azerbaijan Railways awarded a contract to EKZ to deliver 50 additional KZ8A locomotives to Azerbaijan.
It is the first time we see a KZ4At locomotive next to a KZ8A locomotive, in one image. These are the two new locomotive products from Alstom for the railways of Kazahkstan (KTZ). Alstom gave the freight locomotive (KZ8A - 2x4 axle - 120 kph) and the high speed passenger locomotive (KZ4At - 4 axle - 200 kph) different fronts and different liveries. -
AZ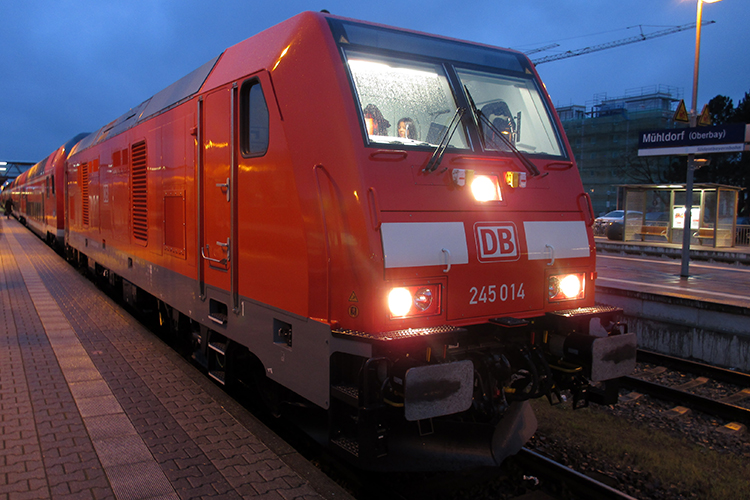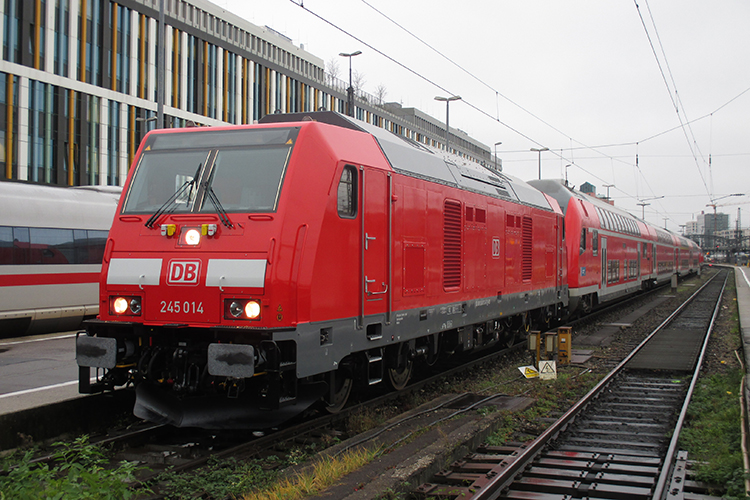 One type of driving van trailer (DBpbzfa 766) has been given a preliminary approval for push-pull operations with the new multi engine Traxx locomotives, valid until 26 February 2015. The Sudostbayernbahn has three such driving vans in its fleet. Another three are of slightly older type DBpbzfa 765.5 and need various modifications before they are cleared to operate with 245 series locomotives. DB Regio
245 012
(allocated in Mühldorf) was seen today
pushing its train (RB 27040) from Mühldorf to Munich
.
DB has performed a one-time only test with a 245 series locomotives in freight services. Interesting images can be found here of DB Regio 245 014 with a tank car train (and a spare locomotive in the back).
Newbie 245 015 arrived at Mühldorf on 25 November.
Last weekend, DB Regio 245 010 was photographed in Landshut with a special train (DPE 5199). Behind the red machine was Lokomotion 185 663. - KAR/GR)
In the second week of November, Amtrak's CitiesSprinter no.
600
(in the US they call this locomotive the 'class unit' of its series) got a name: David L. Gunn. Mr. Gunn is former president of the US train operator.
Now we have an image of the locomotive, with name, shoving "Keystone Service" train 664 to New York Penn Station. This train originates in Harrisburg (PA). - RP
The Agence métropolitaine de transport's (AMT) new commuter train line, the
Mascouche line
, began service today (Railcolor: 01.12.2014).
(...) Thirty multi-level cars and five locomotives (Railcolor: five ALP45DP locomotives from the AMT batch are being used for this line) were also acquired for the Mascouche line. The multi-level cars are ultramodern and comfortable. Their unique design allows them to run along the entire AMT network; the cars have two levels, 142 ergonomic seats and a two-way communication system between customers and crew. Additionally, as part of a new approach, customer service agents will be aboard each of the departing trains on the Mascouche line to handle communication and answer customers' questions. The Mascouche line can accommodate 5,500 passengers at rush hour, almost 30% of which currently use their cars.
Work on the Mascouche line began in October 2010. The project faced a number of technical challenges because part of the route runs along the median strip of highway 640. Plus, along its route, the train's propulsion changes from diesel to electric to enter the Mont-Royal tunnel.
AMT provides many images on its flickr profile page.
Images of a red parade from Görlitz. Locomotive no. 5 170 050, 051, 052 and 053 for DB Schenker Rail Polska have left Munich and are now on their way to Poland. It is the first delivery since July 2014. Thank you Torsten Frahn.
Like many many other railway vehicles, Bombardier's 187 009 is paying the climatic test center in Vienna a visit. Yesterday it as seen at the perimeters of RTA Arsenal doing a little exercise with the diesel engine, before going into the 'Klimakammer'. - RW
Last week, Metrans 386 006 and 007 were taken to the Czech Republic. Yesterday, also no. 386 008 left the factory. The picture shows the machine behind Railpool>Metrans 186 182 coming through at Dresden. - MS
We did not have an image of this new locomotive in our database, yet. It has the red livery of DB Schenker Rail Romania, but without DB logos. Thank you Valentin Andrei.
Steadily, the number of
Talent 2 articulated trians in Germany
is growing. DB Regio now has them in red and silver. SWEG has two units in white yellow and blue and soon Abellio (silver, black) and National Express (white blue) will get their trains too. Last Friday, Bombardier presented the first National Express Talent2 train in its factory in Hennigsdorf.
We receive many emails and messages about DB Schenker 189 series locomotives, that have been modified for services in Poland and the Czech Republic. True, their number is growing rapidly. Meanwhile, locomotive 189 001, 002, 019 and 055-064 (and we think several more already) all have the necessary modifications to start international services to and from the two countries mentioned. Siemens is retrofitting 32 machines of which fifteen should be available to DB Schenker this December.
The locomotive that are being adjusted were only approved for Germany until now, although they represented three different configurations:
Class 189-VA: 189 001-003 and 055-060
Class 189-VB: 189 004-022, several are already approved for services to Decin in CZ
Class 189-VB2: 189 061-064, only had two pantographs
We now show you some close-up images of locomotive no. 189 060, showing external features by which you can recognize a 189 locomotive with the Class VM-50Hz Package:
Above you see the 'magnets' for the Mirel (amongst other countries, to be used in CZ) and SHP (PL) train detection systems.
Above you see the modified markings on the frame of the locomotive. - RH
For the first time, a DB Schenker AC3 locomotive has left the assembly factory in Kassel. Behind Railpool > Metrans 186 275 it was taken to the Czech Republic, to the VUZ Velim test center. There it arrived together with test coaches and two Railadventure braking/coupling carriages.
There has been some discussion about the ribbed sides of the locomotive. To us, these side walls is identical to the constrcution of the walls of the 187.0 series 'Last Mile' locomotives. The only difference is that the 'Flexpanel' construction is not there yet, including the covers of the frame.
ELL Vectron 193 214 currently being used for training RegioJet drivers on the route Košice (SK) and Žilina (SK). We can show you images of the first two runs of the 193 214 in Slovakia with regular passenger trains:
First run from Kosice to Zilina in Krpelany.
Second run, Zilina to Koscie in Ruzomberok. - LG
German freight operator BoxXpress.de gets another four new Vectron locomotives. The first one, the designated
Siemens 21930 - boxXpress 193 842
, was delivered one week ago. - Siemens
Almost one year ago, freight operator BoxXpress.de already took delivery of four Vectron locomotives, the designated 193 840-841 and 880-881.
We made our own impression of a Vectron locomotive in the livery of WLC. It has no relation to Siemens nor the operator.
Wiener Lokalbahnen Cargo GmbH has ordered one Vectron locomotive from Siemens. Further details are yet unknown. it will be delivered soon. - Siemens
Meanwhile, WLC has a new logo on its website, so interesting to see what livery the locomotive will get. Or maybe a promotional livery will be applied honoring one of WLC's customers, like was done with WLC 1216 954 and 955:
Thanks Marcus Alf we have an image of Metrans 386 006 and 007, that left Kassel today. At the same moment, 386 008 was completing its maiden run:
Seldomly we could bring so many updates on a single locomotive series. Pictures of the new NS E 186 014 are here. - CK
Online railway photography magazine Rail Potraits just published its 5th issue. With high quality images from paddy Italy, Poland, Argentina, NMBS/SNCB (before renovation), Hungary and the North Yorkshire Moors Railway.
Check it out here
. A preview of the content:
On 19.11.2014 and 20.11.2014, a NS Traxx MS locomotive (unit no. E 186 003) was seen in Belgium multiple times, pulling an empty rake of NS ICRm coaches.
20.11.2014: The train with with six coaches arrived on Platform 8 at Brussels Midi from the north at around 18:30. Then the loco ran round and departed north around 19:00. The exact purposes of these test runs are yet unknown. - ID
Update: This run was part of the ongoing homologation of the NS Traxx E 186 001-019 for Belgium. Using its Traxx MS locomotives in Belgium has always been a wish of the Dutch railways, but this never became reality. It is also remarkable because the NS purchased its E 186s for domestic services only.
Did you know, that (almost) every image on this website is uploaded by you, by our fans and visitors? Many people ask us
how
you do that. Well, we now try to explain the three simple steps
with this new infographic
.
Curious? You can have it in your inbox tomorrow. Just fill in your email address and you are done:
Since 21.11.2014, PKP IC locomotive no.
5 370 001
is pink, uuh, magenta. The locomotive, until then sporting the Open'er festval livery, is now promoting T-mobile.
The slogan on the locomotive 'Przyspiesz z Wi-Fi od najlepszej sieci' means so much as 'Speed up with Wi-Fi from the best network operator'. - ED/KS
On 21.11.2014, RegioJet and Siemens commonly presented locomotive 193 214 at Praha hl. n. (main station). It is the first of three Vectron locomotives RegioJet is hiring for its Bratislava - Košice services in Slovakia.
RegioJet is hiring the Vectrons for its services in Slovakia: two are needed for the for daily service, the third one is the spare locomotive. Later on it can cover peak hour trains. RegioJet class 162 locomotives will haul all international services and the ones on CZ. The Vectron will come to Prague occasionally for service, if not done in Bratislava, Slovakia.
For now, ELL 193 214 lost its approval for DE/AT/HU temporary because of modifications for CZ and SK. Siemens stated that this is temporary and they'll do the paperwork to certify the complete package DE/AT/HU/CZ/SK again.
193 214 left Praha on 21.11.2014 piloting 162 116 hauling train IC 1011 Praha -Žilina. It came off the train at Hranice na Moravě and ran light engine southwards to Bratislava. Here it was used for staff training over the weekend of 22/23 November. Afterwards it was to be used on RegioJet's trains IC 1003/1010 between Žilina and Košice until the end of the 2014 timetable in mid-December.
Extra: an image of ELL > RegioJet 193 214 in Leopoldov, Slovakia. It ran from Bratislava to Trenčianska Teplá for driver training. - TK/JP/railvolution.net
It is maybe the first picture for the site that shows both Siemens' and Bombardier's newest locomotives next to each other. mgw 193 845 (Vectron) next to Railpool 187 007 (Bombardier AC3). Quite a difference compared to some years ago, as we come from an era during which you could not set a Siemens from a Bombardier locomotive apart, as they featured almost identical exterior designs. The fact that the German railways in the 90s wanted an homogenous look for all their new locomotives (101, 145+185, 152+189) had quite a long-lasting effect on the design of locomotives developed by the German railway industry.
Nowadays, things are quite the opposite. The manufacturers' decision to address the market's needs by developing a highly standardized, yet flexible platform locomotives, resulted in products with an 'independent' design, independent from the wish-list of a certain customer. Of course, there are still launching customers, that fuel innovation with their (big or small) orders, but design and construction are now, in general, rather based on universally applicable EU railway (market) standards, than on specific needs of an operator. So, now also the big railways operators in Europe are being offered standard designs (the Bombardier AC3 for DB Schenker Rail for example) of which the customization is limited. Only if an operator is willing to pay for a custom design, or its parameters require this, they'll get a custom made exterior. This does not happen a lot. Luckily for this website, there are still the liveries, that get more diverse and colorful every day.
And, lucky us, we now see it from quite a distance, 'ah it is a Siemens', or 'hey, that was a Bombardier locomotive'. Makes life easier. - SW