News
Slow, very slow. That is the pace with which Bombardier is currently building new 146.2 series locomotives for DB Regio. Still 32 machines are on order, the very last batch of these red Traxx AC2 locomotives for the regional passenger operator from Germany. Since 2013, the locomotive, the designated 146 251 was already available for tests. On 18.08.2014, locomotive 146 252 was the second of the batch to leave Kassel. It was picked up by 146 551 and transported to, we think, Berlin. - CK
More information about these trains:
Recently we have seen different trains for DB Regio, unrecognizable as such, by their livery color. Today we show you a new train series, that does comply to the DBs corporate identity, red, white and grey. The image shows unit 1428 001/501 on 19.08.2014 during a test run in Frankfurt a/d Oder.
14 such trains
will soon run on the RE42 "Haardachse", in the German region of Nordrhein-Westfalen. - PS
More information about these trains:
SBB Cargo International soon wants to start revenue service with ELL Vectron locomotives from Hamburg/Bremerhaven to Nürnberg/München/Regensburg vv. An image of both units, destined for SBB Cargo International, on 19.08.2014 in Fürth. For sure driver training and instruction are part of the activities right now. - DC
More information about these trains:
With a solid media campaign, Siemens and the Austrian railways present to us every step of the building process of the new CityJet regional trains for the ÖBB. 100 such trains, in white, red and some orange, will be delivered soon. One would almost start to believe Siemens wants to have one train ready for InnoTrans 2014 (surprise act?).
Also check:
Siemens official website
ÖBB official blog about the CityJet
More information about these trains:
Read the complete press statement
here
.
Recently we brought the news that SRI Railinvest acquired MRCE locomotives 145 087 and 088. SRI now states that it also has an option on buying the two other identical locomotives that are still in the fleet of MRCE: 145 084 and 086.
Next to this, Metrans from Prague is currently hiring 145 087 and 088 from SRI. The image shows the 087 with a Metrans shuttle on 12.08.2014 in Dedensen-Gummer. - MvP
Read the complete news item at
rynek-kolejowy.pl
PKP Cargo is about to announce a tender for ten new multi system electric locomotives. These locomotives need to be homologated for Germany, Austria, Czech Republic, Slovakia, Hungary, Belgium, the Netherlands and the Italian border stations. The Polish operator wants to start services with the new machines in 2016-2017. PKP Cargo wants to spend up to 200 mln zł on the new locomotives.
The first Vectron locomotives of lease company ELL are now in service. The first operators are now gaining experience with the locomotives. An overview:
Per 01.07.2014, SETG is hiring ELL locomotive no. 193 831 (white) and RTB Cargo is using 193 832 (ELL livery with RTB Cargo logos).
At least three more machines will enter service within weeks. 193 209 and 210 are being prepared for SBB Cargo International. The operator wants to start revenue service with the locomotives on 01.09.2014 on various Hamburg/Bremerhaven – Nürnberg/München/Regensburg relations. Another machine is being prepared for Ecco Rail. This company will get three locos this year.
As ELL has up to 50 locomotives on order, many more contracts are expected to be signed. The title picture shows 193 208, most likely now running for LTE. ELL confirms that LTE will be its next customer. - AK/SBB Cargo/AM
More information about these trains:
It is nice to have a special livery, but when parts have to be replaced, strange color combinations appear. We already knew the blue 1016 023 with red lamp posts. For some months now also the orange and green 1116 007 has red noses.
Update: István Mondi photographed Railjet 1116 202 today, also with one red eye.
For three years now, Italy's Finmeccanica is trying to sell AnsaldoBreda (train building) together with its profitable rail signals business Ansaldo STS, to help reduce its debts. Finmeccanica's core business is in the defense industry.
None of the possible candidates is officially commenting on this news, but Reuters now states that five companies/consortia are planning on releasing a bid on AnsaldoBreda/AnsaldoSTS: Bombardier, Hitachi, CNR from China with Insigma, Thales from France of CAF. Final deadline fur the current bidding process is 29.08.2014.
An ES 64 U2-locomotive with fresh black paint. MRCE ES 64 U2-007 has been repainted in black during its last overhaul (rev 31.07.2014). MRCE logos are still missing. Before it had the silver/yellow Dispolok livery with boxXpress stickers. - NE
More information about these trains:
This image shows the new 94 80 1440 104-6 D-TLS on 12.08.2014 in Hermannspiegel during a test run. It is a Coradia Continental train for
Regionalbahnfahrzeuge Großraum Braunschweig (RGB)
. Alstom is currently building these trains in its factory in Salzgitter. It will run under the brand name ENNO (Elektro-Netz-Nord-Ost). As from december 2015, twenty such trains will run from Wolfsburg - Hannover and Wolfsburg - Braunschweig - Hildesheim vv.
These images show locomotive 1116 074 after being put back on the tracks. After its crash it was parked east of Mannheim Hauptbahnhof. Finally it was transported back to Austria by RailAdventure. - EL/HB
More information about these trains:
SRI Rail Invest is a company from Germany, that is most known for its recently repainted
151 series electrics
. Per 01.08.2014, SRI is also the new owner of two 145 series locomotives:
145 087-3
and
145 088-1
. Both engines come from leasing company MRCE.
It would be nice to see them in a new outfit. Our first proposal:
And we have an image of the first run in the Netherlands. Pjort Schraal sent us a picture made this morning, while the locomotive was travelling from Emmerich (DE) to Amsterdam-Watergraafsmeer (NL). In this picture, the locomotive passes through in Maartensdijk. Note the distinctive overhead portals.
New Railcolor. In the
Netinera workshops in Neustrelitz (DE)
, people are working hard to restore one of the symbols of German railway innovation, the
ET403
. It is also known as 'Donald Duck', a nickname that was introduced in the time these trains ran in the white and yellow Lufthansa livery.
One trainset is now being completely rebuilt for National Express and will return to the tracks in the livery of this operator. Design firm Tricon has tried to make a livery design combining the NE corporate identity with the original livery of the ET403. The train will be used for promotion and charter traffic.
During the past week, we had several updates on the new Traxx MS locomotive for the Dutch railways. The locomotive is in Emmerich now and will continue its journey into the Netherlands tomorrow morning.
Many comments were posted, when new images appeared on the net. All had different opinions on the livery of the new machine, both positive and negative, which is okay of course. Taste is totally objective. However, two things were mentioned over and over again: First there are the small NS logos, looking a bit 'lost' on such a large blue surface. Secondly, many people craved for a nice, short Dutch service number.
It inspired us to make two alternative dessins. The first simply answering the two remarks stated before. The second one just a bit more 'out of the box', using the same trick as the Norwegian railways do with the El18 electrics right now: display the nice scenery of the country. What do you think?
Last night, the future NS
E 186 001
has left Kassel. Railadventure has taken the locomotive to Krefeld. This morning the machine arrived in
Mönchengladbach
. In the afternoon, the locomotive started its journey to Emmerich. - WS/AS
More information about these trains:
On 07.08.2014, Renfe locomotive no. .
252-010-4
caught fire, while running on the Madrid - Barcelona high speed line (LAV). It was on its way with a Tren Hotel to Barcelona/Vigo. Images of the locomotive are
here
. - AT
Today, the remains of MRCE
ES 64 F4-204
arrived at Dessau by road transport. Further information is not available yet.
This locomotive was severly damaged by fire after its crash in Blecherode on 21.09.2011. Since then it was parked, partially covered by plastic wrapping in Nordhausen.
Our first picture of ELL locomotive no. 193 208. This is the first locomotive of ELL that has the complete livery of the leasing company, as presented earlier this year.
Until now, five ELL locomotive have been released from work, in four different liveries:
193 208 > full ELL livery
193 209 and 210 > full ELL livery with SBB Cargo International logos
193 831 > white and small SETG and ELL logos
193 832 > full ELL livery with RTB Cargo logos on white
More information about these trains:
SBB Cargo International wants to
increase its visibility on the EU freight corridors
. So it is putting its logos on ten MRCE ES 64 F4 freight locomotives. In total SBB Cargo International is hiring 14 such machines.
Six units have the new markings now:
ES 64 F4-082, -083, -091, -107, -112 and -282. Four more to come. - SBB Cargo
More information about these trains:
Today, Railpool
193 813
was released from the workshops in Krefeld (DE), with new adhesives. Not only is it promoting Knorr Rail Services now, it also sports the blue Railpool banner now. Because yes, the white 193 810-814 are now Railpool locomotives. - AS
More information about these trains:
Railadventure 139 558 pulling Railpool 187 004 and 008 on 05.08.2014. Both silver locmotives were taken to Basel that day. - AH/TAZ
Is this a deja vu? No it isn't. Today the second Traxx AC2 locomotive in the livery of Raildox has completed its maiden run. Like the first one, 185 409, it has logos of the leasing company that is making all this possible. - CK
More information about these trains:
Today, both ELL Vectron locomotives with the logos of SBB Cargo International were seen in Linz. - HP
More information about these trains:
This month, the first NS 186 series locomotives will come to the Netherlands. We have now completed to NS Traxx MS section were we will collect all information. Meanwhile an extra image of the fresh yellow locomotive. - CK
More information about these trains:
The Czech Railways (ČD) want 14 new 7Ev class articulated trains from
Škoda Transportation
. ČD already has similar trains in service under the brand name
RegioPanter
, used for regional transport.
ČD wants to use the new 3- and 5-car trains on long distance routes. With the new rolling stock ČD wants to be ready for upcoming tenders. The new trains will therefore have a different configuration of the passenger compartments compared to the regional sets. Each car will only have one double entrance door instead of 2. It will offer more space for luggage and more comfortable seating.
The current RegioPanter family comprises three different types:
- ČD 440 series - 3-car - 3kV DC only
- ČD 640 series - 3-car - 3kV DC + 25kV AC
- ČD 650 series - 2-car - 3kV DC + 25kV AC
The new DB Regio 1440 series train sets for DB Regio NRW. Two sets are currently in Düsseldorf for training and instruction. Although they have a new front cabin design, they belong to the Alstom Coradia Continental product range. - BP
More information about these trains:
We already saw it from a distance, but now we have a clear shot on a Akiem locomotive with the logos of Fret SNCF. the carmillion stickers up front, green markings on the side. - NB
Fret SNCF currently hires Akiem 186 184, 185, 186 and 188.
More information about these trains:
The German railways now have an extra colorful locomotive in its fleet now:
MRCE ES 64 U2-009
. The machine, that was recently revealed with its new 'European Picnic' livery, is in service of DB Regio since 01.08.2014. The image shows the locomotive with the extra fast IRE 18596 Berlin - Hamburg.
Jürgen Steinhoff / Dieter Römhild
More information about these trains:
On 30.07.2014, locomotive ES 64 U2-034, pulling hkx service no. 1802, broke down. A Vectron locomotive of BoxXpress came to the rescue. This resulted in this unique title image, showing locomotive 193 880 with NOB married pair coaches, running as hkx 1805. - DSO/KAR/NE
Last night, a freight train (pulled by 1116 074) crashed into Eurocity 216 in Mannheim (DE). Two coaches of the IC were pulled over and landed on their sides. Strikingly enough, no casualties were reported until now. Both trains were running on reasonably low speeds. -
ntv
/HS
More information about these trains: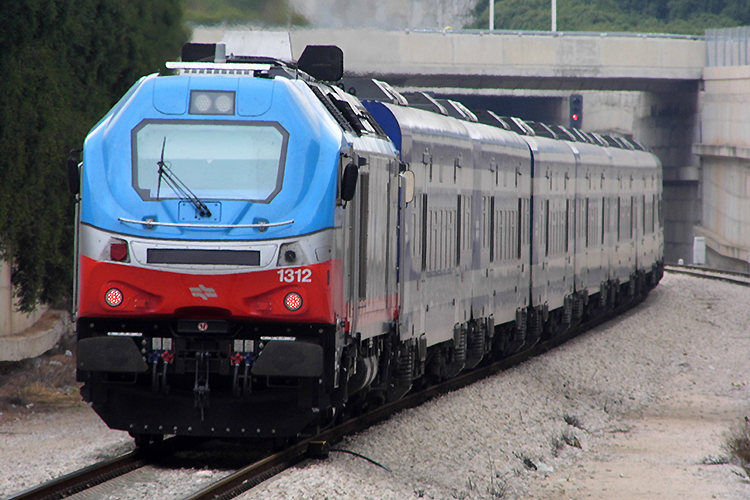 The railways of Israel (IR) are known as a loyal customer of big mainline diesel locomotives. It is an exceptional good customer of Alstom/Vossloh from Valencia (IR 700/800/1300/1400 series). But the IR now has adopted a 25 kV 50 Hz electrification program for its main network, so it is in need of new electrical traction power.
Therefore it is calling upon rolling stock manufacturers to submit a bid for a comprehensive number of electrics (62 - 78 units and options for more). IR wants a proven locomotive design, to be used for both freight and passenger services.
All proposals must be submitted no later than December 15th, 2014 by 13:00 (Israel time).
Read the complete press statement here
.
Austrian Federal Railways (ÖBB) is ordering a further nine Railjet trains from Siemens, with delivery of the seven-car units planned for December 2016. The order is worth around 145 million euros in total. ÖBB already operate 51 Railjets across Austria, Germany, Hungary and Switzerland. The new units will run on the Vienna-Salzburg western route and be equipped to operate in Italy, being deployed on the route to Venice, for example. Final assembly of the Railjets will be completed at Siemens' plant in Vienna, while the bogies will come from the company's plant in Graz.
There it is! The yellow Traxx. This morning, locomotive E 186 001 started its maiden run from Kassel. It is the first of nineteen locomotives with a DE/AT/BE/NL-package and a top speed of 160 kph, that will be delivered to the Dutch railways (NS) in 2014 and 2015.
These machines are most important to the NS, as they will be at the basis for the Fyra V250 replacement time table, as presented earlier this year.
More information about these trains:
On 30.07.2014 in the late afternoon, the new ELL locomotives 193 209 and 210 left Munich. Both had the logos of SBB Cargo International. - RC/DSO
This shows the power of the internet, the power of Railcolor and the power of our visitors. MRCE locomotive, hired to Freightliner Poland, got a name this afternoon: Koos. Now we can already show the locomotive in revenue service, twice! Thank you!
Axel Schaer | Martin Morkowsky
More information about these trains:
Today the new Railpool 193 812 and 814 were in Hungary together. They tested in double traction. - NT
More information about these trains:
A new Traxx was on test today. Akiem no. 186 263, capable of running in Germany, Poland and Austria. - CK/AL
More information about these trains:
Since the beginning of this year, IGE is hiring locomotive
185 405-8
. Now IGE gave the machine special stickers, celebrating that Germany has won the fottball world cup in 2014. - CT/AS
More information about these trains:
At the 2014 edition of InnoTrans, Pesa will again showcase a Gama locomotive. This time the version with combustion engine will be on display. This locomotive, designated by Pesa as 111Db, is grey like the 111Ed-001 hybrid locomotive from 2012.
Meanwhile, first images are appearing online. Check them here.
With its diesel-Gama, Pesa has won a tender of PKP Intercity. Ten such locomotives were to be delivered to the Poland operator of passenger trains. However, it is unclear whether or not this contract has been signed yet.
Alstom and TMH 2ES5 locomotive just obtained the certification, confirming its compliance with Russian mandatory safety norms. By 2020, 200 units will be delivered to the customer, Russian Railways (RZD). The first ones should enter commercial service during autumn and will start operating in Syberia along winter time.
Developed by TRTrans, the engineering centre jointly operated by Alstom and Transmashholding (TMH), the 2ES5 electric locomotive is Russia's first mainline freight AC1 locomotive with asynchronous motors. Production of the key components, including traction equipment, is localized in Russia and the locomotives themselves are manufactured at TMH's Novocherkassk Electric Locomotive Plant.
"The 2ES5 electric locomotive is our second product jointly developed with TMH after the EP20 passenger electric locomotive, currently the fastest in Russia, able to run at up to 200 km/h. The new freight electric locomotive is based on a modular principle and its design will provide the customer with the most advanced engineering solutions in terms of security, control systems, power consumption and driver comfort," said Thibault Desteract, Senior Vice-President of Alstom Transport in Russia and CIS.
The advanced design of the locomotives enables a significant increase in time between overhauls, ensuring a dramatic reduction in maintenance costs.
The 2ES5 locomotives will be operated in the Eastern regions of Russia, on the Baikal-Amur Mainline, which is now being upgraded as part of a government program.
Railcolor: Read all about the Alstom + Transmashholding locomotives in our dossier.
Nice catch. Siemens' PCW 8 and a transport bound for the UK. The locomotive is pulling a train including two new train sets for London Midland, no. 350 376 und 350 377. - RW
Siemens multi system Vectron locomotive no. 193 823 in Góra Włodowska. ETCS measurements, performed during night time only, were in full swing on 26.07.2014. - GK
More information about these trains:
Our idea was very accurate. On 28.07.2014, the very first Traxx MS painted in the livery of the Dutch railways (NS) was seen outside the Bombardier factory in Kassel. The yellow machine, with blue side panels, represents the DE/AT/BE/NL configuration with a top speed of 160 kph. The locomotive has NVR number
91 84 1186 002-9 NL-NS
.
In 2014-2015 nineteen yellow and blue Traxx machines will be delivered by Bombardier from Kassel. They will be used for the Intercity Direct services, using the Dutch high speed line on certain routes. The first coaches are already adjusted (ICRm), waiting for things to come.
More information about these trains:
Two pictures of new 193 812, now property of leasing company Railpool. Like the previously mentioned 193 814, this locomotive is now in service of RTB Cargo. - MEK/FG
More information about these trains:
We almost missed this: the
press statement from ELL
about the handover of the first new Vectron locomotives. It includes images of a locomotive we did not see before:
ELL 193 208
. It is the fifth unit now in our ELL locomotive list. Next to that, it is also the first engine in the complete ELL livery like it was presented at the launch of ELL.
BTW: ELL states that it also will have Vectron DC locomotives in its portfolio. Until now, only Vectron AC and MS versions were mentioned. - MB
Poland will soon get its second Vectron MS locomotive. On 24.07.2014, locomotive no.
193 823
ran from Munich to Frankfurt a/d Oder. The locomotive will be used for ETCS tests between Psary and Góra Włodowska (CMK high speed line).
Since 13.09.2013, Vectron MS locomotive no.193 820 is already in Poland for tests and homologation.
More information about these trains:
MRCE ES 64 F4-096 is the next locomotive of its type that has been repainted in black. Previously this machine was yellow and silver sporting the logos of TX Logistik. It is not in service of SBB Cargo International. Note that the machine has not received any MRCE logos yet. - YH
More information about these trains:
Two pictures of the first freight train, we see, pulled by new Railpool locomotive no. 193 814. The ARS-Altmann train is managed by RTB Cargo. - FG/FL
More information about these trains:
Locomotive 245 009 for DB Regio > Südostbayernbahn during test with double deck coaches in Frankfurt. - AH
More information about these trains:
Today, two new Vectron locomotives, to be delivered to leasing company ELL, have completed their maiden run:
ELL 193 209 in the green/blue/white ELL livery
ELL 193 210 in white
For the first time, Vectron locomotives are not numbered in the 8xx/9xx number range. The ELL livery of 193 209 is different compared to the looks of 193 832. No RTB Cargo logo and the big white surface created for this logo is now black. - MR
BTW: 193 811 was the third Vectron that had a test run today in Munich. This one is for Railpool.
On 11.07.2014, the Austrian railways reveiled its newest 'Kunstlok', the 1116 077 covered in prints honoring two Italian scientists from the past. But railfans soon discovered that the family name of Mr. Michelangelo was spelled incorrectly. His name should be Buonarroti in stead of Buonarotti
The designer saw this mistake too and has now corrected it
.
More information about these trains:
Locomotive 245 010 made a trip today, coming from the Kassel factory. This is the third unit to be delivered to the Südostbayernbahn and will be allocated in Mühldorf. - CK
More information about these trains:
Our first image of Softronic's Trans Montana locomotive
no. 012
, now in service of DB Schenker Rail Romania.
Meanwhile Softronic is working on units 014 and 015. The first one is green again.
More information about these trains: