News
Since september 2014, GySEV is hiring MRCE ES 64 U2-070. It now got a special GySEV Cargo livery. We keep you posted!
Bombardier has released
187 009
from work. We know the locomotive from InnoTrans 2014, where it was presented for the first time. It is property of Bombardier (like its sister locomotive 187 010). The manufacturer plans on getting it tested by the German railways, hence the red livery, albeit without DB logos. It has a white flex panel.
The 187 009 is a Traxx AC3 locomotive with Last Mile-shunting module. This type of locomotive has no country specific approval yet. Homologation in Switzerland has progressed considerably, but as far as we know final approval has not been granted yet.
Some months ago, thourough dynamic testing with the AC3 started in Germany, using Railpool 187 series locomotives. For some days now, the 187 009 is also on its way in Germany. It has been seen running solo in Bebra. The title image shows the machine with three coaches and 146 553. - CK
More information:
Yes, NS
E 186 007
is in Belgium. It is hired by the NS to Bombardier. The manufacturer used the locomotive yesterday for ETCS tests, together with SNCB no. 2830. The latter locomotive was also seen on the Ducth BetuweRoute last week during trials.
Image and video show both locomotives sandwiching three Belgian I6-coaches on the line Louvain - Bertrix. - GB
More information:
The fleet of CargoNet is changing. The seven remaining Alpha Trains locomotives, that now all have a lime green and silver livery, are gradually given back to the lease company. 119.004-008 and 010 are currently parked at the Grorud workshops in Norway. (We are still on the look-out for 119.009 ;). Meanwhile, Alpha Trains is negotiating with other operators about its seven unemployed machines.
To replace the Alpha Trains locomotives, CargoNet is hiring extra 185s from Railpool, that is transferring locomotives from Germany to Scandinavia. We can already say that 185 671, 686, 689 and 692 have made their debut up north, as proven by the pictures below. Other machines that are mentioned to be added to the CargoNet fleet are 185 679 and 687 but we have not seen pictures of those locomotives yet. - RE/GR/KAR
For more information about these locomotives, also see:
PKP Intercity has twenty Flirt3 trains on order. Our collegues from Rynek Kolejowy have visited the Stadler Rail factory in Siedlice and
made this report
.
CAF is selected as preferred bidder
for 120 new Sprinter-trains for the Dutch railways. Alstom is second now. Dutch Rail Magazine comes with a impression of the CAF Civity in Dutch colors. This type of train will be the basis for the new product of the final contract with the Spanish manufacturer will be signed:
One by one, Railpool is giving its new Vectron locomotives a repaint. The white 193 810 and 811 now have the standard silver Railpool design with blue banner. Additionally, the 811 sports the logos of RTB Cargo. - FG
Related information:
On 28.10.2014, test runs were made in the Netherlands, using two Macquarie Rail E 186 locomotives in 'sandwich' with six ICRm coaches. With this train the functioning of the machines in multiple mode was evaluated. Both locomotives could give traction, or only one. If the machine at the end of the train gave traction, it was operated from the leading machine.
During the test runs, the longitudinal forces and shear on the first locomotive was measured using a special coupling and cameras. - CR
Both locomotives used, e.g. E 186 149 and 239, are part of the locomotive fleet of the Dutch railways (NS) for some time now, but are rarely seen. The test are being held for the Amsterdam - Breda shuttle service of NS.
Video journaal about railways. With English subtitles.
Yesterday, NS
E 186 007
popped up
in Antwerp
. Remarkable because the Dutch railways have no official plans to use these new locomotives outside the Dutch rail network.
Bombardier has hired E 186 007 from the NS for tests with ETCS.
Images of several of the very first intermediate cars for the future Twindexx Swiss Express trains for the Swiss railways (SBB). These coaches will be part of the second IR-composition, the future SBB RABe 502.2 series.
Background information about these trains:
The retrofitting of DB Schenker's 189 series for services in Poland and the Czech Republic is progressing. Recently the 189 056 and 057 were seen with the new package. In the end, 189 001-022 and 055-064 (32 locomotives) will have the extra equipment. - BG
Update: 28.10.2014: 189 058 was seen in service in Germany, being retrofitted. - ML
Ten years ago, the silver and yellow Siemens Dispolok livery was a common sight. Now it is rare, very rare. Only four engines still have the complete livery: ES 64 U2-011, -025, -095 and -096. There may be some yellow and silver paint left underneath some WLC and CargoServ stickers, but that does not count right now.
ES 64 U2-011 > Dispolok livery, TX Logistik / ARS Altmann logos
ES 64 U2-025 > Dispolok livery, no logos
ES 64 U2-095 > Dispolok livery, no logos
ES 64 U2-096 > Dispolok livery, IBS promotion
ES 64 U2-025 sported boxXpress logos for a very long time, but now they are now gone. The end of the Dispolok livery with boxXpress logos, which always made a very nice combination.
More information about these trains:
A new Werbelok in Switzerland: SBB Re460 063 now promotes air carrier EasyJet.
Freight operator currently hires three Vectron locomotives (ELL 193 212, Railpool 193 805 and Siemens 193 901. These images show them together in action around Munich. - MR
Peter Rafaj of the the Office for Protection of Competition (OPC) in Czech Republic, confirms that the Czech railways (ČD) has to pay 25 million crowns for the illegal purchase of its Railjet trains from Siemens without an open tender. ČD got another ticket for renting the 1216 series locomotives (from the Austrian railways) that pull the CD Railjet trains.
The order for the new trains was changed (from 16 > 15 trains with a different configuration , later only 7 were ordered) during the acquisition process. However the reconfiguration of the negotiated procedure was done without publication, which is obligatory, and therefore illegal. As the demands changed it could be well possible that other manufacturers could have done better bids than Siemens.
A second fine, 2 million crowns now, needs to be payed for renting ÖBB 1216 series locomotives in the period 2009-2013. Earlier this year, the court already decided that the ČD had to pay 1 million euros for the rental in 2013, and that the Railjet services with these locomotives had to be stopped directly.
We'll keep following these cases and see what the consequences are for the Railjet services. - Various sources.
Last week, NS E 186 008 made to obligatory trial runs in the Netherlands:
---
[edit] 24.10.2104: NS E 186 009 leaves Kassel for its trip to NL:
---
A week before, NS E 186 003 took a rake of ICRm coaches and a 1700 locomotive from Maastricht to Lelystad for test about longitudinal forces on the train. A week later, NS E 186 006 took the convoy back to Maastricht.
On 13.10.2014, Alpha Trains locomotive
E 186 114
was sent of to Dessau in Germany. There it will get a revision. It is the first machine, currently rented to the Dutch railways, that has made this trip. NS currently operates Alpha Trains E 186 111-122 (and several additional light grey Macquarie Rail 186s) for their Amsterdam - Breda shuttle services. These machines are all red with white fronts, as they once had to comply with the Fyra corporate identity. This identity has been dropped in favour of the Intercity Direct product name, including the normal yellow and blue NS livery.
Delivery of the first locomotives of the new NS E 186 001-019 batch now make it possible that the hired machines can get their mandatory maintenance in Dessau. We have seen E 186 001, 002 and 003 so far mixing in on the Amsterdam - Breda shuttles in regular service.
When the E 186 114 comes back from Dessau, it will have the same blue and yellow livery as the new E 186 001-019.

Railcolor: More information about these trains:
The first 3-car Pesa Link train has arrived in Germany. It will be used for homologation in this country. It has the livery of the German railways (DB). Pesa and the DB have an extensive frame contract for the delivery of up to 470 Link trains. They can be delivered in 1-, 2- or 3-car consists.
Pesa presented the 1-car (631 series) during InnoTrans 2014, together with this 3-car train it will be subjected to the many approval tests. The 2-car version of the Link (632 series) is already under approval for some time now, as the Oberpfalzbahn wants to start services with them next December.
Currenty, the
ÖBB 1016 023
gets a new promotional livery for -ÖBB green point-. Green leaves, green trees are put over the locomotive's blue base livery.
The ÖBB 1016 023 had its blue -Kyoto- livery for more than 10 (!) years. Since 2011 the livery lost some appeal when the blue headlight sections were replaced by normal red ones.
Swiss locomotive
SBB 460 006-0 -Lavaux-
has special inscriptions as it has completed over 5.000.000 kilometers (!) in active duty now. Small black inscriptions remind us about this special milestone.
On 22.10.2014, the Czech ČD 380 series locomotive were used for the first time in revenue service hauling expresses between Praha (CZ) and Budapest (HU). Train drivers are now training on this route too.
Until 31.10.2014, the 380s will be used to haul the daily EC 272/273 "Avala" Beograd - Praha service, between Budapest and Praha. After that date, they will also add some IC services (912/942/948 to Sopron and Győr) to their working area.
Starting with the timetable change in December the 380s will be used on between six and seven trains to Budapest each day. - Railvolution/PH/PP
Currently, MRCE hires two ES 64 F4-locomotives to the Dutch railways (NS). These black machines are used for hauling the City Night Line trains from Amsterdam to Emmerich (- Munich, - Basel or - Zurich). Previously this was done with NS 1700 electrics, but since last summer, these yellow machines can no longer run to Emmerich as the Dutch ATB train detection system was switched of between Zevenaar (NL) and Emmerich (DE), the final part of the route. Now the trains have to use ETCS.
Dispite the fact that the ES 64 F4s are multi system locomotives, the NS ES 64 F4s are taken of the trains in Emmerich and replaced by other locomotives with higher top speeds.
Medio 2014 two ES 64 F4s became available to the NS: ES 64 F4-289 and -290. After driver instructions they were used to pull the trains to Emmerich. The images above show both locomotives at this German station.
[Update] Since September, things changed again. Both the 289 and 290 were replaced by two other MRCE machines of the same type: ES 64 F4-106 and -995. Just now, the -290 has replaced the -106 again. - DH
Since 01.08.2014, former MRCE locomotives
145 087-3
and
145 088-1
are property of SRI Rail Invest. This company focuses on disposing locomotives to operators in the German market.
Currently both engines still have a red/blue livery, a remain of their time at SBB Cargo. But, when the opportunity is there, they will be repainted in a new SRI Rail Invest livery, blue with red and silver 'garlands'. For the first time, locomotives of the company will have the new SRI logo. - sri-rail-invest.de
The livery was designed by Crearail.com, the company also responsible for the design of this website.
This is a video report about Metrans receiving its first Traxx MS locomotive. The ceremony was held on 19.09.2014.
The above image shows the newest Vectron locomotive of MRCE.
Siemens 21922 / MRCE X4 E - 861
is locomotive no.18 for the leasing company with the black livery. MRCE already operated X4E - 850-860 and 870-875.
Currently the new machine is hired to Transpetrol. - AK/KAR
Since 20.10.2014, commuters from Philadelphia to Harrisburg were the first to ride on a Keystone Service train powered by the Siemens-built Amtrak Cities Sprinter (ACS-64) locomotive. From Harrisburg to New York, the ACS-64 locomotives will bring new, state-of-the-art equipment and technology to the line.
Since 2006, ridership on the Keystone Service has grown to more than one million passengers per year, up 60 percent, and we couldn't be prouder that our ACS-64 workhorse locomotives are being introduced to further improve ridership.
Earlier this year, Vice President Joe Biden and U.S. Transportation Secretary Anthony Foxx helped kick-off the ACS-64 going into service along the heavily-traveled Northeast Corridor. As the 70 locomotives continue to be built at our solar-powered, Siemens' manufacturing hub in Sacramento, and make their way to the East Coast, they will replace older equipment with between 25 and 35 years of service and average of more than 3.5 million miles traveled along both the NEC and Keystone Corridor lines.
Bombardier Services in Kassel has just completed the R1 main overhaul on MRCE locomotive 185 569 (REV 20.10.2014). The leasing company did not spend money on repainting the locomotive until now. The machine is still its original black livery, without MRCE logos. - CK
Railcolor: More information about these trains:
This morning, the 8th Traxx MS locomotive for the Dutch railways (NS) arrived in the Netherlands. E 186 008 will arrive at Amsterdam-Watergraafsmeer depot today.
Meanwhile, E 186 001 and 002 are regularly seen in normal service between Amsterdam and Breda. Last weekend, E 186 003 made a trip to Maastricht, where the locomotive picked up NS 1748 and a rake of ICRm coaches.
Railcolor: More information about these trains:
Two recent pictures of Traxx P160 AC2 locomotive that should have been in service of DB Fernverkehr. All 27 units are more or less completed now, we think. On the left we see 146 558 and 559 parked in Mannheim Rangierbahnhof. On the right there is 185 564 in Görlitz. - TF/MG
Video showcasing the new Newag Impuls train for Lubuskie Kolej (designation: ED78). Two trains are on order, to be delivered in 2015, but the first vehicle is already completed. These are the first electric trainsets for Lubuskie. Until now only new diesel trains were ordered (you see a Pesa Link diesel train in the video on the left).
Via rynek-kolejowy.pl.
Lokotrain from Česká Třebová (CZ) is now hiring MRCE locomotive
ES 64 F4-841
. It is the first time this operator works with a MRCE electric (edit: directly), until now it predominantly relied on PKP Cargo (EU45, also from MRCE of course or ET22) machines. First revenue service with the new locomotive took place on 11.10.2014, when the 841 pulled a freight train for IDS Cargo (Leuna - Dunai).
The title picture shows the 841 with a temporary 'Lokotrain badge' during its transfer from München-Laim to Decin on 10.10.2014. - MS/railvolution.net
Stadler Rail has handed over the first unit of the altogether 6 Flirt intercity trains that it produced for the Hong-Kong based private operator MTR Express for operation in Sweden. The factory acceptance of the new train by the customer was held on 17.10.2014 in Bussnang [CH].
(..)
The first MTR Express Flirt will expectedly start commercial operation in March 2015 on the Gothenburg-Stockholm route. Stadler received the order from MTR Express altogether for six intercity FLIRTs only in November last year, and by now the company was able to successfully pass the factory acceptance of the first vehicle. The order is worth around CHF 85 million, the production and commissioning of the trains are carried out in Switzerland. With the new units MTR Express will provide a long-distance intercity service with around 16 connections per day on the route between Stockholm and Gothenburg. MTR Express is not the only operator on this route, it will provide the service in competition with the Swedish state railway operator, which is possible due to the deregulation of the Swedish passenger rail market.
Read the complete press statement here.
Update: want to see? Beautiful images of the trial runs in Switzerland
Indeed, OBB locomotive 1116 071 needed a paint job, its painted was pretty bleached out by the sun. In the workshops of Linz, an overhaul was completed and new red paint was put on. Before, the 1116 071 sported Rail Cargo Carrier logos. Now they are replaced by Rail Cargo Group logos. - BS
---
More information about these trains:
Next December, a new rail link will open to the airport of Vienna. Part of the link is this bridge, that needed some serious load test. Therefore you don't use your regular red locomotive of course. No the Austrian railways sent six Werbe-ochse!
The five Vectron locomotives that Siemens delivered to Railpool this year, where all handed over in a plain white livery. But lease company Railpool is very strict when applying its corporate identity on rolling stock, so 193 810-814 are repainted in silver and blue one by one.
In August 2014, the 193 811 was the first to get a paint job. In the past week, 193 810 was next. In Aachen it got new silver paint and additional logos of its lessee, RTB Cargo. It is expected that 193 812 is the next to change color.
Today, one of Hollands biggest rail events ever started:
Spoorparade
. This is a 6-day event about railways from the past, the now and the future in the Netherlands. This year our country celebrates the 175th birthday of its railways.
Part of the 'modern' parade is the new Traxx MS no. E 186 004. It gave us the opportunity to take a very close look. Remarkable are the many technical markings still being crossed out, and the immediate change of the NVR-number when such a locomotive arrives in NL. For the rest, it is very very yellow, and shiny.
Of course, there was a lot more to see! Curious? Click here for all pictures of today.
And for those, who did not know that Traxx actually also means something, the explanation:
Update: Video report of the first day (in Dutch):
Railcolor: More information about these trains:
Vectron MS no.193 901 is back from its trip to Hungary, and again being used by Lokomotion right now. The freight operator now uses three Vectron locomotives for its services. Next to this white one, we have recently seen ELL 193 212 and Railpool 193 805.
The latter ones are also used in double traction
. - MR/PT
By us, this raised the question, what if Lokomotion had its own Vectrons, what would it look like?
This image is made by crearail.com/railcolor, it is our own initiative. It is not related to Lokomotion nor Siemens.
For some months now, Swedish freight operator TM Rail from Örebro, is using Paribus Vectron 193 921. At first, the locomotive still had its dark blue Skandinaviska Jernbanor stickers (the previous lessee), but they are now removed and replaced by TM Rail logos.
TM Rail is a company that runs containers between Gothenburg and Örebro 5 retur trips a week.
When Metrans made public that there first Traxx MS locomotive was ready, we got a image edited with photoshop. Out of one locomotive were made many. Most likely only one machine was on the original picture.
Today, the first Metrans machine made a test run. Unit 386 001 was seen around Kassel. Unlike the machines leased from Railpool, this machine is completely silver with a big Metrans logo on its side. Smaller one can find the logos of the bank financing the deal and HHLA logos up front. BTW. Did you know the Metrans 386 001 is on our latest poster project? It was the last one we could add before the design was sent to the printer. - CK
Railcolor: More information about these trains:
DB Regio 146 127-6 -Marienhafe- with the RE 4423 (Norddeich Mole - Hannover Hbf) in Gandersum (DE) yesterday. - TK
Various news from Kassel today. The nineth Traxx MS locomotive for the Dutch railways had its maiden run this morning. Next to that, the future DB Schenker
187 101
was seen out side the factory of Bombardier again. Alpha Trains 186 349 and 350 arrived in Kassel to pay the workshops a visit. - CK
Yesterday, Metronom locomotive 246 005 was seen in Ramelsloh. It came Kassel after a R1 revision. - PB
Railcolor: More information about these trains:
Did you see this colorful dress during Innotrans 2014? The Railcolorful Dress sure turned some heads! It was just a crazy idea, dressing up a woman with some nice modern trains, crazy but fun. We gave the fair some extra flair.
It is just an example of an unconventional application of our colorful locomotive visuals. If you want, you can have one too. Or maybe as a present for someone you know? Or the personnel manning your booth needs a new outfit for the next big railway fair/event? Check it out now.
PS. If you have any nice pictures of the Dress at Innotrans, let us now at hello@crearail.com
After it left the Innotrans fair, MRCE's newest Vectron locomotive went to Hungary. Since 01.10.2014, it is in service of Transpetrol. This has resulted in some very nice impressions of this locomotive in revenue service. - RK/CB/KAR
MRCE > TX Logistik ES 64 F4-281 pulls a V250 train set, bound for Italy. - DK
Some exotic, new Railcolor from the UK:
This morning, E 186 007 has arrived in the Netherlands. Meanwhile it should have arrived at Amsterdam-Watergrafsmeer depot. Curious is that all new NS E 186s get their NVR number changed after arrival from Germany. They are all delivered with NL-NS markings, that are quickly changed into NS-HSA.
E 186 001 and 002 are meanwhile a regular sight in revenue service. They are often used to pull the Amtserdam - Breda Intercity Direct shuttle.
Railcolor: More information about these trains:
Both locomotives were built in 2013, both are not yet seen in regular service. On 10.10.2014, both
146 553-3
for DB Fernverkehr and
146 251
for DB Regio were seen around Kassel. - CK
Railcolor: More information about these trains:
Today, the train already made a run to Munich (DE).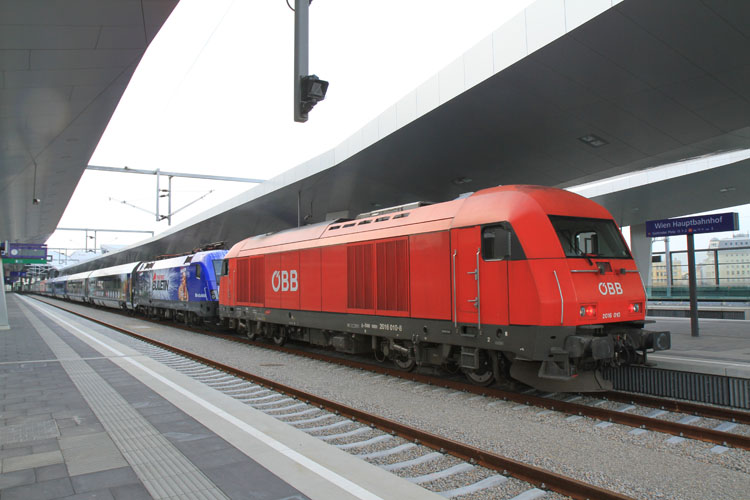 On 10.10.2014, the new main station if Vienna was officially inaugurated, after a seven year construction period. Many people visited the station for the fisrt time during the first days of opening. Live music, stand-up comedy, free style skiing and BMX stunt shows, there was a lot to see.
The ÖBB and the Red Bulletin presented their Fashion Train. This is ÖBB Railjet composition no.48 including locomotive ÖBB 1116 248. The locomotive and all seven coaches got a special promotional livery for the event about fashion. These pictures show the complete train.
Detail: the overhead wiring on the track where the Fashion train was parked was not officially approved yet. So that is why diesel locomotive 2016 010 had to pilot the train into the station. - LG
More information about these trains:
Not so long ago, this locomotive was pulling the Vienna City Airport Train in stylish green and grey. Now it has a complete new look: A gradient livery promoting Siemens. It was presented during the past two days during the opening of the new Vienna main station, together with 1116 130 'Frontrunner' and 1116 182 'Cobra'.
This image shows the locomotive during one if first revenue runs with its new livery with train 47182 to Neulengbach. - CB
More information about these trains:
Last month already,
eurailpress.de
published the news that the Slovakian railways (ZSSK) are tendering for new electric locomotives. Now,
railwaygazette.com
brings some extra details.
ZSSK has a tenders for the supply of multi-voltage, four-axle 6MW electric locomotives with a maximum speed of 200 km/h. They need to replace the Škoda Class 350 locomotives on EC and IC services on the Praha – Bratislava – Budapest and Bratislava – Žilina – Košice routes. These must be suitable for use with 3kV DC, 15kV and 25kV AC, and equipped for operation in SK, CZ, AT, DE and HU. There would also be an option for up to 10 more locomotives.
Little surprise for us today, a test run with
NS E 186 008
today around Kassel. Until now, we only saw unit no.001 from this series making a run under its own power.
Meanwhile, the NS E 186 007 is ready for departing to the Netherlands: - CK
This afternoon, DB's 146 127 was presented in Bremen with new stickers. The machine now promotes 'Erholungsort Marienhafe', a village in the north of Germany, and
Expresskreuz Niedersachsen/Bremen
, connecting Hannover - Norddeich Mole and Bremerhaven - Osnabrück. - TK
Per 27.11.2014, LVS Schleswig-Holstein Landesweite Verkehrsservicegesellschaft mbH will have a new name: Nahverkehrsverbund Schleswig-Holstein GmbH (NAH.SH GmbH). Under the new name the company wants to continue the integration of its transport concepts and expand its digital/online/app services.
LVS ordered 15 Traxx DE Multi Engine locomotives in March 2014, to be provided to an operator that will be selected in the future. - nah.sh
Today, DB Regio's 245 011 completed its maiden run. Its REV date? FKR X 07.10.2014 - CK
Railcolor: More information about these trains:
ITL Polska from Wrocław has a new name: Captrain Polska. From now on, it is clear that the operator is part of the Captrain group. ITL Polska was founded in 2006 as subsidiary of ITL Eisenbahngesellschaft mbH (ITL) from Germany. ITL is now owned by the Captrain group, which again is property of the French SNCF Geodis group. - KAR/
captrain.de
Yes, the
Traxx posters
are there. We have started packing and shipping. This means this is the last day for the 10% early bird discount. Tomorrow, normal prices again!
Switzerland and Japan celebrate their 150 year anniversary with a special locomotive: Re 460 036 -Welcome to Japan-. -
DW
Three Traxx MS locomotives in service of the Dutch railways: 186 115, 118 and 144. They pull the Amsterdam - Schiphol - Rotterdam - Breda vv shuttle connecting these places using the high speed line. These images are all taken at Breda, at night, in the new station that has just been opened. In fact, it is a semi-station now, only the northern-part is finished and open for public now. On our Flickr account you will find a
complete set showcasing the new station building
. - HZ
Railcolor: More information about these trains:
For the transport of
NS E 186 006
Railadventure has hired a locomotive from SBB Cargo. The title image shows the machine pulled by SBB Cargo 482 043. The pictures below show the 006 at its starting point (Kassel) end the end point of this trip (Bad Bentheim). Tomorrow the journey will continue into the Netherlands. - RK/MT/CK
Railcolor: More information about these trains:
During the next week a new trial period begins with the ČD 380 series in Hungary. This type of locomotive already has a Hungarian homologation, but drivers still need to be trained for this locomotive. Staff from Budapest-Keleti will get this training. As from 14.12.2014, ČD wants to operate some (al least two) pair of EuroCities between Praha and Budapest with the 380.
Between Budapest-Keleti and Sturovo (broder station Hungary > Slovakia) the 380s will be operated by staff of MÁV-START. The training runs will be held on the route Budapest and Siófok (between Siófok and Balatonszemes there is a track closure due to reconstruction works) with normal passanger trains. - PH
Update: On 05.10.2014, ČD 380 002 arrived in Budapest pulled by 362 005 in the EC 273 "Avala" service. Until 20.10.2014, it will run between Budapest-Déli and Siófok two times a day with fast trains; and during the nights it will be available for a stopping service between Budapest-Déli and Székesfehérvár. - PH/MF/AL
More about these locomotives:
Two years ago, Polish rolling stock manufacturer Pesa presented a newly developed locomotive, listening to the name Gama. Pesa promised that the machine would be the basis for an entirely new locomotive family. The first step of the diversification of the Gama family was shown at Innotrans 2014.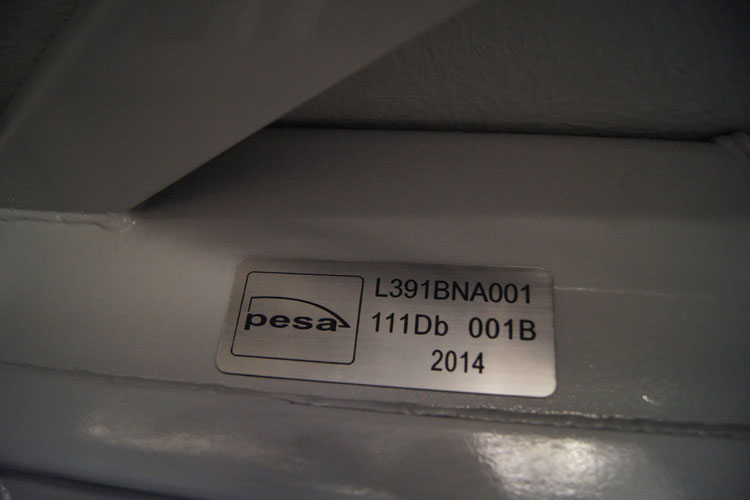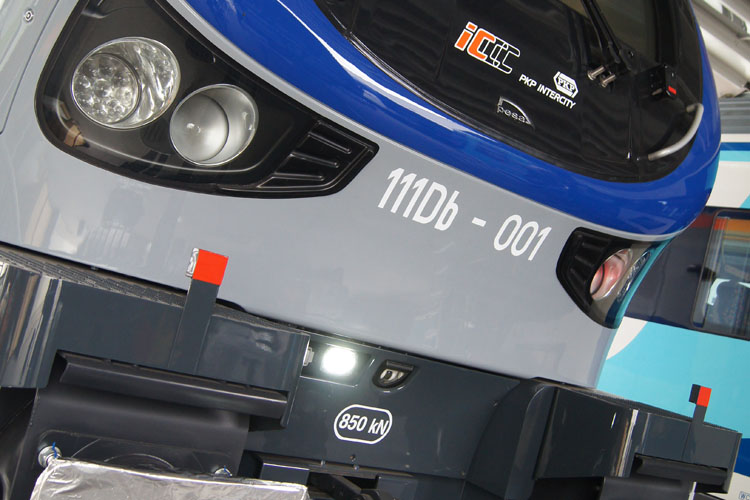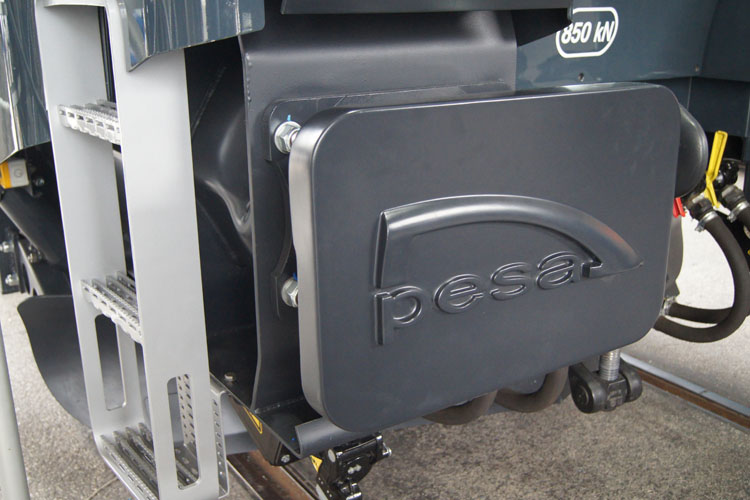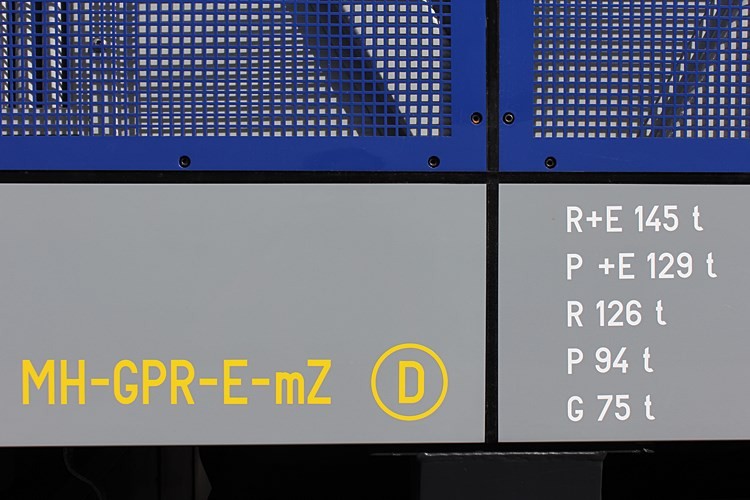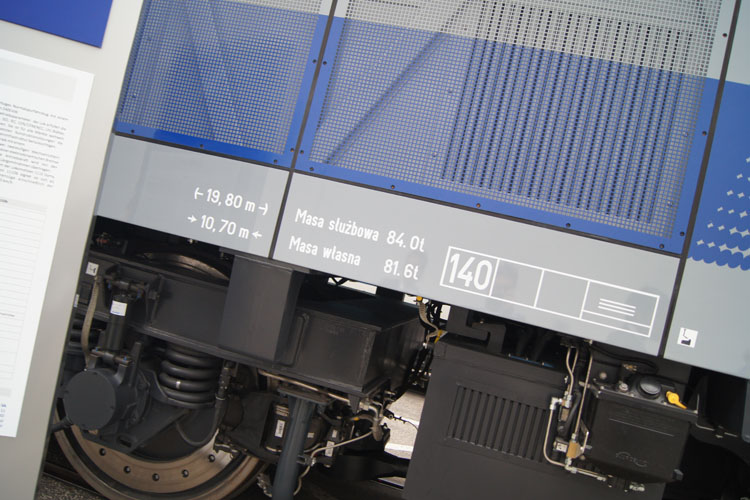 Was there an electric (DC) locomotive with supplemental combustion engine at the fair in 2012, this time Pesa put a diesel-electric machine in the center of attention. After 111Ed-001 Gama 'Marathon' in 2012, there was now the 111Db-001 sporting the corporate colors and logos of PKP Intercity.
This particular livery is the result of a very long period of negotiations. Only one week before the fair Pesa and PKP Intercity signed a contract for the delivery of ten Gama diesel-electric locomotives. Two tenders were needed to find a manufacturer that met the demands of PKP. Both tenders were won by Pesa, but the first time PKP called the deal of because it regarded the bid of Pesa not realistic. Especially the maintenance costs were considered to be too low. The second time Pesa again got the order, but signing the contract was postponed until the second week of september 2014.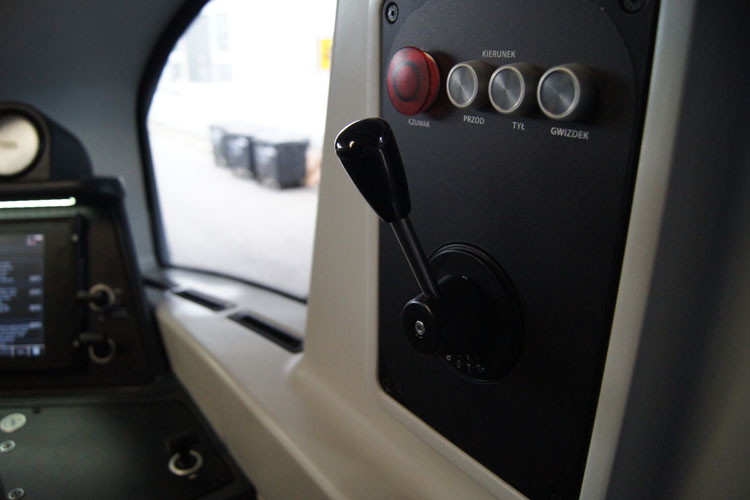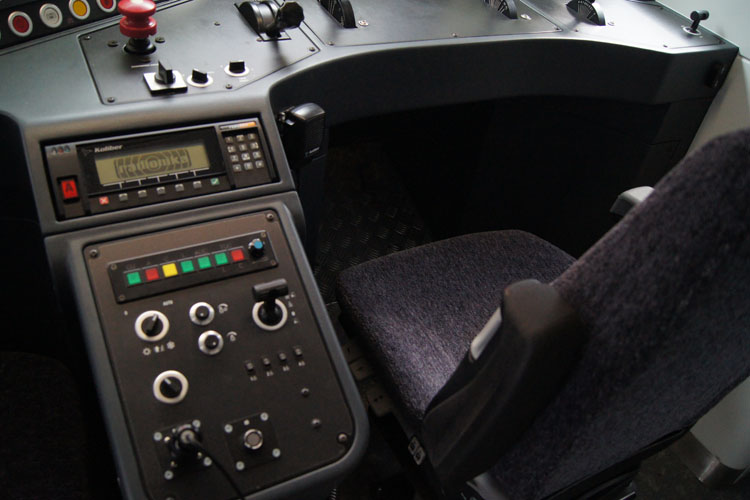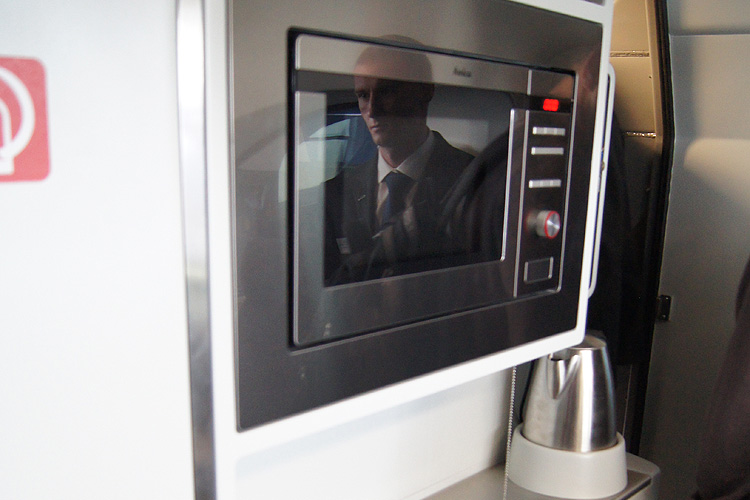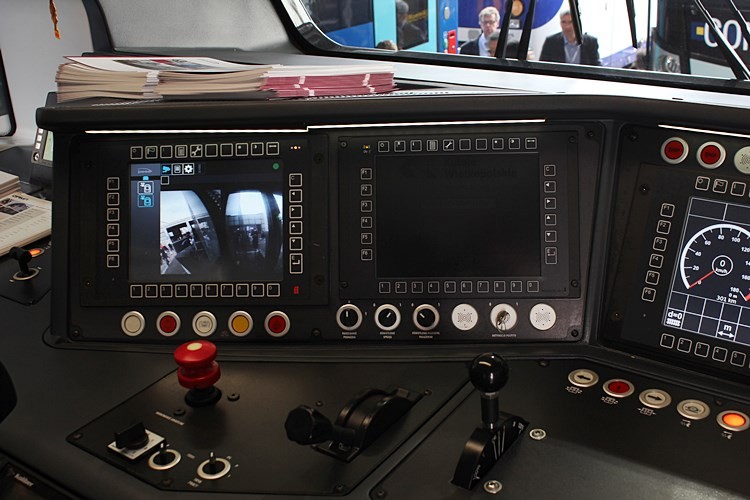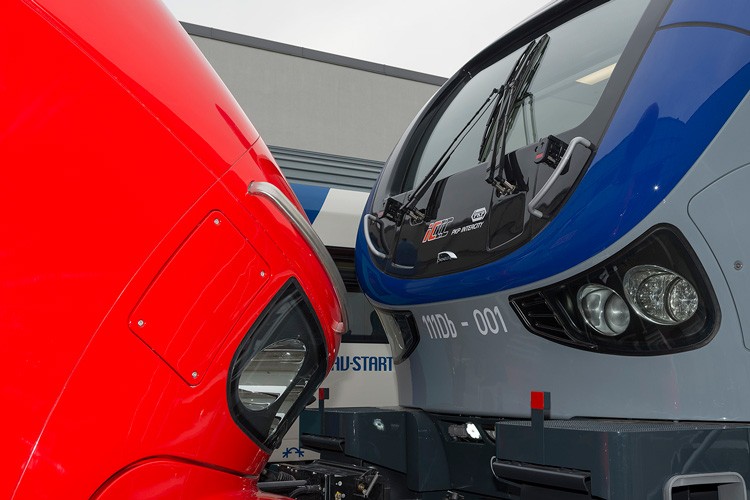 For Pesa it is the second order for its Gama locomotive platform. Koleje Mazowieckie has ordered two DC-locomotives for its additional double deck trains.
The 111Db-001 at Innotrans was completed by Pesa before any delivery deal was signed. It is therefore not being built to delivered to PKP. The logos and colours of the operators will be removed again. PKP will get ten new locomotives, that still need to be built. Pesa is meanwhile negotiating with other operators to sell this 'prototype'.
Check the complete section about the Pesa Gama at Mainlinediesels.net
Rolling stock coming home from Berlin. Vectron DE 247 901 is now fully homologated for Germany. It therefore could take itself home, in this case the Siemens' test center in Wegberg-Wildenrath. It is pulling a train including the PCW8 EuroSprinter and a C2-metro for Munich. - NE/WS
Railadventure's 139 558 brought a Innotrans transfer-train to Bad Schandau-Ost. After leaving the Skoda RegioPanther there the journey continued back to Dresden. Behind the 139 there was also the Bombardier 245 014, 187 009 and the CD Railjet coaches. The picture shows the train ready for departure from Dresden heading westwards, probably going to Leipzig. - BW
With this item we will record the latest news about Softronic coming to Austria. The Romanian company wants to perform trials with dual frequency locomotive
91 53 0480 014-6
in this country. We start with the news that the all green locomotive was seen yesterday passing through Hungary in the direction of Hegyeshalom (Austrian border). - JR
Update: the green machine has arrived at the border, as shown in the new title picture. On 02.10.2014 there was a meet-up with Siemens 193 901, also for tests in Hungary. - HP/MF
More about these locomotives: