News
For the InnoTrans, lease company MRCE and Transpetrol have joined forces and redesigned the livery of locomotive
X4 E - 875
. COnnecting Europe is now its theme, showing pictures from all over the continent. Even the MRCE corporate identity was not sacred this time, as the silver logos turned bleu-ish. - SC
More information about these trains:
DB Regio 146 246 in its new livery, in revenue service in Retzbach. 20.09.2014. - AK
On 12.09.2014, Macquarie Rail locomotive
E 186 237
left the Bombardier factory in Kassel with new stickers. These are similar to the ones applied on locomotive 186 238. Both locomotives are in service of LTE Netherlands B.V. from Rotterdam. TW/CK/KAR
Railcolor: More information about these trains:
Back to back, or better, head to back. Little paper tell the people working on the line-up at InnoTrans which side of the locomotives needs to come first. The image shows Traxx DE ME no.
245 014
for DB Regio (left) and Traxx AC3 Last Mile
187 009
which does have the livery of the DB too, but does not have any logos... What does that mean? - SC
Railcolor: More information about these trains:
The silver ITL locomotive piloted by E77 10, property of Eisenbahnmuseum's Bw in Dresden-Altstadt. SK
The HHLA subsidiary Metrans is investing in the further enhancement of its production quality. The twenty TRAXX multi-system locomotives from Bombardier are specifically designed to accommodate the different power supply and automatic train protection systems in Central Europe. They will primarily be used for traction services between Hamburg/Bremerhaven and the Czech Republic, Slovakia and Hungary. All of the locomotives are to be delivered by the end of the first quarter of 2015.
Hello Metrans 386 series
Klaus-Dieter Peters, Chairman of Hamburger Hafen und Logistik AG's (HHLA) Executive Board: "HHLA's business model is based on the close dovetailing and optimisation of all processes along the transport chain between seaport and clients in the European hinterland. To do this, we rely on our own facilities and rolling stock so that we can even better oversee our processes, sustainably improve the quality of our services and provide more attractive offers for our clients. We are continuing to systematically implement this strategy with the purchase of the Bombardier locomotives. Since we meanwhile also provide our own shunting services in the Port of Hamburg, we will be further increasing the vertical range of production with the newly acquired locomotives."
Jiri Samek, Managing Director of the Metrans Group, explains: "The locomotives that we are purchasing from Bombardier are perfect for meeting our requirements. Due to the fact that they can cope with the different power supply and automatic train protection systems in Central Europe, we will be using them primarily for traffic to the Czech Republic, Slovakia and Hungary, but also to Austria, Switzerland and within Germany. By using our own, high-performance locomotives, we hope to achieve both a reduction in costs and, in particular, a further increase in production quality. With more than ninety weekly connections between Hamburg and the Metrans terminals in Prague and Ceska Trebova e.g., reliable production is of the utmost importance."
Metrans currently offers up to seven departures per day in each direction between the Port of Hamburg and the Czech hub terminals in Prague and Ceska Trebova. The shunting of individual carriages, which costs both time and energy, is eliminated since the block trains used are always arranged in the same way. The number of weekly Metrans shuttle trains on the most important routes is as follows:
- Hamburg–Prague/Ceska Trebova: 92
- Bremerhaven–Prague/Ceska Trebova: 28
- Rotterdam–Prague/Ceska Trebova/Dunajska Streda: 18
- Koper–Dunajska Streda: 28
Metrans has also been offering its clients tightly scheduled rail connections within Germany, Austria and Switzerland since autumn 2012. While routes to Austria run via hub terminals, Metrans has set up direct connections between sites in Germany/Switzerland and Hamburg/Bremerhaven. To meet rising demand, the number of departures has been continuously increased:
- Hamburg–Bavaria (Munich/Nuremberg): 22
- Hamburg–Leipzig: 14
- Hamburg–Ludwigshafen/Basle: 6
Ulrich Jochem, President of the Locomotives business unit at Bombardier Transportation, added: "The TRAXX locomotives for the HHLA subsidiary Metrans will be the first Bombardier locomotives that will be used in the Czech Republic, Slovakia and Hungary. Through our collaboration with Metrans, we are thus expanding the radius for our TRAXX multi-system locomotives, of which more than 260 are already in operation."
The Bombardier TRAXX F140 MS are among the most modern locomotives in electric rail freight transport, and they can be used along all European routes. They drive with a maximum output of 5,600 kW and with a maximum speed of 140 km/h. The TRAXX F140 MS locomotive can be used for cargo and passenger transport services, though its high pulling power makes it particularly well suited for cargo transport. - HHLA
Railcolor: More information about these trains:
Support Railcolor.net and get yourself a nice gift:
On 16.09.2014, mgw Service no. 193 845 was passing through Berlin Wuhlheide with a freight train on behalf of Rail Time Logistics. SC
More information about these trains:
As far as we know, this picture shows the first regular train (no. 47198) pulled by ELL 193 211, not operated by Ecco-rail. CB
More information about these trains:
This year, Bombardier will come with two Traxx locomotives to InnoTrans. We see the Traxx DE Multi Engine no.14 for DB Regio. DE 245 003 was already presented at InnoTrans 2012.
Behind the 4-engine machine we see a Traxx AC3 locomotive, also in the livery of the German railways (DB). It is the first time we can show you 187 009 with Last Mile shunting module. During the InnoTrans we hope to learn more about the exact purpose of this locomotive. The DB has ordered 130 Traxx AC3 locomotives (187.1 and 147), but without the Last Mile module, as far as we know.
Bombardier stated it will provide two Traxx AC3 LM machine to the DB for testing purposes. The manufacturer has two engines ready, being this 187 009 and 187 010.
More information about these trains:
Today, the first Traxx MS locomotive for Metrans was seen in Kassel. The silver locomotive, with big Metrans logos has registration number
91 54 7386 001-2 CZ-MT
. CK
In two days, on 19.09.2014, Bombardier will hand over the first Traxx MS locomotive to Metrans. The operator, founded in the Czech Republic, has established a rather extensive freight network in Europe during the past couple of years. The majority of its fleet is leased or hired from various other companies. This will change now, with the first multi system electrics to be delivered.
Metrans has twenty Traxx MS machines on order, with a option for ten more. Around 15 units should be in service by the end of this year. Metrans has ordered them with a new country specific package: DE-AT-PL-CZ-SK-HU. Test with Alpha Trains 186 133 have been conducted already (in Germany, Czech Republic, Poland, Slovakia and Austria) to make this possible. - Railvolution/JP/MG/zelpage/urzd.sk/spz.logout.cz/PS/TO
BTW: Railpool 186 275 is now decorated with a full set of Metrans logos.
More information about these trains:
Germany's newest 'Werbelok': we present DB Regio's 146 246 -Bahnland Bayern, Zeit für Dich-. This Traxx locomotive was presented today, having the exact same livery as DB Regio's 111 017. The image on the left shows both locomotives together in Nürnberg today. - ML/BW
More information about these trains:
Next ones up for the InnoTrans fair: the entries of Polish manufacturer Newag. For the second time, the company sends to Dragon six axle locomotive to Berlin. In 2010 the E6ACT-001 was presented, in blue and orange, this year the E6ACT-008 will come. This blue and silver locomotive, the livery of Polish freight operator Lotos Kolej, is one out of a series of 5 for this customer. So farm Newag has built nine Dragon locomotives.
In the picture you see the locomotive hauling a brightly colored 2-car train set, the designated 222M-001. Experts know that green, yellow and white are the colours of operator Koleje Mazowieckie. The 222M is, until now, a one of kind diesel train, constructed in 2013. - AK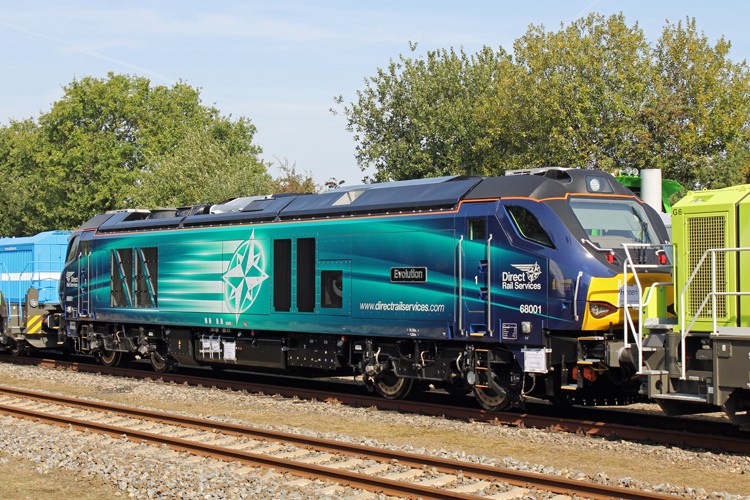 Meanwhile, on the other side of the water, 68001 has arrived at the Vossloh works in Kiel. Here it is prepared for the InnoTrans trade fair.
The Spanish Vossloh locootives has company of at least two German counterparts. A G12 painted in the livery of Spitzke Logistik (SLG "12-SP-012") and a BASF locomotive.
And now for something completely different. Artist Igor Przybylski will present its paintings (including those of locomotives) on 23.09.2014 at Hotel Andels Berlin in Berlin.
You are invited
!
Bombardier will present the Omneo articulated train next week in Berlin. During the past days, an 8-car (!) train set (no.009L) was prepared for presentation at the Bombardier factory in Crespin (FR). It got a complete new livery in the colors of SNCF Ter Région Centre, the French region south of Paris.
The Omneo has an interesting hybrid configuration, incorporating both single deck (multi functional) and double deck coaches. Various French regions have ordered such trains, to be operated by the SNCF as Regio2N Z 55500 series.
Update: Bombardier just published a video of the inauguration of the Omneo in the Aquitaine region in France. Trains of this Région have a silver livery with subtle illustrations.
Just one test, than it is ready to go: Akiem 186 264 for Germany/Austria/Poland. Today it has its maiden run. Three more to go of this type for this operator.
More information about these trains:
You are great. With your help another two Traxx liveries were added to our newest poster project. Only a few weeks ago GreenCargo > IGE
185 406-6
got new IGE stickers. Thanks to a fan we could quickly make a visual and make
the poster more complete
. Also the Railpool > CargoNet 185.2 is now part of the colorful project. Don't how we could miss that one! Thanks for your help.
Every edition of InnoTrans we see a unique locomotive (re)building project from Romania. At InnoTrans 2014 Electroputere VFU / Reloc Craiova will present the Terra Nova. A diesel-hydraulic dual engine shunting locomotive.
A demonstrator (Check its profile) Terra Nova locomotive is now on its way to Berlin. It got some extra white striping recently. - MF
More information on our diesel site.
mgw Service 193 845 today in Kirchhain with a freight train. BB
Yesterday, Siemens did a big announcement. For the first time it will be building passenger train coaches for the US-market. For operator All Aboard Florida (AAF) the manufacturer will built diesel trains with a topspeed of 125 mph (!).
AAF starts with the procurement of five sets of four single deck coaches and a locomotive at each end. Later on, they want to extend these trains to seven coaches. Five additional trains are also planned.
The locomotives used for these trains are the new Siemens Charger machines. 32 units were ordered previously by the Illinois Department of Transportation.
The order comes with various press images and videos. They give us a nice peak into the Siemens factory in Sacramento, where currently the CitiesSprinter locomotives for Amtrak are being built.
Special stickers for DB Schenker
145 007-1
. The locomotives was used to pull a freight train with final destination China. For a press event about this very long haul freight transport it got special stickers upfront. The press statement about the event in Hamburg:
For the first time ever, DB Schenker together with the City and Port Authority of Zhengzhou (Province Henan) has started a first freight train ride from Hamburg to the central Chinese city.
(...) The train to Zhengzhou takes around 17 days for the 10,214 km distance through Poland, Belarus, Russia and Kazakhstan to China. Hence, it is about 20 days faster than ocean freight. DB Schenker has been running regular weekly block-train services between China and Germany since 2011. Most of DB Schenker's customers are from the automotive and electronics industries.
More information about these trains:
On 11.09.2014, two new Pesa Link trainsets arrived in Germany. Transported by RailAdventure, the yellow 632 004 and 005 were seen at Berlin-Schönefeld Flughafen. The transport arrived via Frankfurt a/d Oder and Schwandorf. Both trains are being delivered to German operator Oberpfalzbahn (FS Netinera). - AW
In Germany the Pesa Link trains will be the 632 (2-car) and 633 (3-car) series.
Per 10.09.2014, the first two Traxx MS locomotives recently delivered to the Dutch railways (NS) are
available for regular services
. E 186 001 and 002 are ready to go.
Today, E 186 002 was used immediately for the Intercity Direct shuttle trains connecting Amsterdam with Breda. That looks like this.
BTW. E 186 004 is doing test runs again today.
More Akiem Traxx MS locomotives, hired to Fret SNCF get the green Fret markings on their sides. This images shows unit 186 184 and 186 190. Where they are placed is apparently not so important, nor is their visibility on silver. - CA
More information about these trains:
Less than two weeks left: InnoTrans 2014 in Berlin. Softronic is ready. Meet this red six-axle electric locomotive with number
91 53 0480 017-9
. It is painted in the livery of DB Schenker, Softronic's biggest customer at this moment.
This machine is no. 017 in Softronic's Trans Montana production line. It is a dual frequency AC electric (15kV 16,7Hz+ 25kV 50Hz) and it is the first of its series to meet the European Technical Specification of Interoperability for crash-worthiness. That is why this locomotive looks different, the cab design is modified quite extensively. - Softronic
Within two week we will be able to pay this machine a visit in Berlin. We'll keep you posted.
More information about these trains:
The French railways are increasing the number of BB 27000 series in their fleet that have the Midi-package. The image shows unit no. 427016 'M'. Also locomotive 427017M and 427019M were seen already. - TM
SNCF already operates 427001-015 with M-package, Akiem has 'M-ed' more than 50% of its BB 27000 locomotives.
All seven Alpha Trains Traxx AC2 locomotives, that are currently in Norway, have gotten a new livery during the past months. The locomotives, previously in service of CargoNet as 119 004-010, are now all in Oslo.
They have the livery that resembles that of locomotives such as 145-CL 031 and 185 534, also property of Alpha Trains, and i service in Germany. However, the 119 004-010 have no logos (yet?). Their NVR numbers are still in the 119 series range. Curious is that unit 009 now sports NVR number 91 76 0119 009-8 N-Rpool, indicating that Railpool is now the vehicle keeper.
It is rumored that Railpool will provide CargoNet with several 185 series locomotives. - KRH/MO/PT/Jernbane.net
The first six cars of the first AeroExpress are floating now. The 'Miranda' has left Muttenz and is going to Amsterdam now. Stadler Rail will built 4 complete trains in Switzerland, that will be shipped like this.
You may know that the Swiss federal railways (SBB) are preparing for the modernization of their Re460 fleet. ABB from Switzerland will deliver the (IGBT) traction converters for the updated machines.
There are 119 locomotives of the SBB Re460 type. SBB's workshops in Yverdon-les-Bains will execute the work on the electrics. The complete project will be completed in 2022.
A first prototype is scheduled to be ready at the end of 2015 and is already called in for the project. The body of Re 460 084-7, «Helvetia» is thoroughly examined, repaired, preserved and repainted. Inside the locomotive all components were removed and conserved. The 084 will leave Yverdon-les-Bains at the end of 2014, still without the new IGBT converters. These will be mounted in 2015. Afterwards the locomotive will be tested for one year.
Polish state operator PKP is very interested in taking a majority share in three open access operators/competitors: CTL Logistics and Pol-Miedź Trans from Poland and Advanced World Transport (AWT) from the Czech Republic. Read about it at
Railjournal
.
Interporto Servizi Cargo currently operates MRCE
ES 64 F4-087
. The image shows the locomotive pulling a CAF Civity trainset for Ferrotranviaria Bari. This operator has two four-car trains on order, that will get the Italian designation ETR 563. One was already seen at the VUZ Velim test center for some months now.
A video of the transport:
SBB Cargo International wants to
increase its visibility on the EU freight corridors
. So it is putting its logos on ten MRCE ES 64 F4 freight locomotives. In total SBB Cargo International is hiring 14 such machines.
Update: These are the ten locomotives with SBB Cargo International logos:
ES 64 F4-082, -083, -084, -091, -096, -102, -107, -112, -282 and -288. - SBB Cargo
More information about these trains:
Our own impression of a possible livery of this SRT 487 001
Swiss Rail Traffic (SRT) from Switzerland has ordered one Traxx AC3 locomotive. It will have the Last Mile shunting module, ETCS Level 2 and be homologated for Germany, Austria and Switzerland.
It will be immatriculated in Switzerland as 487 001. SRT plans to start operation with the machine in December 2014.
Video! Dynamic aerial shots of the new dual frequency Sontronic TransMontana locomotive, no.014.
With a steady pace of one locomotive every week, Bombardier is outshopping new Traxx MS locomotives for the Dutch railways. During this weekend, unit no. 4 has left Kassel, heading for Bad Bentheim. Tomorrow it will go to the Netherlands. - dGB
Leasecompany Akiem is extending its fleet of Traxx locomotives. From the Veolia Cargo take-over by mothercompany SNCF, it inherited its first three locomotives of the Traxx MS type (186 184-186). These are all homologated for Germany, Belgium and France. During the past months Bombardier has delivered another four identical locomotives: 186 188-191, of which the latter one was handed over on 05.09.2014 to the customer. This sub serie is now complete.
The four new machines are part of a batch of 15 new Traxx locomotives for Akiem:
4x Traxx MS DE/BE/FR (186 188-191, completed)
7x Traxx MS DE/AT/PL (186 261-267, pending delivery)
4x Traxx AC3 Last Mile (187 series)
DAH/KAR/AL
More information about these trains:
Today, the Dutch national news channel reports on
the first AnsaldoBreda V250 train leaving the Netherlands
. For one and a half year now, all the V250 trainsets that were sent to the Netherlands, are out of service. They were put aside after an incident with a cover plate that a after only a few weeks of revenue service. Many trains could be seen at Amsterdam-Watergraafsmeer for a long time.
The first trainset no.4802) was expected to leave Amsterdam yesterday, it took until this morning before it started its journey back to Italy. This image shows the train today in Driebergen, pulled by MRCE ES 64 F4-280.
The Dutch railways (NS), the Belgian railways (NMBS) and manufacturer AnsaldoBreda have settled their dispute over these trains now. AnsaldoBreda pays both operator a sum of money and will try to find a new customer for these trains.
The parking lot with all the V250 trainsets in Amsterdam:
Hector Rail has since its inception in 2004 established itself as a powerful player in the rail market. With a strong customer focus, the business has grown to produce six million train kilometers annually. During the same time Hector Rail has invested over SEK 800 million (approximately EUR 90 million) in the loco fleet consisting of approximately 50 line haul locomotives. EQT Infrastructure II now enters as new majority owner of the company. EQT's ownership strengthens Hector Rail further and lays the foundation for further expansion and growth.
Hector Rail operates trains in Sweden, Norway, Denmark and Germany. Hector Rail's customers are large industrial and transport companies. For these customers cost-effectiveness and quality are crucial criteria when selecting transportation partners. Financial stability and sustainability are also of fundamental importance.
Together with EQT Hector Rail will be able to continue developing the attractive offering in the rail market. The change in ownership is highly beneficial for Hector Rail's continued expansion.
EQT views Hector Rail as a well-run business with a strong track record and an excellent reputation. EQT believes the railway will gain market shares going forward and has the ambition to realise substantial value creation opportunities together with the Company
The transaction is expected to close during the fourth quarter of 2014 after customary anti-trust approvals.
A new sight. SBB Cargo International has started using its newest locomotives in revenue freight service. ELL 193 209 and 210 make sure that freight traffic in Germany has become more colorful once more. - JS
We report about new locomotives. Newly built and recently delivered locomotives. But newcomers replace older ones, finally resulting in very old locomotives having to end their career. On 03.09.2014 DB Schenker locomotive 185 061 took six DB 155 series locomotives (155 042-5, 155 105-0, 155 139-9, 155 221-5, 155 268-6, 155 272-8) from Rostock to Cologne. Most reports say they will be scrapped, or will there still be a second life? - MG/DSO
A
CP 4700 locomotive was damaged
after crashing into a car on a level crossing. The accident happened in Torres Vedras. The machine also suffered fire and smoke damage. If anyone can tell us the exact number of the locomotive, that would be really helpful.
A new livery for
MAV 470 005
. The engine now promotes the Ferencvárosi Torna Club, a handball team that is sponsored by Rail Cargo Hungaria. The presentation of the new livery was held at the Budapest railway museum. - MF
More information about these trains:
Plans for a £210m fleet of new trains to benefit passengers on the UK's busiest commuter rail franchise moved forward today, as Stagecoach South Western Trains announced its intention to award the contract to manufacturer Siemens and leasing company Angel Trains.
In short:
- 30 new 5car trains, type Desiro City
- The 150 new train carriages will deliver major boost in capacity at SWT
- Contract award agreed with Department for Transport, Siemens and Angel Trains
- SWT is the second operator to opt for Desiro City (class 700), Thameslink is first
- Delivery scheduled for 2017-2018. All in service early 2018.
The 30 new five-carriage Desiro City trains will boost capacity on services at South West Trains, providing for more than 18,000 extra peak-time passengers every day travelling into London Waterloo, the country's busiest station. The train order will also allow for a further 6,000 daily peak-time passengers once infrastructure upgrades are completed on the mainline and Hounslow loop.
Around 140 new jobs will also be created as a result of the new trains order. New employment opportunities will be available for engineers, drivers, guards and maintenance staff in a further boost for the rail sector.
The new trains will be maintained by South West Trains at Wimbledon depot, which has recently benefitted from £6 million worth of investment to deliver improved maintenance facilities and with further investment planned.
The new train order is part of a comprehensive five-year plan developed by the Alliance to transform services for passengers, incorporating longer platforms, full re-opening of platforms at the former Waterloo International Terminal and other associated infrastructure improvements.
The project is being managed by Stagecoach South Western Trains. In accordance with usual procurement practice, there will be a standstill period of 10 days before Stagecoach South Western Trains will be in a position to enter into, and complete, the formal contractual documentation and make the award to the successful tenderers and enter into an amendment to the current Franchise Agreement. The process is expected to be finalised in the next two weeks.
Update: Meanwhile in Germany, Siemens is putting the first Desiro City trains to the test.
We thought this was not planned, but Railpool has indeed restyled the first locomotive from its latest Vectron batch (193 810-814). Unit no.
193 811
is now silver, including its frame, and has blue banners. It gives a total different impression. Only, the Railpool logos are still missing!
More information about these trains:
It has been six months already, since Vectron 191 001 has moved. Now the second part of the dynamic test program has started.
In the evening of 31.08.2014 the test train, pulled by InRail 190 311, left Firenze-Castello. 191 001 is now tested during the night at the Tyrrhenian coast. Focus of the first runs is the pantograph/catenary interaction. - MS More information about these trains:
Today is the first day of the 1.000 km approval run of E 186 003. The ICRm coaches used for the test train now actually carry 'test train' markings, complementing the colors of every coach. Now passengers are no longer confused when a E186-test train enters the station without opening its doors. - HZ/RK
On 30.08.2014, the Dessau workshops had an open door day. This year, the company celebrates its 85th anniversary. Many locomotives could be seen inside and outside that day, in various stages of repair and maintenance. This provided an update on the situation of three different Siemens ES 64 F4 locomotives that suffered from collisions over the past couple of years:
21.09.2011: MRCE ES 64 F4-204 caught fire after crash in Blecherode (DE)
09.12.2012: DB Schenker 189 065 ended up in a garden after colliding with a bus
30.11.2013: MRCE ES 64 F4-115 had one cab damaged in Padborg (DK)
For the first locomotive mentioned, it seems to be over. Its empty body was transported recently to Dessau, where it is now parked on the outskirts of the workshops perimeter. 189 095 and ES 64 F4-115 are more lucky. Repair work on both machines is progressing, as the images show.
MRCE ES 64 F4-204:
DB Schenker 189 065:
MRCE ES 64 F4-115:
Since October 2013, two rarely seen Vectron locomotives are in Wegberg-Wildenrath, at the Siemens Prüf- und Validierungscenter. The picture shows 192 961 and 962, the only two Vectron locomotives with 5.6MW duration power. - MW
More information about these trains:
This year, Captrain added three new Traxx DE locomotives to its fleet: 285 117, 118 and 119. By delivery, all three machines had a different front design:
285 117: dark grey-white-lime green
285 118: white-lime green
285 119: silver-lime green
The livery of 285 117 has changed recently, now it is identical to 285 118. - AW
This weekend, the Dessau workshops (AW/Ausbesserungswerke Dessau) had a open door day. Since may 2014, former DB locomotive no. 152 040 is a new landmark near the entrance to the AW. But, what is inside this locomotive? We show several images made on 25.08.2014. That day a press event was held because of the opening of the new paint shop of AW Dessau.
Inside the body visitors of AW Dessau can learn about the rich history of the work shops, celebrating their 85th anniversary in 2014. During this periode many many locomotives, trains and even airplanes have been serviced, overhauled and repaired.
At this moment, the work is specialized in electric locomotives. Annually, around 450 locomotives come in through the gates (and most of them leaving again of course). 250 of them get their planned overhauls, the other 200 units need corrective maintenance (repairs), retrofitting, a new livery or other adjustments.
The majority of the machines is property of the German railways (DB), main customer of AW Dessau. Around 10% of the locomotives that are being serviced come from private rail operations. - Bernd Piplack/Wedau-bahn.de
Since 22.08.2014, MRCE locomotive ES 64 F4-281 has new stickers, promoting the Bayernhafen Gruppe. This image shows the locomotive on 29.08.2014, hauling the EETC Autoslaap-train to Kopér (SI), while running through Kaldenkirchen. - LS
Traxx MS no.3 for the Nederlandse Spoorwegen has left Kassel. Its official 'Abnahme'-datum is 27.08.2014. - CK
For the first time we see a NS Traxx locomotive coupled together with the ICRm coaches it will start its regular services with next December (Amsterdam - Rotterdam to start with). A train does include a ICRm driving trailer, although we do not expect these trains to start in push/pull operation. It takes more time to adjust the driving trailers than just a couple of months.
This is Softronic Trans Montana no.14. This locomotive, capable of running under both 15 and 25kV DC volatge systems, will be sent to Austria for homologation. - Softronic/CV
On 27.08.2014, the newest mgw locomotive was transported from Munich (factory) to Krefeld (workshops of mgw). Many fans portrayed the blue 193 845 during its arrival. With the sun, the dark blue livery works differently. - NE/WS/MG/GB
This year, hvle decided to hire Macquarie diesel-Traxx no.
285 105-3
. No big news, only a small flag. We note even the very small detail changes. - SC
More information about these trains:
Locomotive
1822 001-2
, since April 2014 property of Tecsol, has been repainted in silver. Today it was transferred from Fischamend to Krieglach, were it will be made ready for its return in active duty. Presumably, it will get the colours and logos of its new operator, RTS Austria.
Tecsol acquired unit no. 1822.001, 003 and 004 in April. The 003 and 004 will be used by Adria Transport. - HP
All locomotives with Hunagry approval need to visit this country and do the obligatory braking tests locally. Several colorful vectron locomotives visited the country for this reason. Others were having a break at the border station, resulting on colorful combinations. Even more pictures
here
and
here
.
Today, the first test runs with E 186 002 for the Nederlandse Spoorwegen were completed. Unlike the 001, this engine came to the Netherlands via Bad Bentheim from where it ran to Amsterdam-Watergraafsmeer depot on 25.08.2014. - NA/MR/HdJ
This morning, a Vectron for a new customer started its maiden run:
mgw 193 845
is the third locomotive for this company next to 183 500 and 185 642. - MR
Missing the OSE 220 section at this website? It is not gone, we have just put it where it belongs: At
Mainlinediesels.net
.
NS E 186 002 arrived in the Netherlands this morning. It entered the country via Bad Bentheim. On 26.08 and 27.08 it will presumably do the two testruns to Deventer and Tilbrug, from Amsterdam. But... that is old news, meet no. 003, on maiden run today. - CK
As you may know, Softronic from Romania is producing new 6-axle electrics at a steady pace. Meanwhile 13 TransMontana locomotives are in service. So what will come next?
- Locomotive no.14, painted in green, will be used for homologation of this type in Austria.
- No.15 will be delivered to Softrans, the operational department of Softronic
- For no.16 Softronic is negotiating with a private rail operator from Hungary

The next one, no.17 we will be able to see very soon. It will be on display at the 2014 edition of InnoTrans in Berlin. The locomotive, painted in the red livery of DB Schenker, will feature a different cab design, that meets the current TSI standards for crash-worthiness. - Softronic
More information about these trains:
We have regularly described the various (large) order for Pesa Link trainsets here. Operators from Germany and the Czech Republic have placed orders with a considarble volume. The title image however shows such a train in service in its home country, Poland. There the 2-car consists are the designated SA 139 series.
We count six trains in service now in Poland. SA139-001 and -002 are property of Zachodniopomorskie. SA139-003 to 006 are in the fleet of Województwo Lubuskie. Both provincies are in the western part of Poland. - SC
This morning, the new
MRCE X4 E - 875
has left the perimeters of the Siemens factory in Munich. It is now on its way to to Hegyeshalom in Hungary. (BTW 139 133 stayed behind in Munch). - MR
More information about these trains:
New locomotives currently find a new operator easily these days. The image shows ELL locomotive 193.208 and recetly delivered Railpool 193 813 with the empty 'Copper-anode' train at St. Pölten. Reportedly, this train is operated by LTE and RTB Cargo. - AK
The NVR-number of the first NS Traxx MS locomotive is changed now, from NL-NS to NS-HSA. BTW, this morning NS E 186 002 was still awaiting its trip to the Netherlands in Kassel Rangierbahnhof. Meanwhile E 186 003, 004 and 005 are finished. Newest body delivered from Wroclaw (Poland), where all Traxx bodies are being welded together, is the one for E 186 012. - CK/JdV
More information about these trains:
This afternoon, the second Traxx MS locomotive for the Dutch railways (NS) will leave Kassel. In the next days it will be transported to Emmerich, near the German-Dutch border. Like no.001, we expect this locomotive to enter the Netherlands between 08.00 and 09.00 on Monday morning. - IS
More information about these trains:
The first of 40 (+20 option) Pesa Atribo trains for Trenitalia has arrived in Italy. A first video impression of this three-car trainset with the elaborate number ATR 220 Tr-001. The train sports the recently introduced blue and silver livery for the 'Divisione Trasporto Regionale di Trenitalia'.
The Atribo platform is a succesful pesa product in Italy. Other operators that already have similar trains are FER, Trenord and FSE. Trainspo has nice galleries of these trains: