News
At 26.01.2015, the Siemens locomotives of the Belgian railways (no.1807 and 1862)
were transported to Forbach station by EuroRunner PCW7
.
As of 04.02.2015 these two locomotives will be used for the next chapter in the homologation process of these electrics in France. Test rides will be made at the Caen - Cherbourg route and continue until March. - Wallorail/ID/KAR
After a visit to the VUZ Velim test center in Cerhenice (CZ), DB Schenker's future 187 101 was brought back to Kassel by RailAdventure last week. - MS/CK
On 29.01.2015, RailAdventure took a new Traxx AC3 locomotive to Switzerland. It was the yellow and black
487 001
for Swiss Rail Traffic. These images show the locomotive, with Last Mile shunting module, after its arrival in Winterthur on 30.01.2015. - DW
Here you can see
the German TV show -Geld und Leben- as broadcasted yesterday evening. In between various reports the presentor interviews employees of Siemens in its locomotive factory in München-Allach. The video gives several peaks into the production process of Vectron locomotives. The video features to-be-delivered locomotives such as the MRCE X4 E-877, boxXpress 193 843, ELL 193 216 and 193 824. We also see a white Vectron locomotive with cooler openings, is it a second diesel Vectron? Nice are also the miniature trains.
On 29.01.2015, MRCE>hkx ES 64 U2-034 was seen in Berlin-Schönefeld, taking the 'new' hkx coaches from Delitzsch to Hamburg. Behind the locomotives one see two 3-car formations, built from coaches of former ÖBB 4010 train sets. - AW
From Munich to the German-Polish border. On 30.01.2015, Siemens delivered the next four Vectron locomotives for DB Schenker Rail Polska. no. 91 51 5170 054, 055, 056 and 057. With this delivery, the first order for 23 units is completed (no. 035-057). An image of the transport
here
and
here
.
This week, the first units of the new generation of rolling stock for the
German Westfalenbahn
have been seen on German tracks.
A 4-car FLIRT3
and a 6-car KISS from Stadler Rail in the colorful livery of this operator. Only the Westfalenbahn name and the horse symbols are still missing.
As of December 2015, 15 FLIRT3 sets will be used on the Münster–Rheine–Emden relation (RE 15). The thirteen KISS trainsets will replace the DB trains on the RE 60 Rheine – Osnabrück – Minden – Hannover – Braunschweig and the RE 70 Bielefeld – Herford – Minden – Hannover – Braunschweig routes. The trains will all be property of lease company Alpha Trains. All services are being operated on behalf of Landesnahverkehrsgesellschaft Niedersachsen (LNVG).
BTW. The Westfalenbahn already operates Stadler Rail trains since 2007. 19 FLIRT sets are in service at the Teutoburger Wald-Netzes.
The new Stadler Rail KISS for Westfalenbahn:
It is time to announce a new edition of our successful 2-day business conference! In March, we will organize the '
European Rolling Stock Forum 2015
'. This is the largest and
most prestigious business conference
in Central and Eastern Europe, devoted to the railway vehicle manufacturing market in the region.
This year's conference will amongst other topics discuss the most modern technologies used in the construction and maintenance of rolling stock, especially regarding energy consumption, components and design.
Not all locomotives that are being delivered to European Locomotive Leasing (ELL) are newly built. In December, ELL also took over Siemens stock locomotive
193 820
, being built in 2013. As of 23.12.2014, the locomotive is hired to ecco-rail from Austria. The locomotive is still white and kept its original designation for now. - KAR/YH
We don't know better, or MRCE
ES 64 U2-080
is in service by CargoServ from Austria. That is no surprise, it is like that since 2003 (!). Since December 2003 it had the yellow, grey and blue CargoServ livery. But, also no surprise it got a bit weary. Therefore it was decided to refresh the livery. The picture shows the machine last night with its fresh colors.
PS. Who knows if the 080 has new stickers, or was it repainted? - NT
Tmobile is fascilitating WiFi access on board of PKP IC trains. Several coaches were
wrapped completely in white and magenta
, the corporate colors of this phone provider.
Also the number of 5 370 (EU44) series locomotives of PKP IC in magenta is increasing. The four title pictures show 5 370 001, 002, 006 and 007 in their new livery. Possibly more locomotves will be added to the magenta fleet. - ED/FN/RK
DB Schenker's
189 065-6
is
back in service again
. This locomotive was involved in the heavy train accident in Düsseldorf-Eller in December 2012. It derailed and fell of the tracks, ending up crashed into a garden house. In September 2013 the machine was transported to the DB workshops in Dessau, where it was completely restored. Note that the 065 did not get an overhaul. - DSO
We know LNVG regularly calls for support to hvle when it is short on diesel locomotives for its metronom services. But this is first time we see
IGT 246 011-1
with a metronom double stock train. - JE
Seen today, in front of the Bombardier factory in Kassel:
Paribus/Nah.sh 245 201-9
. Unlike the design studies, that were released when the order placement was published, the locomotive does not feature a darkgreen and lime livery, but one in blue and ivory. - CK
Five new Traxx MS locomotives have been delivered to Lokomotion in December and January:
186 440, 441 and 442 have blue stripes
186 443 (title image) has white striping
186 444 has an identity crisis, both red and blue parts
On 24.01.2015, the 443 was pulling the DRV 13189 ,,Schneeexpress" over the Tauernbahn. - CZ
After software test runs together
, the ways of Bombardier 187 001+003 and the red 187 009 have separated again. These images show the 187 009 with Railpool>Lokomotion 186 290 and train no. 43129 in München-Trudering [DE], while the 187 001+003 were active in Brenner station with train no. 44129. - MR
This week we already brought you an extra portrait of the Turkish E68000 class locomotives. Now we go to Russia, where Siemens and Sinara (aka Uralskie lokomotivy) are outshopping their -Granit- locomotives, the 2ES10 series of the Russian railways (RZD). We got several images of this fast growing locomotive family from
MrGranit96
.
The image above shows double unit 2ES10-118 with booster unit 2ES10.S-002. With such an additional section, a Granit can develop a staggering 13.2 MW hour rating. Uralskie lokomotivy completed the first booster section back in May 2014. A triple-section locomotive, one Granit is able to pull freight trains of up to 9.000 tonnes.
Some Granit facts:
- Uralskie lokomotivy is currently building the first batch of 221 2ES10 locomotives
- The Russian railways however have ordered more similar locomotives
- Ural Locomotives also offers the 2ES7, the 25kV AC version of the 2ES10
- Three machines were built for the railways of the Ukraine (2ES10 001-003 -Svyatogor-) in 2013, but these were repatriated to Russia as political tensions between both states worsened in 2014
- 2ES10-222 was deliverd for mining company OAO Apatit. Originally it as built as 2ES10-012 for the Russian railways
Today, Metrans next new Traxx MS locomotives left the Bombardier factory in Kassel. Metrans 386 013 has REV 16.01.2015. - CK
First we see a Alpha Trains locomotive, one that recently came back from Norway/Sweden, in service in Germany. Rheincargo operates 119 005 at this moment. - FN
Update: various sources say that Rheincargo will be operating all four repatriated Alpha Trains locomotives soon. (unit no. 119.004, 005, 007 and 008)
Slightly out of scope, as Railcolor mainly publishes about electrics built/developed in Europe, but worthwhile mentioning; the new E 68 000 series electrics now being introduced in Turkey. As Skoda Transportation has a substantial share in this order it is relevant for this website. Skoda delivered the electrical equipment for these machines. Main contractor for this order is Rotem from South-Korea.
In 2010, the Turkish national railways ordered eighty 5MW Bo'Bo' electrics for mixed services with speeds up to 140 kph. The first eight units (E 68 001-008) were built completely in South-Korea, at Rotem's. For all other units, assembly takes place in Turkey, done by Tulomsas, that currently outshops four units a month.
The first two locomotives have been tested since July 2013. Substantial use of the first locomotives should start this year. The delivery of all eighty units should be completed this year. - PT/railturkey.org
Note: The corporate logos on the side of E 68 009 are different. Only the classic TCDD logo is showing there.
SETG has added the white
ELL 193 204
to its fleet. The locomotive got SETG logos because of this. - ASF
Metrans has put its 12th new Traxx MS locomotive in service. Unit no. 386 012 with a container train bound for Bremerhaven (DE). - TK
Early this morning, E 186 019 awoke at Bad Bentheim. It is the 19th and latter locomotive of its batch to be delivered to the Dutch railways (NS). Today it will arrive at Amsterdam-Watergraafsmeer. - HZ/RK
A new promotional livery of DB 101 050: -Jugend forscht-. - TG
Today, boxXpress Vectrons 193 880 and 881 were in Hungary. They both were subjected to the obligatory admittance tests to get cleared for revenue service in this country. - NT
Out this morning: Lokomotion 186 443, with Zebra-stryping, but in white. We guess these stripes are luminescent? Hope to see this machine shine soon during a snowy night... - CK
Werkstattatlas.info
: A final check-up, training the employees and then the refurbished hkx K21 trains are ready to go. They will be put in service between Cologne and Hamburg, were hkx is currently using rolling stock hired from other companies.
Impressions from yesterday, when a successful testrun was made with MRCE ES 64 U2-034.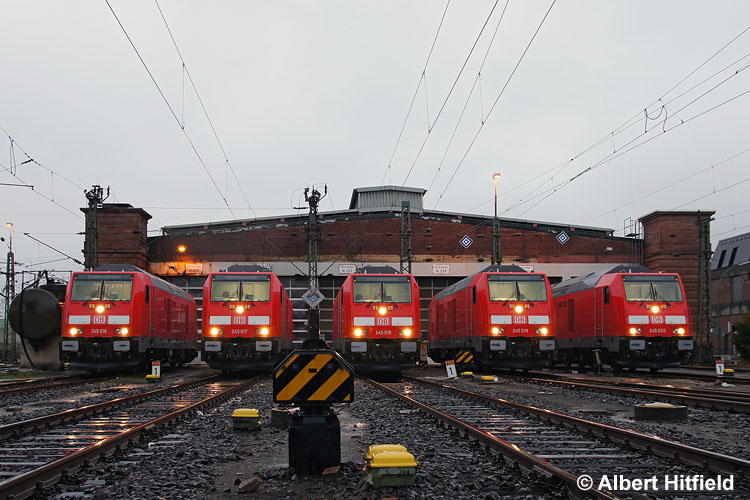 Five DB Regio Multi Engine Traxx-locomotives are now allocated at the Frankfurt-Griesheim depot: no. 245 016-020. On 13.12.2014 a line-up with all five machines was organized, resulting in these nice images. - AH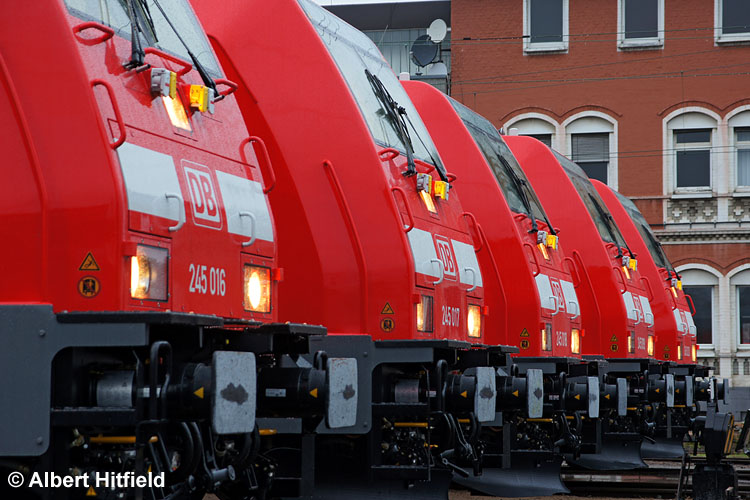 This is Macquarie Rail no.
E 186 240
, from now on also known as the 2844 of the Belgian railways (NMBS/SNCB). Next to thirteen green-silver Alpha Trains locomotives (eleven available now as 2821 had a crash and 2830 is out for maintenance) the light grey locomotive will be used for the Benelux services Amsterdam - Brussels vv. Currenty, also E 186 142, hired to the NS, is helping out.
Since December 2014, the ÖBB 1116s, hired to GySEV are used for international various IC/EC services. Among other places, these machines now come to Munich, as shown in this image. - RG
Today the next Traxx MS locomotive for Akiem made a trial run. The DE/AT/PL locomotive has the normal Akiem livery, but with additional Captrain logos. - CK
This is a picture of the very first test run with Trans Montana no.020 for Hungarian operator CER. Like the model shown before, it has a light blue and orange livery with blue striping. It is the second Trans Montana locomotive with the new reinforced cab design. - Softronic
Bombardier has started the delivery of a batch of 29 new E464 series locomotives. These images show the brand new 464.690 in service in Liguria. Nice panoramas guaranteed in this Italian region. - FS
Bombardier is delivering the newest series (E 464 689-717) from the Vado Ligure factory in the new Trenitalia livery in the regional livery.
PKP Cargo has opened a tender to buy 20 multi-system locomotives to serve cross-border rail connections. Five of them are optional. The value of the contract will be approximately PLN 400 million. Poland's biggest rail carrier will deploy the first new locomotives in H2 2016. They will pull trains to Germany, the Czech Republic, Slovakia, Austria, Hungary and the Netherlands. After the acquisition of the Czech carrier AWT for close to PLN 400 million, this is yet another step which consolidates the international position of the second largest freight carrier in the European Union.
Originally PKP Cargo considered the acquisition of ten multi-system locomotives with an option of buying another five; however, in view of the electrification of the border crossing with Germany at Węgliniec, it has decided to acquire 15 locomotives with an option of buying another five.
"The acquisition of multi-system locomotives is a milestone for PKP Cargo, especially in the context of the recently announced acquisition of the Czech carrier AWT. As we are expanding our international business, we are investing in new rolling stock. While we initially considered buying ten locomotives, we are now opening a tender for 15 multi-system locomotives with an option of buying another five. This will strengthen PKP Cargo's capacity of operating international rail connections," says Wojciech Derda, Board Member in charge of Operations at PKP Cargo.
The first two new locomotives approved for Poland, the Czech Republic, Slovakia, Hungary, Germany and Austria will join PKP Cargo's rolling stock in August 2016 and the last one, in March 2017. The tender covers full maintenance of the locomotives up to and including the first revision repair (level P4). A revision repair takes place after eight years of operation or a mileage of 1.2 mn km. A potential decision to acquire further locomotives may be made following an analysis of demand for such rolling stock.
PKP Cargo will require the vendor to have experience in the production of electric locomotives as well as type approval in at least one of the countries where the new locomotives will operate. This will ensure the highest quality of contract performance. The contract will have in place mechanisms which protect PKP Cargo against potential downtime of the locomotives, such as technical readiness and reliability indicators. Non-performance of the indicators will entail the payment of damages to PKP Cargo in order to cover the cost of substitution rolling stock.
The company previously owned only one multi-system locomotive (railcolor: EU45-846) and operated the others under operating lease. The solution allowed PKP Cargo to respond promptly and flexibly to changing conditions of transports and to obtain foreign safety certificates. Thanks to the certificates, PKP Cargo can operate transports single-handedly in nine European Union member states. At this time, PKP Cargo's utilisation of multi-level locomotives has stabilised. Acquisition is the best option under these circumstances.
PKP Cargo's existing multi-system locomotives
The first multi-system locomotives used by PKP Cargo from 2008 were EU43 (Traxx) machines produced by Bombardier. The carrier owned six such locomotives which operated transports between Poland and Germany. In 2012, the Bombardier locomotives were replaced with EU45 (EuroSprinter) machines produced by Siemens. Currently PKP Cargo uses ten such locomotives. They pull trains with containers, cars, steel, coal, coke, iron ore, chips, and car parts, among others. They run in the three main corridors: Poland-Czech Republic-Austria, Poland-Germany-Netherlands, and Germany-Poland-Czech Republic-Slovakia-Hungary.
PKP Cargo in 13 European countries
PKP Cargo will have access to 13 European markets after closing the acquisition of Advanced World Transport (AWT). Slovenia, Croatia, Bulgaria, and Romania will join the group of serviced countries: Germany, the Czech Republic, Slovakia, Austria, the Netherlands, Hungary, and Lithuania. Apart from multi-system locomotives, PKP Cargo uses other types of locomotives for international transports. Diesel locomotives are used in Germany, the Czech Republic, Slovakia and Lithuania. PKP Cargo deploys single-system electric locomotives in the Czech Republic and Slovakia.
A carrier may enter a foreign market subject to obtaining a safety certificate issued by the local regulator. The procedure is similar in all European Union member states but it is conducted on a case-by-case basis. One of the requirements for a certificate to be issued is to operate locomotives approved in the given country. PKP Cargo has had its ET22 and ET41 electric locomotives and ST44 and SM42 diesel locomotives approved in the Czech Republic and Slovakia, among others.
PKP Cargo trains are driven by Polish train drivers in three countries: the Czech Republic, Slovakia, and Germany. To drive a train abroad, train drivers are required to pass a language examination and get local train driver certification. PKP Cargo uses the services of third-party drivers in the other countries.
A new livery for SBB 460 023-5 promoting the Hauseigentümer Verbands Schweiz (HEV). It was presented on 08.01.2015 at the Verkehrshaus in Luzern (CH). - PD
The very last locomotive of its batch was out today.
NS E 186 019
in Kassel. When this machine is tranferred to the Netherlands, the series of 19 is complete. - CK
Rynek Kolejowy
brings you the first pictures of the Pesa Gama locomotive for Koleje Mazowieckie (KM). Two locomotives were ordered in February 2014. We see an empty body with the colorful livery of KM. It is expected that the first locomotive is available for test in the third quarter of 2015.
Interporto Servizi Cargo is now hiring MRCE
ES 64 F4-103
. Previously this locomotive was a common sight in the Netherlands. The locomotive still has its vinyls from its previous operator RTB Cargo promoting European Gateway Services. - MS
Good to see the Vectron homologation test train in Italy moving again. InRail 190 311 pulls the 191 001 and the test coaches in the direction of Firenze Osmannoro. -
AP
Today, the fourth new Traxx MS locomotive for Lokomotion had its first run from Kassel. - CK
Today, static tests with 186 14x and CNL rolling stock at Amsterdam-Watergraafsmeer. As from 14.01.2014, the E 186 148 and 149 should take-over the Dutch section of the CNL services from Amsterdam to Emmerich (DE).
The new MRCE X4 E-862 is now in service of NIAG from Germany. The shiny locomotive with a coal transport. - LS
One by one, the Alpha Trains E 186 111-122 will go to Dessau for their R1 revision. We expect them all to come back in a new yellow and blue NS livery. The first one, E 186 114 is now back from its overhaul, back in the Netherlands:
AT E 186 119 is the second to go to Dessau, it will go to Kijfhoek shuntyard today, and from there to Germany.
Put a smile on children's faces at the start of the year: 27 girls and boys were allowed to play train driver on January 5. Bombardier Transportation invited them on a unique train journey with a TRAXX AC Last Mile locomotive on the Wien-Semmering-Wien route. During the trip small groups of them were able to ride along in the driver's cabin.
To accommodate all other children while they were not joining the driver a saloon car of the historical luxury train Blue Train was also added. There was plenty of room in it for the young passengers and their companions. The locomotive stopped at each the station en route and three new kids joined the driver in his cabin every time. The train staff was responsible for their safety and in addition every child was accompanied by an adult person.
All in all more than 100 children took part in a pre-Christmas tombola published by Bombardier in the Kronen-Zeitung. Their dream of once riding at the head of a train in a real locomotive came true for 27 of them thanks to Bombardier.
Spoorwegen 2015 is out
! This comprehensive Dutch
book
(704 pages!)
brings you an overview of all main developments in the European railways of 2014. News about operators, infrastructure, rolling stock, leasing companies and the industry, brought together in well-organized chapters, one for every European country.
Must-have for the railway expert.
SETG is no longer operating SBB Cargo locomotive
482 042-9
. The white vinyls are removed, as the picture shows. - LS/KAR
Exotic colors for an intercity train in Germany: - RK
The winter weather offers nice picture opportunities. But the trains have a hard time to complete their services. Respect to all people (and rolling stock) that have to endure these circumstances and make sure the travellers still arrive on their destinations. - FG
The arrival of NS 186 018 was sooner as expected. We expected Monday, but the machine arrived in the Netherlands today. The transport of the locomotive was combined with other transfers. This resulted in a mixed train pulled by MRCE ES 64 F4-110 pulling 186 018, RailAdventure's 139 558 and a Desiro ML train for the Belgian railways.
The 189 and the 186 were added in Kassel Rbf last night. In Lippstadt the transport was splitted again, with the two modern locomotives heading for Bad Bentheim > the Netherlands. 139 558 ran to from Lippstadt to Mönchengladbach with the Desiro ML. Various impressions of the transports today. - HM/HZ/RA/ML/MT
When the current plans with the Traxx MS locomotives are continued, this scene will soon be history again. Since August 2014 two MRCE ES 64 F4 locomotives are being used by the Dutch railways (NS) to bring the CityNightLine trains from Amsterdam to Emmerich (DE) vv. Within weeks the Macquarie Rail 186 148 and 149 should take-over these services.
NS ES 64 F4-289 with CNL 418/40418 "Pollux" just arrived at Amsterdam Centraal Station with +55 on the snowy Saturday 27th of December 2014. LvdS
Before 2014 ended, Munich-based freight operator took delivery of three new Traxx MS locomotives: 186 440, 441 and 444. During the past days, various
nice images
of these striped locomotives appeared on the net.
The picture shows Metrans' 386 009 with a northbound freight train passing through at Drakenburg. According to the photographer it is the first train hauled by the brand new 009 in Germany. - FB
Polish PKP Cargo bought an 80% stake in Czech transport group AWT
. The remaining 20% of the shares remains in property of the Rene Holečka. This transaction has yet to be approved by the antitrust authorities of the countries where the carriers compete with each other: i.e. the Czech Republic, Poland, Slovakia and Germany. Final approval should be granted in the first half of 2015.
Bahnonline.ch brings you
this informative piece
on the Bombardier Twindexx 'Swiss Express' for Switzerland. Trials with these trains will start this year. Commercial service is envisaged for 2017. This means the delivery has a 2-year delay, but this time was needed to address the feedback of users, to settle a legal dispute about the on board facilities for the disabled and to implement a technological innovation that comes right from the drawing board (Wankkompensation). All this should result in a better product, that will benefit all users more.