News
On 25.05.2016, the third new TRAXX MS for NS made its maiden run. Unit no. is E 186 020. Meanwhile, the first one delivered, E 186 022 is making its mandatory approval runs in the Netherlands, for example over the Hanzelijn to Zwolle. - Christian Klotz / Ron Groeneveld
The production of TRAXX AC3 locomotives for the German railways is gaining momentum. For DB Schenker 187 118 and 119 have been completed. For DB Regio locomotive no.9 will soon be painted and is than ready for assembly.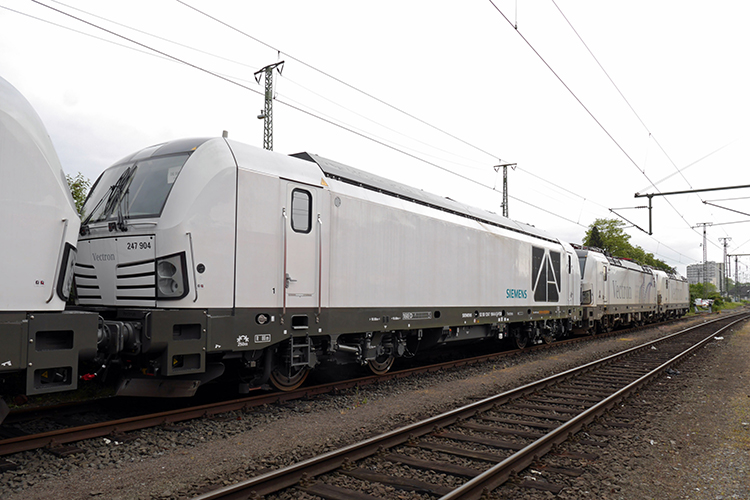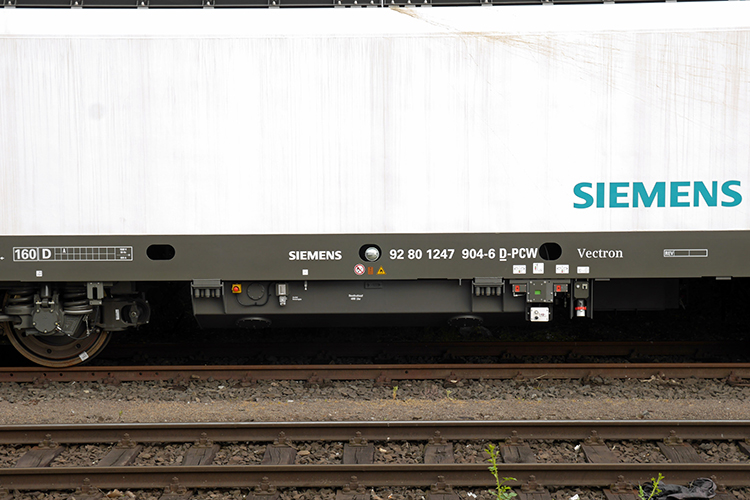 On May 24, an Vectron convoy consisting of two electrics and two diesels arrived at Mönchengladbach Hauptbahnhof, most likely for further transport to the Siemens test centre at Wegberg-Wildenrath. The transport comprised of Vectron DE locos 247 903 and 247 904, as well as Vectron AC 193 930 (with diesel module) and Vectron MS 193 902. The sighting of 247 904 means there are now at least four of type. (Dr. Günther Barths / Wolfgang Scheer)
A train promoting a train, on a train website. SBB's Re 460 086 has a new promotional livery.
Since 18.05.2016, the new Railpool 187 301-7 and 187 302-5 are hauling trains for Lokomotion. Both machines are used only in Austria, as they are not officially approved for the other countries they are built for (Germany, Hungary and Romania).
This morning: Maiden run of the new 245 026 for Sylt shuttles. One more to go to complete the batch of 7 (245 021-027) for DB Fernverkehr. - Christian Klotz
Yes, the delivery of the new NS TRAXX locomotives does have a small hick-up for our number fans. It started with E 186 021, which arrived in the Netherlands yesterday (image below). Next one to come is E 186 022, which had its maiden run this morning. We expect E 186 020 to be the third unit to arrive.
Not 18, but 26 supplemental TRAXX MS locomotives will be delivered to the Dutch railways (NS). This means NS will soon own 45 multi system electrics for its passenger services. The operator wants to operate all its trains for which it is using ICRm PRIO stock in sandwich formation (one loco on every end of the train). At this moment this is already done with the IC Direct shuttles Amsterdam - Rotterdam via the high speed line between both cities.
In the end, the NS TRAXX MS locomotives in sandwich will be used for:
- IC Eindhoven - The Hague (incl HSL Breda - Rotterdam)
- IC Amsterdam - Rotterdam (incl HSL)
- IC Amsterdam - Breda (incl HSL Amsterdam - Rotterdam and Rotterdam - Breda)
- IC Amsterdam - Brussels (BE) (incl HSL Amsterdam - Rotterdam, Rotterdam - Breda, Breda - Antwerp or directly from Rotterdam to Antwerp, this is still unclear)
Note that the route of the IC to Brussels will change compared to the current service. The train will no longer halt in The Hague, Dordrecht or Roosendaal, as the 'new' IC to Brussel will use the high speed line as much as possible.
Delivery of a second batch started this week with unit no. 186 021. In the next weeks 186 022 and 020 will come to the Netherlands. NS already owns 19 machines of this type (186 001-019). When delivery is completed, NS will own 45 186 series locomotives. NS will also continue the lease of 12 identically configured TRAXX MS locomotives from Alpha Trains: 186 111-122. These machines have all recently been subjected to a R1 overhaul in Dessau (DE) including a repaint in NS blue and yellow.
NS is also still hiring TRAXX MS locomotives from Macquarie Rail, being 186 142, 144, 148, 149, 236, 237, 238 and 239. Of these machines, 186 148 is currently away to Dessau (DE) for a R1 overhaul. It is not clear if these will be returned as soon as more new locomotives are being delivered.
On 19.05.2016, the white Siemens 22038, or to be more precise: the future ČD Cargo 383 001-5 completed its maiden run. The Czech freight operator will get five machines this year with country specific package DE/AT/HU/RO/CZ/SK/PL. The 383 001 needs to be fit for its debute during the Czech RailDays on 14-16.06.2016. - Michael Raucheisen / Tim Roux
[PL] Alpha Trains186 132 just hit a truck and derailed. Heavy damage in Poland with two people injured, according to the first reports. A video has been added of the recovery work:
The delivery of the second batch of TRAXX locomotives to the Dutch railways (NS) has started. First to arrive in the Netherlands is unit E 186 021, next Monday. The machine has already left the factory area, the picture showing it at Kassel Hauptbahnhof with a RailAdventure transport train and good old 139 558.
Every week we publish a nice video from Germany in our social media. Locomotives are no longer just a bunch of pixels, they move, squeek, make noise, have speed.. enjoy these modern electrics!
Never enough Finnish Vectron news. Today we continue the journey of VR 3303 and 3304 in Finland. The images show both machines on their way to the Ilmala depot in Helsinki. Their journey started from Hanko harbour at the southernmost tip of Finland. Composition of the train: diesel locomotive Dv12 2537 + measurement coach A17 + Sr3 3304 + Sr3 3303. Thanks Tuukka.
Hybrid Freightliner PL Dragon locomotive no.3 is unleashed. We see the locomotives during test runs in both electric and diesel mode. For example: on 19.05.2016, the machine made a test run with a 3.720 tonnes freight train from Rudna Gwizdanów to Kostrzyn Towarowy, with Class 66 no. 66602 as back-up. After arriving in Kostrzyn Towarowy, the 103 hauled the train to the upper, not electrified part of the station by itself. Thank you Damian Nawrocki, Adam Kupniewski and Radek Kopras for all this images and the video.
Just nice: a Vectron tandem for DB Cargo (193 607 and 608). Slowly the white MRCE Vectrons are being repainted. 193 612 and 613 recently turned black and now run under designation X4E-612 and 613. This means five as still white, no's 607-611.
The delivery of Railpool 187 300-316 is a very slow process. 14 months ago we could already see the first units under construction in Kassel, still no machines are being seen in revenue service. However things seem to be moving (literally) with 187 301 showing up today in Austria, under the responsibility of WLB.
We have also seen 187 302 in Linz recently, and 187 304 left Kassel in the third week of April and was then seen in Passau and Gramatneusiedl.
Exotic shots by Krassen Panev today: They show ÖBB 1116 257 (on one picture assisted by a diesel locomotive 232 600) on trial in Simeonovgrad, Bulgaria. In the weeks before, OBB 1116 072 and 255 were also participating in the test runs on the branches Svilengrad (BG) - Kapi Kule (TR), Plovdiv - Stamboliyski (BG) and Dimitrovgrad - Simeonovgrad (new!, BG). Considerable speeds were reached on these routes: 160, 184 and 227 kph respectively.
It was a VR Vectron themed weekend. We still owed you the images of the most spectacular transport that took place on 13 and 14.05.2016: RailAdventure 103 222 with VR Sr3 3303 and 3304 on its way from Munich to Rostock harbour. Both locomotives on the welknown loco buggies. Thanks to Tim Roux, Norman Gottberg, Jan-Felix Tillmann and Marcus Schrödter.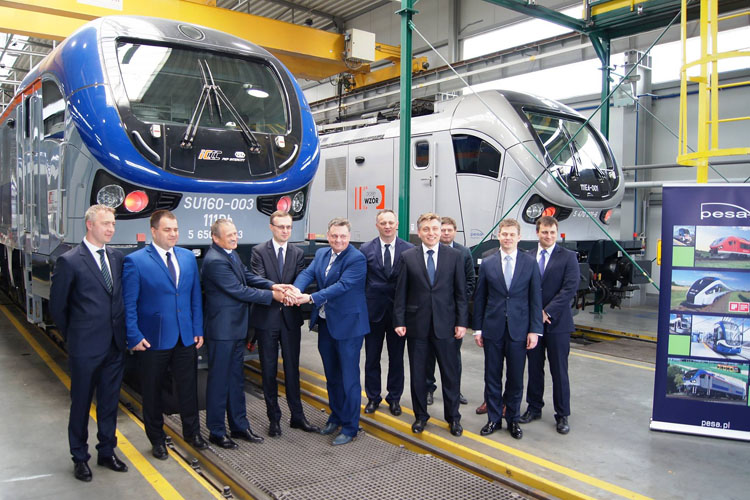 During the weekend, the news emerged that Pesa was establishing a locomotive leasing unit. On 16.05.2016, this new was made official.
Pesa, the Polish rolling stock manufacturer has founded 'Rail Capital Partners' (RCP), together with the state-owned Polish Development Fund (PFR). Pesa takes a 51% stake in RCP, where PFR owns the remaining 49% of the shares.
In the next five years, the two partners will commonly bring around 200 million Zloty into RCP. Included in the investment is the construction of eight Gama Marathon locomotives by Pesa. In first instance, RCP wants to offer its fleet to open access operators active in Polish domestic market. This means we are talking here about Gama locomotives for 3kV DC catenary systems only, but with an additional combustion engine for shunting. Multi-system locomotives are still considered being too expensive, especially when looking at additional costs of getting such machines equipped and homologated for countries outside Poland.
The first new Gama Marathon locomotive for RCP is already under construction. All eight machines should become available to the market within in the next 2 years. RCP is most likely to start its leasing services in the first quarter of 2017, making its machines available to both freight and passenger operators.
With 3301 being transported to Munich on Friday, and no's 3303 and 3304 on their way to Finland this weekend (images come tomorrow!), 3302 can not stay behind. The image above, made by Tuukka Varjoranta, shows the machine with a timber train (Pasila freight yard - Joutseno) passing Ohkola on the Kerava-Lahti high speed line. Sr1 3081 serves as back-up.
Jeroen de Vries was able to catch Alpha Trains 483 002 on 13.05.2016, in Krefeld, Germany. There mgw Service has just completed the R1 overhaul of this machine, proven by the new REV date of 11.05.2016. The machine kept its old style RTC logos. Edit: the large from numbers are not new, they were applied before the R1 took place.
Railadventure 103 222 brought VR 3301 back to Munich today. The machine was in Vienna for climate tests. Thank you Ludwig GS / Hans Paulus.
Beacon Rail Leasing has entered into an agreement with Ascendos Rail Leasing to acquire the latter. Pending approval from regulatory authorities, the deal is expected to be completed during the second quarter of 2016. It is clear that Beacon Rail Leasing is rapidly expanding its portfolio. Earlier it had already taken over 27 diesel locomotives from MRCE (ER20 & Class 66).
With the acquisition of Ascendos again Class 66s (24) and EuroRunners (3) will be added to the fleet, as well as 145-CL 011-015 and 185 001-003. Headquartered in Luxembourg, with additional offices in London and Munich, Ascendos' current portfolio includes a total of 35 locomotives and 100 freight wagons on lease in Belgium, the Netherlands and Germany, 35 passenger train units on lease in Germany (LINT and FLIRT), and 67 double decker coaches on lease in Denmark (in service of DSB).
Beacon owns and manages a modern fleet of 190 locomotives, 944 freight wagons and 20 passenger train units. Beacon's customers include many of the top freight operators in the UK (GB Railfreight, Freightliner and DRS) and leading locomotive and rolling stock operators throughout Europe and Scandinavia.
Commenting on the transaction, Ted Gaffney, CEO of Beacon, said: "The acquisition of Ascendos allows us to continue to build our portfolio of locomotives and is in line with our strategy and commitment to being a leader in this segment of the market. Ascendos' portfolio of rolling stock nicely complements our existing fleet of locomotives and allows us to expand our presence into the European passenger train market. Overall, we believe that the portfolio and staff of Ascendos is a great fit for Beacon and is additive to our existing platform."
Pamplona Capital Management ("Pamplona") acquired Beacon in May 2014 through Pamplona Capital Partners III, LP, a 2011 vehicle with $2.7 billion of committed capital. Since closing, Beacon has been an active acquirer of assets through portfolio acquisitions, the placement of new build orders and the closing of sale / leaseback transactions with various freight and passenger operators, significantly increasing the scale of the portfolio and diversifying both the lessee and asset base.
Today we bring you the first images of the recently delivered 192 962, yes the medium power Vectron for PIMK rail from Bulgaria. The pictures show blue and white locomotive coupled together with BDZ Cargo 46 124 (on full EMD brake) on Bunovo bridge for example and in the station of Kremikovtsi. Thank you Krassen Panev and Martin Zahariev for the images.
Lease company Railpool has placed a new order with Siemens for new Vectron locomotives. Five units are being ordered for services in Germany, Austria, Hungary and Romania. The Vectron AC machines have 6.4 MW duration power and a top speed of 200 kph. Railpool already has 14 Vectron locomotives: 193 801-806 and 810-817.
There is also an option for ten more machines. The five units ordered directly will be delivered in 2016.
We all know about the big train crash in Bad Aibling last February. Very sad. Lives were lost, many speculations about the possible cause, a lot of discussions about railway safety.
Several trains were destroyed, resulting in a shortage of rolling stock for rail operator Meridian. Since this week, a rake of National Express colored coaches is used as 'replacement train'. The train is hauled by locomotives hired to Lokomotion, resulting in exotic train combinations in southern Germany. We have seen 185 661 in Lokomotion livery and 193 208 in ELL livery for example. Thank you Michael Raucheisen.
As of 10.05.2016, MAV 480 013 has a new full promo livery. Its theme is -Máltai szeretetszolgálat-, a Hungarian charitative organization. Thanks Csaba Stahl / Balog Zsolt / Norbert Pócza and Márk Fekete for the images.
It is in the details! MRCE's ES 64 U2-034, now rented to BTE, just recently got an overhaul in Linz. The machine looks fresh again, got new stickers, but hey! Something is missing... on one side, the MRCE logo is not complete, no yellow rectangles... We see all ;) - Thanks Christian Topp
A new full promo livery for DB Regio 182 002, themed 'Es gibt immer was zu entdecken mit dem RE1'. The RE1 is a railways service around Berlin. Radek Kopras sent us his picture from Frankfurt (Oder) today:
First action pictures of 145 084 in silver. Like 145 086, the machine was recently repainted. Both locomotives were sold by MRCE to RheinCargo in November 2015. 145 084 previously had a mix and match livery in red, black and blue.
Jake Langerak was able to catch the brand new 186 021 for the Dutch railways this morning, during its maiden run from Kassel. All 18 new locomotives to be delivered to NS are now available on our website (thanks Dieter), just click the link below:
Ludwig GS aka Trainspotter GS just delivered these images of class 88 no. 88001 pulling its first freight trains on the test circuit of VUZ Velim in the Czech Republic.
Radek Kopras sent us our first shot of the second Dragon locomotive with shunting diesel for Polish operator Freightliner PL. We see E6ACTd-102 hauling a freight train from Płock to Trzebinia on 01.05.2016. In total, five such machnes are on order, all being financed by ING Lease.
The two TRAXX AC2s of Lokomotion, that have the KombiVerkehr livery, got pimped. 185 664 got images on its side of a container terminal. Note that also the big black numbers up front are in a different font now:
Locomotive 185 665-7 got blue and white stickers on its sides, promoting the KombiVerkehr concept, putting your truck on the train (Thanks Elias Pranti):
On May 4, DB Fernverkehr 245 025 made its delivery run from Kassel to Niebüll. Jens Vollertsen and Henk Zwoferink were able to capture the locomotive on camera in Niebüll on May 5.
A nice combination: MRCE>GySEV ES64U2-070 pulls PIMK Rail 192 962. The Vectron is on its way to Bulgaria. Thanks Peter for the images.
This afternoon, CFL
4012
crashed onto a construction vehicle in Manternach, on the line Luxemburg - Trier. A slowly driving working platform, radio controlled, was on a level crossing when it was caught by a train. The locomotive driver has light injuries.
Images can be found here
.
An unique combination, you maybe will never see again. DB Cargo's 189 001 testing with three future colleague locomotives: 187 100, 104 and 105. Norman Gottberg was able to catch this train at the test ring in VUZ Velim in the Czech Republic. Lately, the new TRAXX AC3s for DB Cargo are being tested a lot in combination with other locomotives. We also recorded test runs with 185s for example.
Last week, we got this image. A picture of a very very rare locomotive: DB AG 145 013-9 (I). Yes there is still a locomotive with this number in the fleet of DB Cargo, but this machine replaced the original 145 013, that crashed onto a 294 series shunting locomotive in Hannover-Linden, only 12 days after being put in service. The image, made by Christian Stolze, shows the recovery of the original 013.
This means images of the original 013, which had a different livery than the second 145 013, are very rare. We only had two until now, of the machine's body being stored at Kassel, pictures made after the accident.
The 145 013 (I) was delivered on 18.02.1999, and crashed on 02.03.1999. After the accident the machine, with constructional damage severe enough to built a new body for the machine, was taken back to Bombardier's factory in Kassel. The machine was scrapped the same year. For sure many of its re-usable parts found their way back to another 145 series machine that was still under construction back in 1999. In March 2000, Bombardier delivered a new 145 013. It was built after 145 053.
The Dutch railways have 18 TRAXX MS locomotives on order. We expect the yellow and blue machines to be numbered as 186 020-037. This month the delivery of this second batch should start. Today a first machine have been seen completed at the Bombardier works in Kassel; locomotive 186 022 was seen outside. - Christian Klotz
It was first seen on 28.04.2016: the future DB Regio 102 001. Then it went to the VUZ Velim test center und during the past days the machine made its rounds on the the tracks.
Skoda put some effort in covering up that this locomotive was built for the German railways: Both cabs, and the DB logos on the side, are covered with extra black and white stickers, often used in the car industry. But, on the sides the NVR numbers clearly tell us it is 91 80 6102 001-5 D-DB that we're looking at.
Picture by Peter Nohel, thanks!
The Győr-Sopron-Ebenfurt Vasút (GYSEV) tenders for new electric locomotives (TED: 2016/S 081-143548):
The Austrian-Hungarian operator wants two AC locomotives (15+25 kV) with additional shunting module. They need to be homologated for Hungary, Austria and Germany. After one year from delivery also Romania must be part of the country specific package. The shunting module may be built in later, but within one year from delivery.
Three more machines are desired for services in Hungary, Austria, Germany and (later) Romania, Poland, the Czech Republic and Slovakia.
Optionally, four more machines can be ordered within 30 months after the contract is signed. Service and spare parts delivery will be included in the deal. (Rail Business / nov-ost.info)
Railcolor: We assume that the machines the GySEV wants will predominantly used for freight trainsport (Last Mile shunting and long international corridors) and will be operated by GySEV Cargo. In 2014, GySEV already tendered for 9 new electrics. But this procedure was unsuccessful and cancelled. Since then GySEV had to change its fleet as it had to return the 1116 series electrics it was hiring from the Austrian railways. Since then GySEV hired ES64U2 electrics from MRCE, later on complemented by Vectron locomotives from ELL.
TX Logistik just got its second ELL Vectron locomotive. Next to 193 252, now also 193 265 is running for this German freight operator. Like the 252, tha machine got the 'We love to connect' stickers. - Martin Voigt / Tim Roux
We have written several times about the SBB Re 460 modernization program. These machines are currently a complete overhaul including many technical upgrades. Several machines have passed the various steps of the program already, but none got the new IGBT convertors, one of the biggest adjustments of the program. Mistakenly we assumed 460 016 was the first to have the, but no, it is 460 010, right now 'under construction' at SBB's work shop in Yverdon-les-Bains. - Theo Stolz
Read more:
After tests in diesel mode, trial runs with Class 88 locomotive 88001 in electric mode have also commenced. A nice image report of the loco testing the electrical equipment can be found here: link.
Customer no.23 is here: Bulgarian logistics company PIMK has purchased two Vectron locomotives from Siemens. First one delivered is 'Medium Power' Vectron 192 962, formerly used by Siemens for tests and promotion.
On 29.04.2016 the machine left Munich, heading for Hungary. The white machine has blue roofs and blue PIMK logos. It sports the name 'Kalina'. The destination displays on 962 have disappeared.
Many ask us, what are the main differences between a Vectron from the 192 series and one from the 193 series? The 193 can be an AC or a multi system electric, but in both configurations it has a maximum power rating of 6.4MW. The 192 has 'only' 5.6MW to its disposal. The maximum speed of a 192 is 160 kph, where the 193 can be 160 or 200 kph.
On 29.04.2016 BLS Cargo and Siemens presented the Vectron locomotive in Spiez. Unit 401 was inside, among many other BLS locomotive types, machine 402 was seen outside, pretty in the sun. Remarkable: CH was not crossed out in the UIC raster on the locomotives, although the locomotives were not homologated for this country yet.
Still some approval work has to be done: the homologation for Switzerland, for customer operation, is expected to be granted by the end of June 2016. First commercial services then should be within Switzerland from Basel with petrol trains. The authorization for Italy is planned for the end of 2016, and authorization for the Netherlands should follow medio 2017.
Thanks to Henk Zwoferink and Peider Trippi for the information and images
Exotic: Steiermarkbahn 189 822 visited the Netherlands on 29.04.2016. This machine is officially not equipped for running in NL. It came and went in a car train to Vlisisngen-Sloehaven.
On 29.04.2016, Ferrotramviaria 483 042 completed its maiden run from Vado Ligure, Zona Industriale to Genua, Sestri Ponente Aeroporto. It is the third locomotive for this Italian operator of the TRAXX DC type. The livery of the machine is similar to 483 040 and 041, that were delivered in 2013. Thanks Mattia Bronchelli for the image.
Szent Márton (or Saint Martin) is celebrating his 1700th birthday. This year his jubilee is chosen as theme for a Werbelok of the Hungarian railways (MAV). Unit 480 006 is the chosen one to be pimped this year and we are sure this machine will soon haul a pilgrim train to Romania, a yearly tradition. Thanks you Csaba Stahl and Norbert Pócza for the pictures.
Stopar Carlo sent us this fine image of the Siemens DC Vectron no. 191 001 in Italy. The locomotive is currently hired to freight operator InRail. The machine pulls an ethanol train from Villa Opicina to Ravenna and is seen here in Bivio D'Aurisina.
Yesterday we payed Shunter a visit in the harbor of Rotterdam. On instagram some nice impressions were being published: