News
Locomotive no. 91, operated by the Salzburger Lokalbahnen (SLB) has new logos. The logo is gone, a new font for the company name is used now, and Tthe name of mother company 'Salzburg AG' was added. - LJ
This week, the newest TRAXX locomotive for DB Fernverkehr completed its maiden run. On 28.06.2016 the machine completed its first round. - Christian Klotz
Transportstyrelsen from Sweden has decided to withdraw the safety certificates (part A and B) op rail operator Skandinaviska Jernbanor (SkJB). This means SkJB will has stop all its train services as of 05.07.2016. Transportstyrelsen has found severe shortcomings in the safety management system of SkJB.
At this moment, SkJB is operating open access passenger trains 'blue train' and 'green train' in Sweden. It is leasing two Vectron locomotives from Paribus (193 921 and 922).
Again, a TRAXX AC3 locomotive is visiting Croatia. This time the future Railpool 187 303 was photographed in Okucani. from there it is used for ETCS trial runs to Novska. - Toma Bacic / Zoran Crnko
The Newag factory in the Polish city of Gliwice will be closed. Building new locomotives, the main activity on this location, will be transferred to the Newag factory in Nowy Sącz. Several employees will move along. In Gliwice, a Newag office for project development will remain. - RK/RB/nov-ost
LTE Logistik- und Transport GmbH, located in Graz, Austria, is celebrating its 15-year anniversary. And a special year requires a special locomotive. On 27.06.2016 LTE and presented the first Bombardier TRAXX AC3 Last Mile Locomotive in Austria during a special event in Graz (AT). This is the first delivery of this vehicle type in Austria for Bombardier and an affirmation of sustainable rail transport in Europe for the LTE group.
The machine we see in the picture is the brand new LTE 187 930 (91 81 1187 930-3 A-LTE), which was ordered in December 2015. On 23.06.2016 it was transported from the Bombardier factory in Kassel to Austria. The machine is equipped for services in Germany, Austria, Hungary and Romania. Check out its new Flex Panel, calling the machine the 'Lord of the Rails' :p.
In the picture, from the left: Michael Baier (CEO LTE), Michael Benda (CFO LTE), Mag. Elisabeth Landrichter (godmother of the locomotive), Andreas Mandl (CEO LTE), Dr. Karl Johann Hartig (Bombardier Transportation), Mag. Franz Weintögl (general manager GKB), Guy Degrave (Bombardier Transportation), Hubert Mierka (Danubian port Krems).
Indeed, an Amtrak ACS-64 locomotive with no. 666 does not exist, due to superstition. Also, the 666 number does not look good on a locomotive, when something bad happens to the machine. Negative publicity and so on...
So the very last ACS-64 for Amtrak is the designated 670. On 23.06.2016 the machine completed its first test run to Boston. Thank you Rob Pisani for the image.
Today, Skoda Transportation presents the new DB class 102 locomotive at the VUZ Velim test centre. The anti-espionage stickers were taken off. All red it is. Special thanks to Martin Šarman for the images.
Update: Meanwhile also some videos have been published about the special presentation. Skoda plans to have one DB 102 locomotive on display at InnoTrans 2016.
Thank you Markus Tepper
New: MRCE > BTE ES64U2-036 now promotes the science fiction movie 'Independence Day - Wiederkehr' (Resurgence). The machine will promote the movie while hauling hkx trains of course. - Maik Broicher/KAR
It is blue, very blue. This is the new TRAXX AC3 locomotive with Last Mile shunting module, to be delivered to railfreight operator LTE from Austria. The machine was ordered in December 2015. Its designation: 91 81 1187 930-3 A-LTE. Country specific package: DE/AT/HU/RO.
Brand new 193 268 is a special one. The multi system locomotive has a impressive country specific package. Take a seat: DE/AT/HU/CZ/SK/PL/RO + RS/HR/BG/TR. Where the locomotive will be used in practice, we will have to await. Fact is that the machine carries vinyls of PPD Transport from Zagreb, Croatia. This sounds new, but is actually very familiar. Is the current name of Adria Transport, that joined the PPD Group in 2015.
So, a new locomotive, in a new configuration, for a new customer to lease company ELL. Countries in the south-east of Europe, such as Croatia, Serbia, Bulgaria and Greece, are currently in the focus of many European freight operators. The markets were liberalized, are opening up, new operators being founded. This is being translated into operators and lease companies preparing their rolling stock for services in these regions. We have seen Vectrons, Trans Montanas and ES64U4 locomotives being homologated in Croatia for example. Just today we got the news that Kombinovani Prevoz is the first independent railway operator to launch freight services since the Serbian railway market. Interesting!
Thank you Ludwig GS for the picture.
Akiem newest: 483 311, in service since 16.06.2016
Lease company Akiem has confirmed it has exercised an option for the delivery of five TRAXX DC locomotives, related to a previous contract. This brings the total of TRAXX DC machines, equipped for Italy or Poland, in the fleet to 25. At this moment Bombardier has completed 11 Akiem locomotives for Italy (483 301-311) and 3 machines for Poland (5170 060 and 483 222-223).
- First call-off includes 26 locomotives
- The TRAXX platform enables Akiem to offer locomotives in multiple countries
Rolling stock leasing company Akiem and Bombardier Transportation have signed a framework agreement for 52 TRAXX AC and MS locomotives with options for additional call offs. The agreement is conditional upon financial closing related to Akiem Holding. The first batch of 26 locomotives ordered from this framework agreement is valued at a list price of approximately 95 million euro. Deliveries of the first units are scheduled to take place in 2017.
With a large selection of TRAXX AC3, and MS locomotives, this partnership allows for various technical options, such as the Last Mile and remote control feature for TRAXX AC3 locomotives.
The TRAXX locomotives supplied will be configured for use in up to 13 different countries and will be fully compliant to the latest European standards including ETCS (European Train Control System) Baseline 3, when required. This will give Akiem the opportunity to extend the operational range of its locomotives and offer its customers a high degree of flexibility.
"This significant investment with Bombardier will extend Akiem's fleet up to 100 TRAXX locomotives by 2018. We are accelerating our positioning on German and Austrian national markets as well as major European corridors towards Sweden, Benelux, Switzerland, Italy, Poland and Central Europe" said Fabien Rochefort, CEO of Akiem: "Through this successful partnership with Bombardier, Akiem keeps developing services combining performance, proximity and security to meet our clients' requirements."
Michael Fohrer, President, Locomotives, Light Rail Vehicles and Services, Bombardier Transportation, added, "We have been working with Akiem since 2011 and we are extremely happy to continue our long term partnership under this frame contract. This agreement enables Bombardier to consolidate the TRAXX locomotive's presence in some of the most promising rail corridors."
An unusual sight: DB Cargo locomotive 187 106 and double deck coaches. Seen at Hennigsdorfer test tracks and photographed by Norman Gottberg.
New in the fleet of Metrans: 185 635. The Macquarie Rail locomotive, subhired to Railpool, will predominantly be used for freight services in Hungary, alongside 185 638. The picture shows the machine atthe Metrans terminal in Dunajska Streda (SK) where it got its Metrans logos yesterday. Thanks Juraj Streber.
Ready to go. Alpha Trains > DB Cargo 483.008 is ready to depart. Behind the turqoise locomotive, you see the new Akiem 483 223. The machine will go to Poland, no.3 of its type for Akiem, which will be hired to Polish operator Pol-Miedź Trans. Thank you Beppe Russo.
In 2015, new locomotives were needed, and they were needed fast. DB Schenker, now DB Cargo, made a deal with leasing company MRCE for new Vectron locomotives, to be available at a very very short term. So Siemens took several machines from its stock production line and delivered them to MRCE. It had to go so fast, there was no time to repaint all machines of the latest MRCE batch in black (Siemens builts it stock locomotives in a standard white livery). So it happened that X4E-607 to 613 entered DB service in white, white with MRCE logos.
But this livery now belongs to the past. All seven 'albino' MRCE locomotives have been painted black during the past months, including the 610, that is shown in the picture above. This machine is the 22.000th Siemens machine built, and got special stickers by delivery to commemorate this. These are gone now.
Thank you Frederik Lampe for the quite spectacular rain picture.
The CargoNet chapter for 193 923 and 924 has ended. This month, CargoNet gave them back to Siemens. The 923 was used for freight trains from Oslo to Bergen vv, 924 was already stopped as its wheels were worn out. At this moment they are on their way from Norway to Sweden, where they will be embarked in the harbor of Trellenborg. By ship they will continue their trip to Germany. Thank you Knut Ragnar Holme for the image.
Remarkable: the machines have both lost their yellow snow ploughs.
Update: pictures of the locomotives on transport in Germany.
Not one but two. This weekend Bombardier delivers two TRAXX MS locomotives. Edit: Today they were taken to [edit] Amersfoort by Beacon Rail 561-03. Thank you Christian Klotz, Markus Tepper and René Klink for the images.
For the fans of data:
186 020 - REV 06.06.2016
186 021 - REV 19.05.2016
186 022 - REV 02.06.2016
186 023 - REV 15.06.2016
186 024 - REV 14.06.2016
A third ELL locomotive, sporting the logos of TX Logistik, has been put into service lately. The image shows the brand new 193 266 which now has the same livery as 193 252 and 265. By the way, 193 266 is pulling a Velaro high speed train for the Turkish railways TCDD, which are being produced by Siemens in Krefeld in Germany. Our thanks goes out to Oliver Scholz for the picture.
Lease company MRCE has decided to order another ten Vectron locomotives from Siemens. The new machines will be multi system locomotives with the country specific packages for Germany, Austria and Italy. ETCS will be installed too. Their top speed will be 160 kph and power rating will be the well-known 6.4 MW. Multiple traction with 189/ES64F4 series locomotives of MRCE will be possible.
With the new order included, MRCE will soon have 66 units in its fleet:
X4E 600-616 > 17x Vectron AC DE/AT
X4E 640-650 > 11x Vectron MS DE/AT/IT
on order
X4E 850-867 > 18x Vectron AC DE/AT
X4E 870-879 > 10x Vectron AC DE/AT/HU
+ the ten units ordered today
A freight train pulled by a BB 36000 series locomotives derailed on a freight rail track near San Matteo in Italy. The exact reason for the crash is still unknown and under investigation. Luckily, fire fighters were able to free the two drivers quickly. Both are in good condition, with only minor injuries.
Pictures and a video here
.
Earlier this year, freight operator CargoLink from Norway terminated its freight services. The company was operating many Railpool TRAXX AC2 locomotives, that were (and still are) easy to recognize by their red Railpool stickers. But where are they now? We made an overview of the ten machines, who is operating them now:
185 678 > TX Logistik Sweden
185 679 > left CargoLink in 2013, to Germany 12.2015, now Lokomotion
185 682 > TX Logistik Sweden
185 683 > CargoNet
185 685 > CargoNet
185 688 > CargoNet
185 698 > CargoNet
185 699 > left CargoLink in 2015 [edit] still in Scandinavia, now CFL cargo Sverige
185 700 > CargoNet
185 707 > CargoNet
As far as we know, most engines have no new operator logos yet. But the title picture shows that a new color variation of TRAXX has appeared. At least 185 683, 685 and 698 now have the yellow CargoNet logos, combined with the red Railpool logos.
Since 02.2014, the former AEG/Adtranz/Bombardier prototype and testbed locomotive 128 001 is part of the collection of the Thüringer Eisenbahnverein in Weimar, Germany. Christian Klotz visited the machine last weekend and made some up to date shots of its ex- and interior.
A new look for SBB Cargo 482 011: The locomotive now has ChemOil logos. It is the third one we know of. In 2007 the 482 028 got them, in 2015 locomotive 482 012 was number two. - Niklas Eimers
Sometimes it is nice just to inform you about small changes. This time a unique Railpool locomotive has changed its appearance. The only machine with a light yellow Railpool banner, has lost its RTB logos. The machine is property of Macquarie Rail. - Peider Trippi
A new promotional livery for ÖBB 1116 232 and RailJet 32. The train has two different sides promoting ORF television. Side 1: "Guten Morgen Österreich", side 2 "Fernsehen bei 230 Km/h".Side 1: "Guten Morgen Österreich", side 2 "Fernsehen bei 230 Km/h". Elias Prantl
ELL locomotive 193 206 is on its way back to the Czech Republic and Slovakia, after having received a service by Siemens in Munich. However, a piece of the yellow RegioJet foil is missing, showing again the locomotive's true identiy ;) - Thanks Christian Tscharre.
On 09.06.2016, Vectron locomotives no. EU46-508, 511 and 512 were handed over to PKP Cargo. Both images show the machine in Rzepin. Now twelve machines (501-512) are available to PKP Cargo. Three more will come in the near future, but with a different country specific package. These three units will also be operated in the Netherlands. - Frank Gollhardt / Sven Lehmann
Well, that is a peculiar sight. Two Siemens stock locomotives, 193 930 and 970, were photographed on 08.06.2016, running on the large T1 test circuit in Wegberg-Wildenrath. In between these two white machines: ancient Swiss passenger coaches. What is tested here?
Detail: it is the first time we see 193 970 without its 'Cheetah' stickers, that it had since InnoTrans 2014.
(Wolfgang Scheer)
Yep, not in a logical order, but indeed, on Monday the Dutch railways will pick-up E 186 020 in Bad Bentheim. Thanks René Klink.
The second Akiem TRAXX DC locomotive has arrived in Poland. It cam from the Bombardier factory in Vado Ligure in Italy. It has the temporary designation 483 222 and is painted silver. Soon it will get immatriculated in Poland and receive a new Polish NVR number. It will be hired to Pol-Miedź Trans. All five Akiem TRAXX DC's on order will be operated by this Polish operator in the future, three more to come. Thanks Torsten Frahn for the image.
Freightliner Poland has started operating its first Dragon locomotives with shunting diesel. Since 31.05.2016, the machines are being used in revenue service. E6ACTd-101/102/103 are ready to go, unit 104/105 are under construction and will arrive during the summer.
Today, E6ACTd-101 (now also designated as 3170 001-4) was presented officially at Warsaw. It was symbolically handed over by Newag to Freightliner and the locomotive got a name: Ernest Malinowski. He was a famous Polish railway engineer living in the 19th century.
We took some impressions from twitter:
Jernbaneverket from Norway has a new website:
Togkart
. It allows you to watch all movements of all trains in Norway. Tip: Don't allow your browser to 'see' your location, because than you end up seeing the map of your hometown..
On 02.06.2016, Amtrak and Siemens celebrated the completion of the 70th and final Amtrak Cities Sprinter (ACS-64) electric locomotive at the company's rail manufacturing hub in Sacramento (California, USA). The milestone marks the culmination of a more than five-year partnership as the final high-efficiency locomotive heads to the Northeast Corridor for commissioning and revenue service. The locomotive, built by Siemens in Sacramento with components from more than 60 U.S. suppliers, is part of a new fleet of 70 high-efficiency vehicles that have helped usher in a new era of mobility and improved performance and reliability along the heavily traveled Northeast and Keystone Corridors. - Siemens
Railcolor: The first Amtrak ACS-64 has nummer 600. The final one is no. 670. Normally this would mean there are 71 units, but Siemens and Amtrak just have 70. We expect that there is no. 666, the number of beast is not welcome in Amtrak's fleet. Note that also no.601 is missing these days as this machine was severely damaged in the Philadelphia train crash in May 2015.
Seen today, between Bratislava Hlavná Stanica and Bratislava Lamač. PKP Cargo Vectron now also run in Slovakia. Thank you Peter Melicher.
For the first time, Spanish freight rail operator Comsa is using Bitrac locomotives on a regular basis, outside the Pajares pass in Asturia. The machines have taken over from Euro 4000 diesel locomotives on the route Aranda de Duero - Bilbao, pulling the Tramesa steel coil trains.
Comsa now has six Bitrac units in its fleet: no. 601 003, 005, 006, 007, 008 and 009. Unit 601.004 is sat at León as parts donor/receiver. Its parts are being used for the machines in revenue service. CAF then deliveres new parts that are installed in the 004.
Curious: 601 003 is the newest addition to the Comsa fleet. When it started, it had a very very modest 1.100 km on its odometer. - Iñigo Arranz
NS TRAXX MS E 186 022 arrived in the Netherlands today. Thanks Roel.
An interesting article on Handelsblatt.com: about the new measures the German railways (DB) are taking to turn around the trend of falling profits and turnaround. We already knew about (partially) selling off business units (Arriva and Schenker), improving service in passenger transport, repairing rolling stock, reducing its freight delivery service network (only profitable customers will be served in the future).
Now the big boss of DB, Mr. Grube, has announced the plan to close a quarter of its maintenance workshops and, possibly important for us, selling off 200 locomotives. Japanese Toshiba is mentioned to purchase locomotives from the German railways, that will then enter the locomotive leasing business. DB could continue running these machines leasing them back from Toshiba, but a surplus of machines will also become available to other operators in the market. To be continued.
Most measures are pretty logical steps for a company that is loosing market share for years now. Getting smaller and more efficient is a good thing towards a healthy open market. For sure other operators will fill the gaps with new concepts and more flexible solutions. In the end the complete railway market, both passenger and freight, should become more competitive to be able again to fight competition from cars, busses, trucks, boats and airplanes. In the end also DB will get better from it. So is the idea.
Little did we know about PIMK Rail until now. The company from Bulgaria recently got is first modern locomotive: Vectron 192 962. Think-railways.com sheds some light onto the new company and its newly founded rail operating subsidiary:
"With a planned EUR 9 million for capital investments, PIMK Rail will start operations this autumn. The rail freight operator will run company trains, aiming to take part of its containerised cargo off the road and shift it to rail, informs Capital. (...)
With the support of Austria's export credit agency (ECA), PIMK has purchased from Siemens one locomotive and is negotiating with the rolling stock manufacturers the acquisition of additional units. Siemens has already delivered one Vectron locomotive, which will operate on both Romanian and Bulgarian market."
Published today: Siemens and Leasing company ELL from Austria have closed a 2nd deal for another 50 Vectron locomotives (In 2013 Siemens and ELL already closed a first deal for 50 units). Delivery of new machines is therefore continued. Over 50 units are already in service at this moment, with more being ready to go (193 264-267 for example).
Under the new contract, ELL will supplement its portfolio with new configurations, for example:
- Vectron MS with DE/AT/CH/IT/NL package (similar to BLS Cargo)
- Vectron MS to be used for the Netherlands > Romania
- Vectron AC locomotives for service to and in Scandinavia
- Vectron locomotives with supplmental diesel power module
All units with have a duration power of 6.4 WM and a top speed of 200 kph. This makes them usable for both passenger and freight traffic. ETCS is standard. - Siemens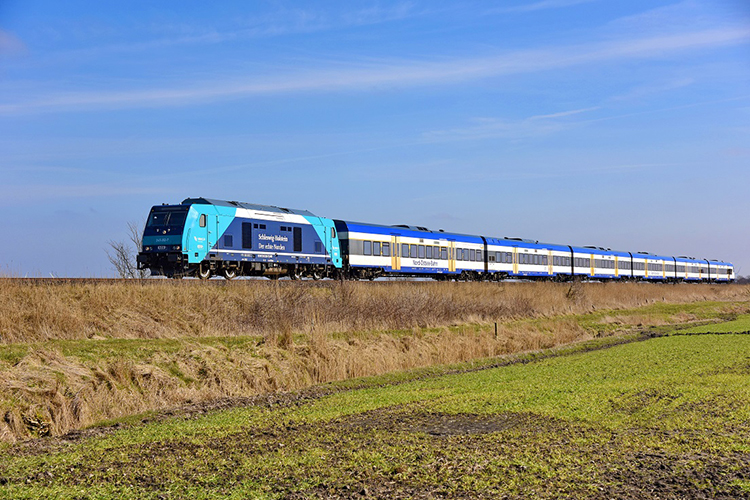 Bad news from North Germany. In a press release, Nord-Ostsee-Bahn (NOB) announces that due to technical problems with its TRAXX Multi Engine locomotives, delays and cancelled trains can be expected in the coming days. Meanwhile, the operator is working hard in conjunction with Bombardier to introduce not only a technical solution for the locomotives, but also to ensure the service between Hamburg-Altona and Westerland (Sylt) keeps running as good as possible.
It has been indicated that the locomotives tend to overheat due to unsufficient cooling capability. Currently, all locomotives are being monitored closely to be able to take measures if temperatures get too high to continue operations. It is unclear whether these problems also apply for DB Fernverkehr and DB Regio Class 245 locomotives or not.
Peter Lovell and Tobias Schmidt were able to portray BLS Vectron no. 401. The machine is out and about with personnel of BLS Cargo, as seen in Spiez and Basel.