News
For the second time, the Hungarian railways (MAV) have given locomotive 470 004 a full-wrapping. After having promoted Opera.hu in 2015, it now has a red/creme livery commemorating the 650th anniversary of the university of Pécs, the oldest university in Hungary. Photos: Márk Fekete
PKP IC 5370 007 in its newest T-Mobile livery. Photo: Thomas Wohlfarth
During the past months, we have registered four PKP IC 5370/EU44 series locomotives receiving a new promotional livery. Unit 001, 002, 003, 004 and 007 got new, extra bright liveries about T-Mobile products and services. Our current overview:
5370 001: NEW white/magenta T-mobile > magenta T-Mobile SuperNet
5370 002: NEW magenta T-mobile Huawei > magenta T-Mobile ElectronicBeats
5370 003: NEW standard PKP IC > magenta T-Mobile SuperNet
5370 004: NEW standard PKP IC > magenta T-Mobile SuperNet
5370 005: standard PKP IC
5370 006: magenta T-mobile Galaxy S7
5370 007: NEW white/magenta T-mobile > magenta T-Mobile ElectronicBeats
5370 008: standard PKP IC
5370 009: standard PKP IC
5370 010: magenta T-mobile Galaxy S7
Got additions/remarks? Let us know via hello@railcolornews.com
The picture above shows ELL>Lokotrain 193 222 pulling IC 523 of the Slovakian railways (ZSSK). The state company is testing Vectron locomotives in its revenue earning intercity services. ZSSK issued a tender last year for new electric locomotives last year. We think the Vectron is sure one of the candidates for a possible order. Photo: Filip Chalupki
This is ÖBB 1116 072, that got Gebrüder Weiss vinyls on its sides in May 2014. The orange/white/red stickers are gone. The 'Bodensee' markings however remained. Photo: Kurt Sattig
Lokomotion just got new stickers: numbers all around and logos upfront. But what about that single blue stripe? Work in progress?
Italian railfreight operator Ferrotramviaria will soon get a 4th TRAXX DC locomotive. On 23.03.2017, the black and yellow 483 043 was seen around the Bombardier factory in Vado Ligure. Photos: Giorgio D'Alessandro / Giorgio Ianelli
Update: Bombardier released the 043 on 23.03.2017 from Vado Ligure, and the locomotive arrived at Bari-Lamasinata yard one day later.
Milestone: The first Bmbardier TRAXX locomotive, number 3001, for Israel Railways has been completed and is on its way for test runs at our Kassel site. Afterwards, it will undergo final dynamic trials in Velim, Czech Republic. Then a first locomotive makes the long journey to Israel to finalize the last stages of electrical testing.
Israel Railways ordered 62 TRAXX AC locomotives in 2015 and they will play a key role in Israel's program to switch from a diesel to electric rail network. Starting in 2018, they will power Israel's fleet of 369 Bombardier TWINDEXX Vario double-deck coaches.
Lokomotion 186 443 has new stickers, as the company is looking for new employees. Seen on 22.03.2017 by Leroy Abauna.
Seen today in Munich, the first Skoda locomotive for DB Regio: the designated 102 001. Photo: David Bieler
On 15.03.2017, 245 002 from DB Regio Kempten was on a test run pulling IC 2012 / 2013 from Immenstadt to Stuttgart. The video shows the 2013 service near Bad Grönenbach. Video: Mĺnuel Sĺttlerssřn
DB Regio currently has three new TRAXX DE Multi-Engine locomotives on order for operation in the south of Germany.
Yes, some of you may have noticed there is still a gap in ELL's list of Vectron locomotives; There is no 193 261, 262 nor a 263. One of them now has made its first appearance in Hegyeshalom in Hungary. The pictures show ELL 193 262 with country specific package: DE/AT/HU/PL/CZ/SK/RO/NL. So, this is a multi-system locomotive with the Central European package we have seen before, but with one country added: the Netherlands. It is the first time we see a Vectron locomotive in this configuration. Photos: Miklós Berényi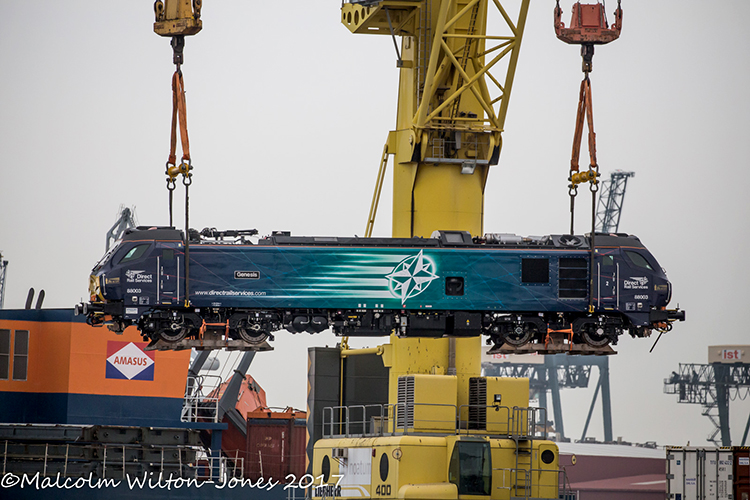 Approximately one month ago, on 23 February 2017, 88003 'Genesis' is lifted onto the Eemslift Nelli. Soon the six Class 88s already in the UK will be joined by the remaining four. Picture by Malcolm Wilton-Jones.
Some short news from Spain regarding the delivery of Class 68 and 88 locomotives to Beacon Rail and DRS. Locomotives 88006 'Juno', 88007 'Electra, 88009 'Diana' and 88010 'Aurora' have been transported to the Port of Sagunto, from where they will be shipped to the United Kingdom. When the locos arrive on British soil, all ten Class 88s will have been delivered to the UK. None have entered service yet, pending certification and dynamic testing.
Not only Class 88s have made it to Sagunto. Among the four bi-modes, there were also two Class 68 locomotives. One of the two is 68027, which is still in a basic blue livery.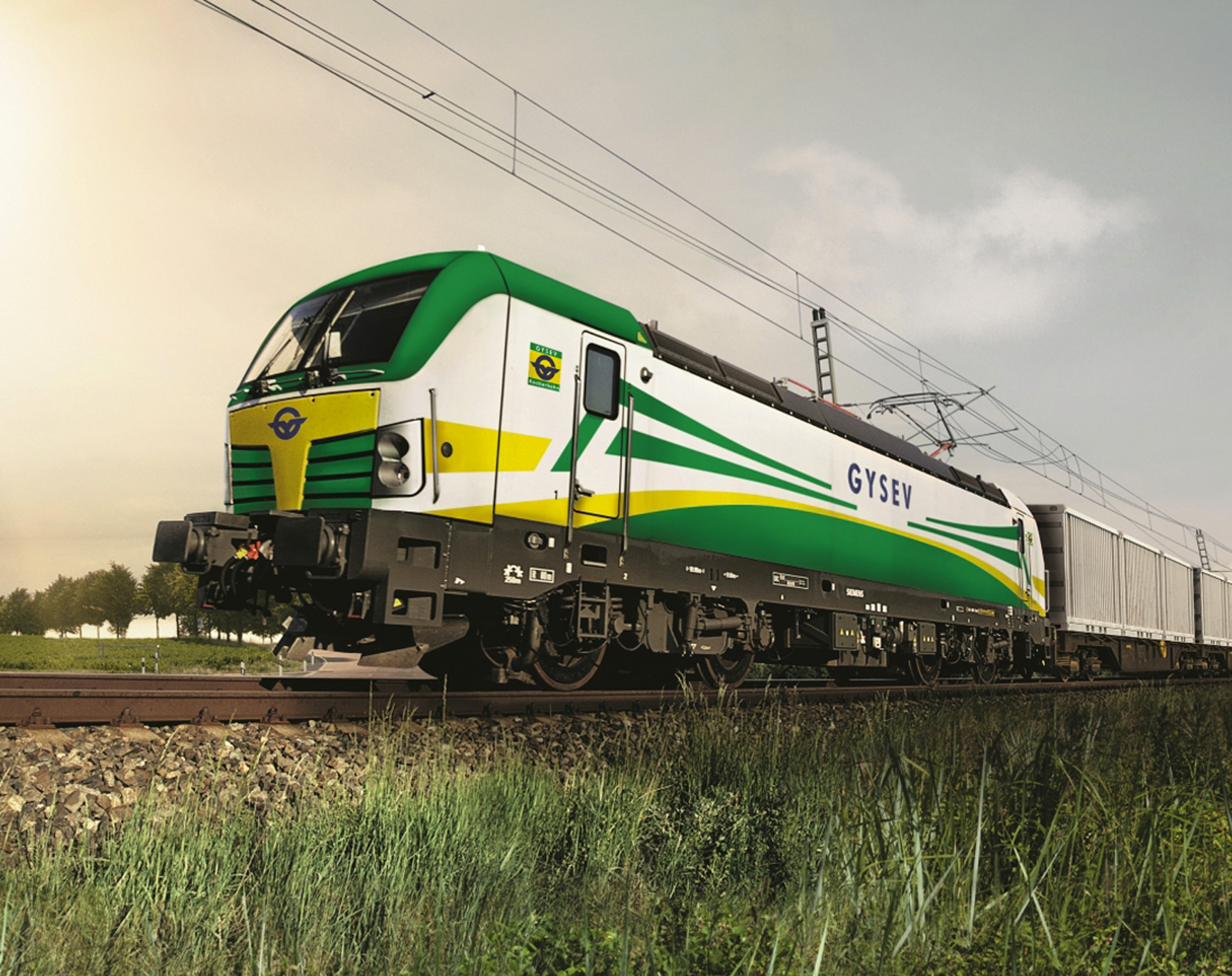 An artist impression provided by Siemens shows us a possible livery for the GySEV version, which is a version of the design previously applied on the lease-ELL locomotives and MRCE ES 64 U2-070. Note that the 2nd cab in the back does not have a green top...
Now that is fast. In only a few months, Siemens will deliver the first new Vectron locomotive to Austro-Hungarian railoperator GySEV. It will arrive during the summer, and four more will come this year. 
GySEV (also known as 'Raaberbahn') has been looking for new electrics for quite some time now. In 2013 already it issued a tender for 9 electrics which was unsuccesful. A second attempt was done in 2016, of which we now see the result:
order details:
fixed order: 2x Vectron AC DE/AT/HU(RO) with shunting diesel module
fixed order: 3x Vectron MS for 'Central Europe'
optional: 4x Vectron AC
We expect that the multi system machines will be additionally homologated for Poland, the Czech Republic and Slovakia, as mentioned in the tender. The order will be financed using a loan from the European Investment Bank (EIB). The locomotives will be equipped with ETCS level 2.
GySEV will use the locomotives for both passenger and freight transport, as it is doing right now with Vectron locomotives that it has on hire from ELL. For passenger services GySEV specifically mentions the lines Sopron-Budapest and Szombathely-Budapest.
Hector Rail AB, a Swedish rail transport company, has ordered another 15 Vectron AC locomotives. Delivery is planned beginning in the spring of 2018. All of the locomotives will have a maximum output of 6,400 KW and a top speed of 200 km/h. All Vectron AC locomotives are equipped with the European Train Control System (ETCS) as well as the ATC2-STM train control system.
The locomotives will be used for heavy freight and timber transport in Sweden and Norway. To bridge short stretches without overhead power lines, the locomotives have a diesel power module with radio remote control on board.
Hector Rail is an independent line haul provider for the European rail transport market headquartered in Sweden. The company provides transport solutions for heavy industrial products as well as intermodal freight and passenger transport for industrial companies. Hector Rail's fleet includes 75 locomotives, and covers a total of over seven million train kilometers a year. Hector Rail initially ordered five Vectron locomotives from Siemens in July 2016. The order included an option for the 15 locomotives of this type that were just ordered.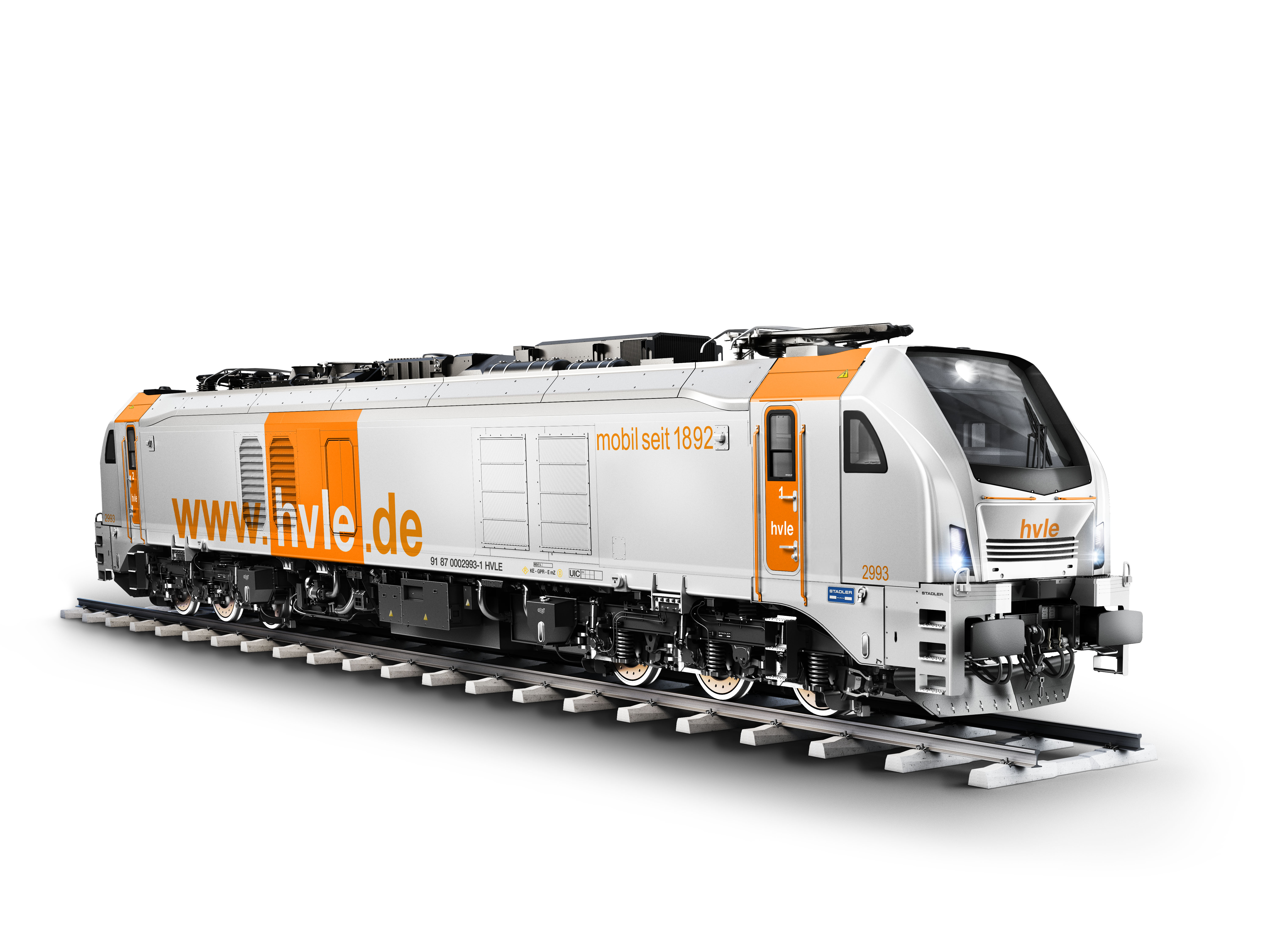 Artist impression of a EURO DUAL locomotive in HVLE colour scheme. Picture by Stadler Rail.
Stadler Rail Valencia has bagged a first order for EURODUAL locomotives. German rail freight operator Havelländische Eisenbahn (HVLE) has awarded Stadler a contract for the supply of ten six-axle EURO DUAL locomotives for use in Germany. The locos combine 15kV and 25kV electric with diesel power. Ludolf Kerkeling of HVLE comments: "The demand for six-axle locomotives will grow because of the increasing length and weight of trains." Martin Wischner of HVLE added: "We need diesel power for the first/last mile but the environmental and economic advantages of electric power are very important for us."
The deal includes a full service maintenance agreement and is financed by Deutsche Anlagen-Leasing with a tailor-made, asset-based leasing structure. With the order, HVLE becomes the launch customer of the new generation of six-axle bi-mode locomotives developed by Stadler for the European market. The EURO DUAL is available in different configurations and for different gauges and voltage systems. Designed as a highly modular platform, it can be equipped with diesel engines of various power ratings to meet the requirements of individual customers. Furthermore, the EURO DUAL is suitable for both passenger and freight applications at speeds up to 160 km/h.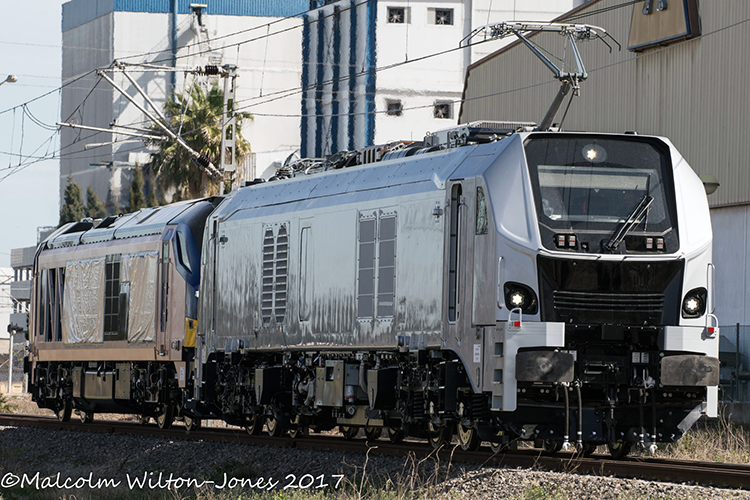 The first EURO DUAL locomotive is currently being subjected to various tests and has been on trial outside the plant in Albuixech numerous times. Picture by Malcolm Wilton-Jones.
The 'green mean machine' is no more. The ZNLE locomotive that had its debute on InnoTrans 2012, is now property of Newag, so it was time to make this more visible. Now the machine has the same livery as the recently outshopped Dragon locomotive no. E6ACTd-106, red, grey with large Newag logos.
The E4MSU-001 is now operated by Euronaft from Trzebinia. Several followers of our site were able to portray the locomotive in its new design during the past days. We thank Radek Kopras / Lucas Piotrowski / Andrzej Szafoni.
From Brennero to Cologne. On 11.03.2017, Achim Scheil and Sven Bärwinkel saw the new Siemens Vectron MS locomotives (MRCE X4E-643/-644/-645 and Alpha Trains 193 550/551 that were in Brennero earlier this week) in Cologne. But now three white units have been added to the convoy. Two we already know, Vectron DC no. 5170 020 and 034, but the third one is brand new. It does not have any numbers yet, except for its works number, being no. 22208. A close-up:
Unveiled to the public on Monday 6th of March, DB Regio 146 230 'Radolfzell' carries vinyls celebrating the 750th anniversary of the founding of the town of Radolfzell. On 07.03.2017, the freshly decorated loco passes Steinbach (Baden-Baden) with the southbound RE 4271 from Karlsruhe Hbf. to Konstanz. Photo/Text: Andrew Butler
A new Trans Montana locomotive has been completed by Softronic in Romania. No. 026 has the livery of Hungarian railfreight operator MMV. We expect the numbers on the locomotive will change during the next days. The machine was seen today in Filiasi (RO) by Cosmin TMV.
It is the third Trans Montana locomotive for MMV. The first one with the newer body design.
Seen today in Warszawa (Główna Towarowa, Poland) and photographed by Andrzej Szafoni.
Today Siemens has released the first Vectron locomotives for lease company Alpha Trains from its work in Munich. The designated 193 550 pulled the identical 193 551 and the black X4E-645, 634 and 644 for MRCE to Brennero. Although for different customers, all five Siemens multi system electrics have the same country specific package: Germany + Austria + Italy.
We thank Ronny Bruns for the pictures in this article.
Currently the full certification of the Vectron MS for Italy is showing progress. ANSF, in charge of the homologation of railway vehicles in Italy, recently gave green light for MRCE's X4E-640, so we expect more to follow soon.
The 193 550 and 551 have the current Alpha Trains livery in lime green and silver. Both machines will soon be operated by railfreight company TX Logistik. To express the cooperation between lease company and its customer, both machines got additional stickers with the slogan 'Zwei Pole mit Enormer Zugkraft' (= Two poles with huge tractive power).
Alpha Trains 193 550, 551 and MRCE X4E/193 645, 643 and 644 on their way from Munich to Brennero. 06.03.2017. Photo: Ronny Bruns
The locomotives have arrived at Brennero station. Photo: Michael Goll
Seen today at Gramatneusiedl [AT]: MAV 480 010 with EC 145 ''Lehár'' from Vienna to Budapest. The MAV TRAXX locomotives will replace the MAV 470 locomotives on this route. Unit 480 004 is currently in Vienna for driver training. Photo: Ludwig GS
Over the weekend, RailAdventure took three TRAXX locomotive to the south-east of Germany: brand new Railpool 186 445, 187 315 and test locomotive Macquarie Rail 186 236. The first two machines continued their journey to Velim, 186 236 was taken towards Austria.
The batch of 17 TRAXX AC3 locomotives for Germany, Austria, Hungary and Romania (187 300-316) for Railpool is almost complete. The only two machines we have not seen yet, are the 187 300 and 314.
Photos: Mario Lippert and Sven Hohlfeld
Railfreight operator RheinCargo is replacing the logos on its red painted TRAXX AC2 locomotives that it has on hire from Macquarie Rail (185 582/584-589) and Alpha Trains (185 603-606/630-632). In the fleet of RheinCargo these are the designated 2051-2057 and 2061-2067. Until now we have seen 185 588, 603 and 604. Sebastian Winter saw two of these in Pirna during the weekend.
Today in Jeserig, Railpool > VTG 193 815 with three Locomore coaches. Norman Gottberg
Image above: Impression made by Railcolordesign.com, it has no relation to Deutsche Bahn
The German railways (DB) are renewing their fleet for long distance traveling. We are just months away from the start of serie-delivery of the new ICE4 trains, that should enter revenue earning service next December. Some sets are already in 'test service' now between Hamburg and Munich.
Originally, in 2011, DB wanted to order both multi-system and AC voltage ICE4 trains, so they could be deployed in Germany, Switzerland, Austria and in DC voltage countries such as the Netherlands. But these plans have changed over time. The multi-system version was taken out of the program. Now, the ICE4 will be operated in Germany (homologation done) and Switzerland (in process). DB has stated that homologation for Austria is also still desired, but will be realized on a later moment.
Now DB has released a new tender for a framework agreement for newly built "Zugverbänden (Lokomotiven und Wagenzüge)": train compositions (locomotives and loco-hauled rakes for passenger services). They need to be single-deck and operable in Germany, Austria and "other European countries". Manufacturers can apply independently or as consortium.
Also, the manufacturer(s) must have produced a mainline train type that has been fully approved for Austria and the Netherlands Germany, Austria or the Netherlands during the past five years. It/They should have production capacity for at least twenty trains per year, starting in 2021. One composition should have at least 485 seats.
ted.europa.eu
In 2018, the Austrian railways (ÖBB) will receive the first multisystem Vectron locomotives, to be operated by railfreight carrier Rail Cargo Austria. Rail Business reports that the first electrics will enter service in Italy and the Czech Republic. In Italy, the Vectrons will replace 1216.0 series locomotives that will be re-deployed in Slovenia. 1216.1 series machines will than become available for services in Croatia.
Seen today in Selchow (DE), a MRCE ES64F4 series locomotives in silver and yellow, quite clean, without numbers and logos... This is MRCE ES 64 f4-205 (also known as PKP Cargo EU45-205) that has just had its PKP stickers removed. Norman Gottberg
Steven Oskam portrayed Alpha Trains > NS 186 122 yesterday. After being Bombardier test locomotive, the machine is now back with the Dutch Railways. The NS logos ae still missing. These were removed after the locomotive was hired to railfreight operator RTB Cargo for some days. 02.03.2017, Rotterdam, Centraal.
It took longer than expected, but here is the first Railpool TRAXX MS locomotive with the country package DE/AT/CH/IT/BE/NL, also a Transalp locomotive as are 186 101-110, but additionally equipped for Belgium. The machine is the designated 186 445, that was seen today by Christian Klotz during its maiden run while it was brought to Kassel Rangierbahnhof.
Seen today by Tobias Schmidt at Basel Badischer Bahnhof: all new MRCE Vectron locomotive X4E-641 and -642.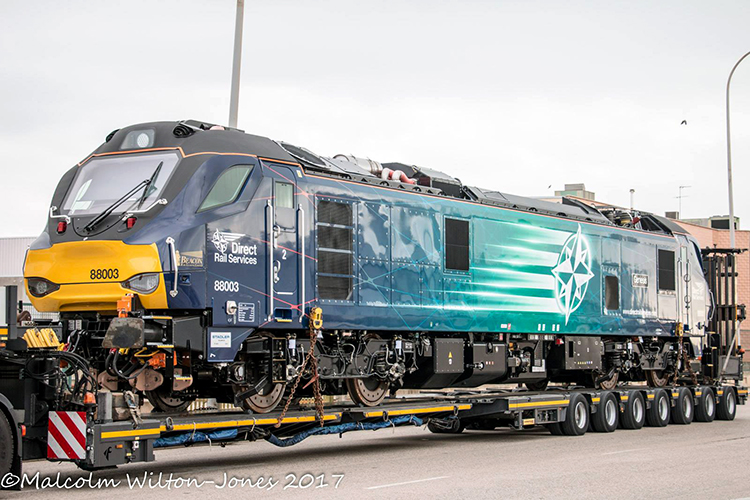 The future Beacon Rail / DRS 88003 heads for the Port of Sagunto on a low loader on February 15, 2017. Picture by Malcolm Wilton-Jones.
Recently, five Class 88 locomotives have embarked on a journey to the UK. Locomotives 88001, 88003, 88004, 88005 and 88008 gathered in the Port of Sagunto to await the start of their journey to UK where the will join loco 88002, which is already there for certification, static and dynamic testing. On February 23, loading of the locomotives onto the Eemslift Nelli took place, which is now on its way to the Port of Workington.
The future Beacon Rail / DRS 88005 is loaded onto the Eemslift Nelli on February 23, 2017. Picture by Malcolm Wilton-Jones.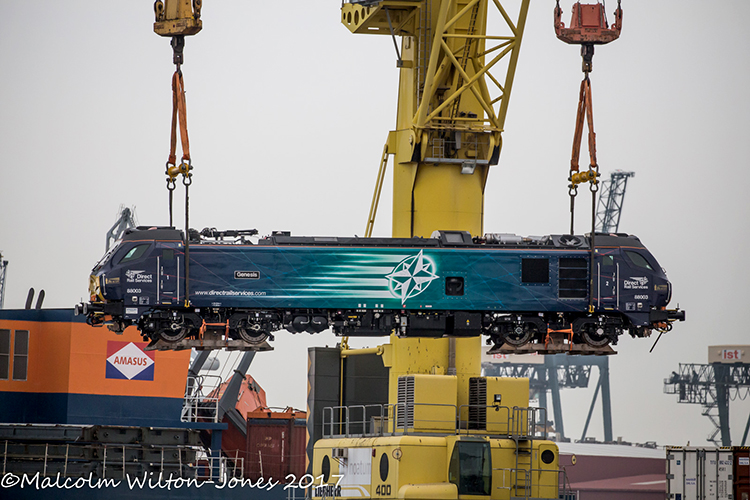 The future Beacon Rail / DRS 88003 is loaded onto the Eemslift Nelli on February 23, 2017. Picture by Malcolm Wilton-Jones.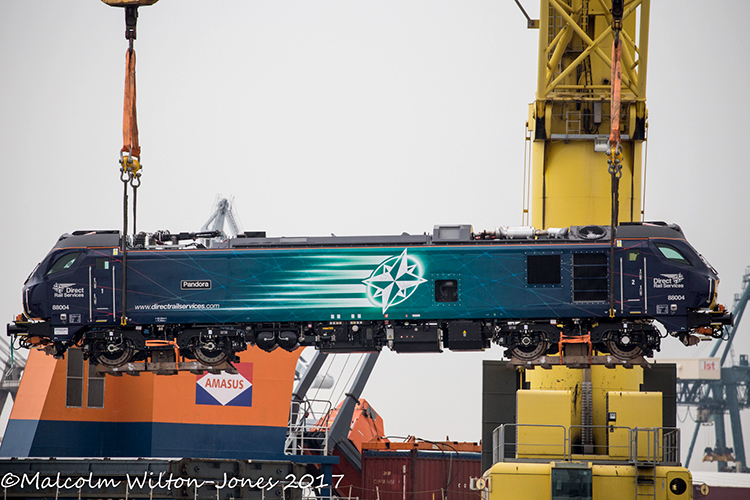 The future Beacon Rail / DRS 88004 is loaded onto the Eemslift Nelli on February 23, 2017. Picture by Malcolm Wilton-Jones.
Recently, Janusz Malinowski, president of Łódzka Kolej Aglomeracyjna, published a picture of a "mystery" Dragon locomotive on twitter as it was being assembled by Newag in Nowy Sącz. Why was it a mystery? Because of its Newag corporate paint scheme and the anonymity of its future owner. It turns out, the locomotive will be operated by a new carrier, transporting aggregates: Budokrusz.
Today, the machine was officially presented on the premises of Budokrusz. The specifications of the designated E6ACTd-106 are identical to the Dragon locomotives produced for Freightliner PL: DC + a shunting diesel module. The air intakes for the combustion engine are visible on the sides of the 106. The locomotive will be operated by train drivers of PKP Cargo. Budokrusz has also taken delivery of new freight wagons for the transportation of bulk materials.