News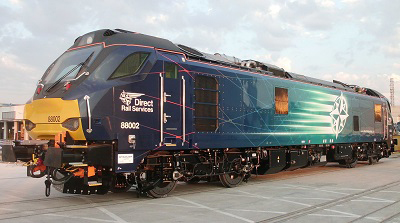 Direct Rail Services has released an image showing the livery of the brand new 88002. The colour scheme of the Class 88s will be largely the same as that applied to the operator's Class 68 locomotives, but additionally sports red and blue grid of lines (MLD: reminding us of overhead power lines).
DRS states on its website: "Testing of 88001 in Velim has concluded. Reporting on the testing Stadler Rail said: During UKDual test campaign in Velim, two main goals have been covered. First, we have focused to perform all test related to homologation purposes by using the capabilities of Velim test center (TSI track, catenary characteristics, braking distances.). As second goal, we have tested and adjusted locomotive performances as traction control in different conditions, diesel engine and electrical power management, by hauling a train of 1500 tonnes and an ER20 locomotive."
As our first dual locomotive, new functionalities of control software have been validated as dynamic mode changing between electrical operation to diesel operation (and viceversa) and fine tuning of automatic speed control.
Finally, Velim test site has been used as first scenario to show to DRS the behavior of the locomotive and let to our customer to feedback us with the first impressions about UKDual locomotive."
DRS also commented about the InnoTrans trade fair in Berlin in September where Stadler and DRS will present a Class 88 locomotive. We now know that the locomotive in question will be 88003.
Today we share the newest locomotives that were delivered to lease company ELL (and 193 272 that will be delivered soon). In the pictures you see:
193 266 AC D/A/HU/CZ/SK/RO
193 267 AC D/A/HU/RO
193 270 MS D/A/H/PL/CZ/SK/RO
193 272 MS D/A/H/PL/CZ/SK/RO
As of 29.08.2016, HKX will no longer offer passenger services to Frankfurt. Not enough people make use of the train, so HKX has decided to stop and focus again on its core line: Hamburg - Cologne. The open access operator added the services connecting Köln and Frankfurt a/M to its timetable in December 2015.
As of 01.09.2016, HKX will introduce a new timetable, optimizing its services and meeting the demands of its customers better. Read about it here.
This is the future CD Cargo 383 003. It completed its maiden run on 28.03.2016. Its revision date is MMAL 15.07.2016. Note the covers on the buffers, not yet removed! (TR)
Pesa is building more Gama locomotives. The first images appear of 111Eb-003 and 004 around the factory in Bydgoszcz. Like the Gama locomotive for Koleje Mazowickie, they are numbered in the 111Eb range, meaning they are 160 km/u fast 'multi purpose' locomotives. They do not feature the help diesel module, referred to by Pesa as Marathon module.
Pesa has to build ten new Gama electric locomotives. Two were ordered by PHU Lokomotiv for Ecco Rail. Eight more will be part of the Rail Capital Partners (RCP) leasing fleet, that is commonly owned by Pesa and the state-owned Polish Development Fund (PFR).
Yep, a new week, a new TRAXX for NS. E 186 028 arrived in the Netherlands. A part of its journey from Germany was made coupled onto an EuroCity train. (René Klink)
WLC is currently operating Railpool 187 304. The picture shows the machine with a diesel loco at Enns on 20.07.2016. (Johannes Klektau)
This is Dragon locomotive no.5 for Freightliner PL from Poland. It had a test run today and is soon to be handed over to the operator. It is the very last locomotive built by Newag at its Gliwice plant. The company has decided to concentrate all its rolling stock construction activities at its other factory location in Nowy Sącz. The Gliwice factory came into possession of Newag when it (fully) took over ZNLE in 2015.
The history of the factory in Gliwice goes back to 1904. A history full of steam locomotives and locomotive modernization. In total, 15 new electrics have been built since 2006 at Gliwice. Dragon locomotive E6ACT-001 to 009. E6ACtd-101 to 105 and the Griffin prototype: E4MSU-001.
In October, mgw Service will get a second Vectron locomotive. On 17.06.2016, mgw and Siemens signed the contract. It is the fourth electric locomotive in the fleet of mgw Service, that currently operates 183 500, 185 642 and 193 845. (mgw/Siemens)
Thanks to Sebastian Winter and Jens Mittwoch we could show you the first run after delivery of the new Captrain / ITL 193 894. The machine went to the ITL workshops in Pirna and got its Captrain design during the past week. As of 19.07.2016, the machine is used for revenue services. Thanks Patrick Holzbach and Mike Röntsch.
19.07.2016: Maiden run of NS E 186 028 (Marcus Alf). On 21.07.2016 NS E 186 029 had its turn (Christian Klotz).
In September it is InnoTrans time! But without 1:1 scale Bombardier trains. The company has decided to focus on virtual reality. Bombardier will show its trains in a new 'Virtual Reality Lab' at its inside booth. For us, a new challenge to report about what will be on show. (Rail Business / Der Eisenbahningenieur)
Some flash backs: locomotives that Bombardier showed during the past decade:
After spending its first months of existence as a normal gauge locomotive in central Europe, VR's 3301 is now ready to go to its final destination, Finland. Now with 1524 mm bogies, in stead of 1435 mm ones, it is going northbound on loco buggies. Thanks Norman.
CD Cargo 383 001 is on tour. After being in Slovakia on the 18th, it was seen at Öttevény in Hungary, the next day. Both countries are part of the country specific package of the machine, and the four that are to be delivered. Thanks Ludwig GS and Norbert Tilai.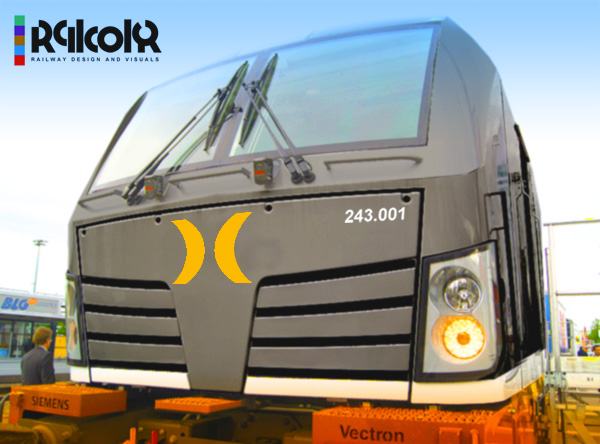 Hector Rail publishing: Hector Rail has signed an agreement with Siemens for the delivery of five new locomotives of the so-called Vectron type. The locomotives are electric, designed for the Scandinavian market and equipped with so-called "Extra mile" function. This means that the locos have a diesel engine installed and that they are equipped with radio control. This allows efficient shunting in and out of terminals possible without having access to a separate shunting loco. Under the agreement, there is an option to buy a further 15 locomotives until 2021.
The new locomotives are equipped with the new railway safety systems ETCS. Two locomotives are already built and will be delivered in 2016. These two locomotives are equipped with conventional safety systems and without extra mile functionality. The remaining locomotives will be delivered in 2017.
The agreement means the opportunity to develop the fleet up to 20 locomotives. It is also possible to order the locomotives in a more international version which means that they can operate in Sweden, Denmark and Germany.
Vectron locomotives re-generate electricity to the power grid when braking. They can also haul heavier trains than previous generations of locomotives. This means that more payload can be moved in a train. This means that Hector Rail will take an important step towards innovation, efficiency and environmental compatibility.
The locos have four axles, a weight of 90 tons, an installed power of 6400 kW and have a maximum speed of 200 km/h.
Railcolor: The first two locomotives to be delivered this year are 193 923 and 924 that were in service by CargoNet during the past years.
Alstom reports it has set a high-speed record in Kazakhstan reaching 200 km/h while conducting tests on its KZ4AT passenger locomotive on the Moiynty-Kiik line South East of Astana. These dynamic tests are part of the validation process in order to allow the locomotives to run up to their maximum design speed during commercial operation.
"We are very pleased and proud that those tests were successful and that we reached 200 km/h for the first time in the railway history of Kazakhstan. This record opens new promising prospects for Kazakhstan as an important hub linking Europe, Middle East, Asia and Russia through new Silk Way", said Bernard Peille, Managing Director South CIS Alstom.
The production of locomotives is localised at the EKZ plant in Astana, jointly owned by Alstom (50%), KTZ (25%) and Transmashholding (25%).
With 14,000 km of track, the Kazakh railway network is the world's third biggest network using the 1,520 mm track gauge and represents a substantial market for signalling equipment as well as maintenance activities.
The Blå Tåget and Gröna tåget trains services can continue, for now. Earlier, Transportstyrelsen decided to withdraw safety certificates A und B of passenger rail operator Skandinaviska Jernbanor (SkJb), due to severe shortcomings in its safety management.
On 15.07.2016, the administrative court of Falun decided that SkJb was allowed to continue. Indeed, the judge subscribed the problems with the qualification and training of the personnel, but concluded that this would not immediately result in big risks. Transportstyrelsen's next step is still unknown.
Manfred Knappe and Michael Raucheisen were able to shoot the brand new Railpool 193 824 during its one day duty to haul the Meridian replacement train in and around Munich. The locomotive was used as such on 15.07.2016.
We don't know more than this: Softronic's Trans Montana locomotive no.24 is blue. Very blue.
Sven Hohlfeld sent us this image of Macquarie Rail 185 578, now also in Captrain design. Additionally it features a superhero, promoting Captrain's services to Hamburg. Jan Ehrhorn saw the machine pulling its freight train on 18.07.2016.
Bahnonline.ch reports
: Last night, two freight trains (BLS Cargo and DB Cargo) collided at Chiasso freight yard. Both trains were running at low speed during the accident. No injuries were reported. Four carriages with containers derailed, one locomotive was damaged.
..to the Netherlands:
The most red it could get! Ascendos Rail (soon Beacon Rail) 145-CL 015 has been overhauled in Kassel (REV 13.07.2016). Today the locomotive left the factory together with the new NS E 186 026/027, that will be transported to the Netherlands over the weekend. - Christian Klotz
Hupac wants to order electric locomotives. The intermodel transport company want to improve the quality of its services at the north-south corridor. Its needs eight multisystem electrics to be delivered in 2018. A tendering process has been started. The locomotives will be operated by Hupac partners. (Rail Business 29/16)
A picture from this afternoon: PKP Cargo ES 64 F4-153 hauls EU46-507, 509 and 510. The three Vectron locomotives come back from Hungary, where they did approval runs in order to get homologated for revenue service in that country. We thank Vladislav Bokora for the image from Železná Studienka ('Eisenbrunnen Bratislava').
On 12.07.2016, ELL 193 267 had its maiden run. This locomotive is a AC version, to be homologated for Germany, Austria, Hungary and Romania. A locomotive with the same country specific package is Railpool 193 824, that made its first run on 13.07.2016. For the recored: there are the 214th and 215th Vectron locomotive that have been produced since 2010. - TR
The BUGA locomotive is no more. In March 2016, DB Regio locomotive 182 013 derailed and had to be taken to the workshop for extensive repairs. Today the machine has been seen in revenue service again, but in its normal red outfit again (and with new bogies). - DSO
Pressnitztalbahn locomotive 145 030-7 looks as new. On 07.07.2016, the machine was released from Kassel where it had its second main overhaul by Bombardier Services. The revision included a compelte repaint in the welknown blue Press livery. For the fans of data: Unt Bombardier Service Kassel 04.07.2016. Thanks Andreas Meier.
PPD's new modern electric, ELL 193 268, arrived at Zagreb on 08.07.2016. As PPD rented several tracks from HZ Infra at Zagreb-Borongaj freight yard, which has been out of use for years, the loco was parked there… It is remarkable to see such modern locomotive on Borongaj station in the the bush. (Bigger pictures here)
193 268 is now used for hauling direct freight trains from Slovenia to Hungary. In the meanwhile, PPD bought two class 2044 diesel locomotives from the Croatian railways (HZ PP). Both are being refreshed by TZV Gredelj. A PPD livery has already been applied. Toma Bacic.
This weekend, NS E 186 025 was transported by RailAdventure 139 558, from Kassel to Bad Bentheim. It was done with an impressive transport, as the locomotive was coupled onto a convoy with an ICx/ICE4 train and five EuroExpress coaches. A long long trains. Thanks Jake Langerak, Martin Lauth and René Klink.
Update: After being parked in Munster and Bad Bentheim, the locomotive arrived in the Netherlands on 11.07.2016:
As of 01.07.2016, BLS locomotive Re 465 008 has a new livery, promoting the Swiss 'Patenschaft für Berggemeinden'. The machine was presented as such that day at the main station of Zurich. It also got a new name: 'Allegra'. - Charles-André Flückiger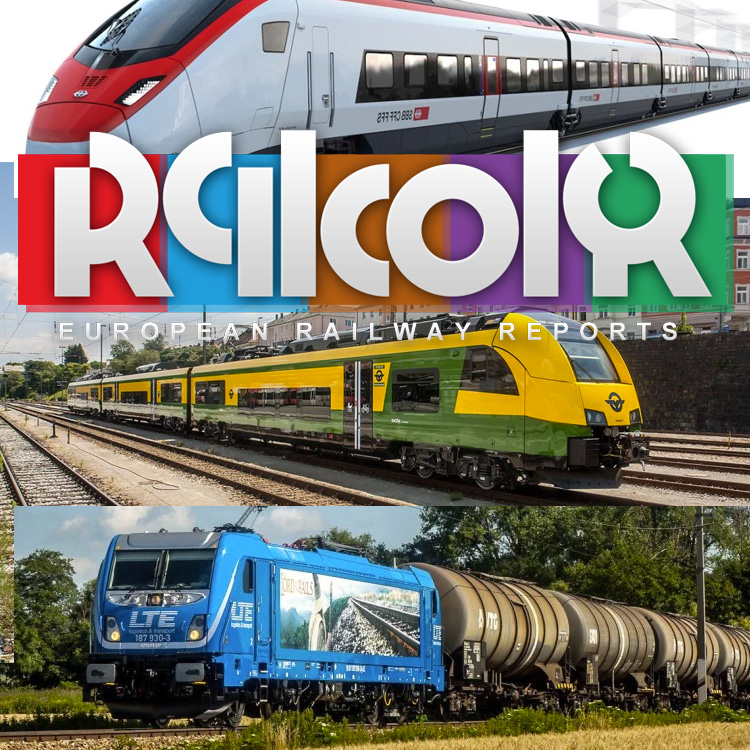 All good things start small. But we are going to take a dive, a deep dive into the colorful world of modern new trains. And this time we will cover all types of modern trains, that are being built en developed by the European railway industry. Take a look at our newest multi-media-mobile-optimized-online-magazine website:
On 08.07.2016 it was presented: the new livery of MÁV 480 004, celebrating the 170th birthday of the railways in Hungary. Norbert Tilai made some first images.
Interesting news from rynek-kolejowy.pl: The new management of PKP Intercity has decided that modernization of existing locomotives is not the only way to go. The long-haul passenger operator has a direct need for new electric locomotives too. Therefore plans are being made to purchase 40 new units, with a top speed of 160 kph.
A tender is being prepared right now. The first new locomotives should be delivered by the end of 2019.
Nahne Johannsen just sent us the first image of DB Fernverkehr's 245 027 (REV FKR X 29.06.16) in use by its new owner. With 245 021-027 now all being delivered, the batch of 7 is complete. Remarkable: Unit 245 026 is the only of its series with a check digit on its fronts.
Beacon Rail is a leasing company that is rapidly expanding. When talking about locomotives, Beacon's fleet predominantly comprises of mainline diesel locomotives. But there are also twelve electrics, inherited from a time the company was still called Allco Leasing (hence the pinkish livery, which was the corporate color of Allco).
Since their delivery in 2008-2009, these twelve machines were all hired to railfeight operator Crossrail, but this is changing. 185 590-597 are still Crossrail machines, but as of 05.07.2016, the designated 185 599-602 are in service of HSL Logistik from Germany. We share some first shots of these locos and their new operator.
This is Railpool 193 825, one of five new machines soon to be delivered. Number series: 193 824-828. They will be equipped for Germany, Austria, Hungary and Romania. - TR
Romain Constantin shows us this picture of BLS Cargo's Vectron no. 401 running tests with a Re 485 series locomotive. Together they were seen on the the Summital - Lötschberg route (Spiez - Brig).
The second one this week. On 05.07.2016, the E 186 025 completed its maiden run, this morning the E 186 026 was next. Thanks Christian.
Big, bigger, huge. Raildox 185 409-0 now has big Raildox logos on its sides. And extra markings that the company is searching for new drivers. - WS/AS
A sunny portrait of Newag Dragon locomotive no.4 for Freightliner PL. E6ACTd-104 alias 91 51 3170 004-8. Remarkable: keeper markings on the locomotive say PL-NEWAG, in stead of the extpected PL-FPL. Thanks Radek Kopras.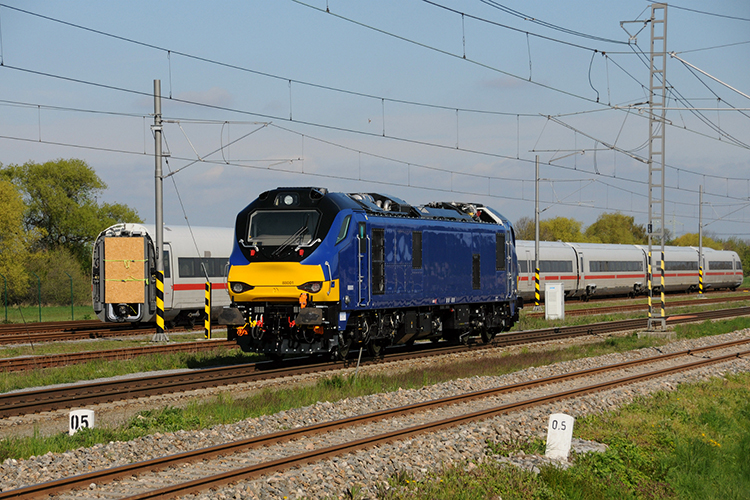 In just over two months, the Innotrans trade fair in Berlin will open its doors again. Stadler Rail will be present with a UK DUAL locomotive for Beacon Rail / DRS, better known as Class 88. Other Stadler rolling stock on display will be the EC250 EMU for SBB, a Flirt EMU for NS, a sleeping coach for Azerbaijan, a CityLink tram-train for Chemnitz and a Variobahn tram for Aarhus.
MRCE locomotive ES 64 F4-110 has a new livery and it is yellow, very yellow. It is the livery of Italian operator Interporto Servizi Cargo (ISC). Check the first images here. It is planned to give MRCE ES 64 F4-403 and -405 the same livery soon.
Until now, several locomotives sported the ISC logos, but never the complete livery. Well, one locomotive did, only on one side, and only for a promotional picture. The locomotive used for this photo shoot was Alpha Trains 483 004. We once made a picture of the picture in the booth of ISC.
Seen this morning in Kassel: the future NS E 186 025, thank you Christian.
Bombardier has finished repairs on the damaged DB Regio 245 008 and released it from its Kassel works on July 4th. Subsequently, the loco headed back to the DB depot in Mühldorf.
The future Beacon Rail / DRS 88001 has left VUZ Velim in the Czech Republic again and arrived in Kassel on July 4th behind Beacon Rail ER 20-003. It has been indicated that the loco would be forwarded to Aachen from there. Most likely, its destination is the Port of Antwerp.
Christian Blumenstein made this picture of recently delivered 187 930 of LTE. It is pulling train 48992 from Vienna to Passau on 04.07.2016.
Indeed, new red painted Vectron locomotives are in the making, in Munich. Siemens has started the production of loocomotives for UniCredit. This bank / leasing company ordered eight Vectron DC machines in November 2015. They will have the same livery as the red Vectron DCs (series 5170) currently operated in Poland. This because the operator is the same company, DB Cargo.
So, DB Cargo Italia will soon get its first Vectron DC locomotive. Its number? 91 83 2191 013-8 I-NC.
Not one, not two, but three new Vectron locomotives were released from work on 28.06.2016. The pictures show the virgin white 193 894, 895 and 896, all soon to be added to the fleet op Captrain Deutschland's subsidiary ITL. The batch will bring the number of machines of this type, multy system locomotives all fit for services in DE/AT/PL/CZ/SK/HU/RO, to a total of six.
The only things that are missing? Some lime green stickers of course, and the Captrain logos.
Later this year, railfreight operator Raildox will get its own TRAXX AC3. For now, it can practice with Akiem>Captrain's 187 014. Thank you Janosh Richter / KAR.
Locomotive no. 91, operated by the Salzburger Lokalbahnen (SLB) has new logos. The logo is gone, a new font for the company name is used now, and Tthe name of mother company 'Salzburg AG' was added. - LJ
This week, the newest TRAXX locomotive for DB Fernverkehr completed its maiden run. On 28.06.2016 the machine completed its first round. - Christian Klotz