News
The orange stripes of HSL Logistik get more common. We already saw Railpool 186 147 with these extra decorations, now Railpool 185 671 sports them too. (Tobias Kußmann)
Yesterday, Komárom in Hungary was stage to acceptance tests with Metrans 386 002 and 003. (Zoltán Katona)
With this locomotive, a batch of eight locomotives with DE/AT/BE/NL(/CZ/SK) package for Railpool is completed: 186 421-428. (Christian Klotz)
This morning, Hector Rail 241.005 arrived in Kassel Rangierbahnhof to pick a locomotive in complementary colours: Paribus 245 204 for NAH.SH. (Christian Klotz)
The route of these machines: Krefeld - Dortmund - Rostock - Trelleborg - Malmö. According to various sources, Bombardier's customer Hector Rail wants to know if the operator can successfully use a Traxx DE ME locomotive in mixed traction with its 241 series electrics. This, because a vital part of the Danish network is temporarily without catenary.
On 23.07.2015, SRT 487 001 took ELL 193 209 from Arth-Goldau to Lausanne. At that moment, Siemens had completed test runs with the 209 on the Südostbahn, with its 50 promille gradients. This week tests were done around Lausanne during the night.
With the Lausanne tests, Siemens has completed its Vectron test program in Switserland, for which it used 193 209, 901 and 902. The 209 will now go back to Munich for 'normalisation'. (Theo Stolz)
The new project of Gudrun Geiblinger: she is designing a new livery for a DB Regio 146 series locomotives.
Yesterday, Enon/EGP took delivery of their Vectron locomotive, the blue 193 848-9. Today it was seen with a freight train piloting a 185. (Jürgen Steinhoff)
However, one question remains, does it already have the shunting diesel module or not? [update] The diesel shunting module, ordered for this locomotive, is most likely not there yet. It will be installed somewhere in the next months. So at this moment, 193 848 is a normal AC electric locomotive.
ELL>LokoTrain 193 220 and 221 have visited Hungary lately for the required brake and run tests to get approved for commercial service in this country. (Norbert Tilai)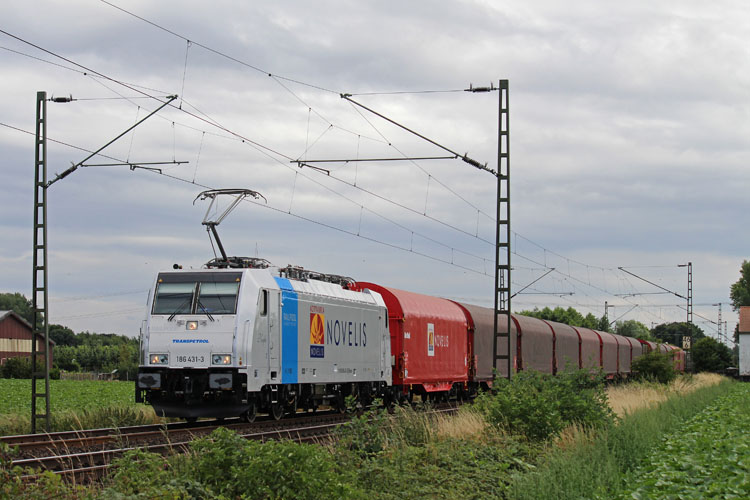 Railpool 186 431, running for VTG Logistics, got new logos. The image shows the machine with Retrack and Novelis logos, pulling freight train DGS 95014 from Nievenheim to Göttingen. The loco now also has a name: Nayla. (Niklas Eimers)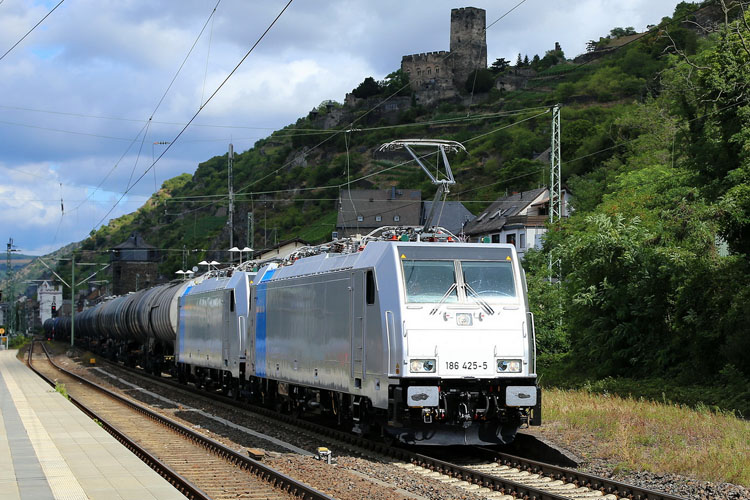 RTB Cargo is main customer of the new Railpool Traxx MS locomotives with DE/AT/BE/NL package. After 186 421-424, now also 425 and 426 are in the fleet of the German freight operator. Two images showing the new machines together pulling freight trains. (Wolfgang Mauser / Henk Zwoferink)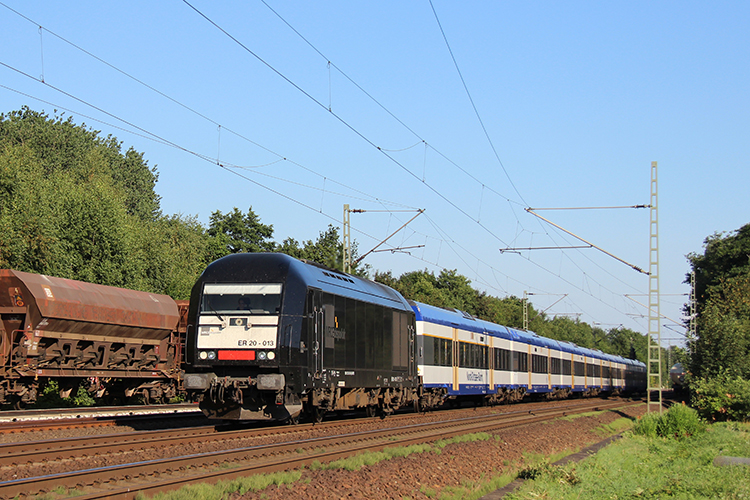 The headliner of yesterday. Lease company struck a deal with Beacon Rail. The latter company has decided to take over all class66 and ER20 locomotives from MRCE.
Read more
.
Meanwhile, testing the new AC3s in Germany is continuing. This test train in Minden shows DB 187 102 and 147 002 (our first image of this machine) behind a mkb locomotive on 02.07.2015. (Klaus Görs)
Yes Slovania has its Chiquita locomotive (SZ 541-101), but now the Swiss have one too. SBB 460 029-2 in a yellow banana livery.
Next October, Germany will be celebrating the 25th anniversary of its -Wiedervereinigung-, East and West Germany being one country again. The festivities will take place in Frankfurt am Main. A nice opportunity to design a new livery for Adtranz 33137 - DB 101 027-1. (Stefan Rother / Torsten Bätge)
Bombardier's Traxx AC3 Last Mile locomotive 187 009 has once again proven its power: During test runs in Austria, it pulled freight trains weighing up to 2199 tons just in Last Mile mode, drove on tracks with narrow curve radii and mastered gradients of up to 27 per mill.
The Traxx AC Last Mile locomotive was on the move with trains of LTE (Logistik- und Transport-GmbH) from Sunday, 5 July to Thursday, 9 July. Among others, it pulled wagons with cars (for continuing the journey to Bremerhaven port) from the headquarters of the company in Graz to the car delivery space in the district Messendorf; the train had a total length of 560 metres. It shunted a train to a storage siding of the Graz-Köflacher rail, which worked without catenary wire. Other routes led to Vienna via the south-east axis. Here, among others, the locomotive transported wood chips from Ebenfurt to Gratwein – at the front of a 2199 ton train that was 610 metres long. The transport route led via Vienna's local mountain Semmering with a pass height of 984 metres and extremely narrow curve radii. According to the load specification, double heading and a helper engine are required here.
However, the performance of the second locomotive at the front of the train was not required after all and also the helper engine only had to apply half its power to maintain the speed. The train loaded with canola oil also weighed 2199 tons and left the station Hegyeshalom near the Hungarian border in Last Mile mode. With this heavy load, the locomotive accelerated to 14 km/h, before transmission from diesel to electrical operation took place within only a few seconds while driving. (Bombardier)
Slovenian locomotive 541-107 is currently in Croatia for tests. A picture from Križevci.
Currently, SZ is having its 541 series locomotives homologated for Croatia. They send every locomotive to Croatia for the required tests. The 541-102, -103 and -104 were on test runs last month. Last week, SZ 541-107 and -109 made their rounds. (Mario Beljo)
Siemens informs: From now on, our Vectron-loco will be travelling in Italy! The Italian authority has granted the type authorization for the Vectron 3 kV DC. The Vectron can therefore run on all sections of the Italian network.
DB Schenker 145 041 transporting train set no.74 006 for MTR Express (SE). (Michael Uhren)
Today, PCW 8 / ES 64 P-001 / 127 001 is taking 01 1104 from Crailsheim depot to Krefeld workshop. The train consist will contain the famous steam locomotive and historic attendant coach "Hecht", both in the hands of "Faszination Dampf e.V.", accompanied by the Rheingold. 01 1104 is going to be brought back into service by Faszination Dampf and now will have to receive further heavy maintenance at EWK. The train will be operated by NostalgieZugReisen.de. The scheduled way is Crailsheim – Ansbach (change of direction) – Würzburg – Gemünden – Aschaffenburg – Mainz – "rechtsrheinisch" – Köln – Krefeld. The train started at 6.32. (Faszination Dampf / Sven Jonas / Martin Morkowsky)
In April 2014 the locomotive looked like this. Now it is shown in the livery of the Russian railways RZD. This is the 8.8MW electric double locomotive Bombardier is developing and building together with its local Russian partner Engelsskij lokomotivnij zavod (ELZ).
Designations currently used for this machine is Traxx RU F120 MS and 2EV120. Its top speed will be 120 kph, its tractive effort 760 kN max. It is a multi system locomotive, hence capable of running under both 25kV AC and 3kV DC.
For sure, we will learn more about this project during the upcoming 1520 Expo fair in Moscow in September.
Interesting. Pesa will deliverd two double deck trains (Pesa Gama + coaches) to Koleje Mazowieckie. This is the first picture we see of such a new coach.
The railways of Slovakia (ZSSK) has decided to cancel their tender for 6 (+10 option) multi system locomotives. ZSSK wanted to invest 72 million euro (netto) in new machines in the next five years, but none of the offers received was within budget, with the lowest bid costing 78.4 million euro.
ZSSK wanted four axle 200 kph locomotives for 25kV 50 Hz, 15kV 16,7Hz AC and 3 kVDC. The power rating had to be 6MW or more.
(nov-ost.info / ekonomika.sme.sk / Martin Greiner)
Yesterday we already brought the news that Pesa had sold the Gama Marathon demonstrator locomotive to PHU Lokomotiv. The agreement was signed on 08.07.2015 as the pictures show. 111Ed-001 now has Ecco Rail logos. This freight operator will operate the locomotive.
Together with signing the contract, Pesa, PHU Lokomotiv and Ecco Rail announced the purchase of two extra Gama locomotives.
The ES 64 U2 enters Slovakia. Remarkable as getting this locomotive approved for the Slovakian railway network seemed to be a never ending story. But, in service of LTE, MRCE ES 64 U2-074 crossed the border, with three more locomotives in its slip stream: 744 001, 740 541 and EuroRunner 2016 904. The train ran from Burghausen (DE) to Žiar nad Hronom (SK). (Peter Melicher / Martin Lobotka)
Update: The permit to run in Slovakia is a temporary one, valid until [edit] 15.06.2016. It concerns locomotives ES 64 U2-061, 073 and 074. (railvolution.net)
For one month, TX Logistik is operating two Vectron locomotives: MRCE X4 E-603 and -604. This results in nice images and impressive locomotive power:
Eine interessante Dreifachtraktion stand am 5. Juli 2015 im Bahnhof Brenner. TXL 193 603, 193 604, ES64F4-097 und Wagenlok ES64F4-035 bespannten einen UKV-Zug Richtung Norden.

Posted by trainspotter.ch - online on Wednesday, July 8, 2015
Time flies. While Bombardier is still outshops identical machines for Railpool, older locomotives in the fleet of the lease company are facing the R1 overhaul round already. The image shows Railpool 186 182, in service since 2009, after R1 revision (REV 26.06.2015) at the former Talbot factory in Aachen. Fit for at least another six year. (Wolfgang Scheer / Achim Scheil)
Giruno. That is the name of the Stadler Rail EC250 trains for SBB. Delivery start 2019. Now a 1:1 scale mock-up has been built. Cabin, restaurant, interior. Remarkable? The train will have a separate toilet for ladies and gentleman.
An impressive image made yesterday by Vladimir Fisar. There are six white Vectron locomotives in Velim, and together they make test rounds. The locomotive numbers? 193 822 and 823 (MS), 193 930 (AC with diesel) and 5170 020, 021 and 034 (DC). Remarkable: one of the DC locomotives sports small Freightliner logos.
Today, the brand new
Siemens 21970 - 193 848
completed its maiden run to Donauwörth.
The machine is still white
, so its future owner (Enon) has not decided yet what livery it wants to apply on the machine. According to the official information, this locomotive will be used by Eisenbahngesellschaft Potsdam (EGP), starting in August. The locomotive should be the first Vectron AC locomotive in service with diesel shunting module. Its REV? 03.07.2015.
The 76 001, repainted in blue, has got company of another Traxx DE in a blue livery. Unconfirmed information tells us the Pressnitztalbahn has acquired the machines. This matches the blue color.
Various news today about Railpool's newest Traxx MS locomotives, all with DE/AT/PL/NL/CZ/SK/HU package (still theory, for many countries the final approval has not been granted yet). Transchem from Poland keeps operating the 186 429 and 430 for now. The freight company returned 186 143 and 275 to Railpool.
Railpool 186 432 was seen in Decin on 06.07.2015. Possibly Unipetrol Doprava is its new lessor. (K-report)
The images in this post show 186 434 today during its maiden run. 186 433 had this run on 01.07.2015. (Dieter Romhild / Christian Klotz)
Currently, Stadler Rail is completing the first new Ee 922 series shunting locomotives for the Swiss railways (SBB). In its factory in Erlen (CH), Ee 922 022-9 and Ee 922 023-7 are being finished. They are the first machines of a batch of four to be delivered this year. SBB already operates 21 identical machines, delivered in 2009-2010.
(Hans Isernhagen)
Brand new locomotives get used for special weekend trains too. These images show the new 186 431 a train to/from Düsseldorf. (Albert Hitfirld / Martin Morkowsky / Sven Jonas)
Of course you want this: a unique Vectron T-Shirt! Order now. This offer is available until 05.07.2015 23.59 CET.
Available in S, M, L, XL and XXL / Only in Europe / Shipping costs from Poland € 11.99
Softronic's Trans Montana locomotive, currently testing in Sweden with Rush Rail freight trains, got a name: Rödluvan (DE: Rotkäppchen, EN: Little Red Riding Hood). The name is self explanatory, we think. (
DSO
)
Thanks to Ákos Károly we have a first shot of ELL > MMV 193 228 in revenue service. Picture made in Pilis.
For the next years, this will be a common sight. Two Traxx MS locomotives top and tailing a rake of ICRm coaches. Amsterdam - Rotterdam (AmRo) will be done with such compositions. Currently tests on this route are being performed. Same for future Eindhoven - Den Haag trains. This is why NS recently ordered 18 extra locomotives.
It is hot. But that did not stop SŽ 541-101 from coming to Germany with this special tourist train for AKE Eisenbahntouristik. (Martin Morkowsky / Stephan Kemnitz)