News
Seen today in Fulda, the fourth Vectron locomotive CD Cargo that left the Siemens factory in Munich. Most likely, the 383 005 is on its way to the VUZ Velim test center soon. Like 383 002 and 003, it is transferred without logos and texts. Thanks Martin.
Watch the extra large Vectron locomotive while pulling test trains, shunting and running in diesel mode (from 7:30).
On 27.08.2016, NS TRAXX E 186 034 arrived at Bad Bentheim. It is the next machine to be handed over to the Dutch railways. Akiem > HSL Logistik was awaiting its next freight train at Bad Bentheim, which resulted in this colorful meeting. The 034 is delivered before 186 033 that had its maiden run on 26.08.2016 (see picture below). Our thanks goes out to Christian Klotz and Henk Zwoferink.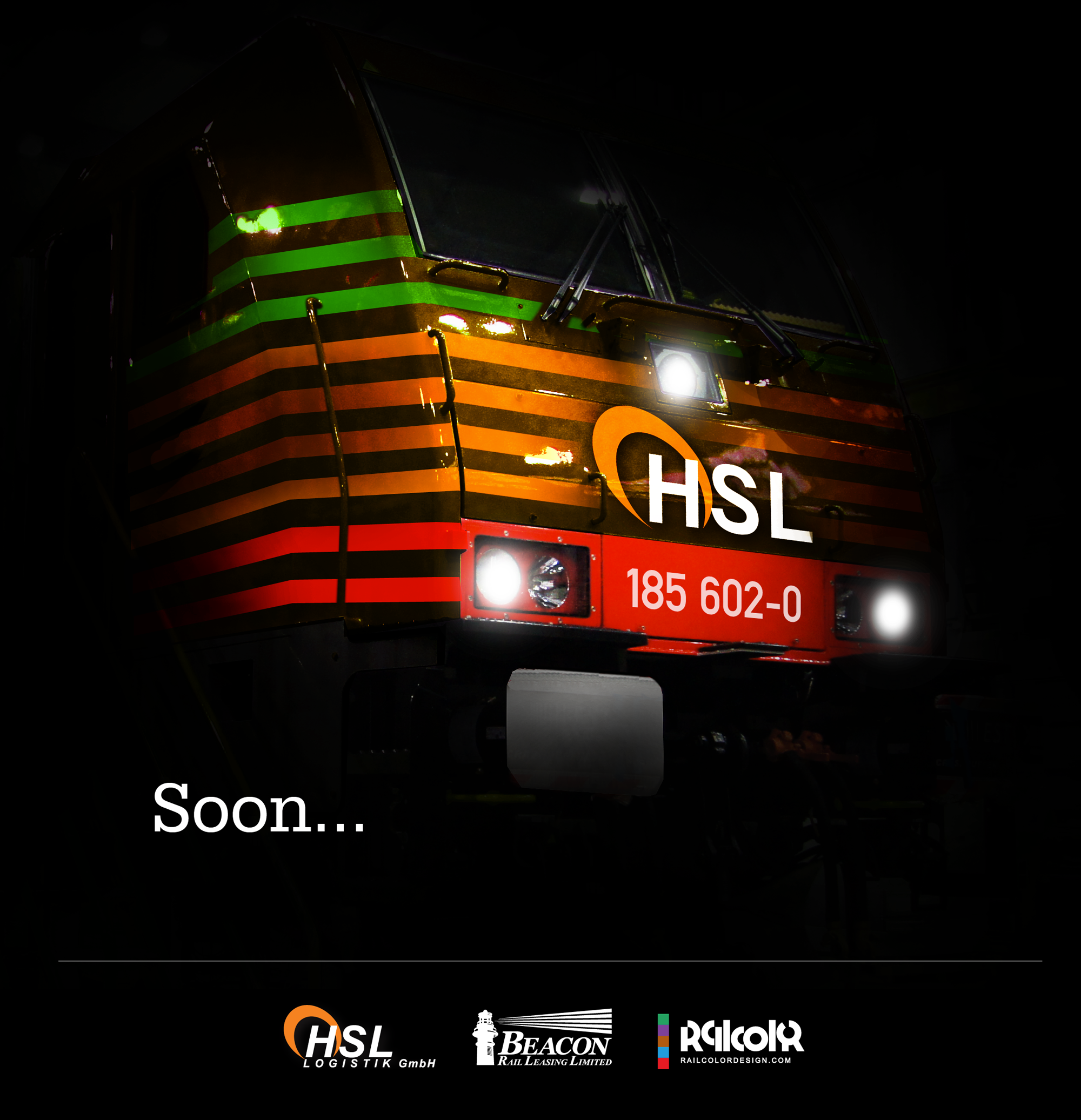 This week, we will reveal our new 'Railcolor Art Locomotive'. Beacon Rail > HSL Logistik 185 602 gets a new livery, designed by us! And we promise, it will be very colorful. Keep an eye on this website, we will bring you the latest news about the creation of the locomotive's new railcolors.
It is the news of the day: Alstom is selected as the manufacturer that will build the new generation of fast trains for US passenger operator Amtrak. Read the full story and watch the excellent video here:
MRCE ES 64 U2-070 has lost its yellow and green GySEV Cargo livery. Instead it now has the MRCE hartbeat design, also applied on several ELL Vectron locomotive (-We love to connect-). Clearly, the 070 will now run for TX Logistik.
Seen today in Eisenach, and portrayed by Sebastian Winter and Marcus Schrödter: the new Captrain / ITL 193 895 and 896. This means the series of six Vectron locomotives in the fleet of Captrain is complete (193 891-896).
Last night, Siemens Vectron 193 902 and NS TRAXX E 186 016 made test runs together. The image shows both locomotives next to each other at Amersfoort, yesterday. (RH)
Sven P. sent us our first images of the newest 'Werbelok' for DB Fernverkehr. DB 101 004 is now promoting Bahn-BKK, an insurance company.
The production continues. This morning, DB Cargo's future 187 114 had its maiden run. A picture from Kassel-Oberzwehren. Thank you Marcus.
On 23.08.2016, Martin Voigt was able to capture the new NS E 186 034 during its maiden run. The locomotive was seen in Fulda.
New software has been installed on Railpool 186 425, so it can be used to perform trials for the Belgium division of RTB Cargo Benelux. In the next few days the 186 425 will haul various trains between the Belgian harbors and Montzen. Thanks Jeroen de Vries.
During our last visit to Copenhagen, we were negatively surprised by all the black smoke the old ME series diesel locomotives are allowed to produce in the city's underground S-Bahnstations. Time for a more healthy and environmentally friendly solution. And it will come:
Today
the Danish state railways (DSB) published
that its board of directors have approved the plan for the purchase of 26 new electric locomotives. These will replace the locomotives currently used pulling DSB's double deck trains (type Bombardier Twindexx, now mostly pulled by the ME diesels) and they will pull regional trains in the Sjælland area.
The new machine should be of a standard design, which has already proven itself in everyday service. This autumn DSB wants to commence the selection procedure. The first new electrics then should arrive in 2020. The order is a first step in reducing DSB's dependency on the unreliable IC2/IC4 electric diesel trains and increasing the number of electric trains in the country. New electric articulated trains will be purchased too.
Madil Mayouche was the first today to document the newest locomotive for the Dutch railways. NS E 186 032 arrived in the Netherlands this morning, together with Macquarie Rail 186 144, fresh from its R1 overhaul at the workshops of Dessau. Roem Hemkes caught the machines together at Amersfoort today.
The recently restyled MRCE > TX Logistik ES 64 U2-072 was in charter service this weekend. The picture shows the locomotive with a party train from Norddeich Mole arriving at 00:30am at Köln Hauptbahnhof. Thank Martin Morkowsky.
A small update on Vectron locomotive no.2 and 3 for CD Cargo. 383 003 got its CD Cargo logos and markings at the VUZ Velim test center and is soon to be handed over to the operator. 383 002 left the Munich factory on 17.08.2016 and was then seen being parked at Fulda (DE). On 20.08.2016 the machine was transported to the VUZ Velim test center.
Siemens testbed Vectron no. 193 971 (in Finland named 'USr3') on a test run, coming back to Ilmala depot from Turku. - Tuukka Varjoranta
Locomotive no.2902 was in urgent need of some tape after an unfriendly encounter with a agricultural machine at Antwerp-Waaslandhaven. Thanks Mattias.
Now LTE also has a shiny blue Trans Montana locomotive in its fleet. Today it was portrayed by Cosmin TMV at Filiasi.
'The best way to predict the future is to invent it', this slogan is featured on the newest Trans Montana locomotive. Both sides of the six-axle machine also show a portrait of Mr. Henri Marie Coandă, an inventor from Romania.
LTE placed its order for the Trans Montana locomotive earlier this year. It will be used for freight services in Romania and Hungary. When the locomotive type will be homologated for Austria, the locomotive may be used in this country too.
This is ELL 193 271. It is the second locomotive in the fleet of the lease company that has the country specific packages for DE/AT/HU/CZ/SK/PL/RO/HR/SI. First one is the 193 268. Thank you Michael.
Oranje stripes on Railpool 185 687. HSL Logistik is slowly marking all its machines. Thanks Jens Mittwoch.
The InnoTrans in Berlin is big. So a map is not a luxury. This year the InnoTrans has published an interactive floor plan, on which you can already see which companies will present themselves where. More interesting to our visitors however is, we think, the interactive map of the outdoor exhibition area. Which vehicles will be presented and where will they be? You can now find every train at InnoTrans 2016 here. (of course there will be last minute changes / surprises... don't blame us!)
Our first conclusions: A lot of yellow: many construction vehicles, many rail inspection trains. No Bombardier indeed. More freight cars than before? And Skoda needs a lot of space for its 102 series locomotive... will there be a complete NIM express train? Alstom and its fuel-cell train, OBB 1063 series hybrid, Gmeinder DE60C hybrid, UKDual hybrid, Alstom Metrans H3 hybrid, Finland Vectron Hybrid....
With a big thanks to Tonda Šavel for the beautiful images:
On 08.08.2016, Siemens Vectron locomotive 193 902 arrived in the Netherlands again. It arrived from Germany via Venlo, from where it was pulled to Kijfhoek shunt yard. On 11.08.2016 the locomotive was portrayed at Zwijndrecht station:
We are here, we are there, we are everywhere. Just to bring you the latest news on colorful railways. This afternoon, MRCE > TX Logistik ES 64 F4-097 has been released with a new promotional livery. It got stickers showing off how many horsepower the locomotive can bring to the rails, more than 8.500! So, from now on, these horse are clearly visible. Thanks Henk Zwoferink.
We also made a picture special of the two new Loc&More locomotive livery designs. Check it out on our Railcolornews.com website or click the image below:
A locomotive has caught fire in Kustein today! This is MRCE ES 64 U2-072 in its new, hot livery. The machine is operated by TX Logistik, which is clearly passionate about railfreight transport. During the weekend a second locomotive will be presented in this design: ES 64 F4-097. Image credits go to Henk Zwoferink.
Timeless beauty. It is hard to believe these locomotives were developed more than 25 years ago... The SBB Yverdon works have just released locomotive 460 118 (yep the machine with the highest number of its series, over 20 years old now!). This machine should be the 3rd prototype locomotive for the complete modernization program of the Re 460s. Update: the machine has no new convertors yet. (PB/LF)
Some locomotives never change. 145-CL 005 was visiting the Bombardier works in Kassel, giving us a good opportunity to have a good look at its current livery. Still you can see the machine once had big Rail4Chem logos. Those were removed in 2010. The green base color however is still the original paint scheme the locomotive had when delivered at 25.04.2001. (CK)
René Klink and Dalibor Palko made a picture of CD's 380 013 having a new livery. It commemorates the 80th birthday of the 'Slovenská strela' (Slovak arrow). The red train made its first run in 1936. It was operated by ČSD in Czechoslovakia on the line between Bratislava and Prague.
This is our first image of Trans Montana no.24. It is blue, quite blue. Multiple sources say it is built for LTE (hence the color) but we still need to get this information confirmed. (Cosmin TMV)
This picture shows the future CD Cargo 383 001 with two vehicles of RailAdventure. Note that the locomotive has not logos/inscriptions yet. As such, the train ran to Decin. The machine continued its journey to the VUZ Velim test center in the Czech Republic, where it is now for tests.
Krassen Panev sent us an update from Bulgaria. The Vectron locomotive sold to PIMK Rail this year, has been approved for revenue service in Bulgaria. On 08.08.2016 the locomotive was used for the first time hauling a commercial freight train. The images show 192 962 with train 80591 Septemvri - Ruse Sever, a consist of 18 new pocket waggons type Sdggmrss build by the VRZ99 fectory in Septemvri (BG).
And a video
Since today in the Netherlands: NS E 186 031. Thanks to Roel Hemkes.
The fourth TRAXX DC locomotive for Akiem on its way to Poland. There it will be tested at the Zmigrod test center for approval by the Polish UTK. Thanks Normann.
HSL Logistik has a new 'choco' TRAXX. This time 185 600-4 from Beacon Rail got a brown livery with the orange HSL striping. In 2014-2016, Maquarie Rail 285 103 was the first TRAXX locomotive in this livery.
MRCE ES 64 F4-016, in service of ISC from Italy is the second e-loco to receive the yellow ISC livery. First one was ES 64 F4-110. Thank you Alessandro Destasi.
Today, the next two new TRAXX MS locomotives for the Dutch railways arrived in The Netherlands. E 186 029 and 030 went to Amsterdam today and will be completing their 1.000 km approval run during the next days. Thank you Roel Hemkes and Niels Arnold.
On 04.09.2016, DB Fernverkehr will start using its double deck IC2 train (TRAXX + Twindexx Vario) on IC line Köln – Hannover – Dresden, starting with a single train in service IC 2445/2444. Until December 2016 all trains on this service will be replaced by IC2 rolling stock. (Rail Business)