News
As we already reported, Siemens Vectron 193 822 has arrived in Bulgaria for homologation tests. A series of images made in Tulovo station. The locomotive is now on its way to Pirdop, where tests are expected to begin, in cooperation with DB Schenker Rail.
(DM/KP/KP)
A Railcolor photoshop impression:
BLS orders Vectron. A quick photoshop sketch. Meet BLS 493 501 ;) http://www.railcolor.net/index.php?nav=1405330&id=7455&action=dview

Posted by Railcolor.net on Friday, March 27, 2015
After several generations of Bombardier Traxx locomotives, Swiss freight operator BLS Cargo has now decided to order fifteen Vectron MS electrics from Siemens. They will be used for long haul freight services connecting the Netherlands and Italy through the Alps. The country specific packages of the machines will include all equipment required for running in the Netherlands, Germany, Austria, Switzerland and Italy.
The new locomotives are needed because BLS Cargo is facing the withdrawal of older series, and because it wants to strengthen its position on the long haul European corridor mentioned. At this moment, BLS Cargo already operates container shuttles connecting Rotterdam (NL) with Melzo (IT) using Bombardier Traxx MS locomotives in cooperation with ERS Railways / Freightliner.
In the past months, BLS Cargo has evaluated several modern electrics on their network. They have decided to go with Siemens. The new machines will be delivered in three separate batches. The first locomotives will be delivered in the second half of 2016. The delivery will be completed in 2018.
This means Siemens still has some homologation work to do. The Vectron MS version is not yet homologated in Switzerland, nor in the Netherlands and Italy. Especially in the Netherlands serious testing effort is still required. This country has not been part of the dynamic testing program for the Vectron until now.
Read the complete press statement at blscargo.ch.
A recent picture of two Vectron MS locomotives in Switzerland. Siemens 193 901 and 902 in Basel:
Seen today in Munich, the brand new 193 882 and 883 for boxXpress.de. They were ready to go with their first freight train, bound for Hamburg. boxXpress.de now owns eight Vectron locomotives in two sub series:
193 840-843 for services in Germany and Austria
193 880-883 for services in Germany, Austria and Hungary, however 882/883 still need to visit Hungary for final approval)
Maiden run of Railpool E 186 421-4 today. This is the first machine that is part of the latest order placed by Railpool. The lease company will get new Traxx MS and AC3 locomotives.
The 421 is configured for services in Germany, Austria, Belgium and the Netherlands. - CK
This is Vectron no.7 for freight operator boxXpress.de. On 24.03.2015 this machine made a test run around Munich.
(MV)
Per 25.03.2015, both the Vectron AC and MS versions have the full approval for the complete network of the Czech Republic (3 kV DC and 25 kV AC). Of course, the Vectron AC can only run on the 25kV AC part.
(MG /
railtrains.sk
)
A video showing you a new trainset built by Koncar from Croatia. It is the first of a larger batch that at least incorporates 44 new trainsets for the railways of Croatia (HŽ). 16 sets are planned for regional services, 16 more for services around the capital city of Zagreb. 12 more units will be diesel trains. They will be delivered in 2015-2017. There are options for more trains.
In the video we see set no. 6112 002, for regional services. It has a white and red livery, which is different from the prototype trains we already know of this type. Because Koncar already supplied three similar trains: HŽ 6112 001, HŽ 6112 101 for Intercity services and no. 4412 001 for the railways of Bosnia.
For nice images, check zeljeznice.net
The Vectron that recenlty was used for homologation test in Slovenia and Croatia, is now seen in Romania. Today it at Predeal station (RO) in a freight train of private operator GFR. First reports say that the locomotive is on its way to Bulgaria. - AD
Last week, we presented the SRI 145 087 in its new livery. It gets a little more attention as we are proud to have been part of the design process of the livery. So, if you or your company is in need of any new railcolor, we can help you.
You can track and trace the locomotive in the Metrans Lokfinder, as SRI has hired it to this freight operator. We also started a pinterest board dedicated to this locomotive and its best images. Check it out:
Follow 's board My work: Locomotive livery design (crearail.com) on Pinterest.
A nice thing of being a database, is that the system gets richer every day. It is getting more complete with every piece of information that is contributed to it. The info maybe brand new, but can be about modern history too. Check out these images of test bed prototype locomotive 128 001-5, that is nowadays parked at Weimar (DE), under the caring supervision of the Thüringer Eisenbahnverein.
These shots show the machine still in active duty for Bombardier, being test locomotive in Switzerland. They show the machine together with, at that time, brand new DB Schenker 185 226 and 227. Thank you PA.
Meanwhile, Bombardier is well on its way with the production of Traxx AC2 locomotives for DB Regio, its final batch. We expect the first units (no. 146 251-282) will enter service soon.
Maiden runs: 146 254 on 11.03.2015; 146 255 on 12.03.2015; 146 256 on 18.03.2015.
[CL / MR]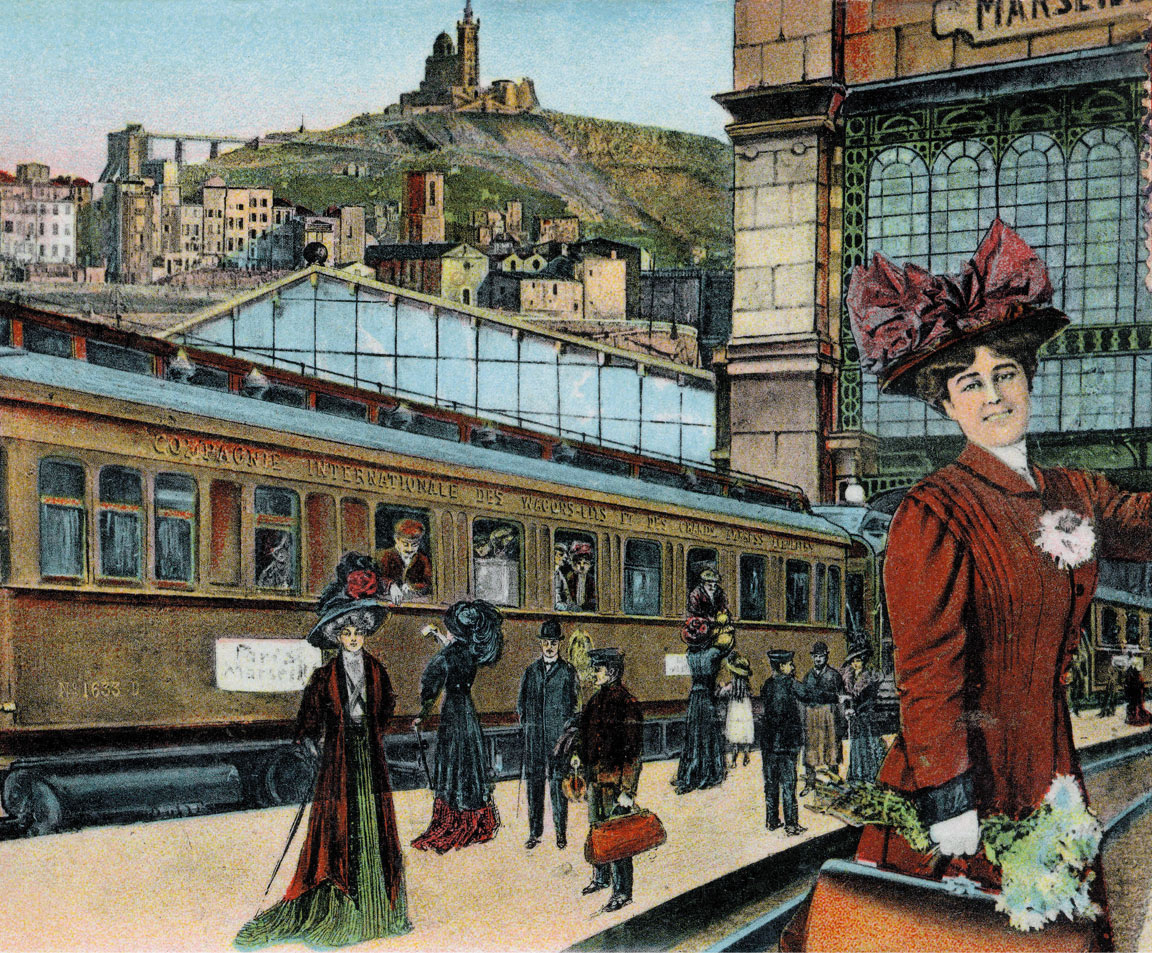 And now something else, a personal favorite of ours:
Retours.eu
. On a monthly basis, Mr. Arjen de Boer takes you to a long forgotten or a less wellknown facet of railway history. Check his latest edition:
Despite the economic crisis, the German railways flourished between the two world wars. This was also the case for sleeping and dining car company Mitropa. Founded during the First World War as the German counterpart of Wagons-Lits, it entered a period of prosperity after the war, despite the restrictions it was subjected to.
The carriage interior style owed much to the Neue Sachlichkeit and Bauhaus, but with a luxurious rather than Spartan finish. The Mitropa logo and poster designs showed that the Art Deco style had become popular in Germany too.
In the 1930s Mitropa was used for Nazi propaganda and control. After the war the company was split, just like Germany itself. Full article with lots of images at retours.eu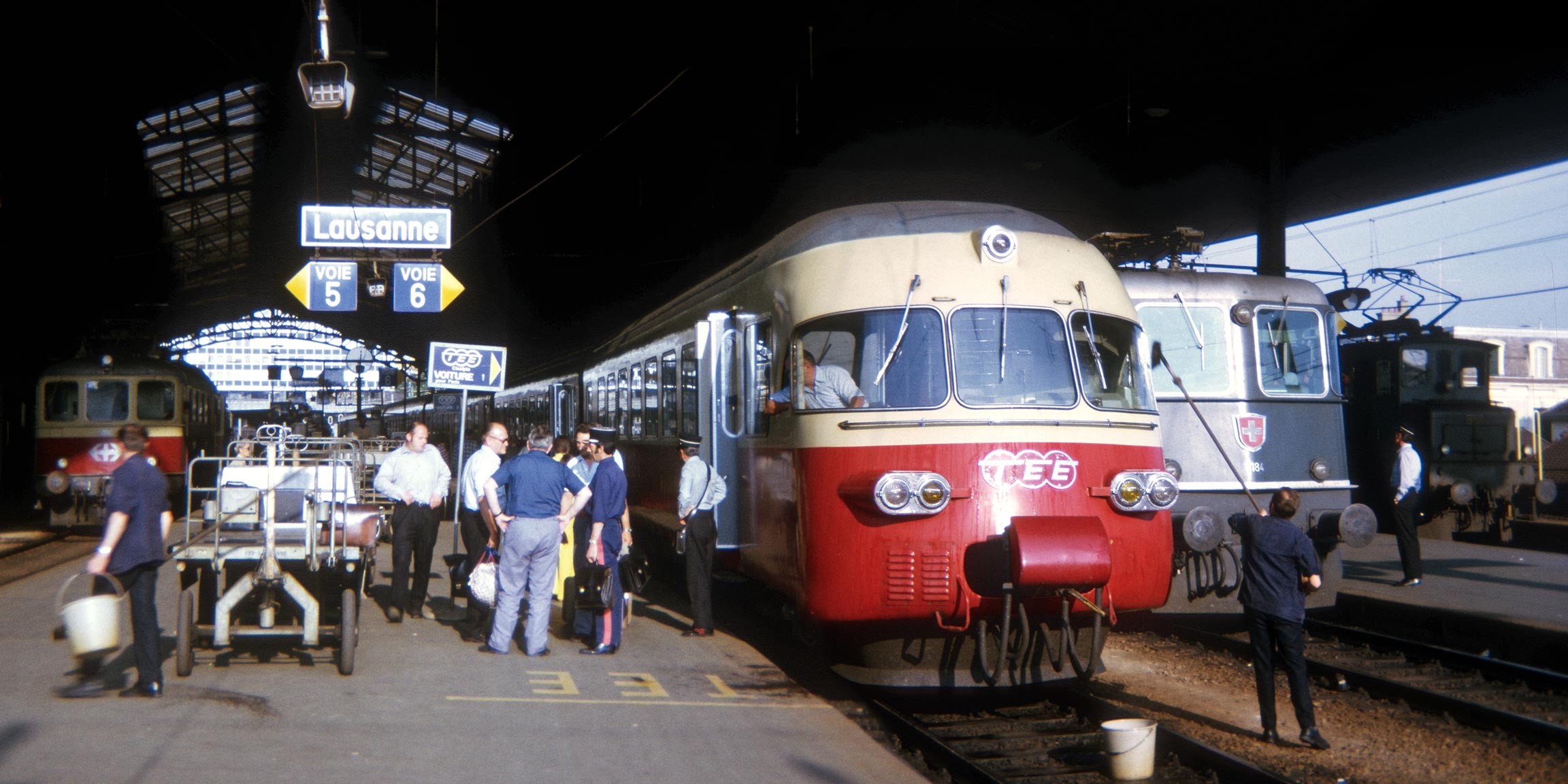 In the past months, Siemens has prepared to first Vectron locomotive for test runs in Finland. As from 2017 Siemens will deliver 80 hybrid locomotives (+97 option) to the Finnish state railways (VR).
Of course, this requires extensive testing. Siemens wants to take out every risk. Finland has completely different climatic conditions which the new machines need to endure effortlessly. Temperatures as low as –40 °C should be no problem for both diesel and electric engines of the machines.
Today, a new Siemens stock locomotive left Munich, bound for the harbor of Rostock, numbered 193 971. At first sight it is 'normal' electric Vectron AC locomotive, but as you can see it is placed on bright yellow colored 'loco buggies'. Finland has a different track gauge, 1524 mm instead of our 'standard' 1435 mm. So this Vectron has a wider track gauge and needs the loco buggies for transport in Germany.
The white 193 971 is decorated with stickers commemorating the 160 year long history of Siemens' presence in Finland. The company's relation with the country dates back to 1855, when Siemens built its first telegraph line in Finland. Additionally, the locomotive sports the slogan 'Vectron kotonaan suomessa', in English: the Vectron at home in Finland.
To prevent that people will misinterpret this item: Siemens has pointed out today that this locomotive is not part of the final batch for the Finnish railways. They call the 971 an 'advanced locomotive for testing purposes'.
(
Frankenwald HDtv
/ MM / NG / Siemens / WK)
SRI Railinvest 145 087 has been repaired and repainted. The deep blue locomotive was presented today at Kassel. It now has the name Barbara. At the end of the afternoon the machine had to begin its first service right away. Again it is in service of Metrans Rail.
No time to waste, after its presentation, SRI 145 087 left Kassel right away for its first service for Metrans.
(CK)
No news. Only a recent image. Siemens Vectron 191 001 is in Italy for homologation for 20 (!) months now. - MS
One would almost forget they were still yellow and silver. For about 10 year, MRCE ES 64 U2-019 and -022 have sported the WLC livery. Most of it was just stickers. Only the frame ends were painted in ivory white. Now they are on their way to Germany. We are curious what will happen to them now.
(AK/CP/HZ)
Locomotive 245 203 is the second of its series to be released from factory. On 10.03.2015, it completed its maiden run, on 13.03.2015 it ran to Bremervörde.
(PMR/CK)
Impressions of the 193 822 in Croatia, in Vedro Polje and Sunja, made during a test run of the machine from Zagreb-Resnik to Slavonski Brod on 10.3.2015.
(ZC)
nrk.no brings a report including a video of Railpool 187 005-4 shunting in Trondheim. You see the machine pulling a freight train in diesel mode.
(MO)
Ascendos 145-CL 013 has lost its mkb stickers (and is now hired to RheinCargo), but we got this turquoise/silver locomotive in return. AT 185 619 is in service of the Mindener Kreisbahnen (mkb) since 01.03.2015, and its shows now.
AK
On 10.03.2015, the newest Vectron for ELL completed its maiden run. Unit no. 223 is a AC locomotive, with the equipment for Germany, Austria and Hungary. Most remarkable: it was still white. - MR
The Bombardier Traxx AC3 locomotive with Last Mile module (Railpool no. 187 005) has passed another endurance test over the weekend. The locomotive ran over the Bergensbanen, an high altitude route in Norway with corresponding geographical and climatic challenges. This line connects Bergen with Oslo and has track gradients of up to 25 per thousand. The locomotive successfully pulled a 465-meter-long freight train for operator Cargolink. On a slope (its gradient was 21 per thousand) the test train was stopped in order to verify its performance in diesel mode (lowered pantographs). Despite wet rails the locomotive successfully moved its train from standstill.
Generally, the tests proved the locomotive has a significantly better track record regarding adhesion in comparison to existing vehicles. The improved adhesion control is available in both electric and diesel mode.
Furthermore, the locomotive successfully completed the shunting operation tests in Bergen, where the machine had to take parts of the train, loaded with electric cars, to Minde. It pulled its train over a gradient of 20 per thousand in the last mile mode to the local storage place for cars.
(Bombardier)
In Italy, many locomotives that are operated by the Cargo (freight) division of Trenitalia, are made easy to identify by their yellow stickers, at every corner of their cabs. Meanwhile, MRCE ES 64 F4-032 and -108 have them too. - MS/MT/MS
Impression of SNCB/NMBS no. 1807 and 1862 performing homologation runs in France, taken last week. The test rides take place on the route Caen - Cherbourg route. - DD
A second of its batch, E 186 119 has returned from the Dessau DB workshops, in a yellow and blue livery. On 07.03.2015 it arrived in a unit cargo freight train behind DB Schenker 189 088 and 026. - FdL
Slovenia
On 28.02.2015, Siemens Vectron MS no. 193 822 to Sovenia. RailAdventure took the machine down south with the historic green NiBK locomotive no. 1245.05.
During the next five days the 822 compelted many test runs in Slovenia. The tile images shows the machine in Crnotice (Koper) on 05.03.201, running from Koper Smir to Lubljiana Moste.
Croatia
On 06.03.2015, the Vectron was taken from Ljubljana to Croatia for further testing. The machines was pulled by a ÖBB 1063 locomotive from Dobova (border station) to Zagreb. On 13.03.2015 (planned) the loco will return from Croatia to Munich. A video:
(ST/MG)
In April it is time again for the BUGA Gartenshow in the German Havel Region. DB 182 008 and 009 have been seen now with blue BUGA2015 stickers.
(FN)
Newag has published the information that the multi system version of its Griffin platform locomotive has been granted three Technical Specifications for Interoperability (TSI) certificates: 1. Locomotives and passenger rolling stock" (Loc & Pas); 2. Rolling stock - Noise (NOI) and 3. Safety in Railway Tunnels (SRT). TSI certificates are valid for the whole European Union.
The TSI certificates are a mile stone for Newag and its plans to get the Griffin approved for several European countries. Until now the machine is only running in Poland. The only existing prototype has now been tested by several Polish operators.
(
newag.pl
)
This is the new 193 220, the first ELL locomotive to be leased to LokoTrain from the Czech Republic. The multi system locomotives replaces MRCE ES 64 F4-841 that was returned to the lessor per 28.02.2015.
Today, the locomotive will be officially presented. LokoTrain will get three Vectron locomotives in total to be delivered this spring. The 220 is a MS version of the Vectron, homologated for Germany, Poland, Austria, the Czech Republic, Slovakia and Hungary. The machines also feature ETCS.
(MS / Siemens CZ / JP)
Yep, we had some doubts when new images emerged of
TecSol's 1822 001-2
this week. The 001 is the first of three to be released after a redesign in blue and silver. We presumed that this machine was destined to be operated by RTS Austria, but the blue striping indicates Adria Transport will be its future employer. The machine will now have to be approved for service again. It is going to be used on freight routes into Slovenia, on which more modern locomotives exceed the maximum axle load. - LGS
Yet again, the Bombardier Traxx AC3 locomotive with Last Mile module has completed a challenging task under real conditions. During the past days, Railpool locomotive no. 187 005 has been tested by operator CargoLink. For this purpose the locomotive was transported from Germany to Norway.
On 01.03.2015, the 005 pulled a 1000t freight train in Last Mile (diesel) mode over a track section with a 1,7‰ gradient. This was done at the Oslo-Alnabru freight station. During the next days, the locomotive completed various shunting operations at the same location.
CargoLink and Bombardier tested the performances of the Last Mile module under real conditions in the Scandinavian country, in order to decide if this type of machine is fit for hauling CargoLink's freigth trains on non-electrified track sections in Bergen and Trondheim. In general, these trains have a gross weight of 800-1000t.
(Bombardier)
Our own impression of a Traxx AC3 in the livery of DB Fernverkehr
Yes, you most likely know the story of the 27 DoIC trains for DB Fernverkehr already. Their approval for Germany is delayed but is nearing completion. These trains consist of a Traxx P160 AC2 locomotive coupled with 5 double deck Twindexx coaches, all built by Bombardier. But there is more to come.
The DB has placed a second order for double deck trains for Intercity services. Similar to DoIC, these DoIC2 trains will be loco hauled and have five coaches each. A 2nd class driving trailer, three intermediate cars 2nd class and one intermediate car 1st class. This makes 85 coaches in total. Bombardier will supply three extra coaches, two driving trailers and a 1st class car.
DB Fernverkehr will operate these trains on the Gäubahn (Stuttgart - Zürich), as of December 2017. The trains will also be accessible to passengers of DB Regio. The total frequency of IC services on the line will increase considerably. Additionally, the new trains will also be used on the IC connection Karlsruhe – Pforzheim – Stuttgart – Aalen – Nürnberg.
Having to go to Zürich means that the DoIC2 will have to be homologated in Switzerland. The coaches need to be lowered by 40 mm to meet the Swiss loading gauge (CH-Lichtraumprofil EBV-02). The locomotives will need all required safety and detection systems for the Alp country.
This brings us to the most interesting part of this news, considering our website. These seventeen trains will be pulled by Traxx AC3 locomotives. Yes the new Traxx model, for DB passenger services designated as 147 series, will come in the light grey livery of DB Fernverkehr too (as the 147 is already ordered for DB Regio too, but they will be red). In short: soon there will be the Traxx P160 AC3 with DE/CH approval.
Detailed information can be found on
mvi-baden-wuerttemberg.de
. We will start to prepare a section for this new type of locomotives.
Interesting article about the short term plans of Italian operator GTS Rail. They experience considerable growth in their freight traffic (a new contract with Maersk for example) and expect business to grow even further on the short term. Next April and May, two new locomotives will be delivered by Bombardier from Vado Ligure (the designated 483 056 and 057), bringing the total of black liveried GTS Rail locos to seven. Additional locomotives are being hired.
GTS Rail states they experience difficulties finding new locomotives as leasing companies can not / do not want to invest in the Italian market as the financial rating of Italy is low. Therefore GTS considers to spend 15 million euro itself on three new machines, to be ordered soon.
Next to that, a new depot for the trains will be completed in August in GTS Rail's home town Bari.
The damaged locomotive from Rafz has arrived at Yverdon-les-Bains. The SBB 460 087-0 was transported over the road. On 20.02.205, the locomotive derailed in Rafz after a sideway collision with a RABe 514 series train set. - MS/TS
Is this an indicator for the long awaited fleet renewal of Trenitalia's fright division? Just speculation, but fact is, as of now, Trenitalia is hiring two ES 64 F4 locomotives from MRCE: 189 108 and 189 932.
Both machines arrived in Italy via Verona. They arrived in their new depot, Milano-Smistamento, on 02.03.2015. Trenitalia will use the locomotives on domestic services, such as the intermodal maritime shuttles on the Tirrenica line (Genova - Rome) and several trains to Chiasso and in and around Milan. It is expected that Trenitalia will get eight more locomotives
Picture on the left shows the two locos on their way to their first freight train, in Verona Santa Lucia depot. The second photo shows 189 108 with a freight train from Chiasso to Milano-Smistamento.
(Massimiliano Tripodi / Luca Farina)
From the DB Schenker Rail website: In 2010, DB Schenker Rail acquired a 49% of the shares of Nordcargo, and then in 2011 an additional 11% of the shares so passing to 60%. The remaining 40% is property of Ferrovie Nord Milano (FNM).
Several years ago, FNM bought eight Traxx DC locomotives for Nordcargo, delivered in a blue and grey livery. As of January 1, Nordcargo is officially rebranded as DB Schenker Rail Italia. The company announced that this will become visible. Fact is that locomotive E 483.102 now has appeared with DB logos. Most likely, the other seven machines will follow soon:
On 28.02.2015, Railpool E 186 183-0 arrived in Antwerp, Belgium. Metrans recently returned the locomotive to Railpool, its Metrans stickers are gone. - RM
The Belgian railways (NMBS/SNCB) are now hiring the machine for testing software. A Belgian fleet number will be assigned to the machine. no. 2861. Test runs are expected on high speed lines in Belgium (Line 4) and the HSL-Zuid in Belgium and the Netherlands.
Update 2: Picture on fb of yesterday's test run with the 183 from Antwerp to Roosendaal evaluating the newly installed version 7A software.
On 02.03.2015, both Metrans 386 017 and 018 were seen around the Bombardier factory in Kassel. Both engine await delivery now. - LG/CK
The WLE has hired
MRCE ES 64 F4-453
. The locomotive got orange stickers and a WLE inventory number: 82. - MT
Our facebook picture group is booming. And so many nice images and reports come in every day. Check it out.
Fresh images taken this morning, of
PCW 8
taking ICx train set no. 9002 to Wegberg-Wildenrath (okay with some help of the diesel shunter). -
AS
'Es lauft'! Would one say in Germany. This the first image we got of a Traxx AC3 of Railpool pulling its own, normal freight train. As we reported, the full approval for Switzerland is now a fact, making this possible. - PDS
MRCE
ES 64 U2-082
just got fresh CargoServ stickers, like the 080 had some weeks ago. Its service number up front is now centered. - CB Update: ES 64 U2-081s stickers have also been refreshed in the mean time. So all three machines planned have their new look now.
An exotic train, we most likely will not see again any time soon. Bombardier has been testing this week with two Traxx locomotives and two metronom coaches that were hired from LNVG. IGT was managing the trials. On one side we see the light grey 146 553, at the other end of the train the new 245 201. - JS
Images from the past week, showing test runs with the two medium power Vectron locomotives 192 961 and 962. Later on, the Vectron DE joined in. - WH/CB