News
RailAdventure has hired RTC 189 902 today for taking FuoriMuro Vectron 191 002 and 003 to Italy.
We are currently working hard on finalizing the second Railcolor book. TRAXX, Vectron, Gama, Prima, ELL, you name it, it is in the book. It will have 208 pages, over 535 (!) images and it is completely translated into German. It will be published in December, pre-ordering is possible now in our webshop. Early birds get a 10% discount.
Now we have an updated 28 page preview online, check it out:
For the future, B Logistics will be relying on the full service packages of lease company Railpool. The companies have signed a long term agreement in October 2015. Over a ten year period, B Logistics will gradually hire 36 multi system locomotives for various international freight corridors, Europe wide. There are options for more vehicles. (Rail Business)
---
At this moment, B Logistics is operating a fleet of 47 Traxx MS locomotives from Alpha Trains. Big difference is that Alpha Trains does not offer a full service package (spare parts, replacement locomotives, maintenance and overhaul etc). B logistics has Alpha Trains 186 196-235 (2804-2843) for services in Belgium, the Netherlands and Germany. Units 186 346-350 (2901-2905) are used for service in Belgium and France. Under a separate contract there are also 186 124/125 (2802-2803).
BTW, ten machines are currently being used to haul passenger services from Brussels to Amsterdam vv. One is out of service because of considerable damage (unit 186 221). The total series is currently also getting a R1 overhaul, being executed in Salzinnes in Belgium.
---
Siemens and Bombardier meanwhile have expanded their country specific packages of their multi systems locomotives considerably. With the new contract B Logistics has the possibility to hire locomotives with increased interoperability. When you take a look at the B Logistics 'Green Express' network you see the operator wants to connect Belgium with, amongst others, Switzerland, the Czech Republic and Slovakia. These are perfect non-stop destinations for multi system electrics. Railpool has already new Traxx MS machines on order for DE/AT/BE/NL(CZ/SK) and DE/AT/BE/NL/CH/IT, of which the first units have completed their maiden run already.
RegioJet is going to withdraw its Košice - Bratislava passenger services. It plans to do this during the first quarter of 2016. The night service will stop per 13.12.2015 already, the three day services will continue until after Christmas.
RegioJet set up its Slovakian services with ELL Vectron locomotives only one year ago. It states it has to withdraw already because it can not compete with ZSSK any longer. RegioJet is accusing the Slovakian state railways of applying ticket prices that can not cover the costs.
RegioJet, ZSSK and the Slovakian government are in constant dispute.
Reportedly, the locomotive took a passenger coach and five carriages from Savski Marof (border with Slovenia) to Šid (border with Serbia) on 26.11.2015. This image was taken when the locomotive came back. Does anyone know for which operator the machine pulled this train? (Marin Dokoza)
As you may know, CargoServ Vectron no. 1193 890 is under repair in Munich. The machines had an accident on 15.07.2015 in Vienna. CargoServ now hires RTS 1216 901 to fill the gap. (Andreas Kepplinger)
Rail Business reports: Green Cargo wants to re-introduce its Traxx locomotives (Re series) on the Borlänge - Luleå route, pulling steel trains for SSAB, in northern Sweden. Now triple Rc series locomotives pull these trains.
Since their delivery, the Green Cargo Traxx machines were not an optimal solution for the steep and curvy track sections up north. Manufacturer Bombardier now is installing new traction control and a GPS controlled 'Power Mode' onto the Re series machines, so their performance will improve.
On November 10, 245 215-9 left the Bombardier works in Kassel to make its maiden run. It appears that one day earlier, 245 214-2 did the same. On November 19, also 245 209-2 made its maiden run, so we can expect delivery of the locomotives soon. Note that with the delivery of these three locomotives, the batch of 15 will be complete. (Christian Klotz)
The German railways have published their experience with the seven new 245 series locomotives (Bombardier Traxx DE Multi Engine), now being in revenue service for one year. NOx emission -50%, 9% of fuel savings compared to the old 218 series locos. As the 245s have diesel soot particle filters installed, the emission of particles has dropped with 90%. (Deutsche Bahn)
.... An arbitration court issued its ruling on a protracted dispute between national railway ČD and Škoda Transportation over the late delivery of 20 Type 109E Class 380 multi-voltage electric locomotives on November 16.
The court ruled in favour of Škoda Transportation, rejecting ČD's claim for compensation and saying ČD must pay the outstanding balance of KC468m, plus KC760m under a clause covering inflation. ....
Remarkable: ČD states that the 109E locomotives are still not approved for Germany, although EBA has given its fiat in May 2015. DB Netz however has blocked the operation of the locomotives. The envisaged use of the locomotives for EC Trains from Prague to Dresden this December is therefore postponed.
The Siemens Vectron MS homologation train today: 193 901 backued by 191 001, on their way back from Arezzo to Florence. The tests are performed only at night on the TFT railway network in the Arezzo area. (Michele Sacco)
Now this locomotive is looking sharp again: SBB 460 016: overhauled, modernized, repainted. It is the second locomotive of its series, we see, that has gone through the SBB modernization program. 460 084 was the prototype and was refurbished in 2014. (Charles-André Flückiger)
Our first image of Railpool>BLS Cargo 187 008 with DVA Flex Panel, featured in this marvellous scene. The machine mentioned pilotes train TEC 43003 and Railpool 186 108 in the Wattinger curve near Wassen. Thank you Georg Trüb.
The ink of the press publication is still wet, but the first new Traxx MS locomotive of a new batch for lease company Railpool, is out and about. This morning, 186 455-2 is completing its maiden run. Its package: DE+AT+NL+BE. (Christian Klotz)
At least four Akiem Prima locomotives have pink noses already: 27134M, 27135M, 27144M and 27150M. (Antoine Morval)
The 'normal' ČD 371 series locomotive broke down, so ČD railjet livried 1216 250 took over the Eurocity service 'Johannes Brahms' from Dresden to Prague on 21.11.2015. (Mathias Schrödter).
Railpool 187 004 in Leipzig, 19.11.2015. The locomotive was in the area for ETCS tests.
Like many other operators, ITL is curious for the Siemens Vectron DE. So the freight operator decided to use 247 902 to see how the machine performs in ITL's everyday practice.
Since November 10, the locomotive in use for a two-week period. According to this post on DSO, the loco is tested on trains carrying construction materials.
(Steffen Kliemann / Martin Greiner / Ivo Schmoll / Christian Wiele)
Next December, the CityNightLine services Amsterdam - Frankfurt(/Basel/Munich) vv will no longer halt in Emmerich (Dutch-German border station) to change locomotive. This means Macquarie Rail > NS 186 237/238 will pull the trains between Amsterdam and Frankfurt and back.
Today, 186 237 was taken to Cologne for driver instruction.
Vandaag is de NS 186 237 overgebracht van Amsterdam naar Köln voor opleidingsdoeleinden. Vanaf december gaat de CNL met NS Traxx door rijden tot Frankfurt. Patrick Thanks!

Posted by Rail Magazine on Wednesday, November 18, 2015
On a test run today, after having its R1 overhaul completed in Krefeld: Beacon Rail > Crossrail 185 596. Its new REV-date: 18.11.15. (Lothar Weber)
PKP Cargo has announced it is taking over all rail transport services for PKN ORLEN / Euronaft Trzebinia. These companies sell their in house transport activities and refocus on their core business, oil and chemicals. For our website, this means ORLEN Koltrans is taken over by PKP Cargo, that is actively increasing its market share in the European railfreight market. (pkpcargo.com)
ELL 193 234 changed its appearance. The white side surface is gone and dark blue. Additionally SBB Cargo International logos were put on, including markings that the operator is looking for new loco drivers. (Niklas Eimers)
You are a big fan of Class66? Than this would be a perfect Christmas gift. 158 DIFFERENT Class66 locomotives on one poster. Click here to place your pre-order.
As long as Railpool 186 181 is out of service for its R1 overhaul, 186 424 will be pulling Benelux trains from Amsterdam to Brussels and back. The image shows the locomotive and such a train at Zevenbergen on 13.11.2015. (Henk de Jager).
Alstom has been awarded a €175 million contract to supply 47 dual-mode locomotives to SBB Infrastructure, responsible for operating, maintaining and developing 3000 km of Switzerland's railway infrastructure. The locomotives, to be used for track works on SBB's rail network and for shunting in the shunting yards of Lausanne Triage and Limmattal, are scheduled to enter commercial service in 2018. The 47 locomotives will be manufactured on Alstom's site in Belfort, France. The project management will be carried out in Switzerland.
The locomotive for SBB Infra belongs to Alstom's new Prima H4 dual-mode platform for shunting and track works. The locomotive runs at speeds of up to 120 km/h which allows easy integration into mainline traffic flow. The Prima H4 bi-modal locomotive is powered by an electric traction system and two diesel generators. The two power generators, coupled with an automatic start-stop system, enable a 20% reduction in fuel consumption compared with a single engine diesel locomotive. The locomotive has been designed to optimize maintenance cycles, thus reducing life cycle costs. It is fitted with ETCS.
Particular attention has been paid to the design of the driver cabin. The large cabin (up to 4 people) has been conceived as a "working and waiting space" as track workers will not only be travelling aboard the train, but also spend time in the cabin while working on construction sites. The cabin is equipped with an HVAC (heating, ventilation and air conditioning) system and storage space for the personal belongings of the train crew. It is also protected against vibrations and air pressure when entering tunnels.
"Alstom has been the best to fulfil the award criteria of our public invitation to tender. The new and more powerful vehicles will allow us to cope with the increasing construction and maintenance volume with less vehicles and in a more efficient way. Thanks to its improved energy efficiency, Alstom's Prima H4 will allow SBB Infra to reduce its CO2 emissions by up to 6,000 tons per year," says Désirée Baer, Member of the Managing Board of SBB Infrastruktur.
"We are pleased to have been selected by SBB Infra for this important contract. With Alstom's Prima H4 locomotive, which is derived from a modular concept, SBB Infra will see its operating, energy and maintenance costs reduced," says Herman Van der Linden, Alstom Managing Director in Switzerland.
Fresh from the factory and now in service of DB Schenker: MRCE X4E-611. Already seen in Munich, the white X4E-612. (picture by Jürgen Steinhoff)
Railpool logos: gone. Rurtalbahn logos: gone. Now with ITL: Alpha Trains 185 622 in a plain silver livery. (Falk Biesold)
Polish freight operator PKP Cargo is granted 40 million euro by the European Investment Bank (EIB). The money is needed for the acquisition of Vectron multi system freight locomotives. 15 units are on order and an option is taken on 5 more. (nov-ost.info)
Meanwhile is clear that the locomotives will get a red and light grey or silver livery. So we have to say goodbye to the blue and lime.
Softronic's Transmontana no. 610 100 of CER Cargo is currently doing tests in Slovakia. Several portraits of the locomotive by Peter Melicher.
Extra images here
.
Siemens has been awarded a 118 million USD (around 110 million euro) contract to build 13 electric locomotives for the Southeastern Pennsylvania Transportation Authority (SETPA), operator of regional and mass transit in the Philadelphia area, U.S. state of Pennsylvania. The contract includes the supply of spare parts and operation and maintenance training. An option to deliver up to an additional five locomotives is also part of the contract. The electric locomotives will be built at the Siemens rail manufacturing facility in Sacramento, California. The new vehicles are set to be delivered in early 2018.
"The purchase of these new locomotives are the first of several new vehicle purchases which are part of SEPTA's Building the Future program," said SEPTA General Manager Jeff Knueppel. "We are looking forward to their arrival to help provide faster and more reliable regional rail service for our rapidly growing ridership."
"The new locomotives are designed for improved reliability and easier maintenance for faster turn-around times and increased availability for service," said Jochen Eickholt, CEO of Siemens Mobility Division. "We are confident that these new electric locomotives will enhance mobility for the people, businesses and economy of the Philadelphia region."
These modern electric locomotives will replace an aging locomotive fleet to support SEPTA's efforts to expand capacity and provide more efficient and reliable service for its ridership along SEPTA's regional rail lines.
A state-of-the-art microprocessor system performs self-diagnosis of all key systems, makes self-corrective action and notifies the locomotive engineer. In addition, there is a redundant system to ensure power is maintained to the passenger cars for heating, cooling, lighting and door operation amongst others. The locomotives also meet the latest federal rail safety regulations, including crash energy management components. Furthermore, the locomotives energy efficient use of regenerative braking feeds energy back into the power grid.
Yesterday, we reported about 186 111 and 112 being the last two Alpha Trains > NS Traxx locomotives in services. Make that one. Last night there was a lot of smoke in IC 1047 (Rotterdam - Amsterdam). More specific, 186 112 was producing smoke at the back of the train, as its brake system got overheated because it jammed.
The train was stopped at Bleijswijk
and all 200 passengers had to be evacuated.
Today, a brand new Paribus>NAH.SH Multi-Engine TRAXX caught fire at Itzehoe: 245 204-3. After the fire department cleared the scene, the locomotive and its train were towed away by 245 211-8 and 245 212-6, which were delivered by Bombardier to Paribus today.
(Hans Isernhagen / Andreas Melchert / Martin Priebs)
An article about the German railways and how it trying to improve the delivery processes of its new rolling stock.
In this article it is mentioned that the delivery of the rolling stock for the Nürnberg–Ingolstadt–München (NIM) Express, developbed by Škoda, is one year behind schedule.
Alstom has received a Letter of Award[1] from the Ministry of Railways to supply Indian Railways with 800 double section freight electric locomotives with associated long-term maintenance[2]. The total contract is worth above €3 billion. This project includes the set-up of a plant at Madhepura (Bihar state) and two maintenance depots at Saharanpur (Uttar Pradesh state) and Nagpur (Maharashtra state). The delivery of the locomotives will spread between 2018 and 2028.
This project, one of the strongest endorsements of the 'Make in India' policy of the government, will play a crucial role in boosting the infrastructure development in the country. The 100% Foreign Direct Investment in the railway sector allowed by the Government has provided a renewed push to the Indian mainline railway sector.
"This project, one of the biggest in Alstom's history, is a breakthrough for our presence in India and demonstrates the success of our global customer proximity strategy. We are extremely proud to be partnering with Indian Railways for this ambitious project which will be a game changer for Indian railway sector" declared Henri Poupart-Lafarge, Executive Vice President, Alstom.
The Prima locomotive for Indian Railways will be 9,000 kW at the wheel rim and will run at a speed up to 120 km/h. This contract positions Alstom as the number one on heavy-haul electric locomotives segment with now over 1,200 double locomotives ordered for the last decade.
Alstom has several sites in India including a signalling, telecoms and train engineering unit in Bangalore, a metro manufacturing facility in Sri City and a traction systems manufacturing unit in Coimbatore. Alstom has strong references in India in the urban segment for cities like Delhi, Bangalore, Jaipur, Chennai, Kochi and Lucknow.
GE got the diesel locomotive contract
The statement of Alstom follows one day after US manufacturer General Electric (GE) announced it 2.6 billion dollar deal to supply 1.000 diesel locomotives to India. GE will invest 200 million dollar in building a new factory in the Marhowra district. From there it will deliver 100 locomotives each year, for a period of ten years.
GE wil built two models: a 4.500 hp and a 6.000 hp diesel-electric freight locomotive, both with GE Evolution engines. The first units are scheduled to be delivered in January 2018. The first 100 locomotives will be imported turnkey or assembled in India using imported kits, the rest must be built in India with mostly Indian content.
Both deals are made possible because the Indian government has allowed 'foreign direct investments' (FDI) in the country to spur growth in domestic manufacturing.
The complete Alstom press statement
The official statement of General Electric here.
The Rockwell Group has revealed its design for the new passenger trains of All Aboard Florida (AAF): 'Brightline' it is. This brand name covers all, the trains, exterior and interior, the travel concept, architecture and the interior design for all four rail stations along the line.
AAF is expecting its first trains, delivered by Siemens, in 2016. Each train will have five coaches in different colors, with a Charger locomotive on each end. The Rockwell design impressions show a completely different exterior design for Charger locomotives, compared to what we knew until now. Confusing and exciting at the same time!
This is what the new Siemens Charger diesel locomotives and Viaggio Comfort coaches for All Aboard Florida will probably look like. What do you think of this colourful GoBrightline livery?

Posted by MainlineDiesels.net on Tuesday, November 10, 2015
An overview of all Charger locomotives is to be found on Mainlinediesels.net.
Last night, the red liveries 186 116 and 120 left the Netherlands for their R1 overhaul in Dessau. They will return in yellow and blue. Only two 'reds' are left now in the Netherlands: 186 111 and 112.
Deutsche Bahn is conducting an innovation contest for engineers and lateral thinkers. So, you can join! Six different challenges have been pre-selected, for which the company is looking for new, alternative solutions:
Challenge 1: Surface coating and cleaning of trains
Challenge 2: Operations planning of on-board staff by app
Challenge 3: ECO tuning of diesel shunting and main-line locos
Challenge 4: Non-destructive testing of fibre components
Challenge 5: Reducing maintenance effort at stations
Challenge 6: Laser point clouds for modelling infrastructure
Check out the dedicated website for more information. The deadline is 30.11.2015.
MRCE has sold two of its 145 series locomotives to Rheincargo. As of 01.10.2015, the 145 084-0 and 145 086-5 are property of the German railfreight operator.
The livery of 145 084 needs some attention. It is still painted in blue and red of SBB Cargo, but partially covered in black stickers. And these stickers are slowly coming of. Although the 084 had a main overhaul in April (REV Bombardier Kassel 01.04.2015), its livery was not altered.
145 086 has the full MRCE livery since April 2014. The stickers of the lease company are being removed.
(MRCE / pictures: Christian Klotz / Alexander Matheisen)
(Christian Klotz)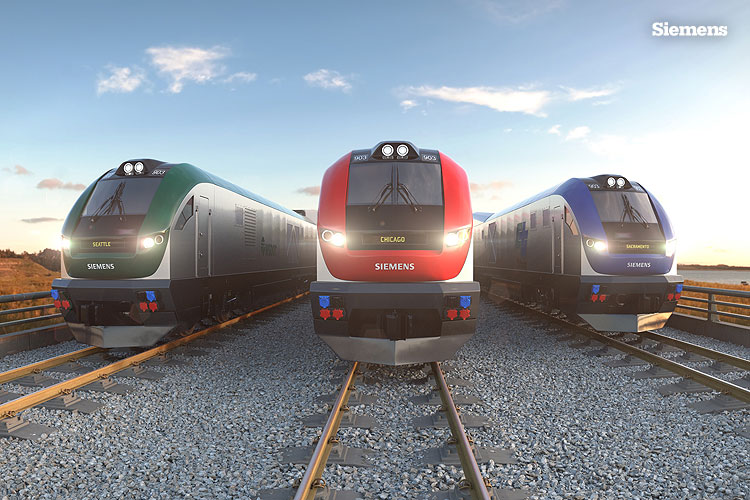 On November 6, Siemens announced that it had secured another three orders for its Charger passenger diesel locomotive. This raises the total number of locomotives on order to 79. An overview can be found here.
Magyar Magánvasút (MMV) is currently performing homologation runs in Croatia, with locomotive 602 001. On 2016, MMV wants to start freight services in/to Croatia under its own license. (Rail Business)
We have the full data report on the four new Ee 922 locomotives for the Swiss railways (SBB). They were ordered at the end of 2013. So now we have 25 red electric shunters of this type accross Switzerland.
Unlike the first batch of 21, the new machines were built in Bussnang and in Erlen 'in betrieb gesetz'. With 922 001-021 all was done in Winterthur. All data:
- Call of a frame contract from 2014 (35+30 optional)
- Order value 75 million euro ($82 million US)
- 5x Traxx AC3 Last Mile SE/NO, delivery start third quarter 2016
- 8x Traxx MS DE/AT/CH/IT/BE/NL (new package type)
- 5x Traxx MS DE/AT/BE/NL
Of the base contract of 2014, 17 of 35 locomotive have been delivered so far (186 421-437). 186 438 is test locomotive for a new package (DE/AT/PL/NL/CZ/SK/HU). The remaining 17 units are planned as Traxx AC3 locomotive. The first one ready, being 187 300 DE/AT/HU/RO with Last Mile module.
Today we completed the grid of our third locomotive poster, with the support of Maxime Bonnier and featurung the Class 66 graphics of Mr. Thierry Leleu. After the Taurus poster and the Traxx poster, we will bring the Class 66 poster. It will feature 158 DIFFERENT locomotive designs, of all possible operators, active in the UK, on the continent and even in Africa.
Bussnang, 4 November 2015 – Stadler Rail AG is to take over the Valencia-based locomotive business Rail Vehicles from Vossloh. The Spanish locomotive manufacturer has an annual turnover of more than EUR 200 million and employs approximately 850 people at its headquarters in Valencia. The purchase agreement was signed in Zurich yesterday, on Tuesday, 3 November 2015. Besides providing Stadler Rail with a foothold in the new market segment of diesel-electric locomotives, the takeover will offer the chance to tap into new, Spanish-speaking markets. Rail Vehicles has also built up a strong position in recent years in the areas of LRV, trams and metro vehicles.
The transaction is subject to the approval from the regulatory authorities. With the sale scheduled to be completed by the end of this year, the parties aim to execute the transaction in the first quarter of 2016. The transaction will take effect retroactively as of 1 July 2015. The takeover price is EUR 48 million.
New locomotive segment and Spanish-speaking markets
With the takeover of Rail Vehicles, Stadler Rail will enter a new locomotive market segment, inheriting an experienced workforce and a fully developed product portfolio.
Rail Vehicles is based in Valencia, where it develops and produces innovative diesel-electric locomotives such as the EURO 4000 – the most powerful diesel-electric locomotive in Europe. In addition, the company also develops and produces innovative metro trains, trams and Train-Trams at its headquarters in Valencia, and has established a strong market position in these areas. Rail Vehicles posted an annual turnover of EUR 223.2 million in 2014, and a turnover of EUR 182.4 million for the first nine months of 2015.
The takeover will also see Stadler Rail gain a foothold in new, Spanish-speaking markets around the world, with Rail Vehicles providing Stadler Rail access to markets on the Iberian peninsula, in South and Central America and in Africa.
Furthermore, this strategic move by Stadler Rail is a response to the consolidation wave caused by the merger of CNR and CSR to form the giant CRRC in China. The takeover of Rail Vehicles offers Stadler Rail the chance to consolidate its position in the European market.
An experienced management team
Thomas Ahlburg, Deputy CEO of the Stadler Rail Group, declared: "I am delighted that we have been able to take this step and integrate a company which not only represents the perfect addition to our product portfolio but also opens the door for us to several new markets. Rail Vehicles is an innovative company with a real competitive edge in the area of diesel-electric locomotives, and we are fortunate to be inheriting a highly experienced and motivated management and engineering crew."
Hans Martin Schabert, CEO of Vossloh, added: "We are very pleased to have found such an experienced, respected and reliable buyer in Stadler Rail, and are convinced that the expertise, experience and company philosophies of both vehicle specialists complement each other perfectly. Being part of the Stadler Rail Group will afford Rail Vehicles great prospects for future development."
New Division Latin for Stadler Rail
Stadler Rail is planning to integrate the Valencia location and its approximately 850 employees into the Group as the new Division Latin. The site has also been earmarked for a new competence centre for locomotive construction.
Read all about Vossloh Locomotives' product portfolio in our dedicated section on Mainlinediesels.net.
- MRCE ES 64 U2-096 is in Linz for an overhaul and is repainted in black.
- GySEV 1116 061 had an overhaul, lost its GySEV logos and got a repaint in red. It is the first time ever this machine sports OBB word logos (!).
- SNCB is hiring 186 424-8 from Railpool as direct replacement for 186 181 (SNCB 2862) that was sent to Aachen for an overhaul. 186 424 lost its RTB Cargo / PCC stickers.
Yep, it is time for another new Vectron for ELL, no. 242. It had its maiden run today and was portrayed by Helmuth von Lier in Augsburg.
Finally, a picture of Macquarie's 186 150 that got its red nose back. During its time with Captrain, the red bars up front were painted lime green (including the lamp housings). The new look combines better with the Crossrail logos. (Normann Gottberg)
Another operator (derschnelzug.de / RDC / hkx) wants to start competing with Deutsche Bahn by starting alternative pasenger service in Germany. But this one is different. Operator Locomore wants to start daily Stuttgart - Berlin passenger services in 2016, but wants to realize their plan (partially) via crowdfundin. Read all about it at Locomore's funding page.
Since 16.10.2015, Westbahn from Austria is running additional trains services from Vienna to Linz vv. These 'Formul 5' trains run on Friday - Sunday. Westbahn uses coaches hired from Bahntouristik Express (4x Bvcmz / 2 in blue/red and 2 in red/light gray (ex DB Autozug)).
[Edit] The trains are hauled by a locomotive of WLC. During the past weeks this has been Siemens > ELL 193 822. WLC used the locomotive during the other weekdays for its freight trains. However, on 31.10.2015, ELL > WLC 193 238 replaced the 822, see image below.
For now, the Formul 5-trains will run until 20.12.2015. Their name refers to the ticket prices for the three parts of the route. (Vienna - St. Pölten = 5 euro, Vienna - Amstetten = 10 euro, Vienna - Linz = 15 euro. (Wetsbahn / Andreas Kepplinger / Martin Oswald)
Quite a trip today for MRCE X4 E-606, haulig the AKE Rheingold special train. The black electric ended up at the island of Sylt. We don't think a Vectron locomotive has been there before, right? (Patrick Bock / Nahne Johannsen)
Rail business reports: Before the end of this year, Bombardier will deliver a Traxx AC3 locomotive, with Last Mile diesel shunting module, to the Westfälischen Landes-Eisenbahn (WLE). This German freight operator issued a tender for a new 'multi system' electric late July 2015. Remarkable as the Traxx AC3 is, strictly taken, not a multi system (AC+DC) locomotive, but a multi frequency AC electric.
Nevertheless, it inspired us to make a first design impression of the future WLE 83. We choose this number as WLE already owns a 81 and hires a locomotive from MRCE, internally designated as WLE 82.