News
Images of the first run of a PKP Cargo Vectron in revenue service in Germany. A steel train to Germany. Images by Frank Gollhardt. Fabias Gross also filmed PKP Cargo Vectron no. EU46-502 tonight with a freight train bound for Bremen. The footage was recorded in Nienburg (Weser).
Jup, its me again again about my books. First, me thank everyone who has supported my Railcolor work during the past months, by ordering one or more copies of my printed work. It took a while, to get the second book finally right, and to send all the orders on their way. Some of you were very patient with me, thank you.
The people that have the book(s) now are also very clever people. Not only did they get a very nice present, but their order indirectly motivated me to continue my work on this website. Their reactions proved that I do not do it for nothing. Railcolor lives on.
And they are clever because they gave themselves, or their friends, one of the most colorful Rail books available right now. Book 1 and 2 are complete and illustrated with many pictures AND drawings. The print quality is exceptional, they are a tangible result of all the online work.
Instead of putting online another banner, another tag line, I just felt like writing this story, a personal note. Because it is not always easy, doing so much work, answer all the mail, keep everyone happy. It is a lot unpaid work.
So yes, in the end I just want to ask you again, invest a little in my work, show your support and give yourself a nice present. Get a
book
, get
two books
, buy a
nice poster
. Or
just donate something extra, because you like my Railcolor products so much
. Greetings from Berlin, your webmaster: Simon Wijnakker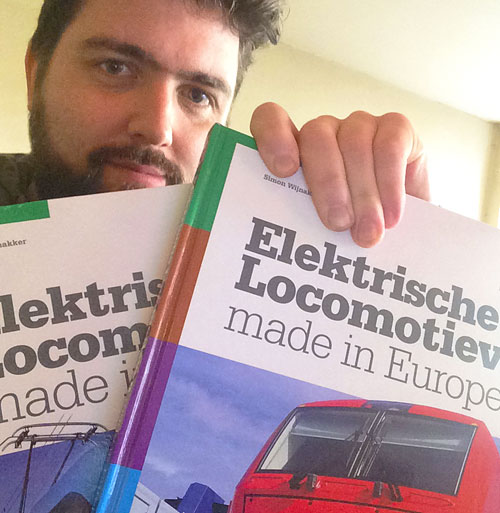 ---
Oh and then there is the news for today:
- ELL 193 226 got the RegioJet livery and is completely yellow now
- On 18.03.2016, CargoLink in Norway will stop its rail freight activities completely. The Railpool TRAXX locomotives currently on hire to the operator will have to be redeployed
- The results of an audit about the derailment of a Vectron in Norway on 09.02.2015 (scroll all the way down). The snow plough design, in combination with snow, caused the accident. Read the conclusion here. Meanwhile, Siemens has developed and mounted a new snow plough design on 193 923 and 924. Both locomotives are now in service of CargoNet again, on the Bergensbanen.
- ELL 193 246 is the third ELL Vectron in service of GySEV Cargo and has the corresponding logos now.
- As VTG has cancelled all contracts for MRCE Vectrons, and switched to Railpool, now these silver machines appear on the tracks with Retrack logos. Seen as such: 193 811 and 817.
- [Edit] MRCE 185 563 is the fouth locomotive we know of with new CTL Logistics logos, identical to 185 545 and 566 and 572.
Vectron testing in the Netherlands continues. Yesterday and today, the Siemens 189 823 assisted. Thanks Jeroen de Vries en Wilco trumpie.
Today, Siemens is sending the next three Vectron locomotives for PKP Cargo on their way to Poland. EU46-504, -505 and -506 were photographed by Sebastian Winter in Eisenach (DE).
In July the next three locomotives will be outshopped by Siemens. Locomotive 10-12 will arrive in August. For the final three machines, that will have an additional package for the Netherlands, no delivery date has been mentioned so far.
New in Germany: TRAXX Ac3 locomotives with freight trains, including shunting. The picture above shows WLE 82 (187 010 II) on 28.01.2016 in Lippstadt-Kaldewei (DE). (Markus Tepper)
Also Railpool 187 009-6 is pioneering for the TRAXX AC3 family in Germany. Since 06.02.2016 it is hauling container freight trains for Locon. (Jürgen Steinhoff)
Bombardier has completed the R2 overhaul of the blue/white Ascendos Rail 185-CL 001 (REV 10.02.2016). The machine was released from work this morning for a test run. The machine has, like Ascendos Rail 185-CL 003, the Captrain livery now. All three Ascendos 185s have had their R2 revision now. 185-CL 002 kept its Mannesmann promotional livery. (Christian Klotz)
This morning, Alpha Trains 186 111 and 112 were sent on their way to Dessau. There they will get a R1 overhaul including a repaint in yellow and blue. Now all red liveried Traxx-locomotives in the Netherlands are gone.
Two impressions of ELL>GySEV locomotive no. 193 235 pulling a GySEV passenger train (IC 934 / IC 937). An unusal sight as the Vectrons are hired predominantly to haul freight trains. (András Báti / Norbert Pócza)
Today it started, the dynamic test phase of the Siemens Vectron locomotive in the Netherlands. Unit 193 902 made runs between Helmond and Horst. (Jeroen de Vries)
As of March 2016, Deutsche Asset Management (Deutsche AM) will hold a 50% stake in Akiem. At this moment, the Franch leasing copany is a 100% subsidiary of the Ermewa Group, part of SNCF.
Together with Deutsche Asset Management (Deutsche AM), Akiem wants to expand its activities in Europe, a double its fleet in the next ten years.
(Rail Business)
The old MRCE and mgw Service logos are gone. 185 545 now sports big CTL Logistics globes and logos. Nice detail: up front the machine still has old school MRCE logos, dating back to 2005. (Udo Plischewski)
[update] MRCE 185 566 has the same logos now. (Jens Mittwoch)
Today, the first hybrid six-axle locomotive for Freightliner Poland was outshopped. It was transported from the factory in Gliwice to the Zmigrod test center. The yellow and green liveried locomotive has number E6ACTd-101 (and not E6DCF-DP as expected). More information later. (Grzegorz Koclęga / Adam Kupniewski)
Freightliner Poland ordered five units in February 2015. The electric machines have 5MW duration power in electric mode and are equipped with an addi­tio­nal die­sel engine rated at 520kW.
- MRCE 185 545 now has stickers of CTL Logistics
- Siemens 189 823 arrived in the Netherlands. The purpose of this visit is still unknown
- BLS Cargo and Lokomotion are exchanging locomotives. The Re486s used by Lokomotion go back to BLS Cargo. Lokomotion gets its DE/AT/CH/IT/NL locomotives back (186.1)
- The freshly overhauled Alpha Trains E 186 116 and 120 had their acceptance run today over the Dutch high speed line between Amsterdam and Rotterdam
- Wait what, a red locomotive with number 187 100 has been seen?
Niederrheinische Verkehrsbetriebe Aktiengesellschaft NIAG currently has Vectron DE 247 902 in service for a two-week evaluation period. Note that it's very busy in the cab (probably for instruction): full house! (Rolf Alberts)
You may have heard about the problems the German railways (DB) are currently facing with their new IC2 trains. The double deck coaches seem to sway too much (sideways, 'Wankung') in every service, reducing the comfort level of the trains severely. Bombardier is working on the issue.
The formations with TRAXX locomotives are now in service on IC line 56 Norddeich – Leipzig. The DB first want to stabilize the availability of the IC2 trains on this route before introducing it to other lines. This means that the IC2s will come later to the IC lines 35/50/55 as planned:
Line 55 Köln – Hannover – Dresden > second half of 2016
Line 35 Köln – Norddeich > March 2016
Line 50 Köln/Frankfurt/M. - Erfurt and beyond > March 2016
(Rail Business)
Not vey clean anymore, but this livery is new to us. Ascendos Rail 185-CL 003 now has the Captrain design (anyone has the REV date). Previously the machine has an eclectic red/blue/white livery, a Connex/Veolia mix.
Early january, Siemens Vectron 193 902 rrived in the Netherlands. But without moving on its own power, it was sent back to Germany. Last week the machine re-appeared in Switzerland, but now it is again in the Netherlands. On 31.01.2016, the machine was seen again at Kijfhoek shuntyard, now we have a new image of the locomotive being prepared for trials at Roosendaal. (Reinhard Abt / Jeroen de Vries)
Rail freight operator Lokomotion has ordered 8 Vectron MS locomotives from Siemens. The locomotives will be configurated for operations in Germany, Austria and Italy, will have ETCS on board and have a maximum speed of 200 km/h. Delivery is scheduled for the Spring of 2017. With this order, Siemens has reached the mark of 20 customers and 300 sold Vectron locomotives.
[updated] Lokomotion's Vectron locomotives will be approved for Italy. This required some modifications to our design impression. Four pantographs, red stripes up front, an SCMT sticker. Check:
As the 'real' new Vectron for the Finnish railways (VR) is still at Ilmala depot being preparing for test drives, the Siemens test bed locomotive 193 971 is doing the real field work. These images show the machine pulling VR double deck intercity coaches in the western region of Finland. Note the size difference between the locomotive and its train. (Tuukka Varjoranta)
Bombardier Transportation announced today that its Bombardier TRAXX AC3 Last Mile Locomotive has been homologated in Austria. This means the TRAXX AC Last Mile locomotive is now approved for operation in the entire DACH region: Germany, Austria and Switzerland.
Christian Diewald, Managing Director Bombardier Transportation Austria, said, "Approval in Austria is another very important milestone for further implementing of TRAXX AC3 Last Mile locomotives in Central Europe, but also in Austria itself. It is the only locomotive which has already proven its strong performance in Last Mile operation during many successful test runs in Austria as well as in commercial operation in Switzerland – now it is ready for revenue service in Austria."
Read the completee statement here
Macquarie Rail (formerly CBRail) locomotives 185 578-581 were in service of Crossrail since their delivery in 2007. The first three where light grey and had old style Crossrail logos, the 581 was light grey with blue Ewals Cargo inscriptions. All logos are gone now, as all four machines have transferred to ITL lately. The image shows the 581 in service of its new operator. (Steffen Kliemann )
On 29.01.2016, lease company officially handed over three of their Last Mile locomotives to operator Captrain Deutschland in Dortmund. 187 011, 012 and 013 are all silver with the wellknown lime colored cabs and Captrain logos.
Akiem 187 014 will stay a bit longer with Bombardier for extra tests.
On 30.01.2016, ÖBB locomotive 1216 019 was presented in Innsbruck, with a new livery for the 'Achensee', the biggest lake within Austria, and a popular touristic area.
The first service of the locomotive in its new livery was pulling EC 86 to Munich. (Ludwig GS / Michael Raucheisen)
On 28.01.2016, Alpha Train E 186 116 and 120 arrived in the Netherlands, after being overhauled in Dessau, Germany. Both are now yellow and blue, the NS standard livery. Alpha Trains E 186 111 and 112 are the last two machines hired to the NS that still have the red (Fyra) livery. (
Railmagazine.nl
)
Akiem Prima locomotive ETF 27143M has a new livery. Previously, the locomotive sported the blue and silver of RegioRail, now it is restyled in the white livery of operator ETF. It is possible for other companies to put on their own ads on the machine.
On 28.01.2016, WLE 82 had its 'Abnahmefahrt' in Last Mile mode. Update: another image form the WLE 82 in Last Mile service. (Bernd Loer / Markus tepper).
On 28.01.2016 we got the first images of FuoriMuro Vectrons in active service. That day the 191 003 started working between Lecco and Chiasso, and 191 002 ran to Ravenna and Udine. The images show the 003 running light from Chiasso to Lecco Maggianico to collect a rake of steel wagons for Emmenbrücke, Switzerland. Update: an image of the train to Emmenbrücke. (Alessandro Destasi / Federico Paoletti / Enrico Bavestrello / Lorenzo Banfi)
This is ÖBB 1116 152, fresh from the paint shop in Linz. It got the Railjet livery, like the 1116 200-249 and 251. Siemens is currently building a new batch of Railjet rakes, nine to be more precise. These trains need locomotives in a corresponding outfit, or course. (Thomas Girstenbrei)
It was in the Netherlands a week ago. Now it is pulling a [EDIT!] railCare train with the 'Pink Panther' (BLS Re465 017). Yesterday the machines were seen in Lamone-Cadempino with freight train 50512 Chiasso - Oensingen. (Brenno Arcara)
Update: The 193 902 also pulled Railcare freight trains in Switzerland without a second locomotive standby, as is shown in the picture below. On 25.12.2016 the locomotive was tasked with pulling railCare train 63688 from Brig to Niederbottingen. In the picture, the train is starting the ascend the Lötschberg south ramp. (Yannick Joshua Schmidt)
A message from Poland
: Akiem TRAXX MS locomotive
186 264-8
derailed on the route Szczecin - Poznan on 26.01.2016. The locomotive was put back on track, but of course the accident resulted in massive problems for all traffiic on this important route in Poland.
Hungarian freight operator MMV got its Phoenix locomotive (no.
0602 001-4
) homologated for Croatia. In 2015 tests were done on the line Zagreb - Sisak. Since then the results were evaluated and technical documentation on the locomotive was analyzed. As of 14.01.2016, the machine is approved for the Croatian network. (
iho.hu
)
Today, two TecSol 1822 series electrics made a trip from Krieglach to Glognitz, together. On the way back to Krieglach they ran coupled with RTS 1216 901 and 2143 007. 1822 001 and 004 have both been renumbered meanwhile. The check digits up front are different from last them we saw them, and the NVR number are no 91 81 1822 00x-x A-P&P. We did a check but this NVR marking does not exist. Possible 'P&P Eisenbahntechnik GmbH' is meant here, but this companies' abbreviation is A-PPE. Thanks to Ludwig GS for the images in this item.
Two new Vectron locomotives for ELL. Interesting now we know that some locomotives are painted, while others get stickers. The DE/AT/HU configured 193 246 is an ELL locomotive with paint. 193 250 DE/AT has a higher number, but was delivered sooner, and is stickered. One can see two delivery schedules, one long and one short term. (Michael Raucheisen / Martin Voigt)
Siemens tests its Vectron locomotives on a regular basis with Lokomotion freight train. At this moment, medium power 192 962 is part of the Lokomotion fleet. (Elias Pranti)
2016 should be the year in which DB Schenker's new generation freight locomotives should enter revenue service, in Germany. A bit later than expected. More units are now appearing. This is our first image of machine no. 187 104, taken in Bad Schandau. Locomotives with higher number have been seen around Kassel. (Christian Klotz / Filip Dittrich)
Railcolor Book 2 is here. The 208 page hard cover book illustrated with over 530 images and illustrations is available now.
CFI Vectron 191 011 now has CFI logos in green, red and white. 191 012 still has to get them. Next step is to see when these machines will get their shunting diesel module, as both machines were ordered with this feature, but delivered without. (Michele Sacco)
Could it get more colourful, after Railpool 185 679 pulled the National Express trains? Yes, it can. Now Hector Rail 242/182 517 is in service of the passanger operator, hauling Ersatz-Zuege. (Sven Jonas / Jannick Falk)
This crispy sunny image of the brand new 186 459 exactly fits the season we are in. The locomotive for Railpool sports revision date 15.01.2016. (Kai-Florian Köhn)
In the summer of 2016, Bombardier will deliver a TRAXX AC3 last Mile locomotive to Austrian freight operator LTE. The order was placed on 22.12.2015. (Rail Business)
Lately we are involved in a discussion about the dark blue of the ELL livery, applied on Vectron locomotives. Some machines seem to have a very dark, anthracite colored base color, were others appear to be more blueish. At first we thought, it has to do with the weather, the light, the sun, the camera, etc etc... but no. The image above shows that the locomotive on the left, the 224, is more greyish than the 202 on the right, which is newer (despite its lower number).
[Update] With the help of our fans we have found a possible explanation for the fact that ELL Vectron locomotives are being delivered in different colors: paint vs. stickers. The locomotives with a more blueish color have a painted ELL livery, were the machines with a anthracite base color have stickers over a white paint coat.
When you look very closely, one can still see some white paint around the screws and thin white lines around the air intakes up front. If a locomotive is stickered or painted sure has something to do with Siemens' off-the-shelf production method (building all machines in a basic configuration including a white base paint) in combination with how fast ELL wants to have its locomotives for a certain contract/customer.
193 223 (left) is stickered, see tiny white lines around the air intake, 193 228 (right) is painted
An overview of the ELL locomotives known so far:
blue (painted): 193 201-203, 205-207, 215-216, 220-222, 225-230, 233-234, 243, 246
anthracite (stickered): 193 208-214, 217-219, 223-224, 235-239, 242, 245 and 832
delivered in white: 193 204, 240, 831
unknown: 193 241, 250, 251
An interesting image in this discussion is also this one of ELL>SBB Cargo 193 201. ELL Locomotives that are long term hired to SBB Cargo get large dark stickers over the white part of the ELL livery. With 201 something went wrong. The sticker has the anthracite color, but the locomotive is more blue. Clearly to see on this image:
On 19.01.2016, the third Vectron MS was deliverd to Captrain/ITL and transferred to Pirna. At this Captrain workshop the white locomotive got its lime colored vynils and Captrain logos were applied. Today it had its first run with a freight train. The locomotive ran to Dresden to pick up a Porsche-train and took it to Leipzig-Wahren. (Johannes Mühle / Felix Nigbur)
Today we got this very interesting image collection of Martin Welzel. The pictures show brand new Chinese DJ1 series locomotives in Graz, Austria, where they were built by SGP. Three double locomotives were built in Europe (also six units), the remaining 17 units of the series were assembled in China.
After they were completed and SGP celebrated the roll-out of the DJ1, test runs were held in Germany, of course at Siemens' test center in Wegberg-Wildenrath.
Yesterday, a new Werbelok was presented in Hungary: MÁV 480 012 now has striking livery made out of children's drawings. It's themed 'When I grow up, I will be a railway man'... Don't we all? More images of the presentation here. Thanks to László Vécsei for the title images. Update: images from the first services, thank to Márton Botond and Nobert Tilai.
A new Swiss 'Werbelok' was presented yesterday, promoting technology company ABB and Gottardo 2016 project. - Theo Stolz
The official ABB text about the event: The new Gotthard Base Tunnel, the longest rail tunnel in the world, will be officially opened in June this year. A wide range of innovative and energy-efficient ABB technologies ensuring the power supply of the infrastructure and the ventilation are critical elements used in the new tunnel.
As a main partner of the project "Gottardo 2016" ABB is also supporting the celebrations surrounding the opening of this construction project of the century. To highlight this partnership, an ABB branded Lok 2000 will be running on the Swiss rail network from January 20th. Like other locomotives of the same type it will also be equipped with ABB drive packages and electrical equipment.
"This ABB branded locomotive also stands for ABB's contribution of components installed for the implementation of this project of the century. The tunnel contains a broad range of ABB technologies," said ABB CEO Ulrich Spiesshofer at the locomotive's christening in Geneva.
There will be several festivities in 2016: the opening of the Gotthard Base Tunnel in June, but also the 125 years of ABB in Switzerland. "With the motto 'On track to the future' in our anniversary year, the locomotive indicates how proud ABB is of its success story in rail transport and the long-standing partnership with SBB," added Remo Lütolf, Country Manager ABB Switzerland.
Last weeks trials with PSZ's 193 820 gave many the opportunity to make nice images. And they keep on coming in. Three impressions made by Ferenc Németh in Komárom. That day the machine ran to Győrszentiván and back.
Interesting duties for Railpool 185 679. Images show the Railpool locomotive, recently transferred from Scandinavia to Germany, pulling passenger trains for National Express. The 679, subhired from Lokomotion, replaces the MRCE ES 64 U2-034 that needed some maintenance. Update: the locomotive as only used for one day by National Express. On 17.01.2016 it as again seen hauling a Lokomotion freight train.
By coincidence, the silver and red locomotive was perfectly 'in style' with the former DB coaches that still have the DB Regio livery. National Express has two loco hauled trains in services since late December 2015. They complement the fleet of Bombardier Talent2 trains for as long as needed (they are so called 'Ersatzzüge'). (Sven Jonas / Jannick Falk)
On transport today, two locomotives that have something to do with the Deutsche Bahn. The red machine is the future 147 003 for the DB. The white one is a DC Vectron equipped for Poland, that has been hired to DB Schenker Rail Polska for quite a while back in 2012-2013. Both machines come from the Czech Republic (VUZ Velim test center). (Marcus Schrödter)
SETG is currently re-styling more locomotives. Both Railpool 193 814 and Siemens 193 821 got a new white and green livery. An image of the 814 with a timber train Lübeck (DE) - Schwaz (AT) on 15.01.2016 made by Patrik Meyer-Rienitz.
This is the new electric for the Westfälische Landes-Eisenbahn (WLE) from Lippstadt. It is a TRAXX AC3 Last Mile locomotive that was ordered late 2015. WLE's designation is no. 82, which is confusing as there is already a '82' in the fleet of the freight operator (a MRCE lease locomotive ES 64 F4-453). The image above (Markus Tepper) shows the machine on its first day after delivery, running Lippstadt without catenary. The image below by Martin Lauth shows the 82 pulled by RailAdventure 103 222 on its way to its new home base in Lippstadt.
Bombardier was able to provide WLE with a new locomotive very quickly by repainting and adjusting stock / demo locomotive 187 010 (II). We saw this engine already on European tracks in 2015 in the red livery of DB Schenker. Note that the new WLE 82 has a Flex Panel, with large WLE logos.