News
Ostrava-Svinov - 23.09.2017 - Photo: Mario Lippert
Since January this year, the Express Group from Bratislava is hiring MRCE ES 64 F4-842. So this operator now has a white and a black F4 locomotive in their fleet. This is our first image of the 842 with Express Group logos.
Mönchengladbach - 05.09.2017 - Photo: Wolfgang Scheer
After initially being hired to different operators (MMV, LTE), the three DE/AT/HU/PL/CZ/SK/RO/NL configured Vectron locomotives for ELL were last seen together in Mönchengladbach.
On Saturday 23.09.2017, everybody who was interested could visit the Linz workshops of ÖBB Technische Services. This company, part of the Austrian railways focuses on (heavy) maintenance, overhaul, repair and assembly of all types of rail vehicles. We made a selection of what was on display. Read more on Railcolornews.com.
Our Photogroup members are delivering so many nice shots of the GySEV Vectron locos, we just had to share them with you, again:
The French EPSF has announced that the Belgian locomotives of the Siemens ES64U4 type are approved for commercial services on 25kV AC-lines in France. There are two restrictions: the overhead wiring must be of the 85 Type and only the locomotives of sub type F2.2 are approved. So we assume only locomotives with 18 series numbers are involved (1801-1896). Of this batch, 1807 and 1862 are not available as they are software testbed locos.
Did you know: SNCB has started the first round of main overhauls (R1) on the 18s. Locomotive 1808, 1814 and 1836 are among the first that have returned to revenue service with 2017 revisons dates.
After being in service for PKP Cargo, MRCE yellow-silver locomotive no. ES 64 F4-205 is available for other purposes again. Curiously, the machine was transported to Bad Bentheim this week, and taken along to Hengelo by a Railexperts locomotive. But the locomotive was certified to run in the Netherlands, what has changed so it needs to be towed now? Update: The locomotive has not been used in the Netherlands for quit some time now. Photo: Johannes Kauffmann en Christian Klotz
As seen in Leipzig-Wiederitzsch on 15.09.2017 - Photo: Marcus Schrödter
Captrain/ITL 152 196 is in service in its new livery, but has not received Captrain logos until now. The picture above was taken on 16.09.2017. Photo: Markus Hartmann
Lokomotion 193 773 on 15.09.2017 at Kufstein - Photo: Thomas Naas
It is one of the eye-catchers of this moment; Lokomotion locomotive 193 773 and its new 'Brennereisenbahn' livery. Four more beautiful portraits are on Railcolornews.com thanks to Franz Fanger and Christian Bauer.
09.12.2013 at München-Laim, Rangierbahnhof - Photo: Michael Raucheisen
• 10 Vectron MS and 20 Vectron DC
• Option for 20 additional locomotives
• MRCE fleet includes 111 Vectron locomotives
Mitsui Rail Capital Europe (MRCE), a full-service locomotive leasing company, has ordered 30 Vectron locomotives from Siemens. Ten of the units will be delivered as multisystem Vectron MS for cross-border operations in Germany, Austria, Italy, Switzerland and the Netherlands. Twenty further locomotives will be equipped as direct-current locomotives (Vectron DC) to operate in Italy. Delivery of the locomotives is scheduled to begin from January 2018. The contract with MRCE also includes an option for an additional 20 locomotives.
"With this new order, our Vectron fleet will grow to a total of 111 locomotives. Our customers throughout Europe value the reliability and flexibility of the Siemens locomotive," says Junichi Kondo, CEO of MRCE.
"The long-standing trust of MRCE in Siemens shows that we have a locomotive in our portfolio that more than satisfies the requirements of European freight transport. With its fleet of DC, AC and MS locomotives, MRCE can now offer all electric versions of the Vectron," says Jochen Eickholt, CEO of the Siemens Mobility Division.
The ordered multisystem locomotives have a maximum output of 6,400 kW and a top speed of 160 km/h, and the Vectron DC has an output of 5,200 kW. Both versions are equipped with national train control systems and the MS locomotives also have the European Train Control System (ETCS).
A new livery for Akiem electrics, and which livery will CD pick for its Vectrons? And of course the newest Vectron and TRAXX locomotives that were outshopped! Read it all in our Railcolor Weekly locomotive news.
You must have read about it, about the current situation at Rastatt. During the construction of a tunnel under the very, very busy the Karlsruhe – Basel line, part of a project to double the capacity of this route, monitoring instruments detected a subsidence under the two existing rail tracks on 12.08.2017. The ground depressed around 50 cm and caused the rails to buckle. All rail traffic, passenger and freight, had to be halted.
Until 07.10.2017, passenger have to take the bus. Many freight shuttles can not run, and operators have to transport their goods via road or by boat. However, with some creativity, good cooperation and extra patience, some trains were able to reach the Alps by rail. A unique solution was found by redirecting trains via the curvy, single-track, non-electrified Stuttgart – Tübingen - Horb route. We went there and documented the unique rolling stock combinations on 28, 29 and 30.08.2017.
Read more on Railcolornews.com or click the images
First Group has released a first image of a class 68 diesel locomotive in 'TransPennine Express' livery. You see unit. 68021 'Tireless' in the colors that First Group is using for many of its trains since 2016. Metallic silver vinyl is being used, combined with blue and purple stickers. Read more on Railcolornews.com
On September 11th, three NGT26CW-3 locomotives were unloaded at the port of Haifa in Israel. The designated 720T-722T are the last three of a batch of seven additional NGT26CW-3 locomotives for Israel Railways. The operator now has thirteen of the type in its fleet. Read more on MainlineDiesels.net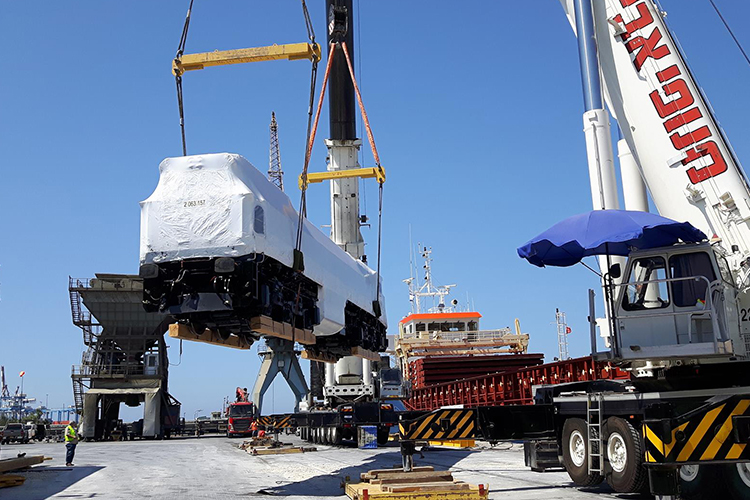 Blue zebras, red ones, ivory coloured paint. Lokomotion Vectron locomotives were delivered with several different designs. But one machine stood out because it looked, well, naked, unfinished. Unit 193 773 did not get any striping and was commissioned in a black and while livery. Something was missing, and now we know what:
Locomotion 193 773 on 08.09.2017 at Kufstein - Photo: Andreas Kepp
Andreas Kepplinger caught the 773 last Friday with his camera in a total new design. One cab in red, one in blue and its side now have stickers celebrating the 150th birthday of the 'Brennereisenbahn' (or 'Brenner railway' connecting Innsbruck (AT) to Verona (IT)). Do you like it? Larger picture here.
Seen at Großkorbetha yesterday: the first of the extra ordered CD Cargo 383 series locomotives: 383 006, on its way to VUZ Velim test center. Photos: Alex Huber
You may have heard it? When a Siemens ES64U2 type locomotive enters or leaves that station, it makes music, it produces a melody. Some say it sounds like an Alt-Sax. The ÖBB has recorded the sound for you,
read more
.
Alpha Trains: "We are happy to announce that our TRAXX MS locomotives with DE/AT/PL homologation received permission to access Venlo border station in the Netherlands. This means more flexibility for our customers by accessing the Venlo train station to load cargo."
Alpha Trains > TX Logistik 193 558 at Wernfeld - Photo: Timothée Roux
Delivery completed. As of this weekend, Vectron locomotives 193 558 and 559 are in service. They follow quickly after the commissioning of 193 556 and 557 of last week. All 10 machines ordered are now handed over, and there are 8 (!) different sticker designs:
193 550: 'Zwei Pole mit Enormer Zugkraft'
193 551: 'Zwei Pole mit Enormer Zugkraft'
193 552: 'Responsibility Driven'
193 553: 'Responsibility Driven'
193 554: 'TXLeitwolf'
193 555: 'Offroad'
193 556: 'License to Rail'
193 557: 'Daily Heroes'
193 558: 'Natural talent'
193 559: 'Naturail'
A picture of 193 559 can be seen here
.
Alpha Trains > TX Logistik 193 558 at Wernfeld - Photo: Timothée Roux
On 30.08.2017 we payed a visit to the SBB workshops at Yverdon-les-Bains in Switzerland. Here the Swiss railways work on revitalising their iconic Re460 electric locomotives and make them fit for another twenty years of service. After three years, the modernization program has now reached its series production phase. Read more on Railcolornews.com.
The new 193 557 in the sun at 29.08.2017 in Wanne-Eickel (DE). This locomotive is the latest addition to the Vectron fleet of Alpha Trains. TX Logistik is operating the machine. Now there are eight Alpha Trains > TX Logistik Vectron locomotives, in six different design. Two more to come. Check Railcolornews.com for bigger pictures. Photos: Timo Albert
An interesting train to see, with three locomotives, with one with new stickers. BLS Cargo 485 009 now has the new -Alpinisten- vinyls on its side, like we have seen before on 485 005. The locomotive, a Hector Rail 151, and the freight train are being pulled by a diesel locomotive. It is a north-south corridor freight train taking a detour as the line Karlsruhe - Basel is closed. Photo: Michael Goll
Akiem > Lineas 27156 on 29.08.2017 at Tergnier - Photo: Antoine Morval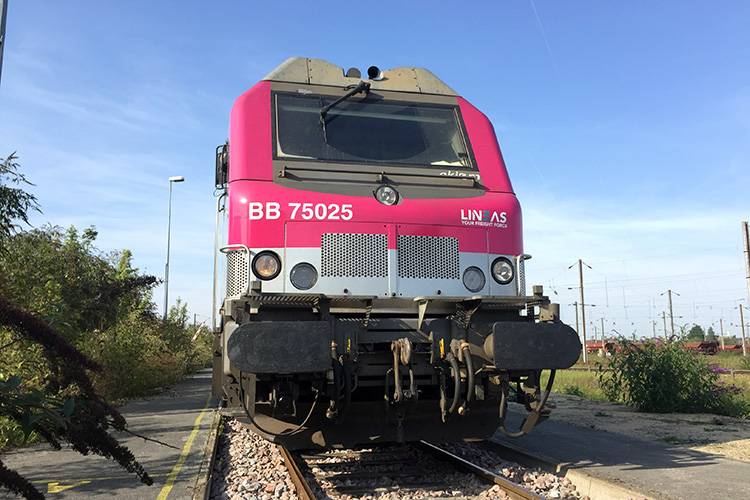 Akiem > Lineas 75025 on 28.08.2017 at Tergnier - Photo: Antoine Morval
Amazing images and video keep on coming in:
Yesterday was a big day for the railway fans in Israel. The first electric locomotive arrived at Haifa harbour. It was unloaded and attracted the attention of many. Beautiful images and (drone) video of the events were made. We show you some first ones:
We like to thank Kobi Zilberstin and Erez Simon for their cooperation.
If you see 139 558 or 103 222 approaching in the distance, you know you will see something special, or something very new. We collected some interesting RailAdventure transport trains of the past weeks. Read more here.
New stickers for Alpha Trains > TXL 193 556, seen on 27.08.2017 at Eisenach - Photo: Sebastian Winter
Early this month, two more Vectron locomotives were added to the fleet of Alpha Trains, and TX Logistik; 193 556 and 557. The first one mentioned is now seen with new stickers on its sides, clearly inspired by double O seven... 'license to rail".