News Archive
Today, two multi-system Vectron locomotives for lease company MRCE completed their maiden run. The X4E-645 and 646 are part of a batch of 11 that will be homologated in Germany, Austria and Italy. Photo: MRCE/Martin Dirsch
Railjournal reports: A Skoda NIM-express train is now making its test rounds on the test circuit of VUZ Velim. A Skoda 109E electric locomotive pulling/pushing three intermediate cars and a driving trailer:
Initially the first test train is operating in four-car formation on both the large and small circuits at Velim. On the large circuit the train has already reached its maximum operating speed both with the locomotive and driving trailer leading.
Today, RTC EU43-004 presents itself in its new livery. Bombardier has compelted the R2 revision on the locomotive in Vado Ligure, and now the machine has the white/red 'zebra design. Photo: Giorgio D'Alessandro
An overview of the eight machines of this type being operated by RTC:
EU43-001: RTC livery
EU43-002: RTC livery
EU43-003: First seen 09.2016, blue striping
EU43-004: First seen 01.2017, red striping
EU43-005: First seen 03.2016, red striping
EU43-006: First seen 01.2016, red striping
EU43-007: still in its PKP livery
EU43-008: First seen 06.2016: blue striping
The blue striped EU43-004 is featured in this video by Alexander Schmitt:
Ready to go to Sweden: Hector Rail's second 'normal' Vectron: 243.002. The locomotive was first seen today at München Ostbahnhof together with MRCE ES64U2-009. Photo: Michael Raucheisen
Bombardier Transportation and the Captrain Deutschland Group have signed a contract for six TRAXX multi-system locomotives. The new locomotives will be used to freight transport, mainly in Germany, the Netherlands and Belgium. Delivery is scheduled for early 2018.
Henrik Würdemann, Managing Director of Captrain Deutschland GmbH, said, "The Bombardier TRAXX multi-system locomotives' proven technology and reliability were crucial in our decision. This investment will enable us to further strengthen our cross-border freight transport on the East-West axis and let us offer our customers additional, continuous logistics solutions across country borders."
Mike Niebling, Director of Sales, Locomotives, Bombardier Transportation, said, "We are delighted that Captrain Deutschland has chosen our locomotives. We believe that they will be a great benefit because these new locomotives will enable the company to enhance the performance on the logistic corridors to the busy ports of Antwerp and Rotterdam."
---
Railcolor: Captrain Deutschland is currently using many different types of electric locomotives. The majority of the fleet however is being hired from different leasing companies, such as Alstom Prima machines and virtually all generations of TRAXX locomotives: AC, AC1, AC2, AC3 and DE. Many of these machines, contracts were inherited from operators that merged into Captrain during the past decade.
For international services to the Netherlands, Captrain is now hiring TRAXX MS2e locomotives from Railpool (186 294, 295, 296), similar to the new ones now being ordered. It is not the first time Captrain Deutschland decides to purchase locomotives, instead of hiring them. In 2014, TRAXX DE machines were bought, and in 2015-2016 Siemens Vectron locomotives were added for cross-border services to Central-Europe.
Rynek-kolejowy.pl reports: A new six-axle Dragon locomotive is under construction by Newag. It has a Newag livery and a body design that is similar to the Dragon's built for Freightliner PL. This indicates we are looking at another electric locomotive with (shunting) diesel engine.
Various images of Railpool's 187 316-5 being in Hungary. The machine was seen in Sopron, Komárom and in Győrszentiván together with 1216 920. Photos: Nortbert Tilai / Csaba Bereczki
Montenegro wants to privatize its railfreight company 'Montecargo' and it has now made public that OT Logistics from Poland is the only bidder. Montenegro has published a public tender for privatisation through the sale of 51% of the shares of Montecargo, with the possibility to subscribe new shares through capital increase and the right to purchase the remaining shares owned by the State of Montenegro and state institutions in accordance with the tender terms. According to binding offer, the total price offered by OT Logistics for 51% of shares amounts to 2,500,000 EUR.
OT Logistics has also offered the implementation of an investment program, which includes the purchase of two multi-system locomotives Siemens Vectron, locomotives and related IT solutions, in total amount of 2,55 million euro.
Business Plan envisages a significant strengthening of the company's position in the sector of international transport and logistics by achieving the leading position in the Baltic - Adriatic corridor by increasing its market share up to 50% on the market of reloading agricultural cargo in sea ports as well as by doubling freight of Montecargo.
The bidder has made the commitment to comply with the General, Branch and the Collective Agreement for a period of at least 3 years.
The company OT Logistics was also the only bidder on the tender for sale of 30% shares of "Luka Bar" AD Bar. In cooperation with the elected Adviser and in accordance with the defined procedure, the Commission will assess the legal validity, bidder's eligibility and the fulfillment of required conditions set forth in the public invitation and tender rules.
Source: Government of Montenegro
Yesterday we had 186 195, today we have 186 260. Two new TRAXX MS locomotives for Akiem on maiden run. Together wit 186 192-194 they form a batch of five DE/BE/FR configured locomotives, to be hired to Fret SNCF. - AL/CK
Different Austrian media are bringing the news that Siemens' has placed the best bid for the new generation of electric locomotives for the Austrian federal railways (ÖBB). In 2015 the ÖBB published a tender for various types of electric and hybrid locomotives to be used all across Europe.
According to Austrian media, the final selection took place on 11 January, on 16 January the bidders were informed. The contract volume at the end of 2015 was € 570 million. According to competition law, further details of the contract have not been disclosed yet. Now a 10-day period follows during which competitors have to decide to accept or object to the selection of Siemens as winner.
At this moment, an order of up to 200 new locomotives is mentioned. The details of the original tender can be found here.
The two 145 series locomotive of RBH Logistics
(145-CL 201 and 202)
now have additional stickers. A fox is hopping on.. The stickers make clear RBH is looking for new drivers. - DSO
Another new TRAXX MS locomotive for Metrans has left Kassel today. No. 386 025. Photo: Christian Klotz
Brand new 187 116 seen on 16.01.2017 in Heddesheim / Hirschberg. Photo: Valentin Andrei.
The moment is there, DB Regio has started to use its newest locomotive series in revenue service. Last week, the first 147s were seen with passenger trains in the Stuttgart region, being used for pulling/pushing 'N-Wagen' rakes, always with a 111 series locomotive as a back-up. Marco Eberbach was able to portrait such a train on the first day of service in Ludwigsburg. DB Regio 147 013 and 111 025 pushing train RB 39915 from Heilbronn to Stuttgart.
The lines mentioned where the 147s can be introduced (source DSO):
RE Stuttgart - Würzburg
IRE Stuttgart - Karlsruhe
RE Stuttgart - Heidelberg
RE Stuttgart - Singen
Update: Tobias Brüggemann took an image on 13.01.2017 in Nellmersbach.
Update 2: The 147s start to pull double deck trains too, as seen on 13.01.2017. 147 013 again pushing a RE Stuttgart-Heidelberg in Bruchsal. Photo: Jan Bläsi.
DB Cargo 187 109 with freight train near Porz-Wahn, 12.01.2017. Photo: Sven Jonas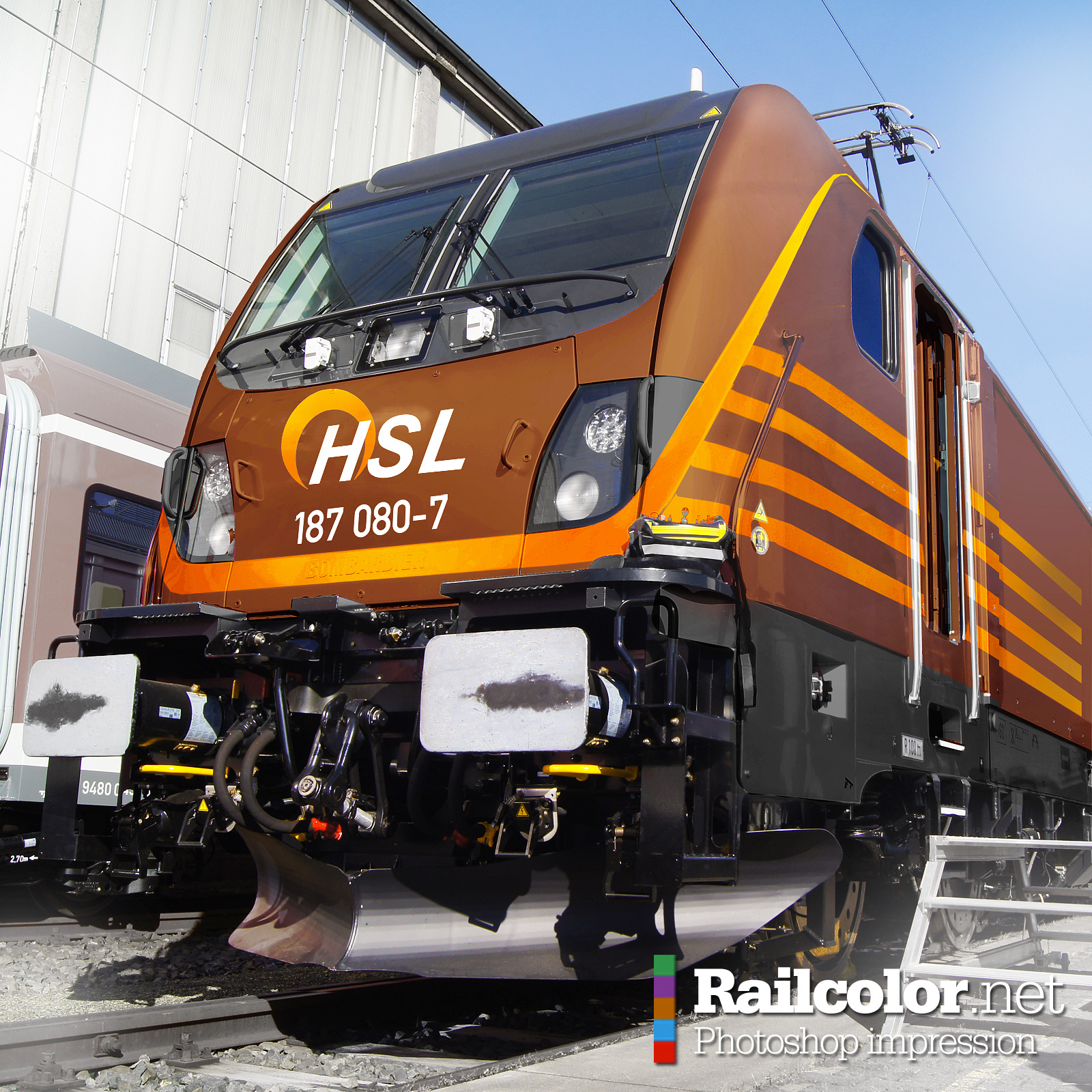 Photoshop impression by Railcolor - no official image
We created our own artist impression, to illustrate the latest TRAXX-order for Bombardier. German freight operator HSL Logistik will receive four TRAXX AC3 locomotives in 2017-2018.  These will be homologated for Germany.
At this moment, HSL Logistik is already operating two TRAXX AC3 locomotives, with Last Mile shunting module, both on hire from Railpool, being the designated 187 307 and brand new 187 313.
Source: Rail Business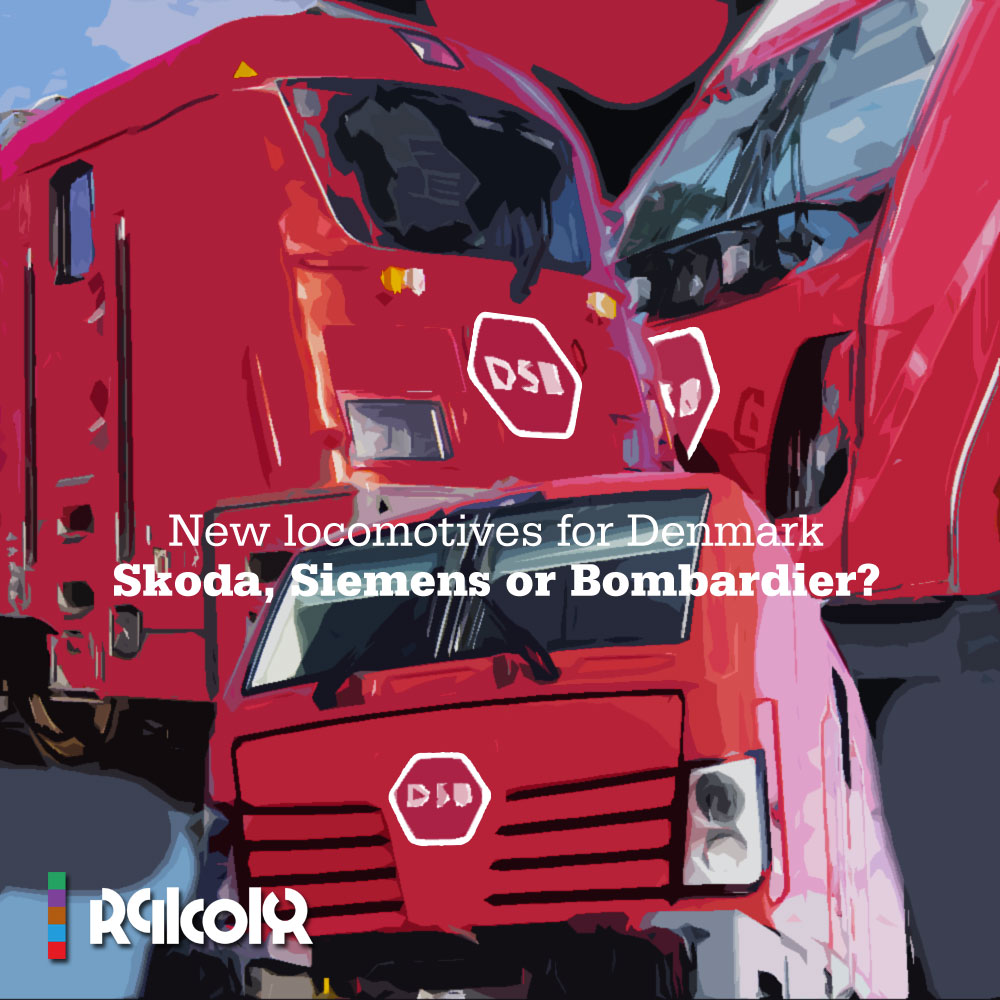 The Danish railways (DSB) have pre-selected three manufacturers in the ongoing tender for 26+18 new electric locomotives. Siemens, Bombardier and Skoda are still in the running. They now have until 06.02.2017 to reach in their preliminary bids. Final bids are expected for the end of the year. - Rail Business
Update: The 26 locomotives of the base order (DK) are for push/pull traffic with DSBs Bombardier Dosto2003 coaches (DSB has 25 cab cars). One option is for 6 additional DK-only locos, similar to the 26 above. However, interesting is the second option for twelve locos for potential international traffic to Germany (DE+DK).
The contract will include maintenance for 10 years (+option of 1 or 5 years). This will be performed by DSB at the DSB workshop in Copenhagen, under guidance and responsibility of the supplier. 6-7 locos must be in service in December 2019.
Inforail.pl reports about the final outcome of the Polish Innotabor innovation program, set-up by the Polish National Centre for Research and Development. Thirteen projects will receive funding, two of them are about locomotive development:
Newag receives 12,5 million złoty (appr. 2,9 million euro) for the development of a 4-axle multi-system electric with additional diesel engine.
Pesa is working on a dual-mode locomotive, an AC/DC electric + diesel. For this project, 21,8 million złoty (appr. 5 milion euro) will be available.
This is mgw's newest locomotive, Vectron no.193 846 (or should we say Akiem 193 846 now?). On 10.01.2016 the machine was parked in Krefeld, offering Wolfgang Scheer a good look on its details. We see an UIC grid that still has many countries crossed out. Of the seven countries for which this multi-system machine is equipped, the locomotive is currently only welcome in Germany and Austria.
This is Railpool 186 102, looking fresh and clean, the blue striping is gone. Lokomotion, that has the locomotive in its fleet since 2009, has returned the locomotive to Railpool recently. Reportedly, the 186 102 is now hired to LTE. - RH
Press statement Akiem:
Akiem, the European leader in locomotive leasing, has acquired German company mgw Service, a major independent player in electric and diesel locomotive maintenance in Europe. The transaction covers the entire share capital of mgw Service and was signed at the end of 2016 by Antje Wallraff and Klaus Weiss, the founding partners and heads of mgw Service, and Fabien Rochefort, Chief Executive Officer of Akiem.
mgw Service provides preventive and corrective maintenance for locomotives on behalf of rail freight and passenger operators. The headquarters of the 70-strong company is based in Kassel (Hesse State). It operates mainly in Germany from its own workshop in Krefeld (North Rhine-Westphalia State) and in Sweden (Hallsberg, Orebro County), but also in Switzerland, Italy and Poland. mgw Service possesses the skills, equipment and spare-part logistics required to cover an extensive range of electric and diesel locomotives. It generated estimated 2016 revenue of close to €20 million from a broad portfolio of private and incumbent operators.
This external growth transaction is part of Akiem's programme to accelerate its expansion in Europe and step up its investment in new locomotive fleets capable of serving from Germany to Central Europe, Sweden, the North Sea area, and Italy. This will enable Akiem to reinforce its leasing with maintenance offering. mgw Service's current managerial team will remain in place and the company will continue to operate under the name mgw Service. The complementary leasing and maintenance activities will enable Akiem and its subsidiary, mgw Service, to expand their networks and broaden the nature and level of performance of the services they provide to European operators.
"We are extremely satisfied with this transaction, which gives mgw Service the support of a European leader like Akiem. Our company's growth is now assured by once again expanding our European base so that we can serve all our customers with ever more dedication and commitment," said Klaus Weiß, CEO of mgw Service.
Fabien Rochefort, CEO of Akiem, said: "For Akiem, this acquisition is a significant step forward for our expansion in Europe. Akiem is determined to support and develop mgw Service and the synergies with our leasing business. The high professional standards and quality of service offered by both Akiem and mgw Service will enable us to offer our customers new services and provide better solutions for prospective customers in Europe."
Signed on 28 December 2016, the acquisition should come into force following the decision of the European competition authorities, which is expected for the end of the first quarter of 2017.
think-railways.com reports: Macedonian Railways signed a contract with CRRC Zhuzhou Electric Locomotive for the delivery of four electric locomotives. (..) The EUR 8 million investment is financed by the European Bank for Reconstruction and Development (EBRD), and is carried out as part of a project on the renewal of country's rolling stock fleet.
Only 2 days ago, CRRC Zhuzhou rolled out the first electric locomotive for Serbia.
From 02.01.2017 until 04.01.2017, Railcolor was transferred onto a new server. It was quite a job to do this without anyone noticing, and we almost did it. The migration is completed now, but we must tell you that around 30 images that were uploaded that day were lost. So if you think one of your images is missing, we kindly ask you to upload it again. Sorry for the inconvenience.
The Lokomotion picture book, now with 7 euro discount for German customers!
The new Lokomotion picture book has arrived in Berlin. This means that we can ship using German mail pricing. Good news for our German fans! Order you book now in our webshop and use voucher code 'LOMO'. The discount is valid when order is shipped to a postal address in Germany.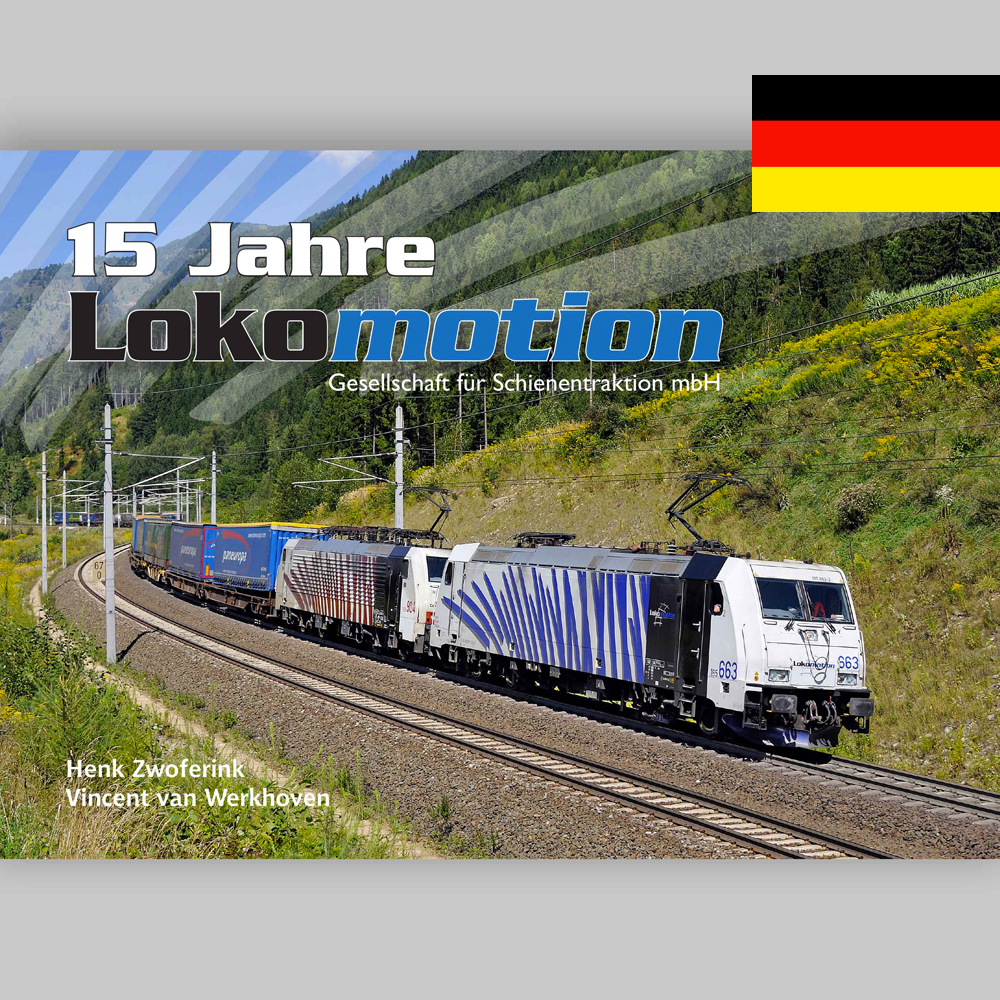 In September 2016, ELL 193 271 was damaged as it derailed in Hungary. One month later it was sent to Munich for repair. Since 08.01.2017, the DE/AT/HU/CZ/SK/PL/RO/HR/SI (!) machine is back in service. The Salzburger Lokalbahn (SLB) is now operating the machine, as SLB's own 1216 940 / 91 was sent to Linz for maintenance and preparation for ETCS installation.
Today, Metrans' newest left Kassel. 386 027 with REV 06.01.2017. Photo: Christian Klotz
On maiden run today: Akiem 186 194 for Fret SNCF. Photo: Christian Klotz
Toshiba is trending. The German railways and the Japanese company are going to cooperate in two locomotive projects, and Toshiba is involved in the 200-locomotive deal between Railpool and DB Cargo. Read all about it on Railcolornews.com:
[DE] Toshiba + DB Cargo: a new hybrid shunter for the EU market
[DE] Railpool acquires 200 locomotives from DB Cargo
[DE] HELMS: Toshiba rebuilding two DB V90 locomotives
Railjournal reports
: The Moldovan railways (CFM) has issued an international invitation to tender for a contract to supply 12-15 locomotives and rehabilitate maintenance facilities. The order is being co-financed by the European Bank for Reconstruction and Development (EBRD), the European Investment Bank (EIB) and the European Union's Neighbourhood Investment Facility (NIF).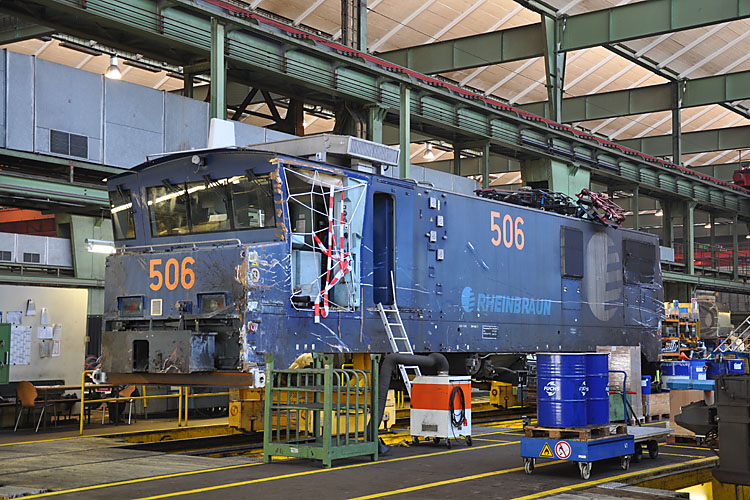 On 14.02.2015, RWE locomotive no. 506 crashed. After its complicated recovery, the machine was re-instated at RWE's depot in Frechen-Grefrath. With REV date 23.11.2016, the locomotive is now back in service, fully repainted in blue. Its logos and numbers are of a new design, large, bright and white. - Eisenbahn Revue International 1/2017
Update: An image of RWE 506 in its new livery. Photo: Martijn Schokker
(Although the letter E is now gone)
This is Felicia, a new TRAXX DC locomotive for GTS Rail. On 05.01.2016 the machine completed its maiden run Vado Ligure to Genova-Sestri Ponente. That same day the loco was sent to Piacenza and handed over to GTS Rail. Information and photo: Massimiliano Giovanetti.
Railpool > B Logistics 186 253 is one of four new TRAXX locomotives in the fleet of B Logistics, used for international freight services in Belgium and France. Correction: Today Alpha Trains 186 350 / 2905 was seen pulling a B Logistics train, so not all Alpha Trains locomotives for France are gone already. 186 252-255 should in the end replace Alpha Trains 186 346-350. Photo: Nicolas Beyaert
On 03.01.2017, two new Akiem electrics completed their maiden run Vado Ligure > Genua and back. 483 314 and 315 are now both hired to Mercitalia Rail.
A photo special by Henk Zwoferink:
As seen this morning by Hans van Kuilenburg in Amsterdam. Spare part in white?
Inforail.pl reports
: Ceske drahy again announced a tender for the lease of ten 200 km/h electric locomotives, for a period of 10 years. They will be used for international intercity/eurocity services to Germany, between Prague and Hamburg.
Yes, a new year! So many trains to write about, to draw, to take pictures of! We wish you all the best for 2017, and have fun, lots of fun!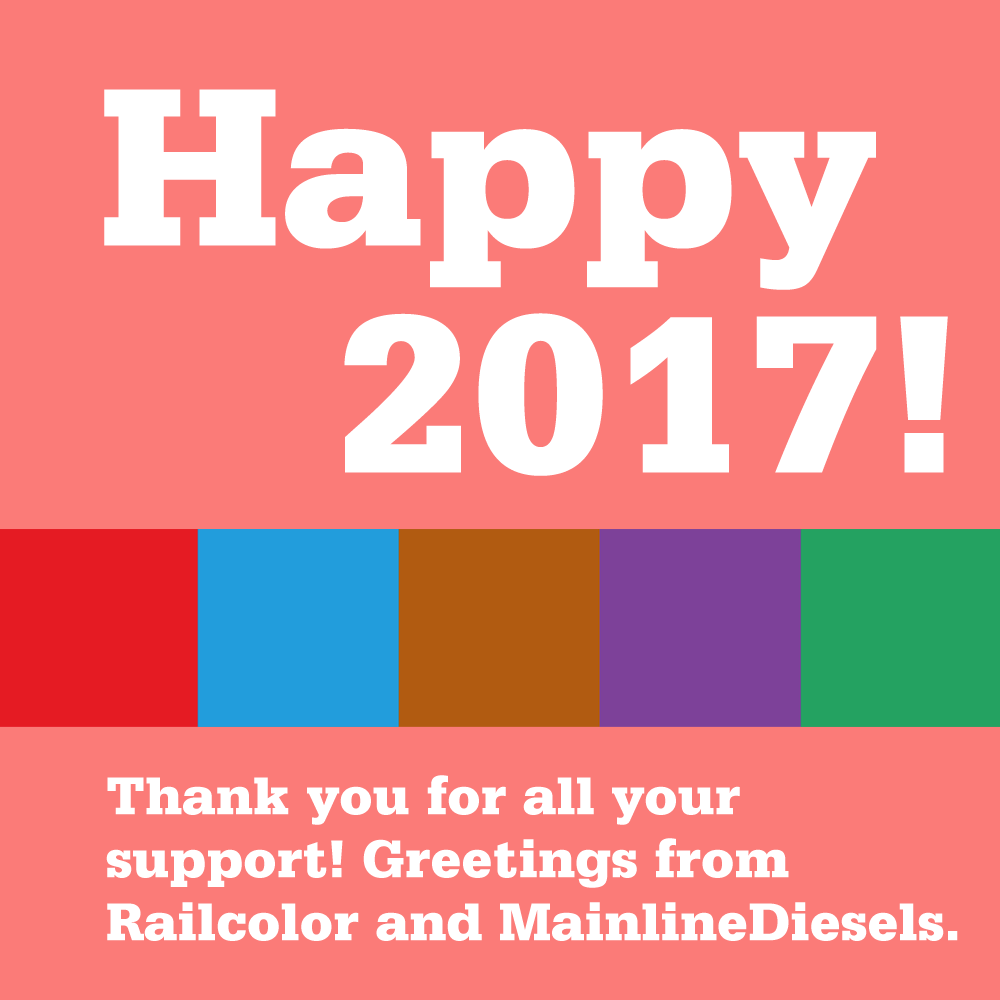 Akiem is expanding its fleet. In 2017 more TRAXX AC3 locomotives are expected, at this moment TRAXX MS2e and DC electrics are being outshopped. The latter type is being produced in Vado Ligure, Italy.
At this moment, a batch of TRAXX machines is being produced for the Italian market exclusively. Earlier this year, Bombardier also produced five units for Poland. In total Akiem is receiving 25 TRAXX DC units:
483 301-307 - Italy (December 2015 - February 2016) - all hired to Captrain Italia
5170 060 - Poland - (March 2016) hired to Pol-Miedź-Trans
483 308-311- Italy (April - June 2016) - all hired to Captrain Italia
5170 061-064 - Poland (July - October 2016) - all hired to Pol-Miedź-Trans
483 312-320 - Italy (under delivery) - hired to Captrain Italia / Dinazzano Po / Mercitalia Rail

Captrain
, the department for foreign freight services of the French railways (SNCF), is applying its standard lime/light grey corporate identity now on all locomotives in various European countries. With the arrival of Akiem 483 301-312, the design is applied for the first time on main line rolling stock in Italy.

Polish operator Pol-Miedź-Trans (PMT)
hired all five units from this Akiem batch that have been equipped for Poland: 5170 060 to 064 (temporarily numbered as 483 221-225). Unlike the two
similar locomotives PMT took delivery of in 2011
, these five machines did not receive the colorful orange/black/red/green livery. Silver it is, with black logos.

Dinazzano Po (DP)
exists since 2012, after Ferrovie Emilia Romagna (FER) decided to make its railfreight activities the responsibility of a separate division. DP owns two similar TRAXX DC locomotives, but they have
a plain white livery
. With the arrival of Akiem 483 313, we see DP's orange colour applied on a electric locomotive for the first time.

Mercitalia Rail
is the new name for the freight division of the Italian state railways (Ferrovie dello Stato Italiane). The design of Akiem 483 314 tells is that red will be the accent color for this operator. We expect more Akiem locomotives will be hired to Mercitalia Rail.
Lokomotion's first Vectron is hot: today 'Viola' pulled a TEE train, several photographers were able to catch it. Thank you for sharing with us!
Lokomotion 193 772. Photo by Martin Radner in Niedernfritz-St.Martin
Meanwhile in Vado Ligure, Bombardier is building more TRAXX DC locomotives. Akie 483 314 is the next one to be outshopped. The silver machine got red stickers and the logos of Mercitalia Rail, the new name of the freight operator of the Italian railways group. It is expected more TRAXX locomotives will be hired to this operator. - Ferrovie.it
At this moment, the Dutch railways is using their E186 TRAXX locomotives exclusively for shuttle services on the lines Amsterdam - Rotterdam (- Breda). In April the machines will start to run on the route The Hague - Rotterdam - Breda -- Tilburg - Eindhoven. Between Rotterdam and Breda the high speed line will be used. For these service new 9-car compositions of ICRm coaches are being formed (designated ICRmh9), with which testing has begun.
At this moment, the test trains, top-and-tailed by an E186, run every half hour between The Hague and Breda (there are not enough refitted ICRm coaches yet to test the whole route). The images show E 186 012 ready for departure, next to 186 006 that has just arrived. - Henk Zwoferink