News Archive
Official hand-over and presentation of GySEV 471 500. Video: Sárközi Gergely
Still with its ERS Railways theme livery, but now running for LTE. Photo: Csaba Prohaszka
Rhenus Rail Logistics 186 268 in Frankfurt-Süd, 22.05.2017. Photo: Alan Lathan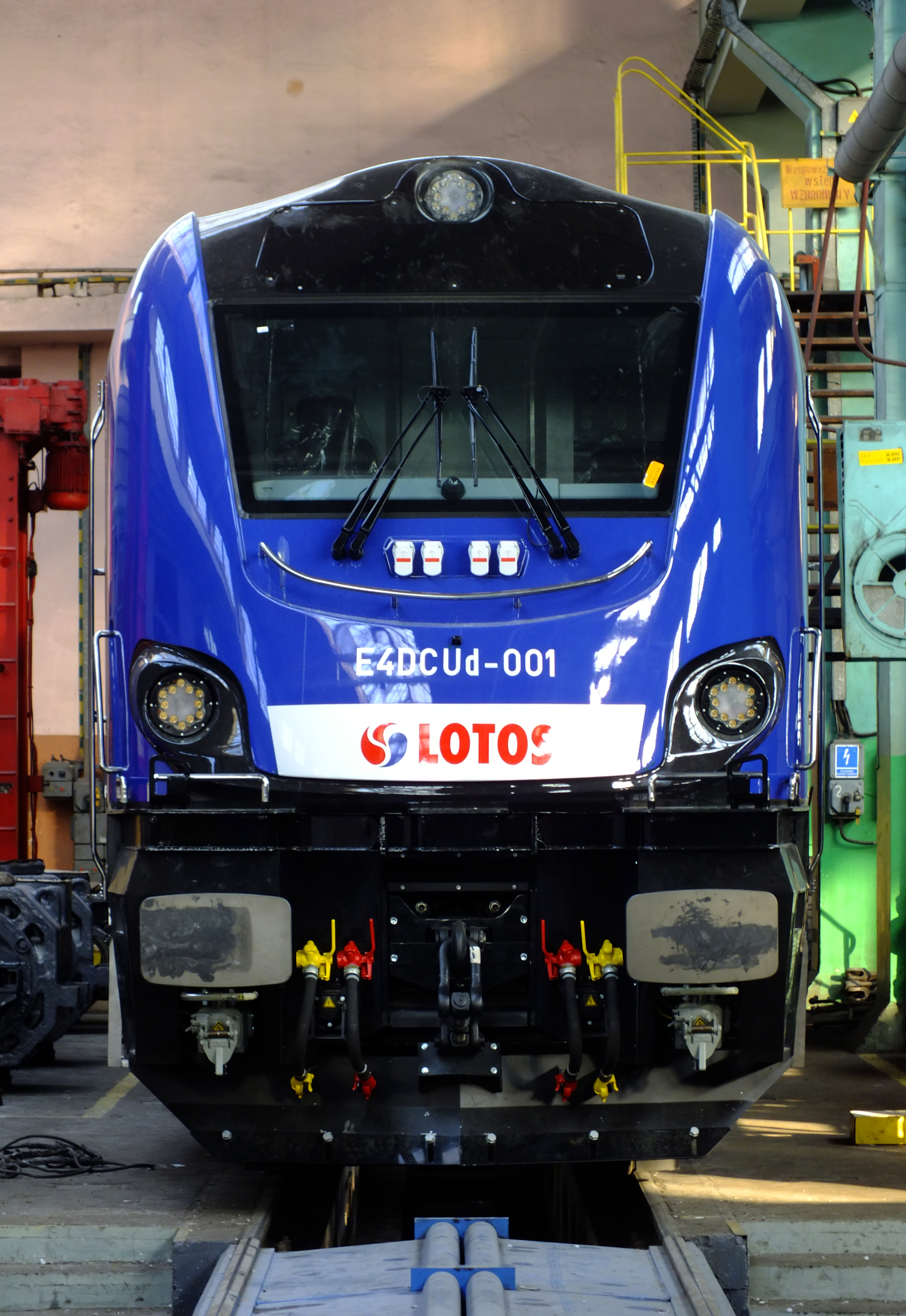 This is the E4DCUd-001, the first Griffin locomotive for Lotos Kolej. The oil company has ordered five such 4-axle locomotives, to be leased from Newag, to be delivered this year.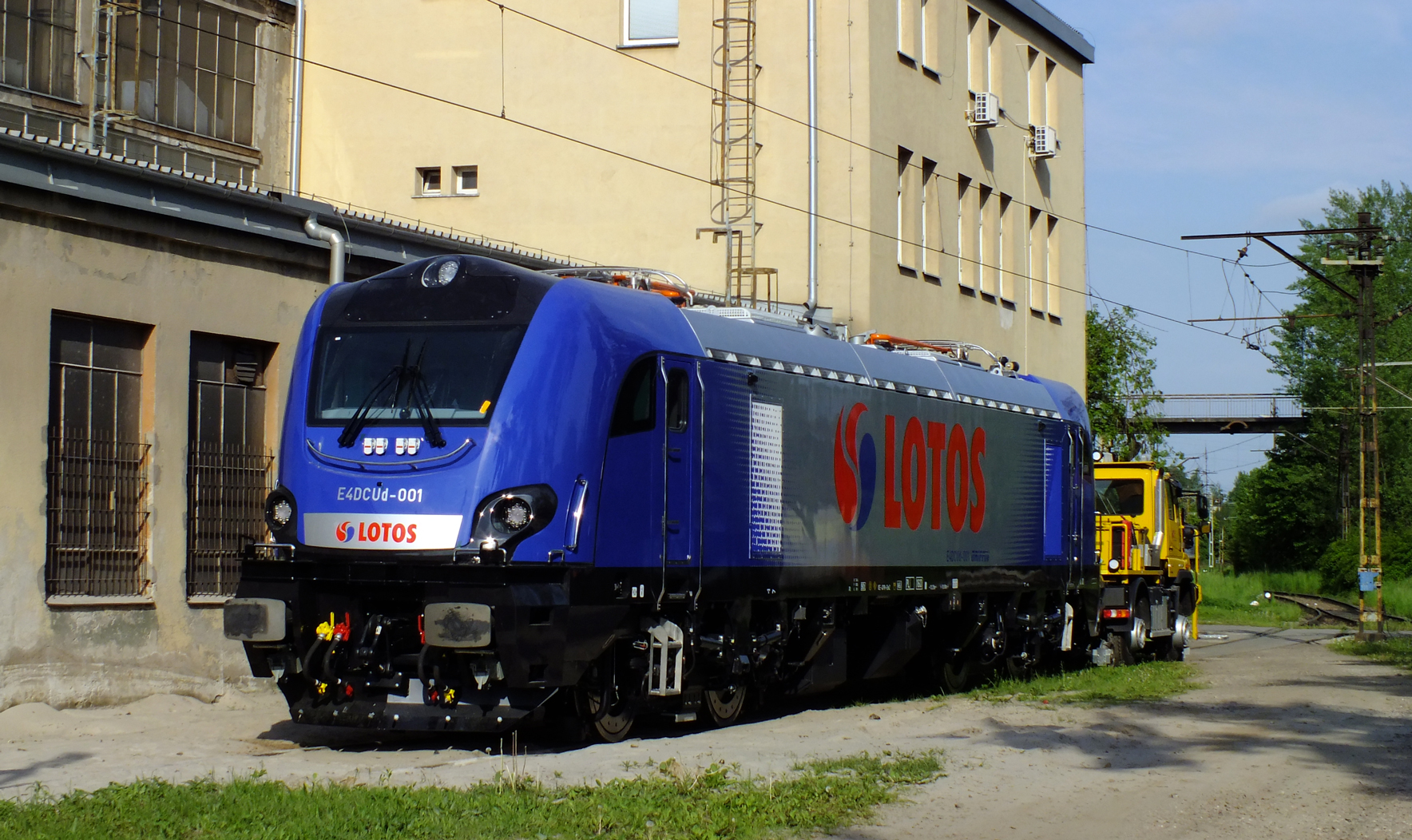 The silver-blue E4DCUd-001 locomotive, captured today at PKP Intercity's depot in Cracow. The locomotive has received several visual modifications, that make it look slightly different from the prototype. Photo: Andrzej Brzeźny.
The blue and silver machine you see in the picture is the first machine of this type to be built since the completion of the Griffin prototype locomotive from 2012. The green metallic machine, that was recently repainted in the corporate colors of Newag, was built as a multi system locomotive, the new one you see now is a DC only locomotive with last mile diesel module. We expect that it will be transported to the Polish test center at Żmigród, after the initial tests in Cracow have been completed.
The cab design of the new E4DCUd-001 is slightly different compared to the prototype. The headlights have a different shape, as do the front windows, cabin roofs and grips and power boxes on the front.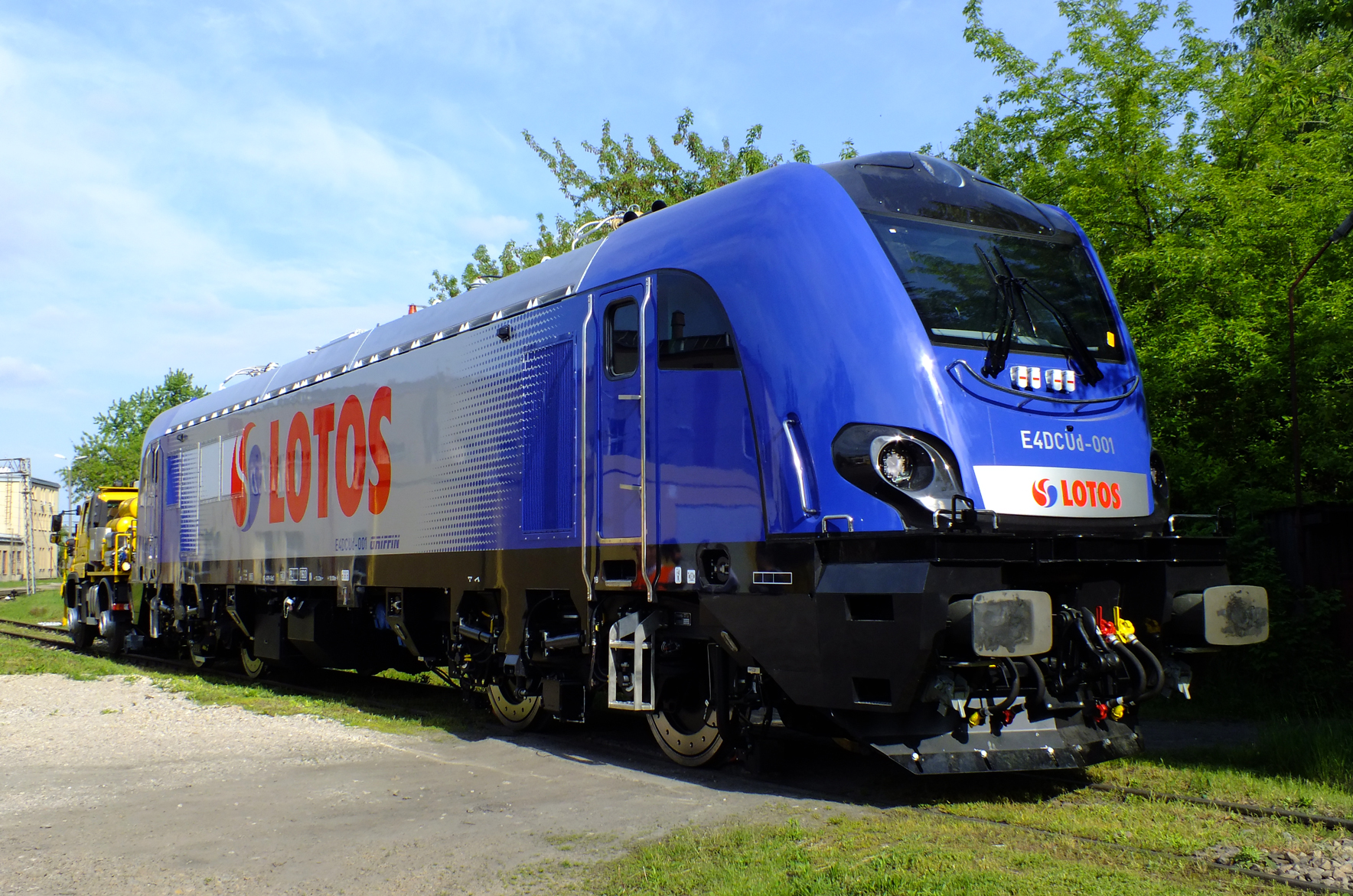 The first Griffin locomotive, built for Lotos Kolej, is being subjected to the first homologation tests at the PKP Intercity base in Cracow. Photo: Andrzej Brzeźny.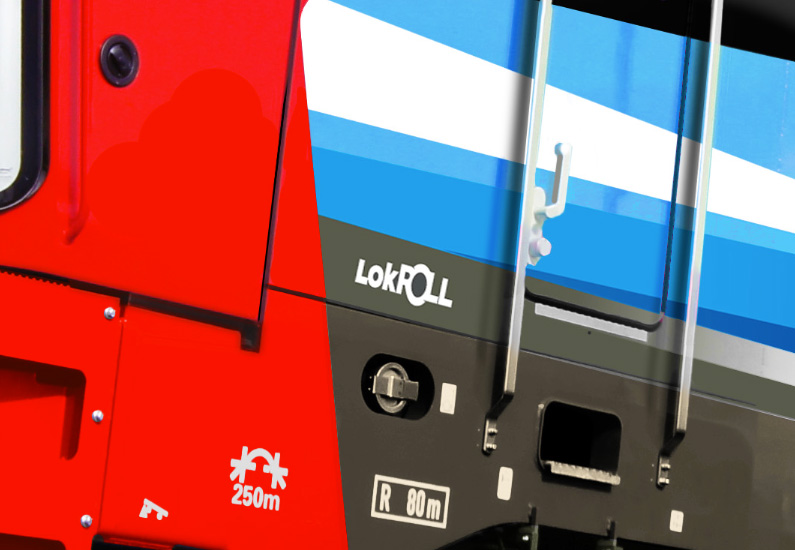 A new company is entering the market for long-term locomotive rental: Lokroll AG. Copying the successful model of collaboration between Wascosa and InRoll AG for the leasing of freight wagons, LokRoll wants to lease out locomotives to EVUs and industrial clients throughout Europe. Lokroll wants to supply locomotives for both main-line and shunting operations in the form of either dry lease or full service lease, with Wascosa acting as sales partner.
Lokroll was founded in September 2016. The first customer is SBB Cargo International, which is leasing 18 new Vectron locomotives for a period of 15 years, planning to operate them from December 2017 onwards.
This is the E4DCUd-001, the first Griffin locomotive for Lotos Kolej. The oil company has ordered five such 4-axle locomotives, to be leased from Newag, to be delivered this year.
The blue and silver machine you see in the picture is the first machine of this type to be built since the completion of the Griffin prototype locomotive from 2012. The green metallic machine, that was recently repainted in the corporate colors of Newag, was built as a multi system locomotive, the new one you see now is a DC only locomotive with last mile diesel module. We expect that it will be transported to the Polish test center at Zmigrod.
The cab design of the new E4DCUd-001 is slightly different compared to the prototype. The headlights have a different shape, as do the front windows, cabin roofs and grips and power boxes on the front. The blue-silver machine
On 17.05.2017, GySEV 471 500 and 501 arrived at Hegyeshalom. The day after they were seen at Sopron. Photos: Norbert Tilai and Csaba Bereczki
Two new Vectron locomotives for Finland have left Munich, to be transported to Lübeck in northern Germany. There they will be embarked to go to Finland by boat. Photos: Norman Gottberg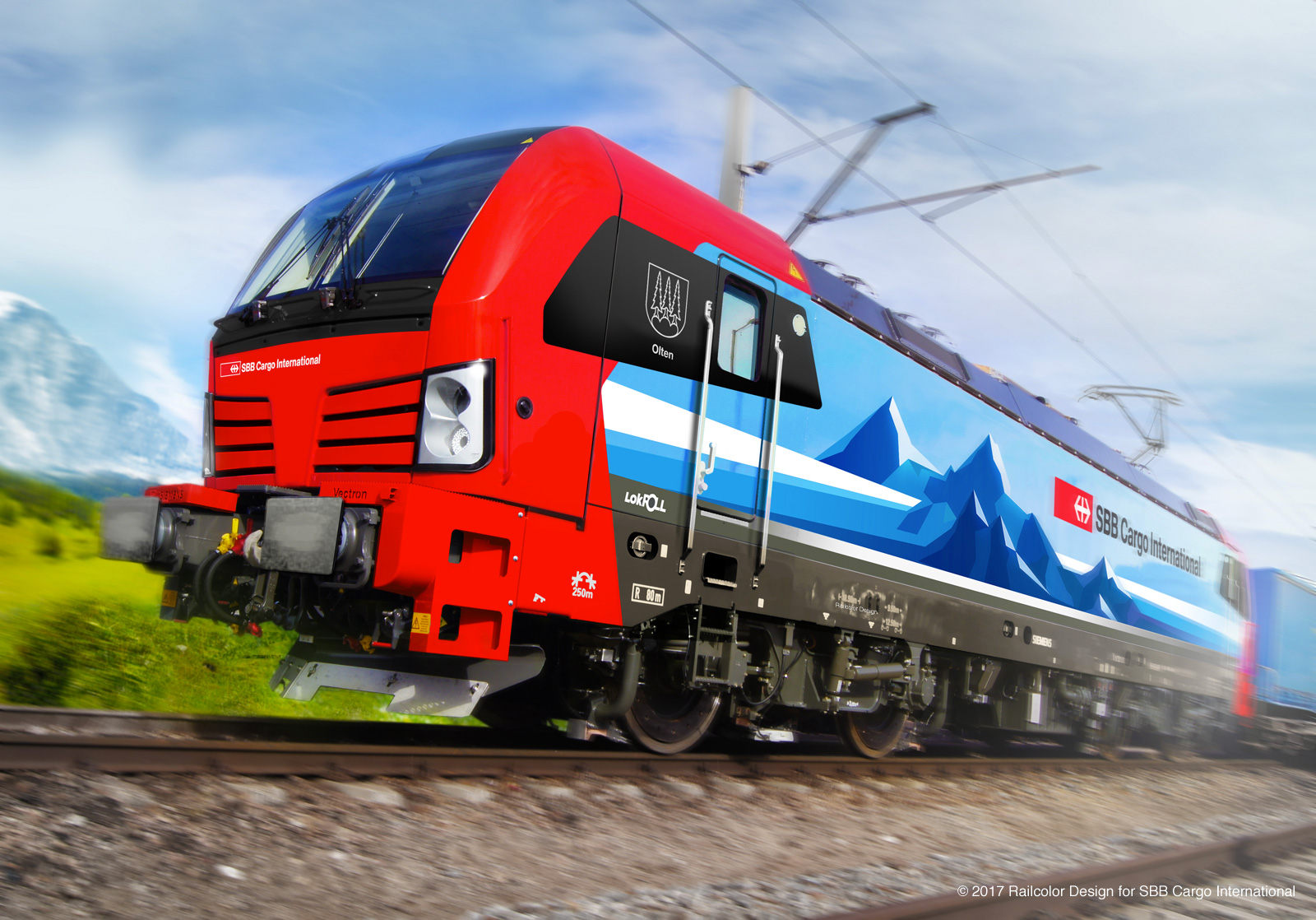 This is it, this is the new livery for the SBB Cargo International Vectron locomotive. It is a huge honor for us that we were given the chance to create this design for the freight operator from Switzerland. Share it if you like!
You can read more about its creation on our design portfolio website.

Hey we missed this one: The first Vectron locomotives Siemens will deliver to the Austian federal railways (ÖBB) - 30 multisystem machines - will enter service as 1293 series. This corresponds with designations used for the ÖBB Taurus locomotive family, where the multisystem version is the 1216.
CargoServ is already operating a 15/25 kV AC version of the Vectron registered in Austria. Like in the Taurus family, its number starts with 11, also series 1193.
Lokomotion 193 774 at Parndorf on 14.05.2017. Photo: Herbert Pschill
GySEV 471 500 and 501 in Ennsdorf today. Photo: Andreas Kepp
First time in the Netherlands: Metrans 386 series locomotive. Metrans 386 030 bound to Emmerich at the BetuweRoute on 09.05.2017. Photo: Arny Bouwmeester
A new configuration for Bombardier's TRAXX multisystem locomotives is being introduced. Last week we showed you the new Rhenus/LTE locomotive with the country specific package DE/AT/BE/NL/CZ/SK/HU (allbeit in a different order, with CZ as main country in stead of DE). Now Bombardier is preparing identically configured locomotives for Railpool, such as the 186 300 shown above. Also Railpool's future 186 298 has been refitted with the same configuration. Earlier the machine was still a 'normal' DE/AT/BE/NL locomotive. Photos: Christian Klotz
AT > MSM 185 511 with soccer charter train Frankfurt/Main - Wolfsburg on 06.05.2017 at Frankfurt/Main. Photo: Tobias Kußmann
We already reported on Alpha Trains locomotive no. 185 511 now sporting 'Urlaubs-Express' stickers. Now we can show our first two pictures of the machine in revenue service. 185 511 is on hire to the MSM Gruppe since 2016 and registered with the Eifelbahn Verkehrsgesellschaft (EVG).
AT > MSM 185 511 with the first Urlaubs-Express on 12.05.2017 at Hamburg-Altona. Photo: Lars Brüggemann
In service as of today, Railpool > Lineas 186 255 in its new freight force livery. In total there are now four Lineas wrapped locomotives: 186 293, 7789, 7784 and 186 255. Two more to come. Photo: Joeri Vanvaerenbergh
Railpool > Lineas 186 293 at Waasmunster on 04.05.2017. Photo: David De Baere
Today, 187 109, 120 and 122 for DB Cargo were taken from Bombardier in Kassel to Mannheim, home base of many electrics of the freight operator. In Kassel, 187 126 completed its maiden run. Photo: Christian Klotz
After four locomotives with blue strips (193 770-773), Lokomotion now has a Vectron machine with red stripes. This is the 193 774 in Brennero on 09.05.2017. Photo: Riccardo Mainoldi
We have no further information about this locomotive, but it did make a test run on 08.05.2017. This is 187 080 in the livery of the Deutsche Bahn, only the logos are missing. It reminds us of the 187 009 and 010 that were built in 2014 in the same color scheme. They ended up being sold to Railpool (still 187 009) and SRT 487 001. Photo: Christian Klotz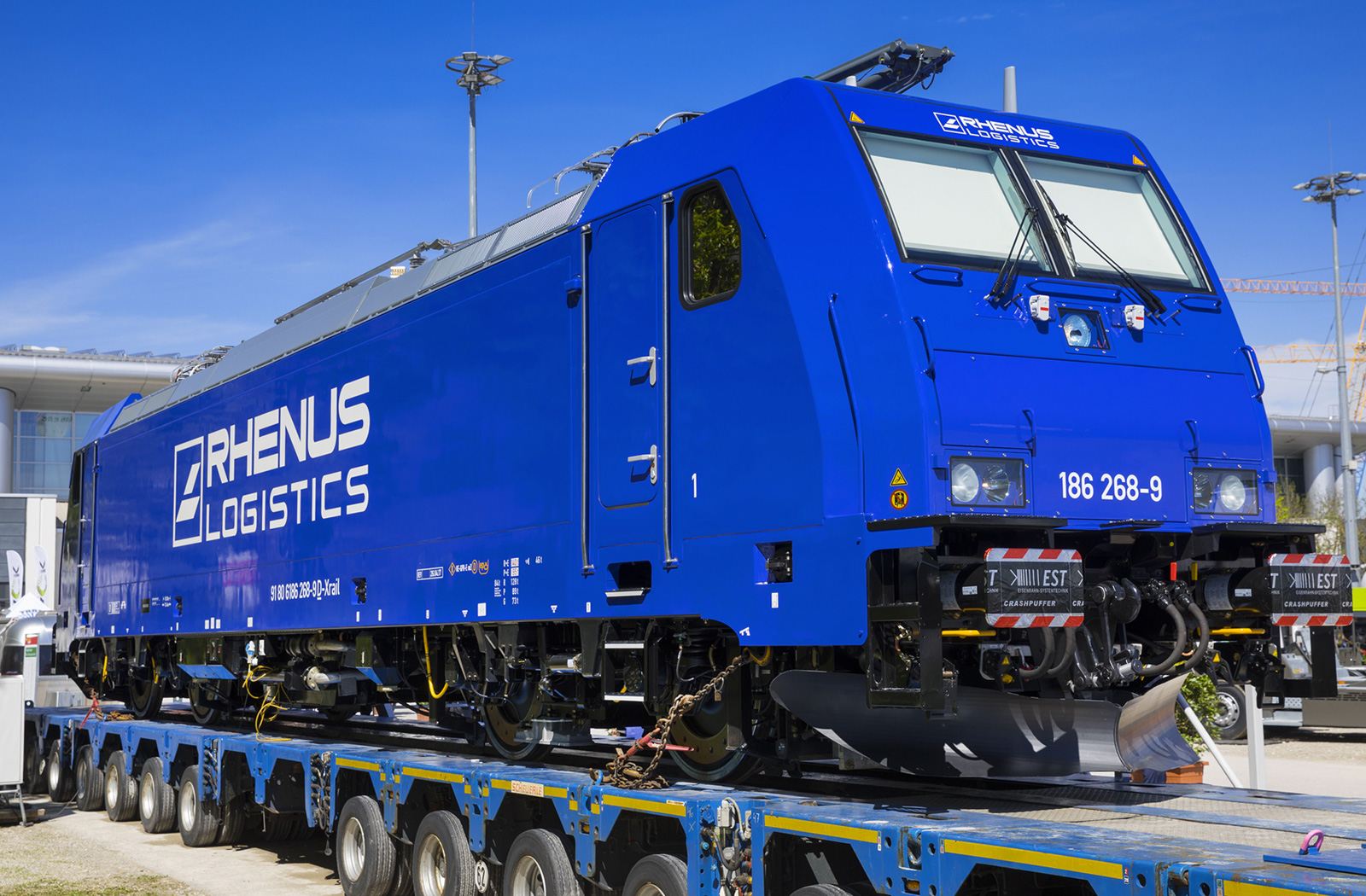 Portrait of the RRL 186 268. Photo: Henk Zwoferink
This morning, Bombardier officially presented the first of three TRAXX multi-system electric locomotives for the Rhenus Group. During a small ceremony at the transport & logistic fair in Munich, the blue 186 268 was handed over to Rhenus. Until the end of May, all three will be commissioned.
The Rhenus Group already has similar locomotives in its fleet, so commercial usage of the new machines can start right away. The blue 186 268 and 269 will be registered in Germany and have D-XRAIL keeper markings (XRAIL = Crossrail, of which Rhenus holds a majority stake). The third machine will have a Austrian registration and will be used by LTE, of which Rhenus Rail holds 50% of the shares. This designated 1186 940 will feature a LTE color scheme.
Rhenus Rail states that it will use its new TRAXX locomotives predominantly for services to and from Belgium. Other important freight corridors are those from the Netherlands to Germany (Swiss border region) and central Europe. Officially, the machines are equipped for Germany, Austria, Hungary, Czech Republic, Slovakia. Belgium and the Netherlands.
Bombardier hands over Rhenus 186 268 to Michael Viefers, member of the board of Rhenus Group. Photo: Henk Zwoferink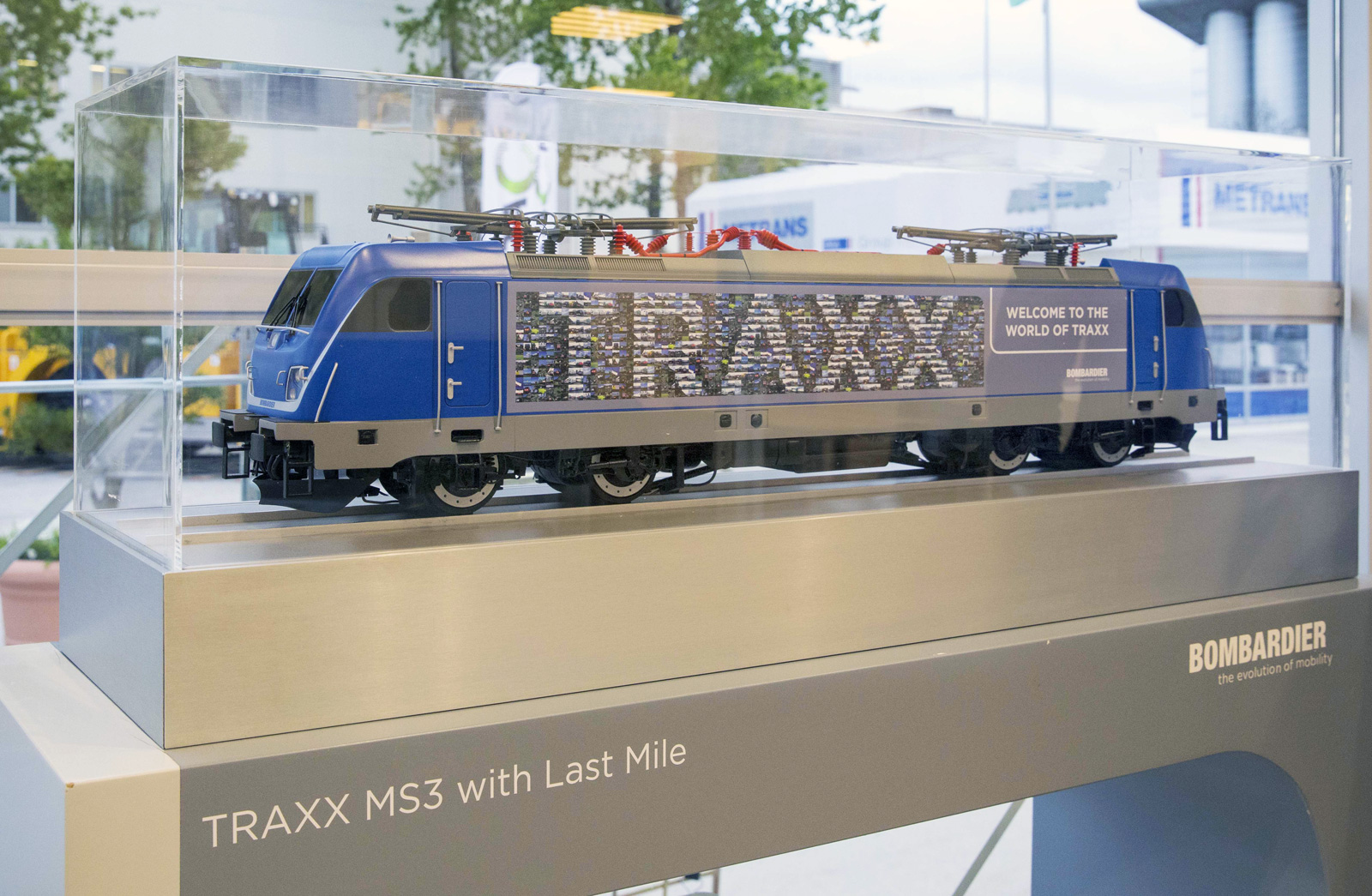 Model of the new MS3 at the booth of Bombardier during Transport & Logistic 2017. Photo: Henk Zwoferink
Bombardier Transportation presented its new product platform for the locomotive sector at the Transport Logistic trade fair in Munich today. Alongside the Bombardier TRAXX AC3 locomotive (series 187/487), which is powered by alternating current, the product platform is now complete with the introduction of new Bombardier TRAXX MS3 (multi system) and DC3 (direct current) locomotives.
While the MS3 can be used under the four voltages commonly found in Europe, the DC3 version can operate on direct current routes, for example in Italy and Poland. With the new locomotive platform, Bombardier now has the rail market's most modern and comprehensive range of electric locomotives.
Michael Fohrer, President of Locomotives and Light Rail Vehicles, Bombardier Transportation, says, "Our new locomotive platform offers operators suitable solutions for all electrification systems. The advantages are mainly in the areas of tractive power, economical and ecological operation and tailor-made service variants. Our new platform will enable operators to rely upon the Last Mile Feature across all of Europe, making it possible to bridge non-electrified track sections in harbours and borders as well as compensate for power failure."
Compared to similar locomotives in their class, the new TRAXX locomotives will offer greater performance. They will be able to pull one additional carriage each and their degree of efficiency will be 1.9 per cent higher. Improved traction effort and adhesion control makes it possible for a TRAXX MS3 locomotive to deliver 20 tons more traction load per 1.000 tons of train. This means that operators can save around 170,000 euro over the locomotive's 30-year service life. Plus, an Ecomode can cut overall energy consumption by five per cent by switching off individual traction motors. Also, the new TRAXX will be able to generate 15% of the energy it needs by itself via better recuperation systems and improved energy efficiency.
The locomotives are designed condition-based and with modular maintenance downtime is being reduced by making mechanical service faster and easier.
Railcolor: we have the general technical specs of the new TRAXX MS3 platform, with some interesting characteristics:
Max. traction power: 6 MW (6.4 MW power boost). This is slightly more than the standard 5.6 MW older TRAXX types have.
New is that a multi-system locomotive will be available with a shunting diesel engine and remote radio control. The Last Mile diesel power module is of course optional, but will be slightly more powerful than the unit now used in the AC3 Last Mile with approx. 230 kW of power
The max. starting traction effort in electric mode is slightly higher than before: 340 kN (approx. 300 kN in Last Mile mode)
Max. speed: 160 km/h
ETCS Baseline 3
Countries for homologation mentioned by Bombardier are the Netherlands, Belgium, France, Germany, Austria, Switzerland, Italy, Poland, Czech Republic, Slovakia, Hungary, Slovenia, Croatia and Romania.
Out and about today, the first Vectron locomotive for Austro-Hunagrian operator GySEV: Siemens 22215 - GySEV 471 500. The livery of the locomotive is as presented in the artist impression in March 2017. Michael Raucheisen caught the locomotive with its camera this morning being readied for its maiden run in München-Allach.
New in the yellow livery of RegioJet: ELL 193 227. Additionally, the locomotive sports stickers promoting the travel booking website of mother company Student Agency. Photo: Nino Belovic
DB 101 112 was presented in a classic 'Rheingold' livery on 27.03.2017; The ivory, silver and dark blue colors are a tribute to this classic Rheingold design from 1962.
It is not the first time this colorscheme is re-used in modern time. In 2014 museum locomotive E03 001 was repainted in the same Rheingold color scheme. The 101 112 can now be seen across Germany pulling DB's intercity trains. But of course, we can not wait until the locomotive makes its debut hauling matching passenger coaches..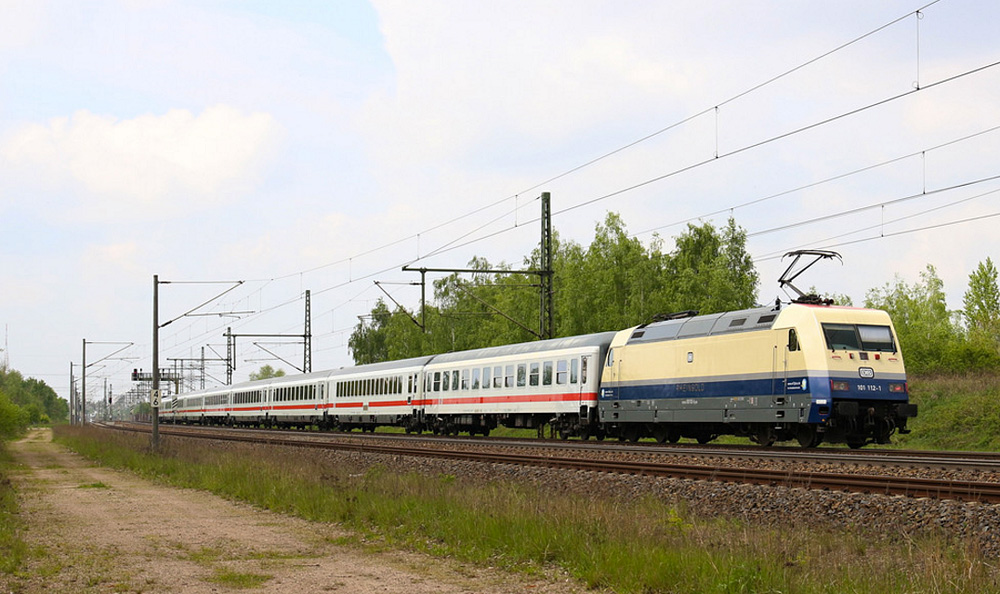 DB 101 112 at Halle-Messe on 07.05.2017 with IC 1956. Photo: Johannes Klektau
DB 101 112 in Frankfurt-West on 07.05.2017. Photos: Marvin Fries
1116 159 in its new livery at Bruck an der Mur, 04.05.2017. Photo: Christian Tscharre
ÖBB 1116 159 has a new livery, celebrating the 150th anniversary of the line connecting Innsbruck, Brennero and Bolzano, known as the 'Brennerbahn'.
This is ÖBB 1216 017 that has just received the RailJet livery. It is the second locomotive of its type, with homologation for Italy, that is given this livery. 1216 018 was the first one back in 2015. In the future, ÖBB plans RailJet trains to Vienna, for which these locomotives will be used.
DB Cargo "91 53 0480 027-8", the newest Softronic Trans Montana locomotive in Filiasi on 04.05.2017. Photo: Cosmin TMV
On 03.05.2017 railfreight operator Lineas, formerly known as B Logistics, has presented its first locomotive sporting its new Lineas logos and colors. The images show Railpool > Lineas 186 293 during its presentation at Antwerp. After a festive roll-out, the machine was taken to the freight yard to take on its freight train.
The 186 293 is the first of six locomotives in the fleet of Lineas that will get a full wrapping. Next one up is a 'Reeks 77' shunter (no. 7789) that will be ready by the end of the week. During the next weeks a second 77, a 'Reeks 13' electric, a 'Class 66' and a TRAXX locomotive that can be used in France will be 'Lineased' too. Very special is that it is one of the very few Railpool lease locomotives that is wrapped completely.
We are happy to be part of this project. Railcolor Design was given the chance to consult on the application of the proposed designs and is responsible for the project management of the wrapping of all six locomotives.
A first quick shot a TRAXX MS locomotive for Rhenus Rail. This machine is the designated 186 269. Rhenus Rail has three such units on order, homologated for Germany, Austria, Belgium, the Netherlands, the Czech Republic, Slovakia and Hungary. Photo: Marcus Alf
On 02.05.2017, the last three Vectron locomotives for PKP Cargo arrived in Poland. The image shows EU46-512 pulling the newbees EU46-515/514/513 in Opalenica. Photo: Jakub Dolniak
On 25.04.2017. the supervisory board of ČD Cargo approved the purchase of an additional three Vectron locomotives from Siemens. It means ČD Cargo will exercise an option included in the original order for five machines (the designated 383 001-005) from 13.04.2016.
The price of one locomotive is again around CZK 100 million, ETCS is included. The three new machines are to be delivered around the turn of the year 2017/2018.
In June ČD Cargo wants to start using its Vectron locomotives between Brno and Rostock (trailers) and to Braunschweig (DE) and Koper (SI). - Siemens
ČD Cargo Vectron no. 383 004 at Dresden-Stetzsch on 08.11.2016. Photo: Steffen Kliemann
This image makes the damage on Railpool's 186 295 very visible. On 24.04.2017 the machine and its freight train hit a excavator at Deurne (NL). In the end, the locomotive and its train were pulled back to Venlo, where the image above was made. Photo: Arnold de Vries
Captrain / ITL 193 781 and 782 ready to leave Munich. Photo: Michael Raucheisen
On 27.04.2017, two new Vectron locomotives left the Siemens plant in Munich; the designated 193 781 and 782 were delivered to Captrain-company ITL, that already operates six such machines. Like these 193 891-896, the two newbies are configured for services in Germany, Austria, Hungary, Poland, Czech Republic, Slovakia and Romania (DE/AT/HU/PL/CZ/SK/RO).
Rail Business brings the new that Captrain/ITL will again get six new machines, so its Vectron fleet will double. One more will come later this year, no. 10, 11 and 12 will be handed over in 2018. The latter three will also get an homologation for the Netherlands too.
Update: Captrain / ITL 193 782 pulling (one of) its first freight trains. Photo: Marcus Schrödter
On 26.04.2017, lease company Alpha Trains and railfreight operator TX Logistik took delivery of the last Vectron locomotive of a serie of six, that were ordered in 2016. The machine with no. 193 555 is completely wrapped in a 'Off-road' themed livery, promoting TX Logistik's NiKRASA system, with which it is possible to make non-craneable semitrailers craneable.
We expect the 193 555 to be presented during the 'transport logistik' exhibition in two weeks in Munich. TX Logistik has also announced that the delivery of four additional locomotives, of which several have already been built, will commence in August 2017.
On 24.04.2017, Siemens officially handed over the fourth Vectron locomotive to Lokomotion: the designated 193 773. Like the previously delivered 193 770-772, the machine has no Lokomotion logos/numbers (yet). But this machine also has no striping! Photos: Michael Raucheisen / Frank Weimer
A group of model railway traders from Germany have put money together to wrap a DB 101 series locomotive in an old-skool Rheingold livery. And this is the result!
Tip: Next tuesday, 02.05.2017, DB locomotive 101 112 will start its maiden run in this livery.
In December 2017, RegioJet plans to introduce new long-distance intercity trains connecting Prague, Brno with Vienna. The open-access operator wants to make Austria its third home-market, next the Czech Republic and Slovakia. RegioJet will do this with its new partner for Austria, the Graz-Köflacher Bahn und Busbetrieb. Read more on Railcolornews.com.
Two weeks ago, RegioJet announced the acquisition of new locomotives and coaches. The first units will arrive this year, so they will sure come in handy for the companies' expansion plans.