News Archive
New locomotives, new colors, new contracts. Every Monday we bring you the latest news on new electric locomotives being built in Europe. This week: what are all these Railpool TRAXX locomotives doing in Innsbruck? And which locomotive now has number '80 962'? Find it out on Railcolornews.com.
Update: In four days, the Locomore long-distance trains run again between Stuttgart and Berlin. Testing and driver training, now under the responsibility of the German department of Leo Express, has started:
Hector Rail 242.517 with Locomore training service on 20.08.2017 at Niederndodeleben. Photo: Marcus Schrödter
FlixBus and LeoExpress make it possible: the resurrection of Locomore. This German start-up company introduced a privately operated, long-distance train service in December 2016, but had to file for insolvency after only five months of commercial operation. Read more on Railcolornews.com
Hector Rail 242.517 with Locomore train on 02.04.2017 - Photo: Rik Hartl
RailAdventure 103 222 with IR 3002 and two double-deck coaches for the railways of Israel, seen on 20.08.2017 at Weißig. Photo: Mario Lippert
After a period of operation by AWT, Softronic 480 015 is now hired to MMV from Hungary. The red painted machine now has small white MMV logos - 14.08.2017, Hegyeshalom, Photos: Herbert Pschill
DB Cargo 187 132 on maiden run, seen at Kassel-Kassel-Wilhelmshöhe. Photo: Christian Klotz
Delta Rail 243 559 with Akiem 5170 061 at Eisenach - Photo: Sebastian Winter
Yesterday, Akiem 483 222 / 5170 061 arrived in Poland after being repaired by Bombardier in Kassel. The locomotive was damaged after an accident in Lubin in December 2016. In April 2017 the machine was transported to Kassel on Loco Buggies. In Germany the TRAXX was pulled by Delta Rail 243 559, in Poland the DC loco ran under its own power.
Herbert Pschill took pictures of the four new white Vectron MS locomotives recently outshopped by Siemens, that have now arrived at Hegyeshalom [HU]. First rumors tell us that ELL 193 289-293 are the first units soon to be used for pulling the EC Prague - Berlin - hamburg EC trains.
Today, the Hungarian railways presented another 480 series locomotive honoring an historical figure. With a festive ceremony MAV 480 003 was inaugurated with a red and ivory colored wrapping about 'Szent István'. Read more on Railcolornews.com
New! Yesterday we released our first "new locomotives / new colors" update, that we will be making every week. Today we present you another new item: the Railcolor EU industry brief: this update will come every month and gives you a overview of all new trains under development, on order or being delivered by EU railway manufacturers. Check out our August 2017 brief by clicking here.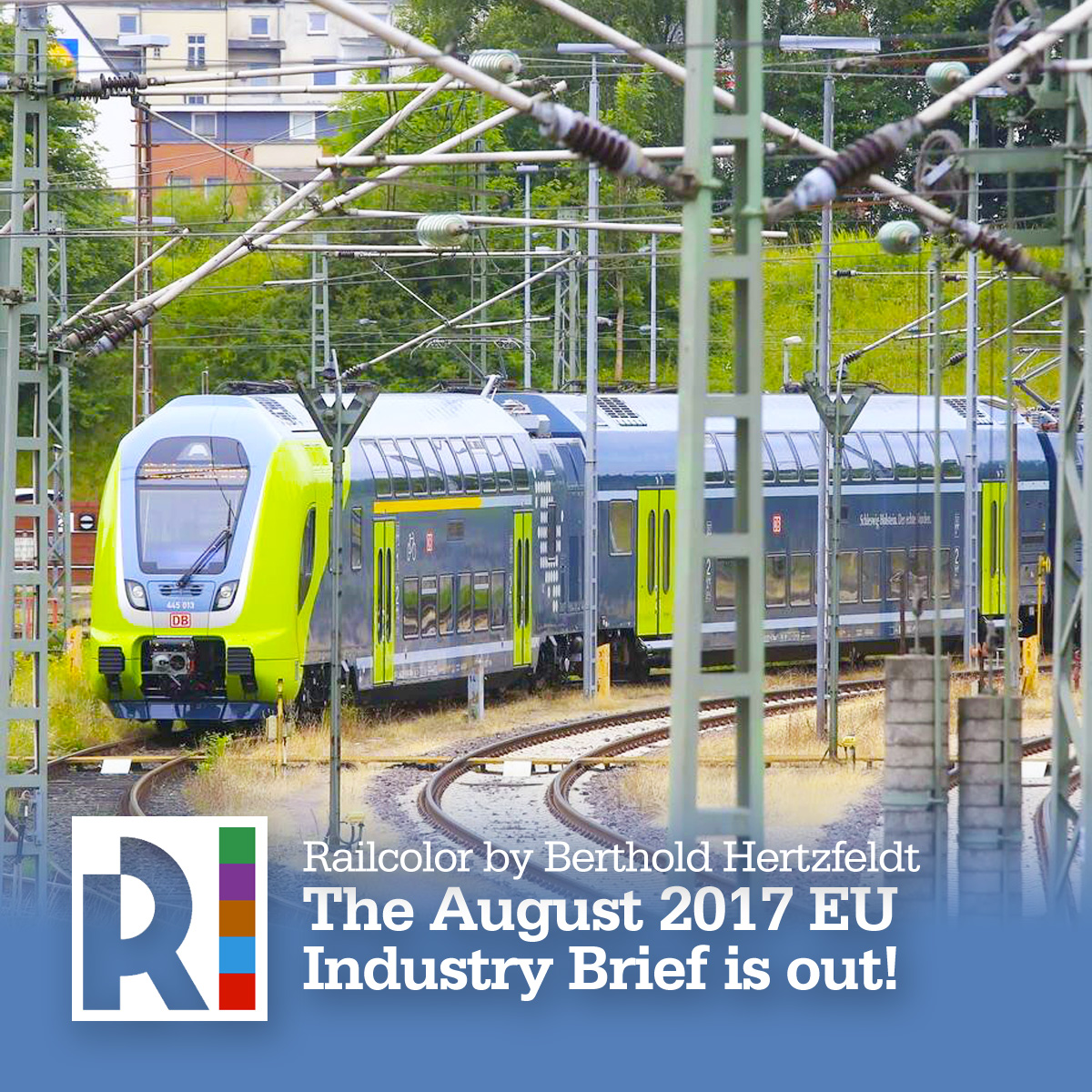 It was about time: a post about the Vectron locomotives pulling passenger trains in Sweden for Snälltåget. This Transdev company is operating three units hired from ELL: the designated 193 253, 254 and 255. An image collection of the past months. Photos: Alexandre Zanello / Martin Zwick / Peter Wegner / René Klink
BLS Cargo is rolling out its new corporate identity (CI). A new version of its logo is gradually being introduced on rolling stock. Two abstract green mountains, in combination with the new BLS Cargo logo, have found their place on the side of several locomotives. Read more on Railcolornews.com
Railcolor is changing. We are building great new things for you, to show you how great and colorful modern railways can be. We will take you places you have not been before. An article to be released soon: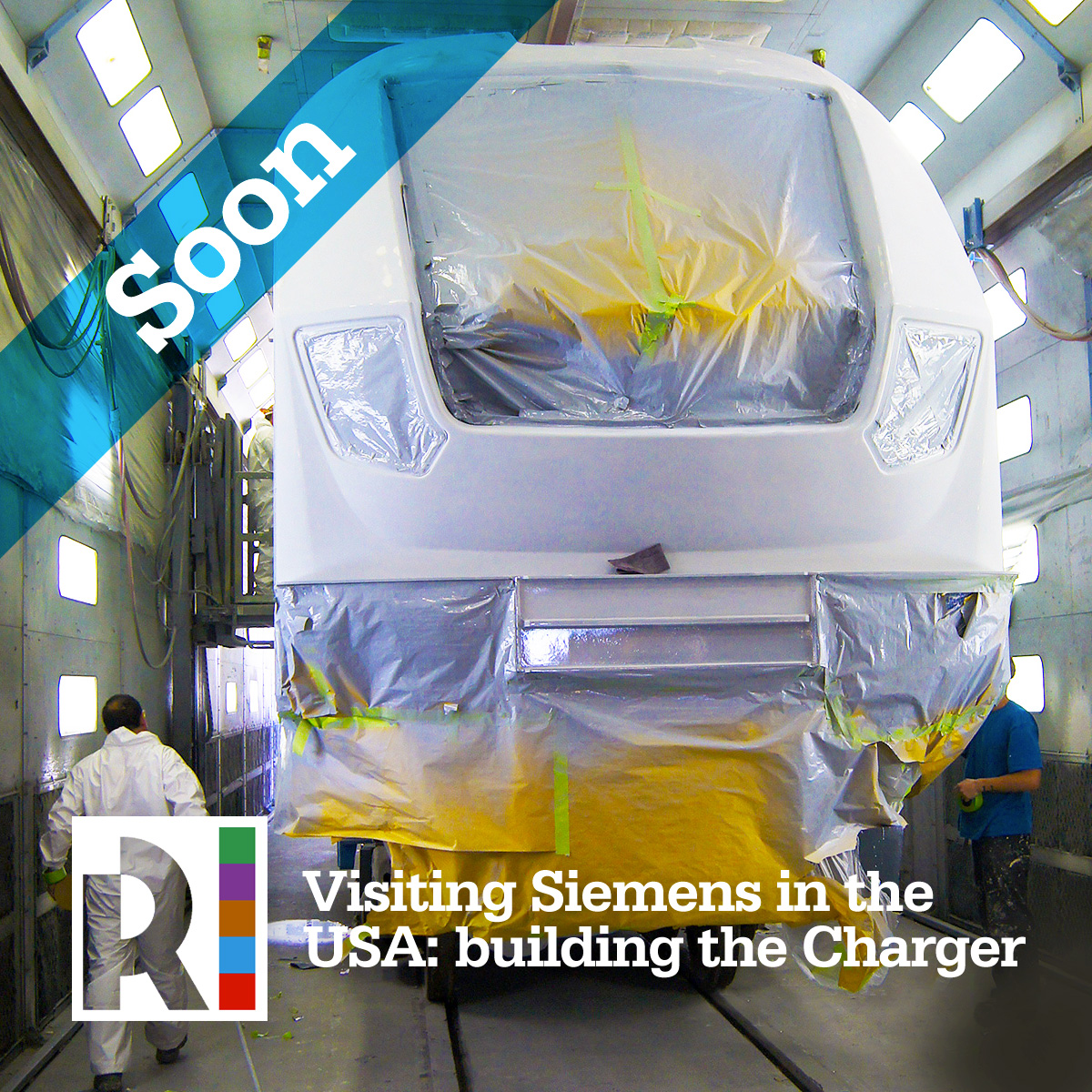 Siemens and DB Cargo AG have signed a framework agreement for the delivery of 100 locomotives. At the closing of the contract, the freight transport arm of Deutsche Bahn called up 60 Vectron multi-system locomotives. The locomotives will serve on the Rhine-Alpine-Corridor (DACHINL: Germany, Austria, Switzerland, Italy and the Netherlands). Delivery of the vehicles will begin at the end of 2017. The locomotives will also operate in Belgium beginning in 2020.
The locomotives will have a maximum output of 6.4 MW and a top speed of 160 km/h, and will be equipped with the European Train Control System (ETCS). They will be built in the Siemens plant in Munich-Allach, Germany.
"With this order, DB Cargo is investing in the future of freight transport by rail. The ordered multi-system locomotives will make it possible to operate a train from the Netherlands to Italy without changing locomotives. This will make European freight transport fast, efficient and environmentally friendly," says Jochen Eickholt, CEO of Siemens Mobility Division.
"The order for the multi-system locomotives marks a further milestone in the program to expand and modernize our European locomotive fleet that has been underway for four years. At the same time, this product is a key component in our growth strategy for interoperable European rail freight transport. By working together with Siemens in this project, we hope to have established a partnership that will decisively support our ambitions for vehicles with respect to our rail freight transport master plan," notes Dr. Jürgen Wilder, CEO of DB Cargo AG.
Source: Siemens
Update 04.08.2017 1.40 pm CET: Deutsche Bahn also released information about this order. The initial order for sixty locomotives has a value of around 250 million euro. Five machines will be delivered before the end of this year. The other 55 machines will arrive in the second half of 2018.
With the investments in new locomotives, modern freight wagons and additional operating staff, Deutsche Bahn wants to boost and accelerate the 'modal shift'; getting more freight traffic from the road to the rail. Recently, the German government launched its 'Masterplan Schienengüterverkehr' and did it announce that rail usage fees for operators would be lowered considerably. Money that not has to be spend on rail usage, can now be invested in rolling stock and hiring new people. It does also help that market demand is currently growing.
DB Cargo 187 084 on 03.08.2017 at Kassel - Photo: Christian Klotz
Read more about the how and why on Railcolornews.com
Alpha Trains > TX Logistik 193 556 in Wanne-Eickel on 02.08.2017 - Photo: Timo Albert
Two more Vectrons for Alpha Trains have entered revenue service. On 02.08.2017 we received the first images of 193 556 and 557 out and about or pulling their first freight trains.
Both locomotives in Wilferdingen-Singen on 01.08.2017 - Photo: Norbert Galle
Both with REV 11.07.2017, no logos, numbers nor stickers on the side...
407 and 406 stabled at Basel today - Photo: Tobias Schmidt
The Israel TRAXX locomotives are one of the most photographed rail vehicles lately. We've collected nice images for you: click.
Update (2): Jürgen Hörstel has made these beautiful images of the embarkment of six Twindexx coaches and locomotive no. 3003 for the railways of Israel. All took place Bremen (Neustädter Hafen). MV "Normed Antwerpen" will take the trains to Haifa in Israel.
New MRCE Vectrons: X4E-667, 673 and 672 between Hagen and Cologne on its way to Mönchengladbach. This raises the number of MRCE Vectron MS locos with DE/AT/IT package to 34 (640-673). Achim Scheil / Lothar Weber
PKP IC wants twenty new electric locomotives and has issued an EU tender for the procurement. All the new machines should be delivered within 30 months after awarding the contract. The maximum speed of the new electrics should be 'not lower as' 160 km/h.
PKP IC also demands a technical availability of 95% from delivery until the Level P4 overhaul. The reliability of the fleet should also be 95% per quarterly. The 'loss of essential operating characteristics' should not occur more than 3 times per locomotive per 250.000 km. Next to the 20 locomotives in the base order, an option will be taken on ten more units.
The main criteria for the assessment of the bids (weight):
Unit Price (35)
Service maintenance costs (35)
Delivery time (10)
Maximum speed ​​(10)
Technical availability (4)
Maximum number of events causing 'loss of essential operating characteristics' per vehicle per 250.000 km (3)
Reliability (3)
Bids can be submitted until 30.09.2017 10.30 local time.
Railcolor: The fleet strategy of PKP IC is subject of many changes over the past years. Last year it was announced PKP IC was planning to procure forty new machines. Although the arrival of new EMUs (Dart from Pesa and Pendolino from Alstom) has reduced the number electric locomotives needed for revenue services, PKP IC has to invest properly in new rolling stock (and modernization) as its fleet of electrics is old and outdated.
185 532 on 20.07.2017 at Heidenau-Großsedlitz - Photo: Sven Hohlfeld
The Captrain livery of locomotive 185 532-9 has changed. Bombardier TRAXX Care is gone, now the locomotive is sporting an ad for finding new loco drivers.
185 532 on 28.07.2017 - Photo: Patrick Holzbach
The white 193 289 for ELL - Photo: Tristan Zielinski
Today a white Vectron locomotive left Munich, and was taken to Passau. The image shows stock locomotive 22250, that has recently received its final designation: 91 80 6193 289-6. The multi system electric for central Europe will be delivered to lease company ELL.
The white 193 289 in Vienna - Photo: Herbert Pschill
Beacon Rail > HSL Logistik on 27.07.2017 at Bremen - Photo: Thomas W. Finger
Next to the brown Beacon Rail 185 599, 600 and 601 and our Railcolor-185 602, railfreight operator HSL Logistik now also has a golden 185 series locomotive: 185 597.
China is coming. No, China has already arrived. The state-supported manufacturer CRRC is building many trains for foreign customers, now being a strong competitor to other manufacturers. They also publish nice product videos, for example this one about the 2nd generation locos for Belarus (type БКГ-2).
New: ELL 193 284 - 26.07.2017 - St. Pölten-Viehofen - Photo: Christian Blumenstein
EU43-007 at Vado Ligure - 26.07.2017 - Photo: Giorgio D'Alessandro
The fleet of Lokomotion and RTC is getting more devirse by the day. Last week we reported about the 4 (!) different liveries applied on the eight new Vectron locomotives, now we have documented the third 'Zebra' color variation for a RTC EU43 series locomotive. The images in this post show the freshly overhauled EU43-007, the one machine is its type that had red painted cabs, in its new zebra livery that is both red and blue. The colors mix using a gradient, something we did not see before on a Lokmotion/RTC locomotive. So the 007 remains unique!
At this moment, Bombardier is delivering TRAXX AC3 locomotives to DB Cargo extra fast. Next to the locomotives part of the regular delivery schedule (now at no. 187 131 REV 26.07.2017) also five 'stock' machines are made ready for DB Cargo: 187 080-084. The first two are already in revenue service, 187 082 completed a test run today.
The arrival of 187 080-084 should not change the total number of TRAXX AC3s on order for DB Cargo. This number remains 110. (CK/EK 8/2017)
Italian railfreight operator InRail has decided to order three Vectron locomotives. They will be DC electrics only, so the family of 191 series locomotives in Italy will grow.
Further details have not been published yet. However, InRail did release a design sketch of its future machines, showing they will get the same blue/red/white livery as applied on the InRail ES64U4 series electrics.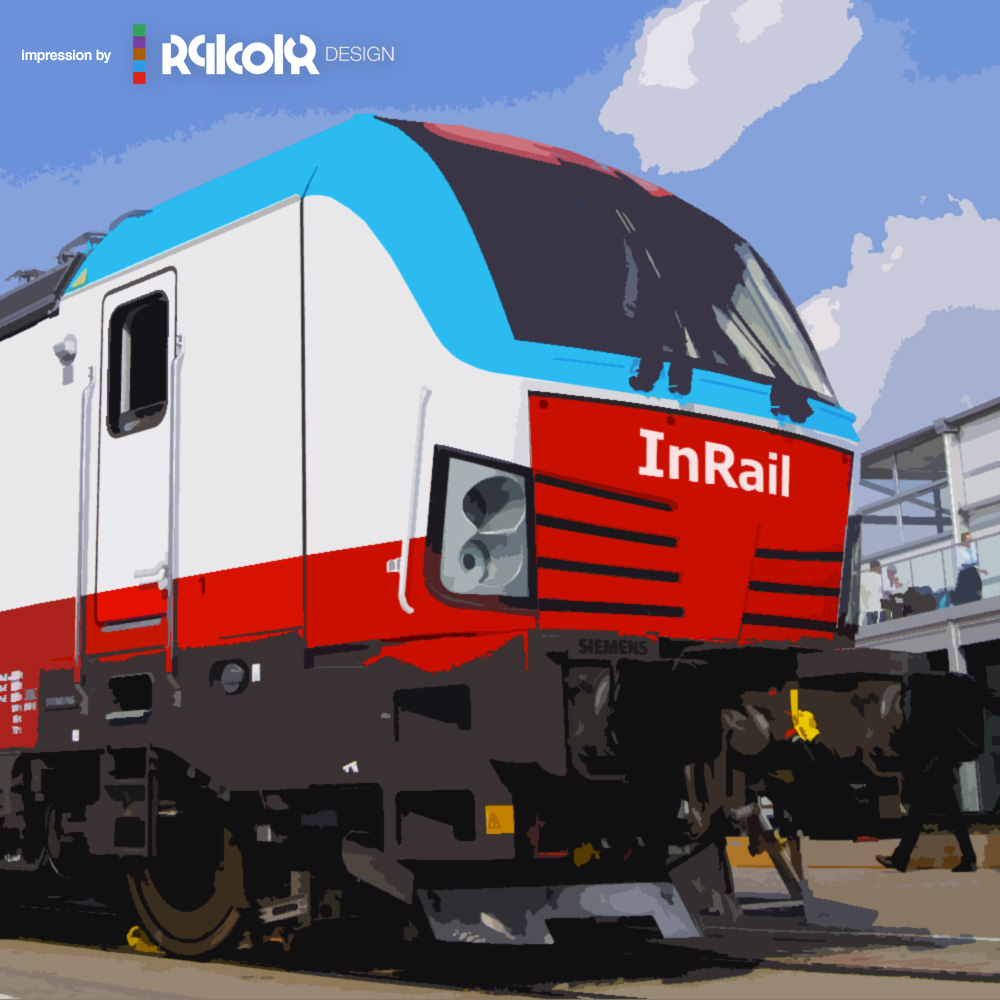 Impression by Railcolor Design. There is no relation to Siemens or InRail.
InRail is the fourth customer for the DC version of the Siemens Vectron locomotive for the Italian market. At this moment 16 Vectron DC locomotives have been release from work:
2x Siemens: 191 001 and 100
2x FuoriMuro: 191 002 and 003
4x CFI: 191 009-012
8x UniCredit > DB Cargo: 191 013-020
Lokomotion 193 777 in Munich on 21.07.2017 - Photo: München-Ost, Rangierbahnhof
Lokomotion 193 777 is out. It is last Vectron locomotive of a batch of eight, that the freight operator from Germany ordered in 2016. Lokomotion received the machines in four different liveries:
193 770-772 have blue stripes
193 773 has no stripes, and is thus all black and white
193 774-776 have red stripes
193 777 has a ivory colored base paint, with red stripes on side 1, blue on side 2
Lokomotion 193 777 in Kufstein on 21.07.2017 - Photo: René Hameleers
Handelsblatt.com reports: "... Geplant seien zwei Gemeinschaftsunternehmen: eines für die Signaltechnik, an dem Siemens eine deutliche Mehrheit von etwa 80 Prozent halten werde, wie einer der Insider sagte. Im Geschäft mit Zügen sollen dagegen die Kanadier das Sagen haben; geplant sei eine Mehrheit von 51 Prozent für Bombardier..."
Update: The item from Reuters about the same topic
can be found here
.