News Archive
This Monday, the new 187 127 and 128 left Kassel. Two new locomotives for freight operator DB Cargo. Time for an update these new standard locomotives:
And the two newbees in the picture:
Photos: Alex Huber / Daniel Kempf / Christian Klotz / Rolf Alberts / Axel Schaer / Helmuth van Lier
Alstom reports: Alstom's JV EKZ became the first train manufacturer in Kazakhstan to receive the IRIS certification (International Railway Industry Standard).This certification has been established based on the ISO 9001 standard, with the goal of securing higher quality in the railway industry. It is the only sector-specific quality standard recognised worldwide by the rail industry for assessing management systems.
(..)
EKZ employs 420 people and is working on supplying and maintaining the Prima electric locomotives ordered by KTZ for 2020. Today, 42 Prima T8 (Railcolor: KZ8A) freight locomotives and 20 Prima M4 (Railcolor: KZ4a) passenger locomotives are already in commercial operation on Kazakhstan's rail lines. In 2015, Alstom and EKZ were awarded by Azerbaijan Railways a contract to deliver 50 locomotives to Azerbaijan.
Alstom is present in Kazakhstan with more than 600 people, two Joint Ventures and two plants, EKZ in Astana for locomotives manufacturing and maintenance; and KazElectroPrivod in Almaty for the production of point machines. Alstom is the only manufacturer of electric locomotives and point machines in the Central Asian and Caucasian region and a major contributor to the revitalisation of its rail industry and the development of its economy.
Found on Drehscheibe-online: An image report about BLS Vectron locomotive no. 405 being operated on the network of the Rhatische Bahn (RhB) with 11kV AC catenary. The locomotive is used to pull a railCare freight train to from Chur to Felsberg where it was unloaded. The locomotive also ran solo between Chur and Ems the day before.
These tests are necessary for the Vectron locomotives that will be delivered by Siemens to railCare, that has seven units on order. The operator demanded that its new machines would be operable under 11 kV AC so they could be used between Chur and Ems.
This is the new livery of BLS 465 001, featuring the new BLS logo with mountainscape. It commemorates the 10th anniversary of the Lötschberg base tunnel (LBT) with the slogan "Mehr DurchZug". The locomotive was presented as such on 23.06.2017. Photo: Michael Krahenbuhl
A time lapse video of the sticker process has been released:
16.06.2017: making its rounds: IR 3002 and 187 002/315. Photo: Timothée Roux
Close-up of logo and number. Photo: Norman Gottberg
All quiet. IR 3002 and Bombardier 187 002 and 187 315. Photo: Norman Gottberg
ELL 193 270 with R 610 "Karlex" on 24.06.2017 at Praha. Photo: Dalibor Palko
Pictures are coming in of ELL Vectron locomotive 193 270 pulling passenger trains of České dráhy in the Czech Republic. First sources state that training of ČD train drivers has started. The operator will start international EC services on Prague - Berlin - Hamburg. This year, ČD will hire eight Vectron MS locomotives from ELL, two more will come later.
with R 606 Prague - Ústí nad Labem - (Cheb) at Lovosice. Photo: Mario Lippert
European Locomotive Leasing (ELL), a provider of full-service leasing of electric locomotives, has ordered an additional eight Vectron locomotives from Siemens. ELL is currently the biggest Vectron customer. The multisystem locomotives have a maximum output of 6.4 MW and a top speed of 200 km/h. ELL will lease the locomotives to the Czech railway České Dráhy for passenger service on the Prague-Berlin route. With this order, Siemens has passed the mark of 500 sold electric locomotives – and the counter now stands at 507 in total.
"This milestone highlights the success story and reliable service of our Vectron locomotives throughout Europe. We've already convinced 31 customers in 14 countries with our flexible platform and customer-tailored equipment packages," said Jochen Eickholt, CEO of Siemens Mobility Division.
The locomotives are currently certified for operation in Austria, Bulgaria, Croatia, the Czech Republic, Finland, Germany, Hungary, Italy, Norway, Poland, Romania, Serbia, Slovakia, Slovenia, Sweden, Switzerland and Turkey.
This is the third order Siemens has received from ELL. In total the lease company now has 108 units on order (50+50+8). We have registered 78 until now (201-230, 233-277, 279, 831, 832) that have been delivered. ELL has some more locomotives on hire from Siemens. This morning we already posted about České Dráhy performing the first driver training tests with ELL locomotive 193 270.
Fresh after overhaul and modernization: SBB 460 031. Remarkable, the locomotive has no front number. Photo Michael Krahenbuhl
Bahnonline.ch brings more background information: Locomotive no. 031 is the seventh locomotive of its type that went through the full modernization program of the SBB 460 series (except for installing the new IGBT convertors as these are still in the test phase).
This means SBB has put six locomotives into service that have been modernized: 460 016, 027, 031, 084, 108 and 118. Unit 460 010 is the seventh loco that has been modernized, and the only one with new IGBTs. As these are not fully approved yet, the machine has no REV date yet.
For all those who lost track of all the different TRAXX locomotive types, we made a new overview, visual, colorful; This is the new TRAXX family three. Click the image to visit the dedicated web page. We have also included an overview that will help to quickly find the features that let you identify the right TRAXX type.
Ferrovie.it reports
: On 21.06.2017, the new 483 319 and 320 for lease company Akiem completed their maiden run around Genoa. That same day they were handed over by Bombardier to the customer and put into service of Mercitalia. The Italian operator now leases seven such elocos from Akiem: the designated 483 314-320.
Seen at Köln-West on 18.06.2017: Siemens 192 961 with two new RRX intermediate cars, now in full livery. Remarkable, they also sport Abellio logos, one of the the two operators of the network. Photos: Martin Morkowsky
Want to read more about the RRX trains, click here:
RheinCargo 187 072 on 14.06.2017 in Rheinbreitbach. Photo: Daniel Kempf
RheinCargo from Germany operates ten TRAXX AC3 locomotives since last year. Seven of these silver machine have a grey colored Flex Panel with RheinCargo logos. Three however still look different. Up until now, RheinCargo 187 071 and 073 have no Flex Panel, no logos. RheinCargo 187 072 has no Flex Panel either, but RheinCargo logos were applied on both sides.
Rynek Kolejowy reports: Newag is starting the construction of its first multi system electric locomotive with diesel engine, compliant with the European TSI 2014 norms: the designated E4MSUd-001.
It is stated it is the first multi system electric with combustion engine in Europe, but this will only be true if Newag finishes it before Bombardier will introduce the first TRAXX MS3, that may feature a diesel engine too.
Newag states it is searching for customers in countries such as Germany, Czech Republic and Slovakia.
Leasing company Akiem has awarded Alstom a € 20 million contract to undertake the mid-life overhaul of 23 BB 36000 series locomotives (Railcolor: 36007, 36009-36030) to ensure they can provide another 15 years of service.
Alstom has been chosen by Akiem to carry out the mid-life overhaul of 23 BB 36000 locomotives. The contract follows a first agreement signed at the end of April 2016 for the mid-life overhaul of 7 locomotives (Railcolor: 36001-36006, 36008) of the same type, operated in Morocco. The BB 36000 locomotives were designed and manufactured at the Belfort site and entered service in 1996. With this new contract Alstom accompanies its customer Akiem in extending the life and commercial operation of the locomotives by about 15 years. These operations are worth 20 million euros.
The maintenance work covers overhauls to be carried out after 20 years, including bogie overhauls, obsolescence monitoring, the repair of parts and modernization of driver's cabins. The operations will be carried out by the Services team at Alstom's Belfort site with the contribution of Alstom's service centers in le Creusot (for the bogies), Ornans (for the traction motors), Tarbes (for the traction drive) and Villeurbanne (for the electronics). As part of the first firm order, a first locomotive is currently in production in Belfort. This new contract will ensure continuity of production, with the last BB 36000 scheduled to be delivered to Akiem by 2024 at the latest.
According to Fabien Rochefort, President of Akiem group: "This technical and industrial collaboration with Alstom has allowed us to define a program of overhauls in line with our commercial ambitions for this fleet, which we intend to deploy in France as well as in the France-Italy and central European corridors".
"The mid-life overhaul of this fleet of 23 additional locomotives will allow us to pursue the development of the Services activity at Belfort, as well as our investment and skills development plan," said Jean-Baptiste Eyméoud, President of Alstom in France.
---
Railcolor: Akiem owns thirty BB 36000 'Astride' multi system electric locomotives (1,5+3kV DC + 25kV AC). They all have red cabs. Thirty more units (with green cabs) are property of SNCF. Unlike the SNCF units, that can be used in France and Italy, the Akiem ones are currently approved for revenue service in France only (In the past they have been used in Belgium too).
Most interesting part of this press statement from Alstom is that Akiem states wants to re-deploy its BB 36000s abroad. Next to France-Italy one can think of services in countries such as Hungary, Poland, Romania, the Czech Republic, Slovakia and Slovenia, maybe even further eastbound..
At this moment, Trenitalia is hiring Akiem BB 36000s for pulling its Thello passenger trains in France. In 2017 we have seen Thello using 36007, 36010, 36011, 36012, 36013 and 36015.
Until 2016, seven units (36001-36006, 36008) were in use by ONCF to pull phosphate trains in Morocco. After four years the contract ended and the machines were send back to France. On 22.09.2016, the 36004, 36005 and 36006 landed in France again, then to be taken to Belfort for overhaul. The other four should have arrived in 2017, but we have no confirmation of this until now.
The German Bundesverkehrsministerium wants to change the German system for revisions of rolling stock, including locomotives, as it is non-compliant with the EU legislation. At this moment it is obligatory to subject every locomotive to a general main overhaul ("Hauptuntersuchung") every six year. However, if the condition of the locomotive allows it, this term ("frist") can be extended ("Verlängerung" oder Verl.) with one year, to a maximum of eight.
European law states that the entity responsible for the overhaul can decide on its own when a main overhaul is needed, taking the number of service hours and mileage into account. - Rail Business
Railcolor: Over the past decades, 'condition based maintenance' is becoming the new standard. New technologies and ongoing digitalization have considerably improved the way manufacturer, operator and owner monitor the condition of their trains. This is now possible in real-time if required. Also, it is now possible to predict failure of key components, so they can be replaced before they brake-down. And, parts that are not due for overhaul nor replacement can stay longer.
Portraits of both MRCE > SBB Cargo International > SBB Cargo ES 64 F4 locomotives that are now dedicatedly pulling aluminum trains between Sierre (CH) and Göttingen (DE). The 094 has the name of the first city mentioned, the 090 of the latter one. Photos: Romain Constantin
During the past days, both Lokomotion 193 770 and 771 were caught on camera looking slightly different than before. 193 770 no longer has the one blue stripe, a weird experiment. Its Lokomotion front logo is still off-center. 193 771 got a front number and logo, booh nicely in the middle, although the numbers are a little too big in our opinion. Photos: Ronny Bruns
The weather is nice, let's go for a swim ;) A new blue 'watery' livery for MAV 470 002 promoting the -Fina World Championships- to be held in Budapest and Balatonfüred. Photos: Csaba Stahl
Seen in Hegyeshalom on 13.06.2017: PKP Cargo EU46-513, -514 and -515. Photos: Norbert Tilai
SBB Cargo blogs: MRCE locomotives no. ES64F4-094 is now gray, and covered with images of large aluminum rolls. It sports the logos of SBB Cargo, Retrack (VTG Rail Logistics) and Novelis. It carries the name and shield of the city of Sierre in Switzerland.
The 094 (soon to be joined by the 090) will be used for hauling aluminum trains between Sierre (CH) and Göttingen (DE). The new livery promotes the close partnership between the three companies mentioned. SBB Cargo is responsible for the disposition of the trains and drives them through Switzerland, VTG Rail Logistics takes over in Germany and Noviles is the manufacturer of the aluminum products.
A 'making of' has been published today:
Newas > Lotos Kolej E4DCUd-001 at Żmigród/Węglewo on 06.06.2017. Photo: Przemyslaw Woznica
Two red-striped Vectrons of Lokomotion in the picture. Newly delivered 193 775 in Munich and the 775 behind the 774 at Kufstein. Photos: Ronny Bruns
Rail operator GySEV has decided to order four extra Vectron locomotives from Siemens. The operator took an option on these four machines back in 2016 March 2017 when it ordered it first five machines. An overview:
1st order: 2x Vectron AC DE/AT/HU(RO) with shunting diesel module
1st order, 2 delivered: 3x Vectron MS for 'Central Europe'
now added: 4x Vectron AC
Source: RBS
GySEV 471 500 and 501 at Hegyeshalom on 16.05.2017. Photo: Norbert Pócza
The work is done! 'Our' Railcolor Design department has successfully completed the Lineas full-wrapping project. Over the past 6 weeks we have managed the design, production, application and promotion of Lineas liveries for six locomotives, of four different types. Now the new Lineas brand name and identity is visible daily on the railnetworks of Belgium, the Netherlands, France, Germany and Austria. We thank Van Strien Print&Sign, the people of TW Antwerpen and Lineas for the nice cooperation.
Lineas 1312 in Antwerp on 02.06.2017. Photo: Kurt Luyckx
---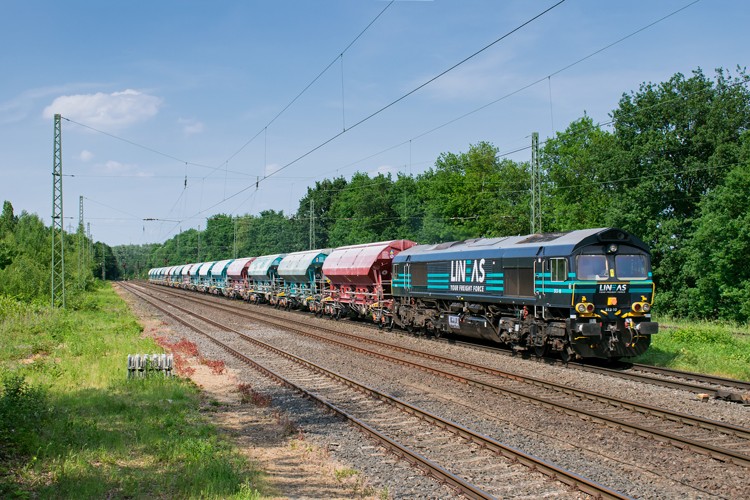 Beacon Rail > Lineas 513-10 DE-BE-NL in Viersen on 01.06.2017. Photo: Arnold de Vries
---
Railpool 186 255 DE-BE-FR on 12.05.2017. Photo: Joeri Vanvaerenbergh
---
Railpool 186 293 DE-AT-BE-NL in Dorst on 16.05.2017. Photo: Ton Machielsen
---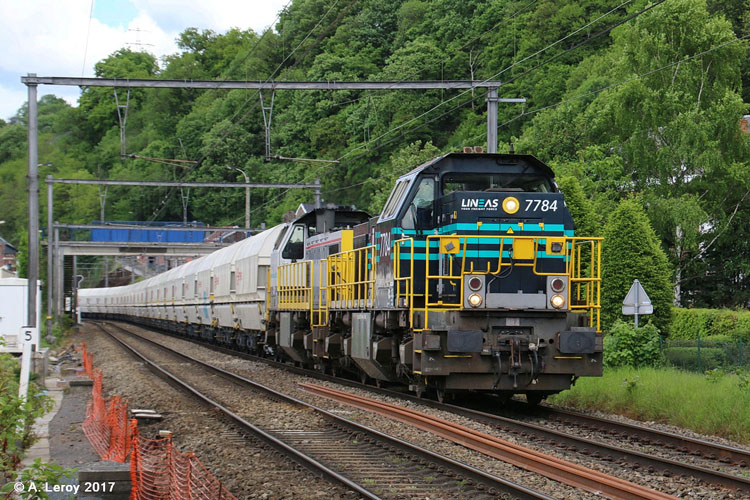 Lineas 7784 DE-BE-NL in Visé-Cheratte on 13.05.2017. Photo: Alexander Leroy
---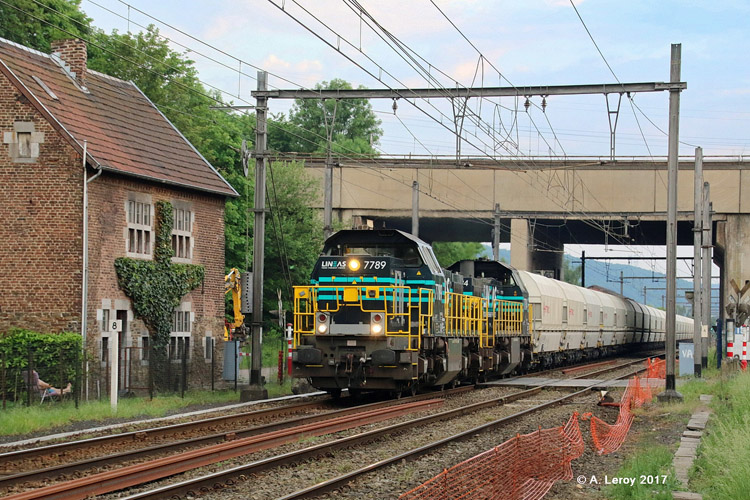 Lineas 7789 DE-BE-NL in Visé-Cheratte on 28.05.2017. Photo: Alexander Leroy
---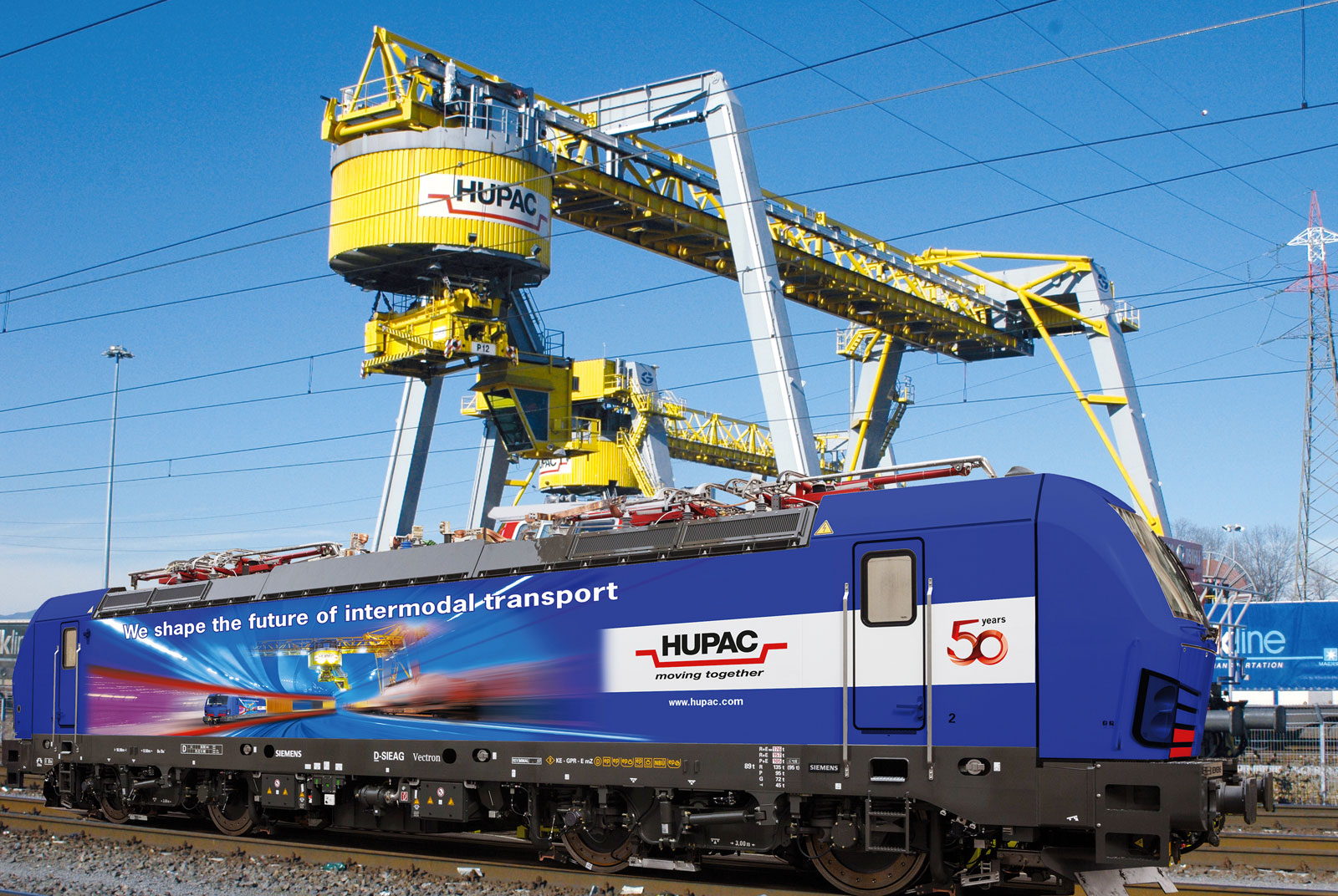 The Swiss intermodal transport company Hupac has ordered eight Vectron MS locomotives from Siemens. The multisystem locomotives will serve on the Rhine - Alpine Corridor (DACHINL). Deliveries will begin in the early summer of 2018.
The locomotives have a maximum output of 6.4 MW and a top speed of 160 km/h. In addition to having national train control systems, the locomotives will also be equipped with the European Train Control System (ETCS). They will be built in the Siemens plant in Munich-Allach, Germany.
"With this investment in Vectron locomotives, we can more efficiently serve the Rhine-Alpine Corridor through the internationally integrated traction," said Bernard Kunz, Managing Director of Hupac AG.
With the new locomotives, Hupac and its partners will be expanding their offering for rail transport service from central European hubs, such as the logistics center Rotterdam, via the main rail corridors between the Netherlands, Germany, Austria and Switzerland and into the Mediterranean region. The new Vectrons will enable transport operators partnering with Hupac to connect the European economic regions north and south of the Alps with service through the new Gotthard Base Tunnel.
Update: and we have visual:
Rhenus Rail Logistics 286 940 for LTE on 30.05.2017. Photo: Oliver Dietz
We can imagine, it is confusing: Yesterday the third new TRAXX MS locomotives the Rhenus Group made its maiden run; and it has a 'weird' front number: 286 940. In the old German system, such a designation means it is a diesel locomotive, but it is not, it is a multisystem electric, but the first one of its type officially registered in Austria: 91 81 1286 940-2 A-LTE is its full NVR designation. We must say, '1286 940' on the front would have been more clear.
And why does it have a A-registration, and not a D-one, as most others? Well all locomotives that are property of LTE are registered in the company's home country. There are few, but if you list them, it all makes sense, take a look:
91 81 1216
910
>
Siemens ES64U4
92 81 2016
920
(and 921 and 922) >
Siemens ER20
91 81 1187
930
>
Bombardier TRAXX AC3 Last Mile
91 81 1286
940 >
Bombardier TRAXX MS2e
We do not have an image yet, but the locomotive is light grey and has blue logos and striping. It looks similar to Macquarie Rail 186 238 from a few years back.
Thank you for all mails and notes about this case.
MRCE > MRCE ES 64 F4-995 was taken to Blerick after the collision. Photo: Wilco Trumpie
Yesterday morning, a freight train collided onto a freight truck in Sevenum (NL). The LTE train hauled by MRCE ES 64 F4-995 ran into a truck that was blocking the level crossing (which is fully automated and secured). The train and truck driver were not injured. The truck driver was able to jump of the truck before the collision.
• Eight of total 80 locomotives immediately enter service
• All locomotives to be delivered by 2026
• Contract includes option for further 97 locomotives
The Vectron AC locomotive for the Finnish railway company VR Group (Railcolor series Sr3) has been authorized for operation in Finland by Trafi, the Finnish Transport Safety Agency. The first eight Vectrons will immediately enter commercial service today. Today, the first commercial operation will start from the City of Tampere and end at the Vuosaari harbor in Helsinki. Siemens will be delivering a total of 80 locomotives to the VR Group. This is the first order for a broad-gauge configuration and at the same time the biggest single order for the Vectron to date. All locomotives are to be delivered by the end of 2026.
For testing and certification of the extensive new equipment package for Finland, up to five locomotives have been undergoing type tests according to the Technical Specifications for Interoperability (TSI) since early 2016. Various additional functionalities and equipment packages were certified, such as the broad-gauge bogies, the special winter package and the two diesel power modules for bridging short stretches without an overhead power line.
The VR Group ordered the Nordic version of the Vectron in February 2014. The locomotives have a maximum output of 6.4 MW and a top speed of 200 km/h. The bogies are designed for operating on 1.524 mm broad-gauge lines. The locomotives will be used in Finland and are equipped with the European Train Control System (ETCS) as well as the Finnish JKV-STM train control system. The locomotives will have the series designation Sr3. The Vectrons are specially equipped to operate under harsh Nordic winter conditions in Finland, such as frequent collisions with larger animals, temperatures as low as 40°C below zero and powder snow. To handle these conditions, the locomotives are built with cavity roofs and a reinforced front hatch. Other special features include side buffers and automatic couplers.
Timber is frequently transported by rail in Finland and trains are moved in and out of forests on non-electrified rail lines. The Vectron accomplishes this with two diesel power modules and on-board radio remote shunting controls. With this system, there is no need for separate diesel shunting locomotives.
BLS 485 012, no longer with 'Connecting Europe' stickers. Photo Tobias Schmidt