News
On their way to Italy today: UniCredit 191 016 and 017, to be operated by DB Cargo in Italy. Michael Raucheisen caught them on camera together at Brenner.
Not a day goes by without a new locomotive being completed. This time Bombardier has completed TRAXX DC unit no.17 for leasing company Akiem. Like, 483 301-311, the 312 is to be leased to Captrain Italia. - AL
The Westfälische Landes-Eisenbahn (WLE) is now operating unit no. 187 307. The brand new machine is hired from Railpool as a replacement locomotive for WLE's own TRAXX AC3 no.82, which was recalled by Bombardier for an update. Christian Klotz made pictures of both machines this week.
Today we have seen the first TRAXX MS locomotive (386 series) from the second batch for Metrans: 386 021. It has the country specific packages for the Czech Republic, Slovakia, Hungary, Poland, Austria and Germany. The Czech railfreight operator still has ten locomotives on order. This order was placed in 2015 according to our newest information. - CK
Yesterday, a 'Lokzug' (a train with only locomotives) was seen around Munich, with several interesting new locomotives, that have not been delivered to a customer yet: Alpha Trains 186 202 + future ELL 193 256 + future Railpool 187 316 + Alpha Trains 186 242 + future DB Cargo 187 103 with Bombardier flex panels. Thanks to Michael Raucheisen.
Since yesterday, Siemens Vectron 193 902 is in the Netherlands again. Th homologation of this type of locomotive for this country is still ongoing. Yesterday the machine ran light from Arnhem to Kijfhoek shuntyard. Today it has been used for trials between Lelystad and Zwolle.
Not often, a DB Cargo locomotive gets additional stickers. DB Cargo's 185 273 now has simple, big white vinyls themed -Impulsgeber, DB-Mitarbeiter für DB-Mitarbeiter-.
The completion of the first batch of twenty 147 series locomotives for DB Regio is in full swing. Today 147 003 had a test run. Last week we documented the maiden run of DB Regio 147 011, 012 and 013. A detail image of 147 013's allocation markings shows its future depot: DB Regio, Baden-Württemberg, Stuttgart. - TZ/CK
Now in service of RTB Cargo, the all new Railpool 186 292. Steven Oskam could track the machine down today at Zwijndrecht station.
Remarkable: Freight operator is now using a TRAXX locomotive that should belong to the fleet of Dutch state operator NS: Alpha Trains 186 122. Earlier the locomotive was hired to the Belgian railways for passenger trains Amsterdam - Brussels, but now it is pulling open access trains for real! Even weirder: someone decided to cover the NS logos on the 122, according to various by people, with black paint.
Both Jeroen de Vries and Steven Oskam portrayed the anonymized locomotive today, in Rotterdam and Zwijndrecht respectively.
ELL 193 271 is on its way back to Munich. It arrived in Passau (DE) today. The machine was in Budapest where mud and stones had to be removed from under its frame. The machine was damaged when it derailed in Budapest-Soroksár on 17.09.2016. During the past week it was made 'ready to roll', so it could be transported back to the Siemens factory in Munich, where it will be repaired.
Christian Blumenstein made a picture of 193 271 today, behind ELL 193 270, in a LTE freight train (no 41156). Also 193 272 was taken along, resulting in an image with three ELL Vectrons leading this freight train.
Siemens delivers CD Cargo's Vectron locomotives without stickers. This gave CD Cargo the opportunity to make something special of 383 004, the fifth and final machine under delivery. Its two-tone blue livery was enhanced by special stickers this week, commemorating the 10th anniversary of CD Cargo, and the 175th birthday of railway in the Czech Republic. First images have been published by CD Cargo.
Note: the five CD Cargo Vectron lococ left the factory in this order: 383 001, 003, 002, 005, 004
The Railpool fleet is growing again. Earlier this week we showed you the new 186 292, today the title for newest Railpool locomotive in service goes to Vectron no. 193 826. Timo Albert was able to portray the machine in Würzburg on 19.10.2016. The machine is currently operated by TX Logistik.
As of the next time table change in December, all intercity trains on the relation Dresden – Leipzig – Magdeburg – Hannover – Bielefeld – Köln (IC 55) will be operated using IC2 rolling stock (TRAXX + Twindexx). Howeber this means Deutsch Bahn will withdraw all sets from IC56 services (Norddeich – Bremen – Hannover – Leipzig) as there are not enough sets available to serve both connections. (Rail Business)
As of late September, more TRAXX AC3s are being operated internationally. This means that 187s previously used in Austria or Switzerland only, now also come to Germany. An colorful example is LTE's new 187 930 running to Hamburg. Martin Voigt and Markus Alf both caught the locomotive on camera in Germany last week.
Below you see a picture of the all new Railpool 186 292-9, the first locomotive of a new batch, during its maiden run. Its country specific package: DE/AT/BE/NL.
You see that Railpool starts to fill in the gaps in the current 186 number series, in stead of starting new ones. The fans of numbers and statistics say thank you ;)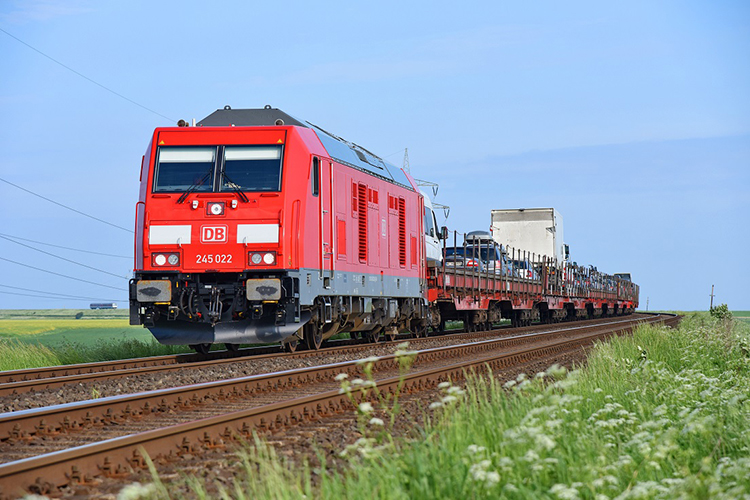 Railjournal reports: Deutsche Bahn confirms calling of eight more TRAXX DE Multi Engine diesel locomotives from its 200 locomotive frame contract with Bombardier. Five will be used by DB Fernverkehr as ICE rescue locomotives throughout Germany, replacing older Class 218 locomotives. The other three will be delivered to DB Regio to further expand its fleet in South Germany.
In 2011, DB placed a framework order for up to 200 TRAXX Multi Engine diesel locomotives. The first 20 locomotives ordered under this agreement entered service for DB Regio in South Germany (stationed at Bw Mühldorf and Bw Kempten) and in the Frankfurt am Main area. Another seven were ordered for use on DB Fernverkehr's Sylt Shuttle between Niebüll and Westerland (Sylt).
MRCE ES 64 F4-009 just had its second main overhaul at Dessau: REV 06.10.2016. Remarkable is that this overhaul is done after only four years of services, as the previous main check-up was done in 2012.
This time, the loco has been repainted in black, it was still carrying its yellow-silver Siemens Dispolok livery from 2004. The sticker man however made a small mistake: up front the loco now sports the number 'ES 64 F4-909' which should be 'ES 64 F4-009'.
Softronic has sent Trans Montana 91 53 0480 019-5 to Bulgaria for homologation. Krassen Panev sent us this image taken on 17.10.2016 in Sofia (BG). It shows the 019 together with DB Schenker Bulgaria 86014, 86012 and 86020.
We are happy to announce that the Railcolor Books are conquering the German market. Publisher VGBahn now offers Railcolor book 2 in shop. Check it out here.
From Kassel to Bad Bentheim today: NS E 186 041 and 042. Thank you Christian Klotz, Markus Tepper and Marcus Alf.
Strangely enough, the 042 has check digits (-5) on its fronts. The sticker guy made a mistake here?
SRI 145 088 with with 203 594 at Priort on 14.10.2016 by Norman Gottberg
Picture by Jürgen Steinhoff taken on 13.10.2016 in Uelzen.
Yesterday the new ELL 193 256 DE/AT/CH/IT/NL made some test runs for current measurements between Spittal an der Drau and Mallnitz with 8 RCA Talns cars and OBB 1116 162. ELL 193 256 is the first DE/AT/CH/IT/NL configurated locomotive for this leasing company. (CDB)
Wiener Lokalbahnen Cargo (WLC) has placed an order for three TRAXX Ac3 locomotives with Last Mile diesel shunting module. They will enter revenue service in 2017. An option is taken on three more locomotives.
Bombardier will also be responsible for the maintenance of the locomotives, that will be used in Germany and Austria. In 2015, WLC tested the TRAXX AC3 Last Mile locomotive, using the red 187 009 from Bombardier. This year, Railpool 187 304 has been seen pulling WLC trains.
[correction, thanks readers!] Railcolor: At this moment, no the first AC3 locomotives are being used for border crossing DE-AT services. The international approval of the TRAXX AC3 however took much longer than expected. LTE, Lokomotion (DE-AT) and BLS Cargo (CH-DE) have been seen pulling international trains with AC3s.
Simone Facibeni sent us this image of CFI 474 103 in its new red an grey livery.
Hector Rail has entered into an agreement with Skandinaviska Jernbanor (SkJB) to haul their so-called "Blue Train" (Blå Tåget) between Stockholm and Gothenburg. This means that the Blue Train is back on the market from and including 11 December 2016. SkJB, the company behind the "Blue Train", has decided to hire Hector Rail as responsible for the formal train production including providing traction. SkJB will focus on its core business, the travel experience.
Initially, 13 round trips per week will be produced. Five of these round trips are done with the, from a service level, somewhat less advanced, "Green Train" (Gröna tåget). The number of trains can be increased during the five-year contract period. - Hector Rail
Railcolor: Earlier this year SkJB was forced to cease its blue/green train services after Transportstyrelsen from Sweden decided to withdraw SkJB's safety certificates (part A and B) after finding severe shortcomings in the safety management system of the operator. SkJB managed to operate the trains a little longer but in the end had to stop the trains during the summer.
You live in Germany? Than we have news: We now offer 5 euro discount on shipping costs for all Railcolor books to a location in Germany. Use the code: RCDE
We have released 2 Railcolor books until now. Together they offer almost 400 pages (178+208) with a COMPLETE overview of all modern electric locomotives that have been developed, built and developed in the period 2010-2014. Additionally, all special liveries are displayed using over 800 pictures. Delivery lists, trends, technical data, background stories, all in one colorful overview. True Railcolor fans can not miss this. Read a 33 page selection of Book 2 here:
Marcus Schrödter and Dalibor Palko made pictures of CD Cargo's future 383 004 in Leipzig and Velim this week. At the test center in Velim the locomotive will get its final logos and inscriptions.
Jakub Kejklíček made this image of DB>IGE 185 406 with a special train in Zell am See (AT). The train tours through the Czech Republic, Austria and Germany following the route Prague - Regensburg - Innsbruck - Salzburg - Cesky Krumlov - Prague. On board are gifted chess players who take part in a five day rapid chess tournament. Good luck everybody!
This is the second Vectron locomotive for the German company mgw. Like the previously delivered 193 845 is is blue and has the light grey mgw logos. What is different thought, is that this machine is a multi system unit (the 845 is AC) with country specific packages installed for Germany, Austria, Hungary, Poland, the Czech Republic, Slovakia and Romania. Daniel Powalka was able to take a picture of the machine in Rudesheim on 07.10.2016.
Michael Goll sent us this nice gathering of BLS Cargo Vectron locomotives at Basel, Badischer Bahnhof on 09.10.2016, thanks!
Markus Tepper, Roel Hemkes and Christian Klotz caught the new NS E 186 039 with their lenses this weekend. Today it will be delivered to the Dutch railways (NS).
Seen this morning at Villach Hauptbahnhof, ÖBB 1116 157 with its new livery promoting the national police. Thanks Christian Tscharre.
Locomotive 186 425 now has the new RTB Cargo logos. Thanks to Jeroen Franssen we have this picture to show you.
Michael Uhren was so kind to send us these images of the recently repainted SRI 145 088, now with additional vinyls promoting the Sächsischen Eisenbahnmuseum.
On 06.10.2016, Pesa and PKP IC signed a memorandum of understanding for developing a dual mode locomotive (diesel and electric). The project is supported by the NCBiR (National Research and Development Centre) bringing 395.000 euro into the project. Pesa estimates to spend around 1.8 million euro on the project, that will take around 1.5-2 years to complete.
PKP IC is searching the market for new locomotives and is very much interested in innovative locomotive projects. It is an important, potential customer for Pesa's new dual mode.
One 4-axle prototype locomotive will be built, with 2.8MW power in electric mode and with a combustion engine of 1.8MW. Its maximum speed will be 160 kph.
Rynek-kolejowy.pl brings more information about the plans
.
In 2017, Stadler Rail Valencia wants to release its first dual mode locomotive for the continental European market. It will be the first locomotive design to be completed since the former Vossloh-factory was taken over by the Swiss company.
During InnoTrans 2016, a model was on display showing the locomotive design: a six-axle electric/diesel electroc locomotive with a topspeed of 160 km/u. Maximum duration power: 7 MW (electric) and 3 MW (diesel). The starting traction effort can be as much as 500 kN. The machine will feature AC traction motors and IGBT convertors. It is possible to order the locomotive as AC, DC or multisystem locomotive. Narrow gauge, normal gauge, wide gauge, all options are open, of course.
A first prototype locomotive for Europe is already under construction. We will follow this closely of course. Under the responsibility of the factory's previous owner, Vossloh, the site already created two other dual mode locomotive type, about which you can explore more here:
- The UKDual for Direct Rail Services (UK)
- The Afri/PrasaDual for Prasa (SA)
The first images are being published of ELL 193 256 in Austria. The Vectron multi system locomotive, which livery is not yet fully completed, has the country specific packages for Germany, Austria, Switzerland, Italy and the Netherlands. At this moment it is only approved for Austria, according to its UIC grid.
The Railcolor design family just got offspring: On 05.10.2016, SRI RailInvest officially presented locomotive 145 088-1, freshly overhauled and repainted. And the blue machine got a name: Stefanie. It now looks similar to SRI's 145 087 -Barbara-. Thanks to Karl Arne Richter of eu-bahnen.info.
Something else: mz-web.de brings a article about the Dessau works where currently a new multi system locomotive service and maintenance center is being built.
In the French media today and on railjournal.com:
'France's industry minister Mr Christophe Sirugue told a meeting of union representatives and elected officials in Belfort on October 4 that the French government will fund an order for 15 TGV Euroduplex trains and 20 locomotives to save Alstom's plant in the town from closure.
Sirugue also confirmed that French National Railways (SNCF) will also order a batch of six TGVs for Paris - Lyon - Turin services. Power cars for all 21 trains will be built at Belfort, securing the medium-term future of the plant, which employs 480 staff.'
Railcolor: it is not an order yet, but a plan. Last September, Alstom announced to close the Belfort site as a manufacturing location and to reform it as service point. 400 of the 480 employees would be re-assigned to another Alstom factory in France. However, president Mr François Hollande intervened and blocked the plan. Not only does he care about the factory and its workforce, Hollande is also facing elections next year and closing yet another factory is bad news for his campaign.
But if this new 'save Belfort' plan will be executed is to be seen. It depends on whether or not this governmental intervention is regarded as (illegal) state aid or not. Next to that, Alstom was not planning to stop locomotive production, nor firing people. It was slimming down its production capacity as its order portfolio was not as full as envisaged. Alstom was planning on moving its locomotive production to Reichshoffen, what will happen there when Belfort stays open? And of course there is the more general question, what is to become of Belfort on the long term? The possible new order will only bring work for around 1,5-2 years. To be continued.
Update: Lok-report.de brings a summary (scroll down) of what has been communicated in the French press yesterday. Additionally, Philippe Jacqué is answering questions from readers. The extra TGVs can be ordered directly from existing frame contracts. Curious is that some of the new TGVs will be used on conventional intercity lines.
For SNCF, twenty support and rescue locomotives will be ordered (French: '20 locomotives diesel pour le remorquage de trains en panne).
Alstom will have to invest 40 million euro in Belfort, to be used for expanding it product portfolio (locomotives and electric busses), creating new jobs in the service department. 30 million euro will go into the 'development of new diesel or hybrid locomotives'.
As of December 2018, metronom Eisenbahngesellschaft will cease operating passenger services between Hamburg and Cuxhaven. Currently, it operates the services with Class 246 TRAXX diesel locomotives and double-deck push-pull trains, owned by LNVG (Landesnahverkehrsgesellschaft Niedersachsen). DB Regio has placed the best bid in terms of price and, therefore, will take over from metronom in two years from now.
Update: DB Regio will hire eight diesel locomotives and 38 double deck coaches from LNVG. Most likely, these eight locos are LNVG 246 002-009. Bombardier, currently holding the service and maintenance contracts for this rolling stock, will continue these activities after DB Regio takes over. Maintenance is done at Bremervörde.
More than 1,5 year ago, a passenger train pulled by SBB 460 087 collided with a a RABe 514 series trainset at Rafz (CH). A few days later the machine was recovered and brought to the Yverdon-les-Bains workshops by truck.
On 03.10.2016, the same locomotive completed a test run from Yverdon-les-Bains to Neuchatel and back, shining as new. Michael Krahenbuhl was able to photograph the all red machine that day. The 460 087 now has the normal SBB livery again. When it crashed it had a green/red Rekarail promo livery. Remarkable is that the repaired 087 does not have the SBB livery applied to the 460s currently being modernized. Up front, the service number is again in the middle and no SBB vignette is applied.
Four locomotives in various liveries on test in Schwarzach-St. Veit: Future DB Cargo 187 103, Alpha Trains 186 242, Railpool 187 305 and Lokomotion 186 442.
Railpool 185 709 is in Germany. Today it was photographed in Kassel, standing in line with 187 104, 105, 100, 106 and 002. The Railpool locomotive suffered damage caused by a derailment in Drammen (NO) on 23.08.2016. It needed to go back to Bombardier's factory for repair.
- ELL 193 273 now has PPD stickers, similar to 193 269
-
'Chemoiled' 484 014
of SBB Cargo
- On 30.09.2016, the new DB Regio 147 008 and 009 ran to Stuttgart
- ELL has prepared two more 193s for TX Logistik,
193 274
and 275 (with heartbeats)
- Railpool > RTB Cargo 186 425 now with new RTB logos
- Green Cargo Re 1427 is in Germany, seen in Krefeld to more precise
- NS E 186 040
arrived new in the Netherlands today
- Already seen an EuroRunner
in SETG design
?
Joachim Bertsch saw BLS Cargo 475 404 today, pulling an car train (Marchegg - Mulhouse) from Buchs to Basel. Our first image of a BLS Cargo Vectron in revenue earning services.
Trans Montana no.24 was seen in Faurei last week, making test runs. Thanks to Adrian Florin Tuca we have an image and a video.
RTB Cargo has a new logo. Railpool Vectron locomotives 193 806 and 816 are among the first machines that sport the new blue logo. The image above, made by Markus Mittermüller on 29.09.2016 in Enns (AT), shows 193 816 with 810. The old and the new logo pulling one freight train together.
Martin Voigt just sent in these two impressive images of a transport train with three Vectron locomotives and RailAdventures 103 222.
Leading locomotive is the multi colored MRCE X4-640 now with TX Logistik logos. For the first time we have a good picture of the complete machine, as this was not possible at the InnoTrans. Behind the 640 we see RailAdventure's 103 222 and Siemens 193 844. All the way in the back we see Siemens 193 971 on loco buggies. The locomotive recently came back from Finland, where it served as pioneer for the VR Group Sr3 series locomotives. Sr3 no. 3305 from the InnoTrans was sent to Finland instead.
Above you see a picture of DB Cargo 189 072 after an unfortunate encounter with a buffer-stop at Amersfoort (NL). The last piece of rails with buffer was pushed forward for about 30-50cm. Prorail's incident response team had to come and pulled the locomotive back on track, using DB Cargo 6416 and some metal bars. Thanks Roel Hemkes.
svt.se reports
: This morning three locomotives of Rush Rail collided at Molkom in Sweden. One locomotive was not able to pull its 24-car freight train uphill. Therefore Rush Rail sent out assistance: two extra locomotives. However at their arrival, the support locomotives collided onto the stopped freight train.
SRI 145 088 was due for overhaul. The locomotive was sent to Dessau and got repainted too. Now it has re-appeared having the same livery as that other 145 series locomotive of SRI: 145 087 -Barbara-. The 088 got a name too, we can now refer to 'her' as Stefanie. Thanks to Rudi Lautenbach we can show you a first picture made on 29.09.2016.
Busy times in Kassel. Again three new machines completed their maiden run on 28. and 29.09.2016. Two silver painted machines for Railpool: 187 310 and 311. Also NS E 186 040 made its obligatory round. Thanks Christian Klotz.
Spoorpro reports: As of Monday, all IntercityDirect services of the Dutch railways (NS) are being operated in sandwich mode; Every consist now has six ICRm coaches and two TRAXX MS (serie E 186) locomotives, one on each side.
Currently there are two IntercityDirect services: Amsterdam - Schiphol - Rotterdam - Breda and Amsterdam - Schiphol - Rotterdam. These trains are underperforming due to operational problems and constant issues with infrastructure and rolling stock. Operating the IntercityDirect in sandwich mode is NS' answer to these issues, adding redundancy to the system and making it easier to change running direction. Over sixty TRAXX locos have been ordered and hired to have sufficient motive power, of which the majority is now available.
NS also wants to operate the loco-hauled trains from Amsterdam to Brussels and its future Eindhoven - The Hague (via HSL) IntercityDirect trains in sandwich.
Soon,
ÖBB 1116 157
will be released with a new promotional livery for the Austrian police. We will update as soon as we know more and have the first images.
Thanks to Renato Foltran we can now show you CFI's 474 102 in its new red/grey livery, by daylight.