News
Yep, Railpool is filling the gaps. Currently 186 29x locomotives are under delivery (DE/AT/BE/NL package), and soon a second batch will enter service, numbered in the 186 25x range. Today the 186 252 was seen by Martin Voigt at Fulda during a maiden run. The machine has the DE/BE/FR package, which is new to Railpool. Up til now only Alpha Trains, DB Cargo/ECR and Akiem own TRAXX MS locomotives that are homologated for France.
During the past years, DB Cargo's future 187 106 has been used many times for tests and trials. Today it was making the standard test round for new TRAXX locomotives, starting in Kassel. This often tells us that the machine got its final configuration and it will be handed over to the customer soon. Photo: Martin Voigt
- Seen in Munich, a first Vectron in the livery of Alpha Trains, expect silver and lime
- MRCE X4 E - 640 has no TX Logistik logos anymore

- Still looking for a Christmas present? What about a Railcolor book?
- RheinCargo returns lease locomotives: Alpha Trains 119 009-8 now runs for Captrain

- ELL 193 269 has PPD stickers now

- Metrans 386 023 was handed over to the operator on 05.12.2016
Before the end of this year, Siemens promised to deliver two Vectron locomotives to Hector Rail: 193 923 and 924. One of them has been seen at Landshut on 01.12.2016:
Tobias Schubbert caught a Locomore test train today. Two orange coaches pulled by Hector Rail 242.517 in Jena Göschwitz. The new open access, long-haul passenger operator in Germany, will commence with its train services on 14.12.2016.
Metrans Rail is currently receiving new TRAXX MS locomotives for its fleet for international freight services. New are 386 021 (handed over on 31.10.2016) and 022 (30.11.2016). Filip Dittrich made a picture of the latter one on 01.12.2016 in Prague. Its UIC raster tells us the machine has not been released yet for all the countries it will be running in the future.
Vectron DE locomotive 247 901 passes the Austrian town of Obereggendorf during a test run on March 16, 2014. Picture by Stefan Rottensteiner.
Rail Business reports: Siemens has booked a first success with its Vectron DE locomotive. In late November, Infraleuna ordered one locomotive, making it launching customer of the type. Delivery of the new locomotive will take place in the first six months of 2017.
"China Railway Rolling Stock Corp confirmed on November 28 that its CRRC Zhuzhou Electric Locomotive subsidiary was contemplating the acquisition of Škoda Transportation. CRRC stressed that no binding agreement had been reached.
CRRC is understood to be reviewing the finances of the Czech manufacturer, with the details of any deal expected to be announced by end of this year."
As seen today with a classic TEE train by Thomas Girstenbrei.
Dinazzano Po from Italy will be hiring the next new Akiem TRAXX DC locomotive: 483 313. It was out and about this morning and it has an orange DP livery.
Our first image of a RheinCargo 187 in revenue earning service. Hopefully we can show you some more during the next days. Thank you Christian Klotz.
On maiden run today: DB Cargo 187 107. Yesterday 187 111 was seen too. Photo: Christian Klotz
NS 186 044 (and 186 043 at the back of the train) arrives at Utrecht Centraal with the dutch royal train. On board Her Majesty Queen Máxima of The Netherlands and Her Majesty Queen Mathilde of Belgium. They will tour the new station building. Waiting on the platform are Prorail president Pier Eringa and NS president Roger van Boxtel. - Roel Hemkes
Tobias Schmidt caught this colorful duo on 27.11.2016 in Basel Bad (CH). The colorful MRCE X4E-640 is now on its way to Italy together with ELL > SBB Cargo International 193 257.
On 08.09.2016, the Swiss 'Bundesamt für Verkehr' (BAV) announced that it would no longer allow Bombardier TRAXX locomotives with ETCS Level 2 to run on the Gotthard-route, including the Gotthard base tunnel. This would mean that TRAXX locomotives of the type 486 (BLS Cargo), BR 186 (Railpool), Re 487 (SRT) and BR 187 (Railpool) would be banned from one of the most important transalp freight routes in Switzerland as of this December, as BAV only granted operation with ETCS level 2 for these types under a limited-term operating license valid until November 2016.
BAV made its decision based on a 'accumulation of disturbances' causing forced braking by locomotives resulting in operational interruptions and delays. BAV offered its help to Bombardier to solve the issues so railfreight operation with these machines could continue in December, which was gladly accepted. Today Bombardier officially announced that a solution has been found. This must be a great relief to all companies and operators involved:
---
Bombardier announced today that its TRAXX locomotives, upgraded with the latest automatic train protection software (Railcolor: the latest version of EBI Cab 2000), have been approved for operation on Switzerland's Gotthard Base Tunnel. This authorization milestone was achieved in close cooperation between the Swiss Federal Office of Transport (FOT), SBB Infra, BLS Cargo and Bombardier.
"We thank the FOT, SBB Infra and BLS Cargo for the constructive teamwork that will enable our TRAXX locomotives to operate reliably and efficiently in the Gotthard Base Tunnel", said Albert Bastius, Head of Product Line Locomotives, Bombardier Transportation, "We are now continuing to see that the implementation of our latest software progresses well on the many locomotives in operation, so that our customers benefit from this updated version."
(..) The new software version will enable the TRAXX MS and AC locomotives (Re 486, BR 186, Re 487, BR 187) to run on all sections of the Gotthard Tunnel's track, including those using the advanced European Train Control System (ETCS) in Level 2 operation.
Locomotives that are not yet retrofitted can still run on all other lines in Switzerland, including those equipped with ETCS. In double traction operation as the non-leading locomotive, the locomotives can be operational even on the Gotthard Axis.
Update: A BLS Cargo freight train under ETCS level 2 on the Gotthard line on 01.12.2016:
The picture above shows Green Cargo locomotive no. 1427. It has been subjected to a R1 revision at Krefeld recently by mgw Service: REV 04.11.2016. Other Green Cargo machines recently seen at Krefeld are 1423 and 1436.
(Wolfgang Scheer / Achim Scheil)
Last week, Bombardier prepared NS E 186 045 for delivery and got it transported to Bad Bentheim. Today the locomotive arrived in the Netherlands, pulled by Locon 9906. This means that the NS E 186 series is complete. 45 locomotives have been built in 2014 (E 186 001-019) and 2016 (E 186 020-045). (Marco Rodenburg / Christian Klotz)
By the way, Locon 9906 did not go to Bad Bentheim solo. It took Alpha Trains > NS E 186 122 along. This NS-liveried locomotive currently has no NS logos. They were removed during a short adventure with RTB Cargo. (Henk Zwoferink)
Finally, new Railpool 187s are being put into revenue earning service. During the past weeks we saw 187 304, 306, 307, 308, 309, 310 and 312 pulling their first freight trains. Like many other electrics, some of them were made available this weekend to operators of charter trains, a common thing in Germany. The image above and below show the 187 308 and 312 with passenger trains. (Torsten Klose / Andreas Kriegisch / Martin Morkowsky / Tobias Brüggemann)
BTW: 187 009 (ex-Locon) and 187 301, 302, 305 (ex-Lokomotion) are back at Kassel. 187 316 and 400 that were in Zurich are also on their way home. (Christian Klotz / Theo Stolz)
in March 2016, SNCB/NMBS 1305 reached its final destination, we thought, when the machine was transported to the scrapyard of Ecore in Aubange (BE). But the locomotive, or what remains of it, still exists. Recently we received a link to the image above showing the heavily damaged electric being moved away from the scrapyard again, to Salzinnes, our sources say. Presumably the body is still containing parts that can be recovered and be re-used on other machines of this type. So the 1305 will live a little longer, for now. - LS/ID
Only two days ago, Bombardier 'gave' RheinCargo its first three TRAXX AC3s. This is our first image of such a locomotive after delivery: 187 071 as seen by Stefan Rother today at Neuss. RheinCargo will get 10 units, the designated 187 070-079.
For the third time, the Austrian railways (ÖBB) have given a Taurus locomotive a -Licht ins Dunkel- promotional livery. The 1116 158, which recently became a RailJet locomotive, now has a dark blue livery and is traceable in the OBB Lokfinder. The 158 was baptised and presented officially on 23.11.2016 at Vienna's Hauptbahnhof. Picture: Christian Blumenstein
-Licht ins Dunkel-
is a fundraising campaign for charity. It is the third time a Taurus locomotive is used for promotion. In 2002, the brand new 1116 100 was selected. In 2011 it was ÖBB 1116 126. Two pictures below:
Today, RheinCargo published an official statement about its newest locomotives:
RheinCargo, Germany's largest private railfreight operator, strengthens its locomotive fleet with the acquisition of ten new locomotives. With these Bombardier TRAXX AC3 type electrics, the company modernizes its fleet and creates the basis for more environmentally friendly railtransport.
"RheinCargo stands for reliable, efficient and sustainable logistic solutions. We are delighted that we will be able to further improve our offer to our customers. With the new locomotives, we are investing in our production quality and strengthening our nationwide presence" says Daniel Jacobs, Head of Vehicle Management at RheinCargo.
On 25.11.2016, the first three of a total of ten electric locomotives (series 187) were handed over offcially to RheinCargo at Bombardier's assembly factory in Kassel. The remaining seven machines will be put into service before the end of this year. RheinCargo will use the 140 kph fast locomotives for long-distance services in Germany, thereby transporting, among other things, mineral oil, building material and container trains.
For RheinCargo, founded in 2012, the acquisition is the most significant investment in its fleet up until now. At the end of 2013 the company invested in the modernization of its diesel locomotive fleet (Railcolor: RheinCargo bought five TRAXX DE locomotives) and it is now taking the next step.
"RheinCargo operates one of the most modern fleets in railfreight traffic in Germany. The new locomotives are a very good addition to our existing pool. We are thus reducing the average age of our locomotives to around eight years. In this way, we can offer environmentally-friendly and reliable transport to our customers," explains Daniel Jacobs.
On maiden run on 22.11.2016, the very last new NS TRAXX multi system locomotive: unit E 186 045. Photo: Christian Klotz
As seen today at Kassel by Christian Klotz.
A close-up of DB Regio 245 013, that carries a small sticker on its cab. The heart shaped vinyl says in southern dialect: -I mog die SOB-. DB Regio now has twenty TRAXX DE ME locomotives on its fleet (245 001-020) used fro various services in southern Germany. Three more are on order. Photo: Ernst Lauer
New stickers for DB Regio 146 209. Its sides now feature many portraits, interlinked as a network. A first image here.
[update] On one side it sports the slogan -DB Regio (nicht Region) in Baden-Württemberg-, the other side has -Wir von hier - ein starkes Team bei der RAB-.
[update] We already mentioned it in October, but now we can show you an image, made by Andreas Kepplinger
Not often, a DB Cargo locomotive gets additional stickers. DB Cargo's 185 273 now has simple, big white vinyls themed -Impulsgeber, DB-Mitarbeiter für DB-Mitarbeiter-.
We already mentioned MRCE 185 565 and 567 now being hired to DB Regio in Stuttgart. Now a third black TRAXX has joined the fleet of the regional rail operator: MRCE 185 555. The machine still has CTL Logistics logos. Picture: Bert van Caem
With 187 074 another new TRAXX AC3 locomotive has complete its maiden run. We have seen the no's 187 070, 071, 072 and 074 so far. Insiders say there are ten locomotives on order. They have a maximum speed of 140 kph and they are not equipped with a Last Mile diesel/shunting module. Picture: Marcus Alf
On November 15, EQT Infrastructure II announced that it had completed the acquisition of GB Railfreight from Groupe EuroTunnel through an indirectly owned company within the Hector Rail group. Founded in 1999 by the current CEO John Smith, GB Railfreight is the third largest rail freight operator in the UK, and provides a wide range of rail transport solutions and rail services.
Bo Lerenius, Industrial Advisor to EQT and Chairman of the Hector Rail Group, says: "As one of the UK's leading rail freight operators, GB Railfreight has proven its strength in the rail industry. The focus on innovation and delivery of outstanding customer service are two key factors that make us believe that GB Railfreight is an excellent fit with Hector Rail."
More information can be found on Mainlinediesels.net
Yellow and blue, an exotic colour scheme in Austria. Alpha Trains > NS E 186 120, normally pulling passenger trains in the Netherlands (and Belgium) is currently being tested in Austria. New software requires tests in all countries in the package of this DE/AT/BE/NL machine. Photo: Herbert Pschill
Back on track: Alpha Trains > ITL 186 245. In May 2016 this machine derailed after running into a landslide in Schmilka. Like before the accident, the machine is in service of ITL. Photo: Patrick Holzbach
Maiden run on 15.11.2016: NS E 186 044. Only one to go and the series of 45 units is complete. Photo: Christian Klotz
To Fulda and back: today DB Regio 147 015 made a test run. Photo: Christian Klotz
Currently, DB Regio is using two MRCE lease locomotives for its passenger services around Stuttgart. 185 565 and 567 are pulling trains ('n-wagen') to Heilbronn, Singen and Osterburken for example. Tobias Brüggemann photographed 185 565 in Stuttgart-Zuffenhausen on 11.11.2016.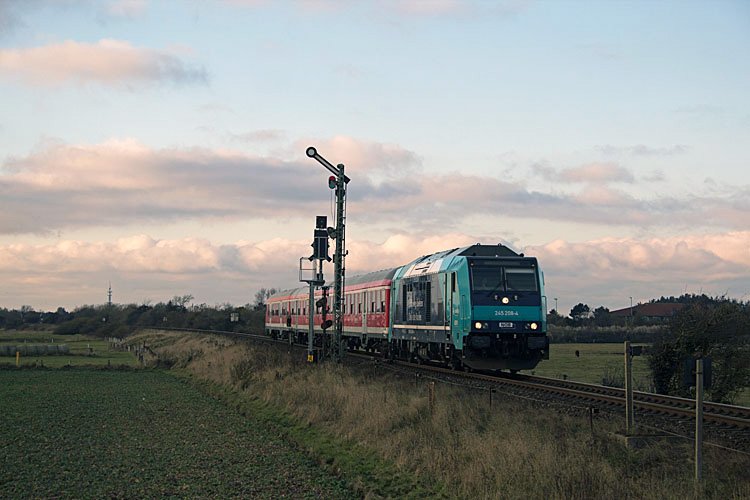 Not an everyday sight: NOB 245 208-4 and DB Regio passenger coaches passing Keitum (Sylt) on November 11, 2016. Picture by Nahne Johannsen.
Normally, Nord-Ostsee-Bahn (NOB) operates its passenger service between Hamburg-Altona and Westerland (Sylt) with Bombardier TRAXX DE Multi Engine locomotives and married-pair passenger coaches in push-pull formation. However, NOB now has to miss almost its entire fleet of passenger stock as its 90 married-pair coaches have been sidelined for inspection after a coupling broke on one of the wagon sets. Replacement stock has been made available with the help of DB Regio for NOB line 62 and buses have been hired in to operate replacement services on NOB line 6.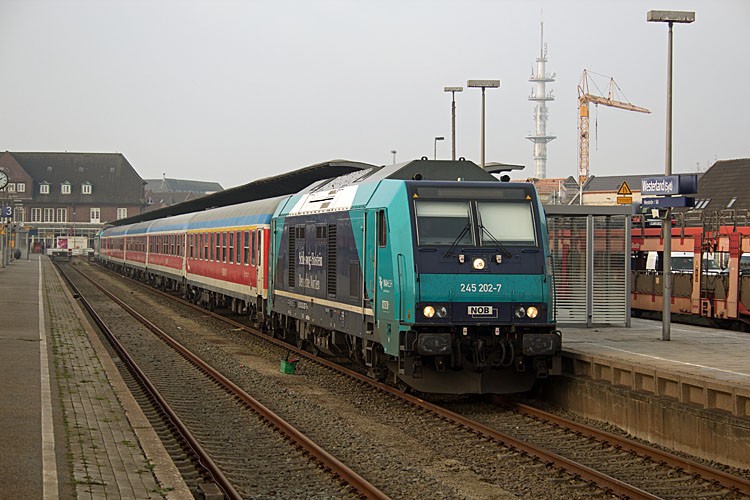 NOB 245 202-7 awaits departure from Westerland (Sylt) with a set of DB Regio passenger coaches and an unidentified Class 245 locomotive on the back on November 12, 2016. Picture by Nahne Johannsen.
An image from last Friday: Railpool 187 312 on its maiden run. Photo: Christian Klotz
Sebastian Carugati and Maurizio Lisdero were able to catch the new 193 259 of ELL with the logos of SBB Cargo International on 11.11.2016. The machine was seen in Balerna and Lugano.
Rail Business report: FS Italiane (mother company of the Italian state railways) is planning to order modern, multi-system electrics. The machines are to be used for domestic (Mercitalia Rail) and international services (TX Logistik) as well. A number of 100 locos is mentioned.
TX Logistik already operates a very diverse fleet of multi-system locomotives (most of them leased from one of the bigger lease companies in Europe such as ELL, MRCE, Alpha Trains, Railpool). But Mercitalia Rail is still predominantly using old DC electrics. Exceptions are currently several 484 seriess machines hired from SBB Cargo and the relatively new E403 series, that however were not designed for freight services.
It was a hot topic today on social media: The mega-Lokzug leaving Austria. We are talking about locomotive 1042.023 pulling nineteen unused locomotives eastbound. Among these machines are sixteen 1014 series locomotives built in the nineties for the Austrian railways. The numbers: 1014 003, 008, 018, 011, 010, 017, 015, 004, 007, 005, 014, 002, 012, 016, 013 and 009 (they left together with 1142 703, 619 and 656). We are going to try to follow this convoy and see where the machines are taken to.
Amazing: a dynamic video of chasing the 1014/1142 transport to Romania. 21 locomotives filmed during transport in Hungary:
After a long stay at Kassel Rangierbahnhof, 187 100 and 105 were moving again on 10.11.2016. Together with 187 104 they have been used for tests at the Velim test center in the Czech Republic until the summer. Photo: Christian Klotz
Today in Komárom: CD Cargo 383 004 (with locomotive visuals) and 005 as seen by Norbert Tilai today.
Our first image of Captrain/ITL 185 650 in Captrain livery. Photo: Alex Huber
This is the all new 193 259 for ELL, a multi system locomotive with a country specific package for DE/AT/CH/IT/NL, just like ELL 193 256. The approval for Italy and the Netherlands is still pending.
New is that the 259 sports the logos of SBB Cargo International. The livery on these machines is slightly different from the ELL standard. The sides are painted in dark blue, in stead of white. And up front the machine, of course, has the two red stripes to comply with Italian safety regulations.
(SBB Cargo International)
Today, DB Regio 147 018 and NS E 186 043 had their turn, making a test run from and to Kassel. (Christian Klotz)
According to this picture on Flickr, Pressnitztalbahn 246 049-2 has received promotional stickers stating: "Wir können mehr als nur Dampf machen! ...deine Ausbildung zum Lokführer bei uns! Zwei starke Partner für eine Region". Additionally, the logos of Pressnitztalbahn and Erzgebirgsbahn feature on the locomotive.
Locomotive 185 517 has long been neglected, running around in simple silver and dark green. But now it is visible the machine belongs to a family, the Captrain family. New in the standard livery in lime and light grey. Pictures by Thomas W. Finger and Tobias Schmidt.