News
Out and about on 22.02.2017: DB Cargo 187 119 by Christian Klotz
MRCE > TX Logistik ES 64 U2-029 by Karl Kepplinger, 03.10.2011
Earlier this week we released the news that the Italian railways have ambitious plans for their rebranded freight and logistics department, Mercitalia. TX Logistik, being part of the Mercitalia group, will profit from the new investments and plans to acquire 45 new electric locomotives in the next five years.
Today TX Logistik released more details on their new fleet strategy, that will soon be based on owning a considerable part of its fleet, in stead of leasing/hiring locomotives form others. The new multisystem electrics will predominantly be operated on the north-south corridor Germany - Austria - Italy. On this route, TX Logistik is currently making around 60 'rounds' every week. Optionally, some new locomotives will be equipped for Switzerland and the Netherlands.
TX Logistik plans to finalize the order in 2017. The delivery of the new locomotives is planned for 2018-2020. All machines will have ETCS on board. The system will be prepared fur upgrade to baseline 3.
While searching for a Czech operator issuing its third tender, we also stumbled upon an entry from the Dutch railways (NS) that "intends to conclude a framework agreement for a period of 5 years (with the possibility for extension for an additional 3x1 years) with all selected suppliers capable of providing (a) lease(s) for (a) TRAXX DABNL locomotive(s) that are suitable for use on the Dutch network, including HSL (High Speed Line) and the Belgian Network (including line 4) and suitable for sandwich operation with the existing fleet of NS Traxx DABNL Locomotives and ICRmh Coaches, on all routes."
The end date for interested parties to submit a bid is 03.03.2017.
Railcolor: NS is also looking for more DE/AT/BE/NL configured locomotives for pulling Intercity Direct services. NS already has 66 such machines in its fleet (45 in ownership, 21 on hire from Alpha Trains and Macquarie Rail), of which 61 units are currently available to NS' Intercity Direct program. Three other units are being used for software tests: 186 002, 186 122 and 186 236. The workshops in Dessau have just completed a revision 186 240 and 186 237 is subhired by NS to the Belgian railways to pull trains between Amsterdam and Brussels.
Same locomotive. Same place. Same livery. What is different? The date: 2009 versus 2017... This week Bombardier completed the R1 overhaul on Alpha Trains 186 349 (REV 21.02.2017). Photos: Christian Klotz
In 2014, MRCE ES 64 F4-212 and 213 got this special livery to celebrate the second anniversary of the ERSR Rotterdam - Poznan shuttle. Photo: Marco Rodenburg
We are closely monitoring the status of electric locomotives operated by ERS Railways from Rotterdam. Mother company Genessee & Wyoming has decided to discontinue most ERS routes and to drastically shrink its operations. G&W wants to bring back its remaining business on the EU continent (port switching and maritime intermodal) back to profitability by mid-2017.
G&W from the United States is the owner of the Freightliner Group, that acquired ERS Railways in 2013. An overview of the ERSR fleet of electrics, all on hire from MRCE:
Photo by Christian Klotz, taken on 20.02.2017 at Kassel, Werkanschluss Bombardier
Close-up of a ČD 380 series locomotive by Norbert Tilai.
Early 2016, České dráhy (ČD) issued a tender for leasing multi-system electrics, without success. On December 17, a second attempt was made, again for 10 electrics, again without result. On 21.02.2017, ČD has released a third tender for the lease of ten electrics.
Compared to the second tender, the number of locomotives and their specification did not change, nor did the contract value:
- 10 electric locomotives
- for speeds up to 200 km/h
- for period of 120 months (= 5 year)
- including regular maintenance
- contract volume: 48 million euro
- deadline: 27.03.2017
Railcolor: ČD is in need of faster locomotives than it currently has, to be used on the relation Prague - Hamburg for example. ČD does own multi-system electrics, but none have a topspeed of 200 km/u. The ČD 380 series electrics technically meet the requirement, but the German authorities do not allow them to run at speeds of 200 km/h.
The first two electrics in the livery of Mercitalia, hired from lease company Akiem. Picture by Massimiliano Giovanetti
Ferrovie.it reports: Today, FS Italiane has presented its plans for Mercitalia, the new umbrella brand for the group freight and logistics operations. FS Italiane wants its unprofitable freight division (70 million euro loss in 2016) to make money again, with the help of private investors, and by ordering new rolling stock. In ten years, the turnover of the Mercitalia activities should be doubled, from 1 billion euro now to 2 billion euro in 2026.
Mercitalia is comprised of seven companies that will employ around 4.000 people, being Mercitalia Rail, TX Logistik, Cemat, Mercitalia Transport Services, Mercitalia Terminal, Terminal AlpTransit (TerAlp) and TLF.
Updated: TX Logistik and Mercitalia Rail have issued a non-binding call for expressions of interest (EOIs) for a contract to supply and maintain up to 125 electric locomotives. The expiration date is 17.03.2017.
- 30 (+30 option) 3kV DC locomotives, min.5.2 MW
- 40 (+25 option) 15kV/25kV AC + 1.5kV/3kV DC, min. 5.6MW
Deliveries of locomotives for both operators will begin in the third quarter of 2018, with a minimum of two locomotives per calendar month. The locomotives must be fully homologated at the date of first delivery.
Railcolor: It is clear that FS Italiane has to rejuvenate its fleet quickly and drastically, to keep up with competition. Domestic railfreight services are still the (almost)exclusive domain of electrics and diesel locomotives inherited from the time there was no open-access freight transport in Italy yet. Using the E403 for freight trains, and the hiring of MRCE / SBB Cargo International / Akiem locomotives can not be seen as structural solutions. TX Logistik, that is operational in many European countries now, does have a modern locomotive fleet, but almost all are hired from lease companies. If the EOI materializes in a final order, it will drastically change the fleet strategy of TX Logistik.
Wanting fully homologated DC and MS locomotives by the end of 2018, narrows down the choice for Mercitalia/TX Logistik considerably. By then, only Siemens' Vectron (191 and 193) and Bombardier's TRAXX platform (186 and 483) will meet this demand.
Tobias Unsin was able to catch the recently delivered X4E-640. The image shows the colorful locomotive on 15.02.2017 pulling the DGS 43155 Köln Eifeltor - Verona (with ES64F4-030) in Vogl (DE).
Note that the livery of the 640 changed a little. The slogan 'Connected by rail' was removed from both fronts. The MRCE logo (left) and the painted number (right) got a new place.
Update: a new image:
Seen today by Oliver Scholz in Munich: MRCE X4E-861, with boxXpress stickers. The locomotive was under repair during the last months, after its derailment in Beimerstetten [DE]. The locomotive ran over a scotch block and ended up in the railway ballast almost tipping over.
On 16.02.2017 the news was published that SNCF Logistics, responsible for logistics and freight transport within the SNCF Group, as been selected by BLS Cargo as its new partner. SNCF Logistics will acquire 45% of the shares in BLS Cargo, if the deal is approved by the competition authorities. BLS remains the majority shareholder with a 52% share. The remaining 3% is property of the Ambrogio Group (IMT).
X4E-640 during trails in December 2016. Today the locomotive was handed over to MRCE and TX Logistik. Photo: Peider Trippi
Good news for Siemens, and its customers. The Italian railway authorities have granted approval for the multisystem version of the Vectron platform built for MRCE. This lease company has 21 Vectron MS locomotives on order, equipped for services in Germany, Austria and Italy (DE/AT/IT). The first batch of eleven, the designated X4E 640-650, is nearing completion.
Freight operator TX Logistik took delivery of the first MRCE Vectron MS today in Munich. It is the X4E-640 in its colorful 'Connecting Europe' livery. You may have seen this machine at InnoTrans 2016.
The approval of the Vectron multisystem locomotive for Italy is an important milestone. Next to MRCE, Lokomotion, Alpha Trains, ELL, BLS Cargo, Reichmut/SBB Cargo International and the Austrian Railways have machines (on order) that are to be operated in Italy. The DC version (3 kV DC voltage system only) of the Vectron is already authorized for Italy since july 2015.
Sources: MRCE / TX Logistik
After its career at B Logistics, a new employer has been found for Alpha Trains 186 346: Railtraxx from Belgium. Torsten Giesen was able to picture the locomotive and its freight train on 11.02.2017 at Aachen-Steppenberg on its way to the "Gemmenicher Tunnel" on the Montzen-route.
New logos for Railpool > RTB Cargo 185 672: the elephant stickers are gone. Instead the machine now sports the logos of its operator and Mosolf, a company specialized in car logistics. Photo: Michael Goll
Seen in Götzenhof yesterday: Siemens 247 902 and 903, together on their way to Leipzig. Soon they will join 247 904 and 906 and start pulling various freight trains for DB Cargo. The quartet is now complete. Photos: Martin Voigt
Today, Railpool 187 400 and 187 401 (both REV 10.02.2017) were released from the Bombardier Kassel factory and taken to Rostock harbor, behind the also new 186 297. From there, both 187s will make a boat trip to Sweden. During the next months, Bombardier will outshop three more Railpool TRAXX AC3 locomotives with Last Mile module for services in Scandinavia: 187 402, 403 and 404. Photo: Christian Klotz
Not 1, not 2, but 3 images today of MRCE > LTE ES 64 F4 - 200 and its new side stickers. The vinyls are put on to promote the railfreight connection between Rotterdam and China; Chengdu - Tilburg - Rotterdam. Photos: Sven Jonas / Arjen Verlaan / Maik Broicher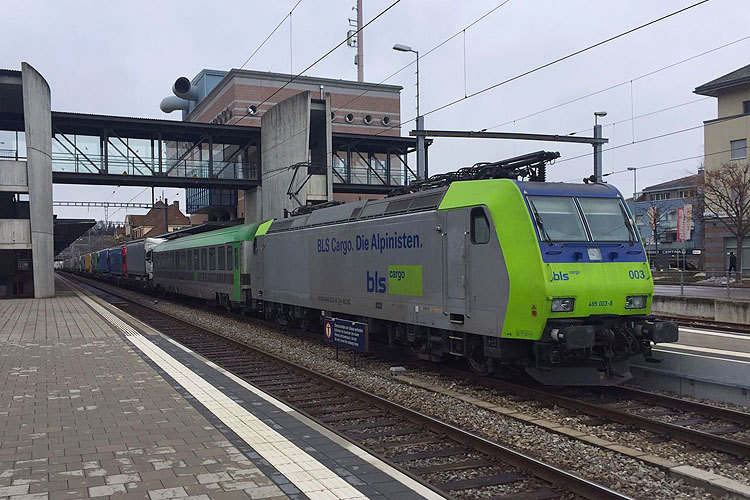 BLS Cargo has removed the 'Alpinist' portrait from locomotive 485 003. The picture above was taken on 05.02.2017 in Spiez (CH). It was the only locomotive from the series that had these stickers, similar to those applied on the BLS 486.5 series. The 485 003 has this different livery since 2008.
Giorgio D'Alessandro was able to portray the brand new 483 059 and 060 for GTS Rail today. They made their maiden run together. And yes, of course they have names, let us welcome Apulia and Leonida.
Today, Metrans locomotive-to-be no. 386 030 showed itself briefly outside the Bombardier factory perimiters in Kassel, together with NS E 186 002, which is being used by Bombardier for tests and validation. The large Metrans logos on the 030 are still missing. We missed it, but Metrans 386 029 completed its maiden run on 03.02.2017. Photo: Christian Klotz
REV 06.02.2017, hvle's electric locomotive 185 640 is fit for another period of service. Bombardier just completed the R1 revision on this locomotive. Photos: Christian Klotz
We did not see this one coming! Not Alstom, but CAF will be delivering new hybrid shunting locomotives to RATP, the public transport operator in and around Paris. RATP will use the locos for maintenance and construction trains on its network. Starting in the first quarter of 2019, CAF will deliver twelve hybrid (electric + NiCd battery) locomotives. There is an option for six more units. The order volume is 65 million euro when RATP decides to buy 18 locos. Read more
During the past months, Macquarie Rail > Crossrail 186 901 payed a visit to Bombardier's in Kassel. Going in dirty, getting out shiny and clean. Photos: Christian Klotz
- MRCE > LTE ES 64 F4-200 has new stickers about the 'Chengdu - Tilburg - Rotterdam' shuttle
- Railpool > RTB Cargo has new stickers: Mosolf and new style RTB logos. The Elefanten-vinyls are gone
- On 01.02.2017, RailAdventure 103 222 took NS E 186 017 and Macquarie E 186 236 back to the Netherlands
- The new Railpool 186 297 has REV 30.01.17
On 02.02.2017, Siemens 247 904 and 906 arrived at Leipzig-Engelsdorf together. The two machines, soon to be on hire to DB Cargo, came from München-Allach. In the next weeks, they will be available for test runs and staff training. Photo: Andreas Pusch
Railfreight operator Raildox from Germany will add two new TRAXX locomotives this year. In April a TRAXX AC3 locomotive with Last Mile shunting diesel module will be delivered by Bombardier. In November 2017 a second unit will arrive, with the same equipment.
Based on the numbering system applied by Bombardier, we expect the two new Raildox locomotives to be the designated 187 317 and 318. The plans of Raildox regarding new locomotives did change. In April 2016 it was announced only one new machine would be purchased, to be delivered that same year.
During the past months, Hector Rail 441 002 'Croft' was in Linz, Austria, getting a revision at the local workshops. Yesterday it arrived in Duisburg. Photo: Niklas Eimers
It sure looks different, but it is a modern electric locomotive produced by Bombardier, sharing its many technical components with the TRAXX locomotives from Europe. TRAXX Africa, also known as Class 23E, is one if the new types of locomotives for Transnet, railfreight operator in South-Africa. 240 units (!) will be built of the multi system electric (3kV DC + 25kV AC). Read more about here.
A Skoda NIM-express train is now making its test rounds on the test circuit of VUZ Velim. During the past week, a Skoda 109E electric locomotive pulling/pushing three intermediate cars and a driving trailer. The image above shows the consist with two 109E locomotives. Photo: Dalibor Palko
The four-car formation has run on both the large and small circuits at Velim. On the large circuit the train has already reached its maximum operating speed both with the locomotive and driving trailer leading.
- Framework contract of up to 200 Vectron locomotives
- First tranche for 30 Vectron MS
- Delivery to begin in summer of 2018
Austrian Railways (ÖBB) has signed a framework contract with Siemens for the delivery of up to 200 Vectron locomotives. Under the contract, up to 100 alternating current (AC) locomotives, 50 alternating current (AC) locomotives with diesel power modules, and 50 multisystem (MS) locomotives can be called up.
A firm order for 30 MS locomotives was placed at the signing. The locomotives will be built in the Siemens plant in Munich-Allach, Germany. The first units are to be delivered beginning in summer of 2018.
"Winning the biggest tender for locomotives in Europe underscores one thing above all: the capability of our Vectron platform. It offers the greatest flexibility throughout the locomotive's entire lifecycle. And for operators that means they can make longterm plans for the future," said Jochen Eickholt, CEO of Siemens Mobility Division.
The locomotives will be operated by the Rail Cargo Group, the freight division of ÖBB. They will be used for cross-border freight transport in Austria, Czech Republic, Croatia, Germany, Hungary, Italy, Poland, Slovakia and Slovenia. In addition to having national control systems, all locomotives will also be equipped with the European Train Control System (ETCS). The locomotives have a maximum output of 6.4MW and a top speed of 160 km/h.
Source: Siemens
Railcolor comment: The original tender from November 2015 The result is that manufacturers could offer more conventional, standardized products. Challenging (read more expensive) concepts such as six-axle locomotives, dual-modes or even double locomotives are not mentioned anymore. Instead, Siemens will build Vectron locomotives; a proven design that is already homologated in all countries mentioned (only Italia is still pending for the Vectron MS), which should lead to a smooth and fast introduction.
The Siemens' factory in Munich-Allach will be building the locomotives, which means the Linz works in Austria will not be part of the assembly process, as was the case with building the ÖBB Taurus locomotives back in the 00s.
Currently, SBB Cargo International is already operating Vectron locomotives for international services. These are hired from lease company ELL.
Traffic growth, competition intensity and the new level-track rail route following the opening of the Gotthard base tunnel call for new multisystem locomotives for international, transalpine rail freight services. SBB Cargo International's solution is to rent 18 Siemens Vectron multisystem locomotives for 15 years.
Multisystem locomotives are essential for continuous traction from the North Sea to Italy, given the new level-track rail route and the opening of the Gotthard base tunnel. SBB Cargo International has been using similar locomotives in the domestic German market for some time now, and is convinced by their performance range. It is now a question of applying this knowledge to increase the efficiency and effectiveness of transalpine services, and gradually achieving an acceptable ecological footprint while networking European industry and supplying built-up areas along the North/South axis.
The rental of 18 multisystem locomotives has opened the door to a more interoperable railway era. SBB Cargo International conducted a formal tender process between all relevant providers and selected Siemens and its Vectron locomotives. SBB Cargo International is thus adjusting the portfolio mix of its locomotive fleet and placing a strong focus on even more interoperability, supplementing the locomotives already operating across the borders.
As part of this project, the railway undertaking is entering into new forms of financing in cooperation with Reichmuth Infrastruktur Schweiz. Reichmuth has founded the company LokRoll AG and is renting the locomotives to SBB Cargo International. For the procurement of the locomotives, SBB Cargo International is acting as a partner to Reichmuth in terms of procurement management, project management, acceptance of the locomotives and management of the warranty, registration and asset management.
Source: SBB Cargo International
Siemens: The new locomotives will be used for cross-border operation along the Germany-Austria-Switzerland-Italy corridor. In addition to having national train control systems, all locomotives will also be equipped with the European Train Control System (ETCS). The locomotives will have a maximum output of 6,400 KW and a top speed of 160 km/h. LokRoll will lease the locomotives to the Swiss freight transport firm SBB Cargo International for a period of 15 years.
It was early this morning, when the new 186 297 left Kassel for its maiden run. The machine is equipped for Germany, Austria, Belgium and the Netherlands. Photo: Christian Klotz
Beacon Rail 185 series locomotives that were still sporting old Crossrail logos, are loosing them. Meanwhile, 185 590 (image) and 594 have been seen without. An overview of the twelve Beacon Rail locomotives of the TRAXX F140 AC3 type (185.2):
185 590, 594: old Allco livery, no logos
185 591, 592, 593, 597: old Allco livery, old Crossrail logos
185 595, 596 are orange-red with current Crossrail logos
185 599-601 are running for HSL Logistik, these are brown with orange
185 602 is HSL Logistik's 'art locomotive'
We will update if anything more changes. Photo: Theo Stolz
On 26.01.2017, the machine had its maiden run, on 27.01.2017 it was transferred to the customer. Metrans 386 028 is indeed equipped with signalling and safety system for seven countries in stead of six, presumably DE/AT/CZ/SK/HU/PL and (new!) NL. However, all countries in its UIC grid are still crossed out. Let's see how this develops and when we can expect 028 to arrive in the Netherlands. Photo: Christian Klotz / Marcus Alf